Tech giants are hiring people to help solve problems and repair the companies' images in areas including user privacy, elections security, AI and ethics, and more.
Massive customer data breaches, inadvertent data exposures, hidden tracking apps, internet surveillance, and more have helped erode consumers' trust in tech companies.
The Edelman Trust Barometer shows that public confidence in search engines and social media platforms fell 11 percentage points from 2017 and 2018.
Now tech companies are facing a wave of "techlash" — backlash resulting from rising concerns around privacy protections, election security failures, and ethics lapses.
Facebook stock is down and it faces investigation by a growing list of international regulators. Google has lost employees and also faces regulation. Amazon and Google are taking PR hits from the President. Apple — like Google — faces mounting criticism over how it's handled government censorship in China.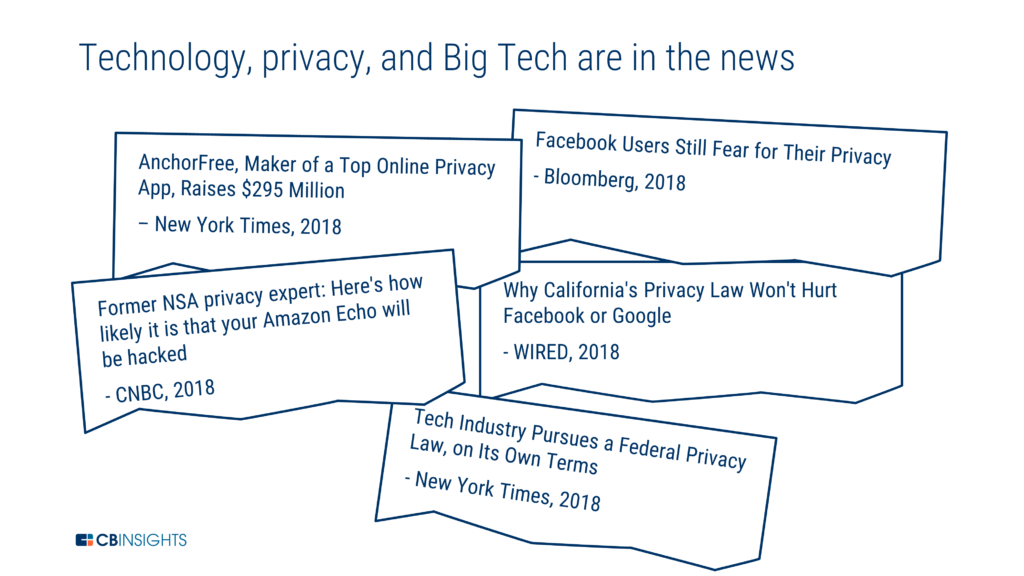 Now Google, Amazon, Facebook, and Apple (GAFA) are fighting to maintain — or win back — our trust. 
They are all hiring strategically to fill their ranks with professionals who can help navigate the techlash, repair the company image, and reform business practices.
We took a look at open job posts at each of the GAFA companies to see how they're factoring emphasis on privacy, security, and ethics into hiring. 
Some of the most interesting jobs we look at include:
Google & Amazon Look To Secure Privacy in The Smart Home
Google and Amazon are hiring directors for privacy in smart home technology, which has a reputation for being highly unsecured.
Both companies have come under fire recently for missteps related to eavesdropping by AI assistants in people's homes.
Google is looking for a director of software engineering to oversee privacy across the Google Home and Nest product lines. By baking security in at the engineering development phase, Google may be better able to get ahead of privacy issues once its devices are on the market.
The job offers the opportunity to review, critique, and guide all engineering, user experience, and product plans to ensure privacy for Google customers. These efforts could get a PR boost if Google fills another open position for a policy communications manager for privacy and security.
Similarly, Amazon is hiring a director of privacy & customer trust covering Alexa services to oversee privacy at the design stage of its hardware devices. The Amazon director would be working out of Amazon's Lab126 — the unit that spawned Kindle, Fire Tablet, Fire TV, and Amazon Echo.
Facebook & Apple focus on Privacy & Compliance Policies
Facebook is still reeling from the Cambridge Analytica fallout and the ongoing Russian election interference investigation.
The company is now hiring a privacy policy director to evaluate and provide guidance on the privacy implications of new products and features. It's also hiring a director of privacy policy legislation, which is an indication that the social media giant anticipates working more closely with lawmakers to shape new and existing privacy laws.
Facebook has hinted at potentially using blockchain technology to better protect privacy. The company currently has an open position for a blockchain public policy manager.
Meanwhile, Apple continues to deal with privacy in the context of internet browsing on Safari and law enforcement seeking access to users' data on iPhones, and more. On the whole, privacy advocates have identified Apple as a tech leader on privacy.
CEO Tim Cook recently said:
"Privacy to us is a human right. It's a civil liberty, something that is unique to America, you know, this is like freedom of speech and freedom of the press, and privacy is right up there for us."
Apple's current opening for a Director of Privacy Compliance suggests Cook remains serious about privacy. The role involves monitoring the company's compliance with existing and new global privacy regulations.
Whoever fills that role will have to contend with the fact that Apple has products and compliance requirements in different jurisdictions all over the world, from Europe's GDPR to The California Consumer Privacy Act of 2018, and beyond. 
Apple is also hiring a privacy law director to monitor the progress of privacy laws and regulations and to respond to inquiries by regulatory agencies.

Elections are hot button issues for big tech
Facebook and Google are both hiring for positions related to politics and elections.
Facebook and WhatsApp
Over the last three years, Facebook has seen a noticeable uptick in "elections" mentions on earnings calls.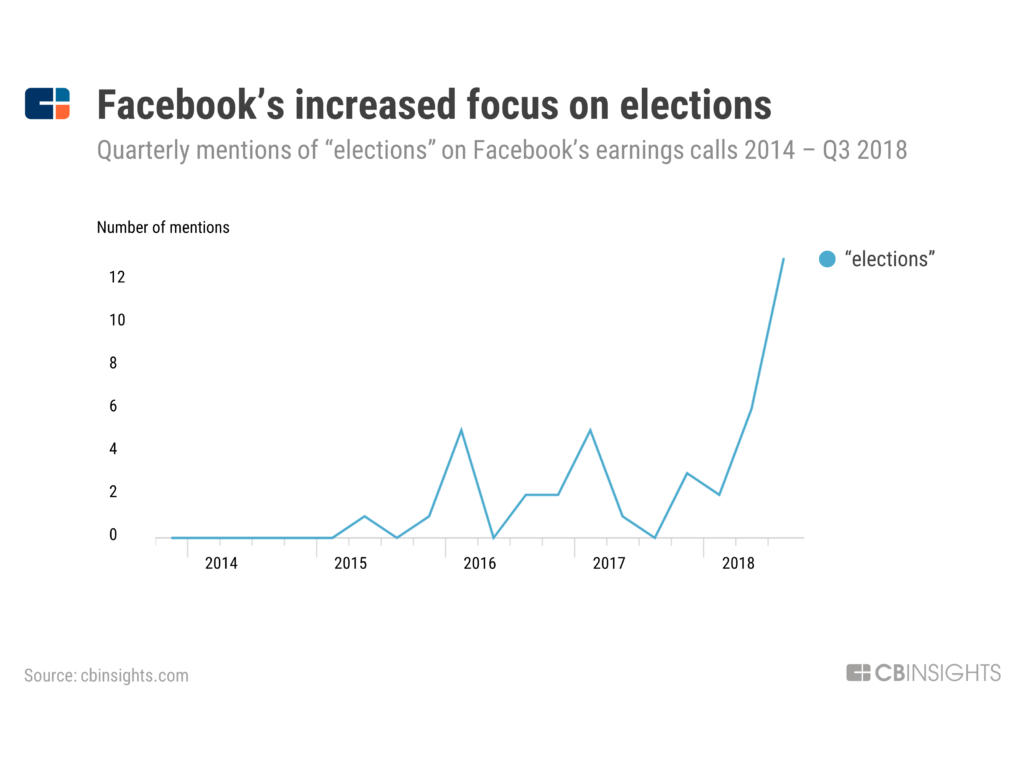 For example, on Facebook's Q2'18 earnings call, Mark Zuckerberg said,
"We're much more confident that we're going to get this right for the elections in 2018, which include the U.S. midterms, but also the elections in Brazil and upcoming elections in early 2019 in India and the EU."
The company has been under increasing scrutiny due to its platform's influence in recent elections and its leadership's slow handling of bad actors operating on the social network. Facebook is looking to strengthen its management of election-related user messaging and public policy strategies in developing countries.
Online manipulation and disinformation tactics, which largely played out on social media, influenced elections in at least 18 countries in 2016, according to a report from watchdog organization FreedomHouse.
Facebook recently identified and removed active political influence campaigns on the social network. United Nations investigators even blamed the company for playing a leading role in possible genocide in Myanmar by aiding the spread of hate speech.
Now Facebook is hiring a policy program manager for elections to develop and execute WhatsApp's global election handling. WhatsApp is increasingly used as a political messaging platform in elections, especially in developing countries.
WhatsApp has been heavily involved in elections and embroiled in controversy in India, the company's biggest market where it serves roughly 250M users.
In the last six months, there have been at least 29 murders by mobs in India that were incited by misinformation on WhatsApp, according to public officials. Facebook has yet to fill a position for a public policy manager to lead election projects in India.
There are also open roles to help manage elections in Brazil, and to manage public policy efforts in Myanmar. Facebook is also hiring for a public policy lead in elections management in Europe, Africa, and the Middle East.
Google and YouTube
Meanwhile, Google's YouTube is looking for a director to help shape public policy around controversial content.
According to data from Google, viewers watched more than 110M hours of video content related to election issues and candidates on YouTube between April 2015 – 2016. That's 100x the total length of time it would take to watch all of the content ever aired by CNN, C-Span, MSNBC, and Fox News combined.
YouTube's role as an indispensable political platform raises the stakes for Google and puts a special onus on the company to be accountable for the content its subsidiary hosts. Lawmakers and senior officials in the US and in the EU are already looking into regulating parts of Google, namely search. 
To help shape how lawmakers view and react to YouTube, the company is hiring a director of public policy and government relations at YouTube to lead political efforts around controversial content such as terrorism, child safety, and misinformation.
The Ethics of Ai is moving to center stage
From autonomous vehicles making life or death decisions to racial bias in computer vision algorithms, discussions of how ethics applies to AI have skyrocketed over the last few years.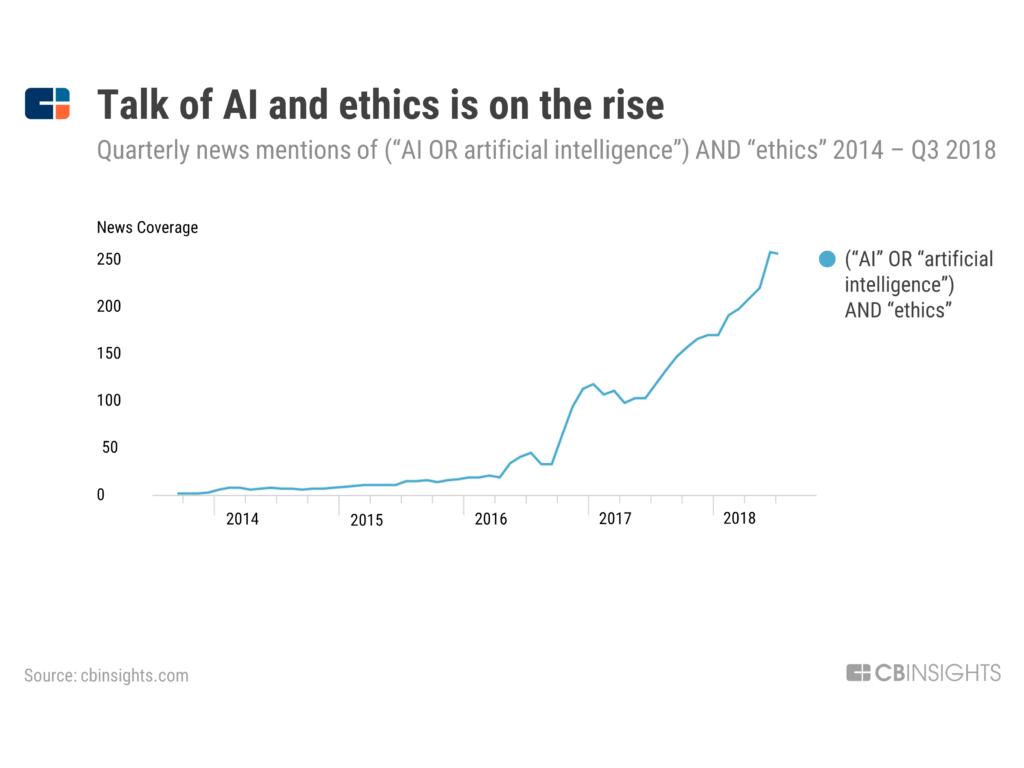 Google has been under intense internal and external pressure to defend the ethics of its role in developing AI software for the US Department of Defense.
Since 2015, the company's corporate code of conduct slogan changed from "Don't Be Evil" to "Do the Right Thing." Now, Google is hiring an investigations analyst on its Trust and Safety team to make sure the company is, in fact, doing the right thing. The investigator's job is to look into the company's ethical machine learning practices.
The role involves designing and implementing operational processes to investigate and detect machine learning fairness across Google products — although what constitutes machine learning fairness is, to a degree, up to interpretation. 
Notably, Amazon also sells defense and surveillance-related AI technologies to the US government, but it does not currently appear to be hiring for any roles related to AI and ethics. 
Technology is only as good as the people who build it
Hiring directors to lead privacy efforts, managers to oversee election content, and investigators to police AI ethics are steps in the right direction. However, GAFA still have a long way to go if they are going to win back the public and regulators. 
Moving forward, it will be important to monitor the progress these companies have in filling critical open positions and the effectiveness of the people they hire.
If you aren't already a client, sign up for a free trial to learn more about our platform.