Top US tech companies are leveraging smart speakers, search data, and consumer insights to give the beauty and personal care industries a tech edge.
Beauty and tech are becoming increasingly intertwined.
While beauty conglomerates like L'Oréal are making acquisitions to become more tech-enabled, tech giants like Google, Amazon, Facebook, and Apple (GAFA) are pursuing the high margins in beauty through partnerships, consumer insights, e-commerce, and more.
GAFA's search data, smart home devices, advertising and marketing capabilities, and more offer compelling use cases for the beauty industry.
Simultaneously, the beauty industry is looking towards tech to provide an edge in an increasingly crowded market.
In this report, we outline GAFA's major initiatives around beauty and personal care.
Contents
Google
Google's search data helps brands understand beauty shopper preferences
Partnerships & Events
Google and YouTube searches and views for beauty care are up 65% year-over-year. Now, Google is leveraging its massive datasets to help beauty and personal care brands make consumer-driven decisions.
The company has partnered with a variety of well-known brands to leverage its search data to shape brand strategy and enable better beauty shopping experiences.
Maybelline built its MENA content strategy based on Google and YouTube search data, while Clinique partnered with Google Unskippable Labs for more efficient omnichannel marketing. Hot Pepper Beauty, one of Japan's top online booking services, worked with Google AdWords to attract customers and increase conversions while lowering costs.
Some brands have used Google's search data to reach multicultural audiences, as seen with Make Up For Ever's search data on complexion-specific queries.

Source: Think with Google
Beyond brand partnerships, Google appears to be focusing more on beauty events with industry leaders.
Google UK hosted its inaugural "Connected Beauty" event in October 2018, bringing speakers from YouTube, Sephora, indie beauty brands, and more to discuss trends across consumer beauty product discovery.
At the event, Google highlighted an increase in personalized searches for beauty products that meet specific user needs — again using search data to help beauty brands make consumer-focused decisions.
Consumer Insights
Google has previously leveraged its search data for industry reports across the beauty space, including a 2014 report on the beauty revolution, a 2015 report on hair trends, and a 2017 report that used Google data to identify skincare trends across the US, France, and Japan.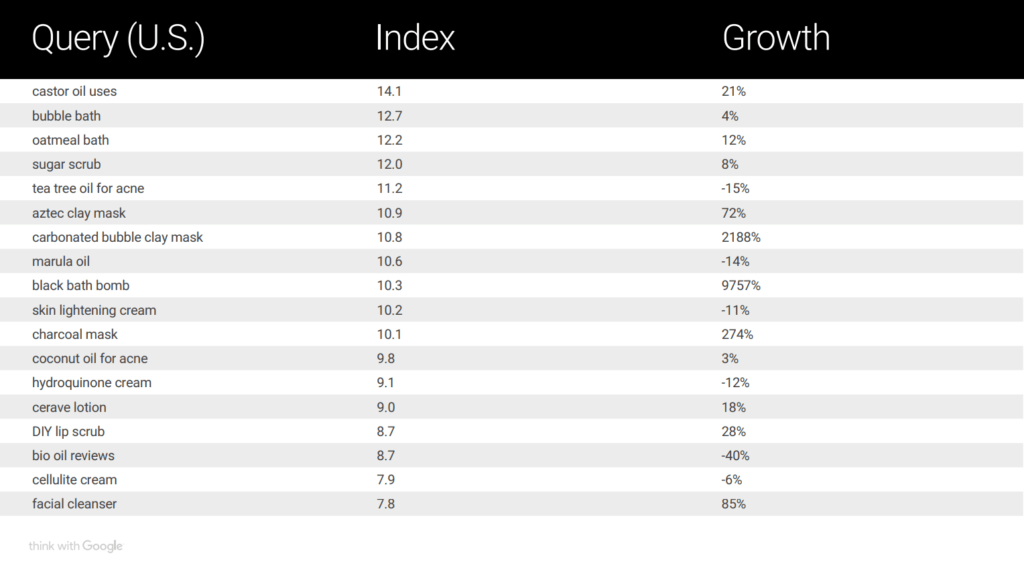 Source: US-based top-volume skincare searches, Think with Google Beauty Trends 2017
Beauty brands partner with Google Assistant & Home for voice-activated skills
Amazon and Apple have both launched their own virtual assistants. In response to the growing competition, Google has heavily emphasized its focus on building a superior digital assistant.
Google's mentions of "voice" or voice products on earnings calls far outpaced Amazon's mentions, despite Amazon's lead in sold voice-enabled smart home devices.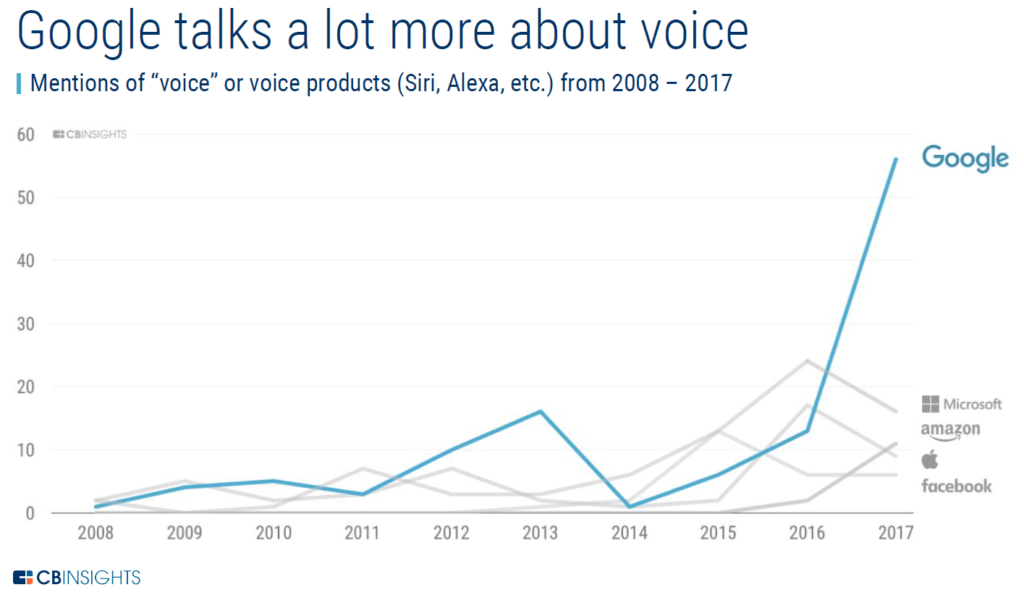 At the same time, beauty companies are looking to master voice-based shopping to ensure their brands remain top of mind for consumers.
With tech giants expanding into smart home devices, voice-activated beauty skills offer new opportunities to increase consumer device engagement.
Beauty brands must consider how voice technology could be used to address shopper pain points, from offering advice to making recommendations to booking reservations.
Product Launches
In terms of scaling its digital assistant, Google CEO Sundar Pichai has said that the company is working with "every major device brand" in the US to cover a wide range of products and industries, from dishwashers to security systems.
Beauty is no exception.
At its I/O conference in May, Google outlined a future capability for the Assistant: a voice system, dubbed Duplex, that can mimic natural speech patterns to carry out phone calls on a user's behalf. The technology demonstrated making a reservation at a hair salon, featuring a realistic-sounding conversation between the AI and a human.
Google Assistant can also replenish products, find beauty discounts at nearby stores, keep a running shopping list of products, purchase products via Google Pay, and more.
Patents & News
Google intends to dominate the smart home market. The company's patent activity indicates that voice-based beauty tasks could play a big role in that endeavor.
The first image below — taken from Google's 2017 patent application titled "Escalation to a human operator" — shows the operator dashboard showing progress of existing tasks. The second image shows the scheduling progress and confirmation for a bot requesting a haircut appointment on its user's behalf.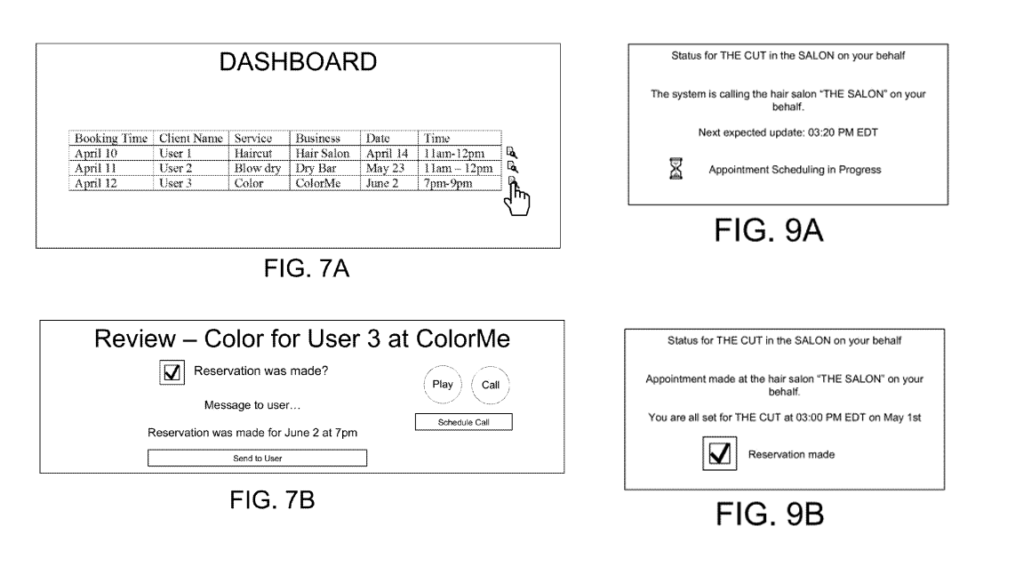 Partnerships
Though there are concerns over whether voice assistants significantly drive sales, beauty companies are pursuing partnerships with Google Assistant and other devices to provide voice-activated experiences.
Sephora launched its app on Google Assistant in November 2017. The app includes features to book beauty services, take quizzes, and listen to influencer-curated beauty podcasts. This also helps Sephora gather data on consumer preferences.
Sephora will reportedly continue to expand Google Assistant functionalities, as the company bets on voice becoming a key channel for beauty shoppers.
Estée Lauder partnered with Google Assistant on Google Home for a personalized nighttime skincare routine in November 2017. Through the Estée Lauder Nighttime Expert app, users can access a personalized skincare routine based on a series of questions and answers, along with skincare application techniques and free services at an Estée Lauder counter.
Since 2017, the company has further expanded the app features.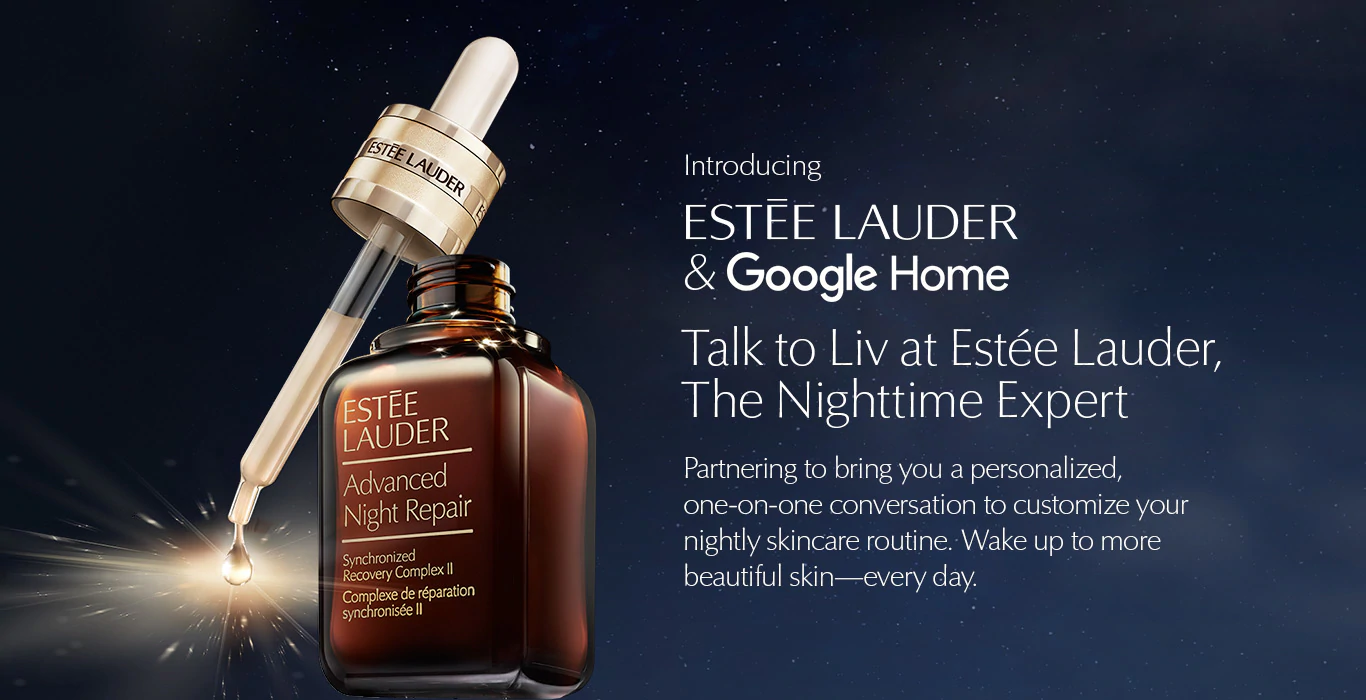 Source: Estée Lauder
The partnership has allowed Estée Lauder to add personalization features to engage consumers and benefit from device purchases from the holiday season by promoting its own products.
YouTube powers beauty influencers
The YouTube beauty world has been flourishing for years.
The platform's beauty and personal care videos have gained over 222B views. In 2018, viewers have watched an average of more than a million beauty videos on the platform every day.
YouTube has played an enormous role in the power of influencers in today's beauty economy. Individual "vloggers" control 97% of all beauty topic videos, compared to 3% owned by big beauty brands' content, according to Digital Surgeons.
Big brands have quickly realized they need to go to YouTube to reach their customer base. They have capitalized on the success of YouTube influencers through partnerships and paid video ads.
Neutrogena, for example, partnered with YouTube in 2016 to promote its Acne Light Therapy Mask. It used the platform to raise product awareness and make the unfamiliar acne-fighting tool more top-of-mind for consumers.

Source: Think with Google
But there's a dark side to YouTube's influencer marketing community. The platform has been at the center of various brand safety crises, as well as recent scandals related to beauty influencers' online behavior.
YouTube has recently taken a more active role in regulating influencers on its platform. Late last year, YouTube decreased the amount of ad revenue income YouTube influencers could make, dubbed the "Adpocalypse."
YouTube also increased requirements for content creators earlier this year, so that creators with less than 1,000 subscribers and 4,000 hours of view time cannot earn ad revenue. The company is also reportedly developing AI tools to track these accounts.
With more personal care corporates like Unilever cracking down on inauthentic influencers, YouTube could face greater pressure to even further regulate influencers on its platform.
Partnerships
YouTube is investing more in its beauty capabilities in efforts to remain competitive.
The company hired Derek Blasberg as director of fashion and beauty in June 2018, right after the announcement of Instagram's IGTV.
Blasberg will serve as an industry insider, aiming to promote the growth of fashion and beauty influencers, brands, content creators, and more while increasing industry engagement with YouTube.
Amazon
Amazon's next makeover: online beauty retail
It's no secret Amazon has been aggressively pushing into beauty e-commerce.
The company holds over 21% of online beauty market share in the US, according to 1010data. In 2016, 1 in every 5 online beauty purchases was made through Amazon Marketplace.
This year, of more than 100M products purchased on Prime Day, 5M were beauty products, according to Glossy.
Of all the e-commerce categories Amazon has been expanding into, it could stand the most to gain from beauty retail.
In addition to garnering high brand loyalty and complementing other product offerings, beauty purchases offer predictable product replenishment cycles.
In June, Amazon launched its much-anticipated Indie Beauty Shop, which is dedicated to emerging, independent beauty and personal care brands.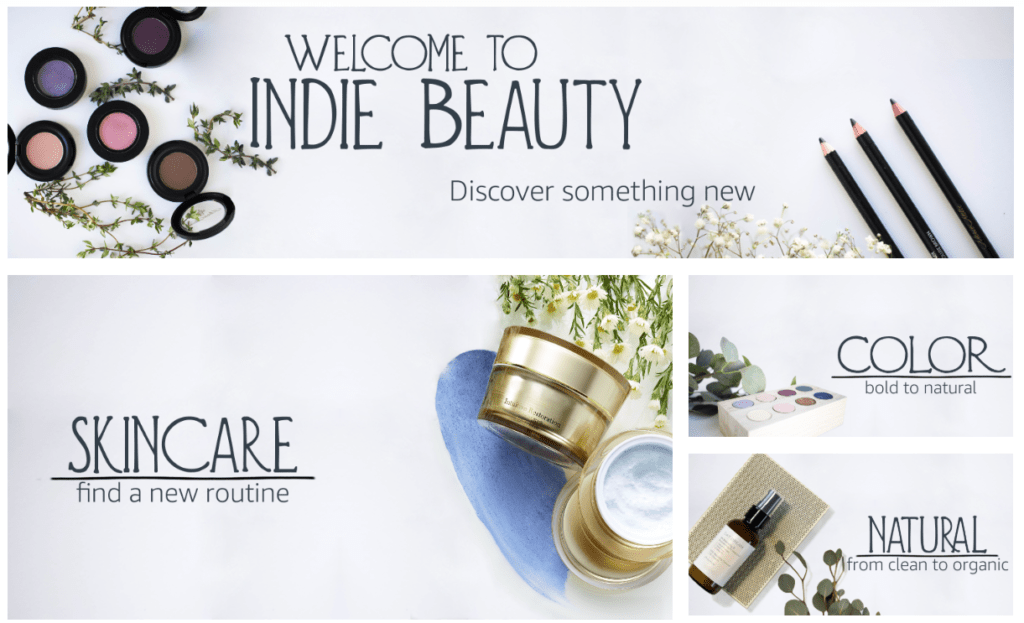 Partnerships
The big conundrum for both large and small brands is whether or not to partner with Amazon.
On the one hand, distributing through Amazon offers a wider reach and the ability to have Amazon handle product shipping and logistics.
On the other hand, brand aesthetics and personalization could be compromised. Additionally, competition with thousands of sellers and potential resulting price wars could be a deterrent for brands.
And of course, distribution through Amazon could ultimately help the tech giant launch its own private label brands as competing products.
Amazon's push into beauty comes at a time when consumer demand for beauty is at an all-time high — especially for premium products. Though Amazon has historically struggled with luxury products, the company's luxury beauty sales grew 47% in 2017.
The same year, it announced a partnership with online luxury beauty retailer Violet Grey to distribute select brands on Amazon. The company also offers a few different monthly luxury beauty sample boxes.
Private-label products
Amazon has upped its private-label activity with more of its brands focusing on beauty and personal care products.
The Prime-exclusive Solimo brand features everyday items, including personal care goods like razors, shaving cream, sunscreen, and body wash. Amazon's Beauty Bar brand sells makeup, fragrance, hair products, and more.

Select personal care products from Amazon's Solimo brand
But will Amazon's private-label beauty brands be as successful as some of its other product lines?
In a crowded market, brand loyalty is vital for beauty brands to keep shoppers making recurring purchases. If Amazon's private-label budget beauty products can resonate with consumers in this competitive market, its efforts could be successful.
But it faces competition. Companies like CPG e-commerce platform Brandless and even big-box retailers like Target and Walmart are offering competing budget beauty products, making it a difficult market to crack.
Product discovery
Amazon Launchpad, a platform for startup-curated products, offers another way to introduce new beauty brands to Amazon. It features an assortment of beauty brands, including Tria Beauty, FOREO, The Seaweed Bath Co., and others.

Amazon also partnered with Automat to launch Beauty.bot on Amazon Registry Services.
The platform offers a beauty bot directory, education on how bots can boost sales, and news about conversational marketing in the beauty industry.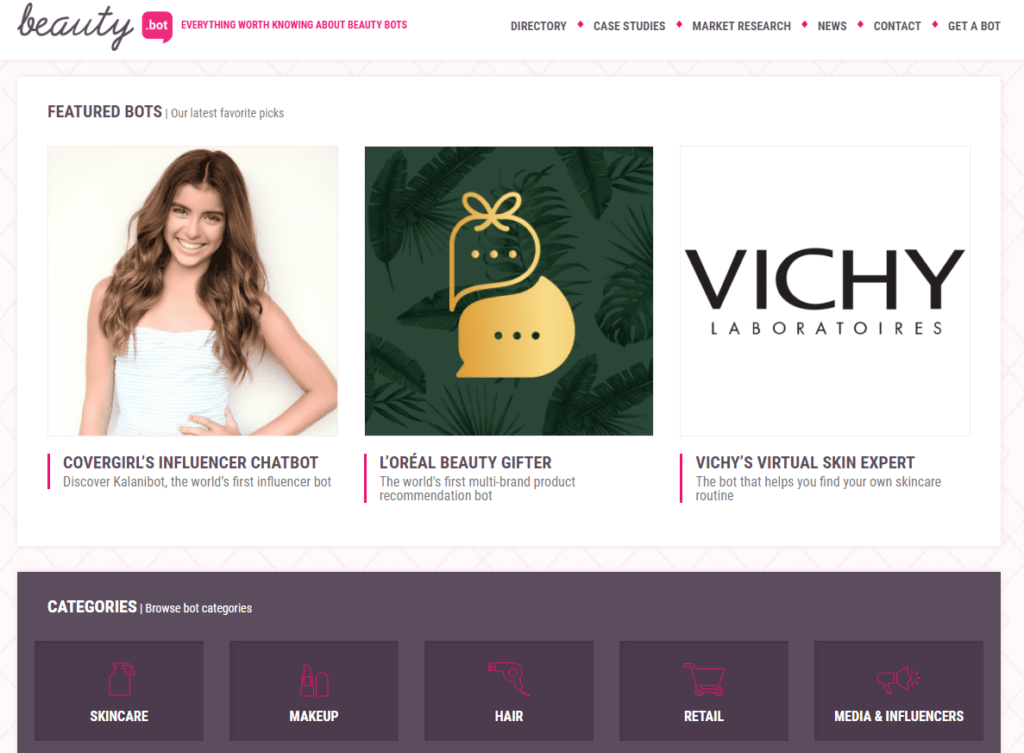 Despite these initiatives, fake reviews and counterfeit beauty and personal care products remain huge challenges.
Amazon leverages machine learning and automated systems to help combat counterfeit products across the board. But consumer trust is vital for beauty products, especially premium and luxury items, and Amazon will have to strengthen that trust for its e-commerce efforts to be successful.
In quest for voice shopping dominance, Amazon Echo & Alexa pursue beauty use cases
Product Launches
Amazon has rapidly expanded its Echo device product line since its launch in late 2014. Powered by Alexa's AI assistant skills, the line includes smaller devices like Echo Dot and visually-enabled devices like Echo Show.
These devices could gain traction with a beauty-focused audience, where the look and feel of a product have a major impact on consumers' purchasing decisions.
Partnerships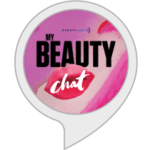 Beauty brands have been eager to partner with Amazon, to develop beauty skills and drive customers to purchase their brand's products on Amazon.
Sponsored by L'Oréal, media conglomerate Hearst launched the first major beauty skill for Alexa last year: My Beauty Chat. The skill lets users access beauty advice directly from beauty editors at Cosmopolitan, Elle, Marie Claire, and other Hearst publications.
Soon after, Shiseido launched its first skills on Amazon Alexa for weather-based beauty advice and makeup tips for specific skin concerns.
Coty launched a visual skill called "Let's Get Ready" for the Amazon Echo Show in early 2018. The skill offers personalized look recommendations, how to's, and beauty tips featuring recommended products from Coty's brand portfolio, which can be added to users' Alexa shopping list.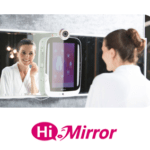 Beyond voice and visual skills, beauty devices are integrating with Amazon Alexa for at-home beauty recommendations. The HiMirror, originally launched in 2016 by the New Kinpo Group, offers an Amazon Alexa voice-controlled smart mirror that provides beauty advice for users.
Still, the question remains whether voice can offer customer experiences that drive online commerce — especially in the beauty industry, which is inherently visual.
A report from The Information found that only 2% of Amazon Alexa users have shopped for products in 2018 using the voice interface, and only 10% of those were return shoppers.
Even Jeff Bezos was bearish on voice shopping in a Billboard interview last year, stating, "voice interface is only going to take you so far on shopping."
However, beauty corporates are still chasing the voice shopping hype. Sephora's Chief Digital Officer of Europe and the Middle East even went so far to call voice assistants a "minor digital revolution."
Patents & News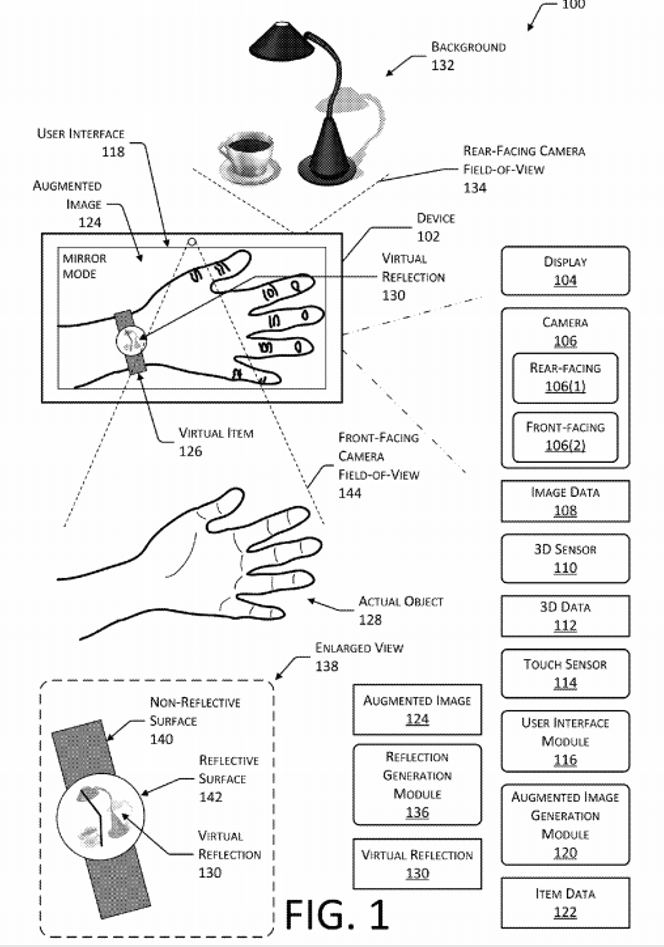 Amazon is already working on AR try-on for items like furniture and jewelry, as indicated by its patent activity. Down the road, this could potentially expand to makeup try-on too.
The company is also betting big on drone delivery. Its recently granted patent, titled "Aerial Vehicle Delivery Shroud," aims to add expandable features called delivery shrouds to UAVs to help facilitate deliveries.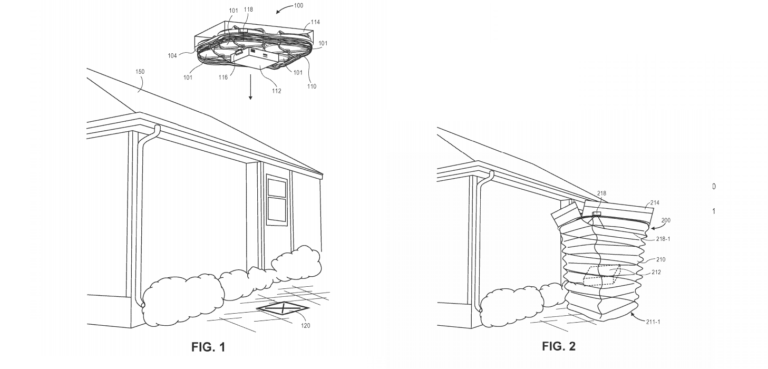 Amazon has been actively redefining last-mile delivery through drones with airborne fulfillment centers, maintenance facilities, docking centers, and more.
This newly patented technology could be especially useful as the company continues to develop its drone-based delivery system, Prime Air.
Amazon has even patented a delivery drone that understands voice and gestures.
With Amazon's push into beauty retail, these improvements in drone delivery could eventually threaten other beauty e-commerce players' market share.
Facebook
Facebook offers targeted advertising for beauty product discovery, consumer insights
Advertising & Consumer Insights
Facebook has long used its advertising capabilities to cater to beauty brands — especially when it comes to personalized shopping experiences.
Last holiday season, Sephora, an early digital player, launched a campaign with Facebook's Collection ads in lieu of its normal holiday print catalog to enhance product discovery. Based on user preferences, Facebook's Collection ads served variations of 70+ beauty products underneath a sponsored video.
Similarly, brands like travel-inspired cosmetics line Wander Beauty and Benefit Cosmetics have worked with Facebook to use video and carousel ads to launch products, increase brand awareness, and promote e-commerce.
Despite Facebook's work with beauty brands, its recent algorithm changes are making it more difficult for brands to reach consumers through the platform. Last year, Mark Zuckerberg noted that advertisements from media companies and brands were taking over users' newsfeeds, and said the company would change its algorithm to reduce that content.
Beyond its advertising capabilities, Facebook is using its massive troves of data to generate consumer insights.
Facebook IQ, which offers consumer insights and market research, has produced various beauty-related analyses ranging from exploring opportunities around millennial and Gen X American beauty buyers to more recently discussing how beauty shoppers discover products in an increasingly connected world.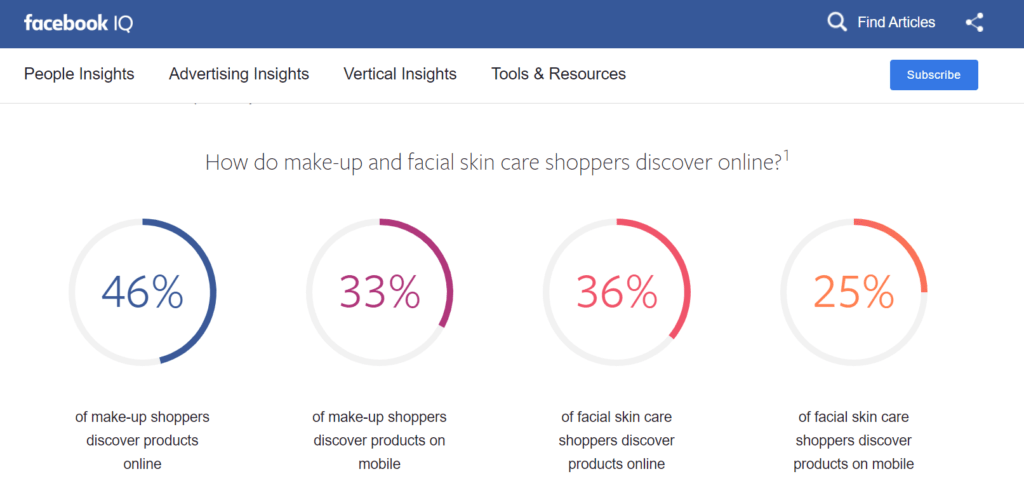 Source: Understanding the Beauty Shopping Journey of the Connected Consumer
To add value for SMB clients, Facebook pursues retail partnerships
Beyond online advertising, Facebook is looking to add value for its SMBs by partnering with retailers.
This year, Facebook will partner with Macy's for its holiday marketplace pop-up, which will feature around 150 up-and-coming consumer-facing brands, including Mented Cosmetics. Facebook is covering the bill for brands, which are advertisers on its platform.
The partnership benefits are obvious for Macy's, bringing in traffic during a time when department stores are struggling to stay afloat. Macy's has also faced increasing competition from Amazon, which is making a greater effort to engage small businesses on its platform — especially those in beauty and personal care.
Facebook Messenger taps brands for beauty bots, AR try-on
Product Launches
Originally launched as Facebook Chat back in 2008, Facebook Messenger has evolved into a global platform of over 1B active monthly users.
Launched last year, the Messenger plug-in for businesses allows customers to communicate directly with brands on their websites. This could be important for beauty product sellers, where brand engagement is paramount to consumer purchasing decisions.
Facebook Messenger also recently launched "personas" within its bots to express different personalities for specific use cases. This could also help with beauty-specific engagement, enhancing customer conversations with brands.
Most recently, Facebook has been testing voice commands for chats and calls within its Messenger platform, which could compete with Amazon's, Google's, and Apple's smart speaker devices — and their voice-enabled beauty experiences.
Partnerships
Beauty brands have been partnering with Facebook Messenger since it opened the platform up to chatbots back in 2016.
In November 2016, Sephora developed Sephora Assistant in partnership with Facebook to help clients manage beauty reservation booking. According to Facebook, Sephora Assistant achieved an 11% higher booking rate and cut five steps in the traditional makeover booking process.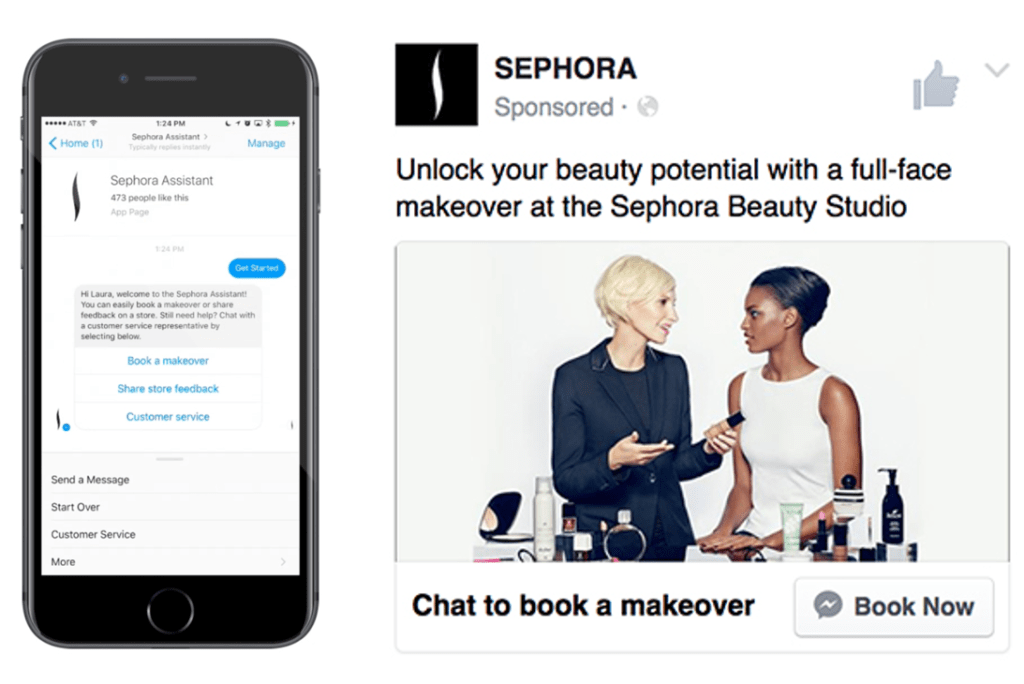 Sephora Assistant chatbot and targeted advertisement for makeover booking. Source: Facebook
Estée Lauder became the first major retailer to launch on Facebook Messenger in the UK, just in time for the 2016 holiday season. Through the company's Messenger bot, London-based shoppers could have gifts delivered within 60 minutes.
Facebook Messenger has also explored use cases to help ingredient-conscious consumers find products that match with their values or needs. For example, Kiehl's Facebook messenger bot, which launched in 2017, can search for products by ingredient or skin type.
While many beauty brands remain optimistic about the opportunities around conversational commerce, overall chatbot adoption has slowed, according to Gartner L2. Since 2016's peak chatbot hype, chatbot investment has cooled.
Facebook even shuttered its virtual assistant earlier this year, in another sign of the technology's limitations.
However, augmented reality try-on for beauty products has become a popular use case for Messenger.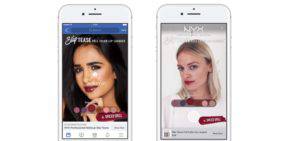 Companies like Sephora and Estée Lauder (both powered by ModiFace's augmented reality technology) have developed makeup try-on applications for Facebook Messenger.
Beyond makeup try-on, hair coloring brand Madison Reed's bot, which offers virtual hair color matching, is also available through Messenger.
L'Oréal recently launched a long-term partnership with Facebook to create AR beauty experiences for the beauty brands on its platform and on Facebook-owned Instagram. The partnership has featured NYX Professional Makeup and L'Oreal Paris, with several more of L'Oréal's beauty brands in the pipeline.
Within Facebook, users can easily try on products across L'Oréal's portfolio brands and then be seamlessly redirected to parent sites to make a purchase.
These initiatives allow consumers to encounter L'Oréal's brands virtually, without having to step into a store.
Ultimately, AR try-on is meant to drive e-commerce sales for L'Oréal-owned brands.
So what's in it for Facebook?
Facebook has had a tough year, between data and privacy breaches and volatility in its stock price. With slowing user growth, Facebook's partnerships with beauty brands could potentially increase the number of active users on the platform.
Patents & News
Facebook's patent activity suggests that the company is looking to continue making a larger e-commerce play through its chatbots.
A Facebook patent published in July shows users paying for goods through in-app messaging bots, highlighting the company's continued expansion into commerce.
With Facebook's aforementioned partnerships for beauty product AR try-on within its platform, the next logical step would be to enable product purchase through a Messenger bot.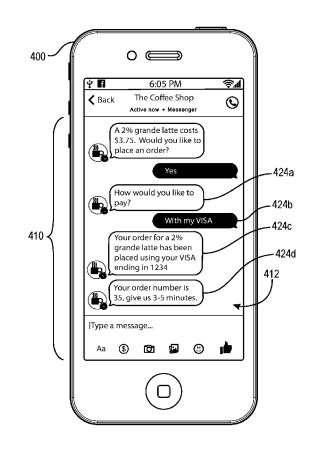 This isn't the first time Facebook has made a social commerce play, but many of its previous attempts failed to gain traction. Unlike in Asia, many Western-based consumers view online shopping and social media as separate activities.
Though this attitude could be shifting, Facebook's social commerce bets (especially beauty-related) may be better placed on Instagram.
Instagram powers digital beauty brands, moves towards social commerce
Instagram has become the beauty industry's bread and butter. It has largely been responsible for the creation of entirely social brands across all consumer categories.
The platform naturally lends itself to beauty — an industry that is inherently visual, based on peer recommendations, and has a relatively low barrier to entry.
Instagram beauty consumers are a wildly engaged cohort. The company claims that beauty Instagrammers are active each day of the month, averaging 33 sessions a day.
Though Instagram has fueled the rise of indie brands, the platform has become crucial for brands large and small.
Instagram is investing in its beauty capabilities to better monetize its platform. The company has worked with beauty brands like Birchbox, SK-II, Benefit Cosmetics, and others on various campaigns.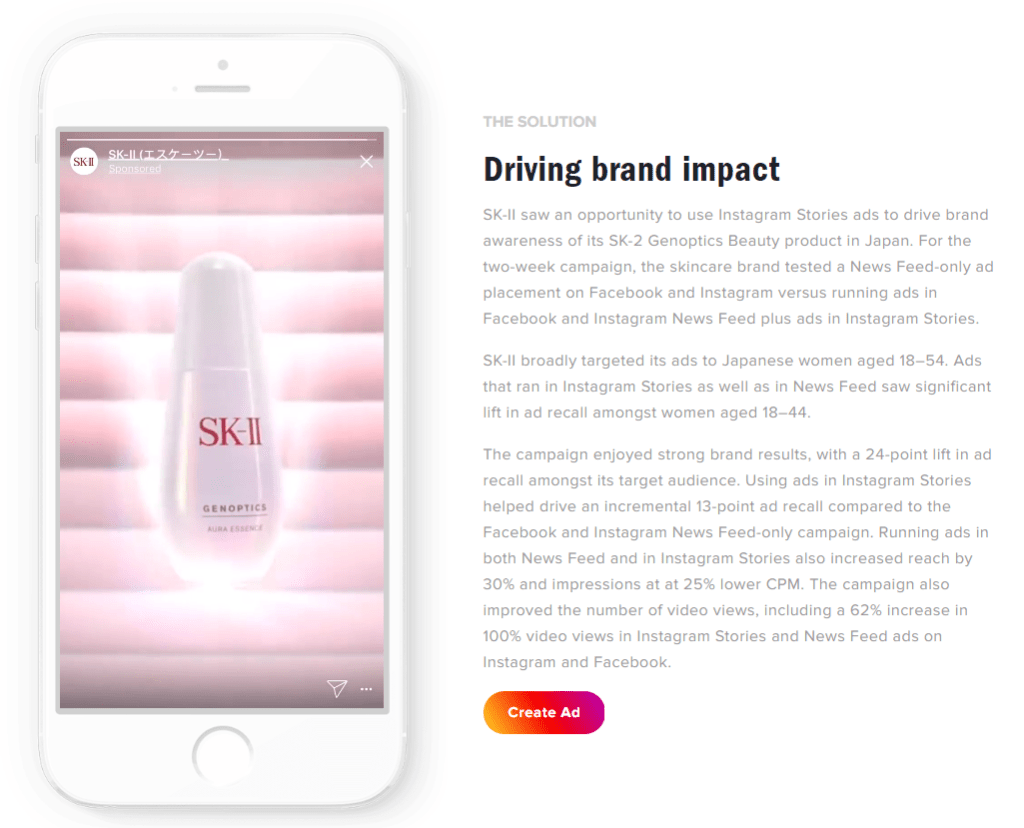 Source: Instagram Business
Similarly, Snap is trying to drive advertising opportunities for beauty brands through Snapchat (though it has been less successful than Instagram).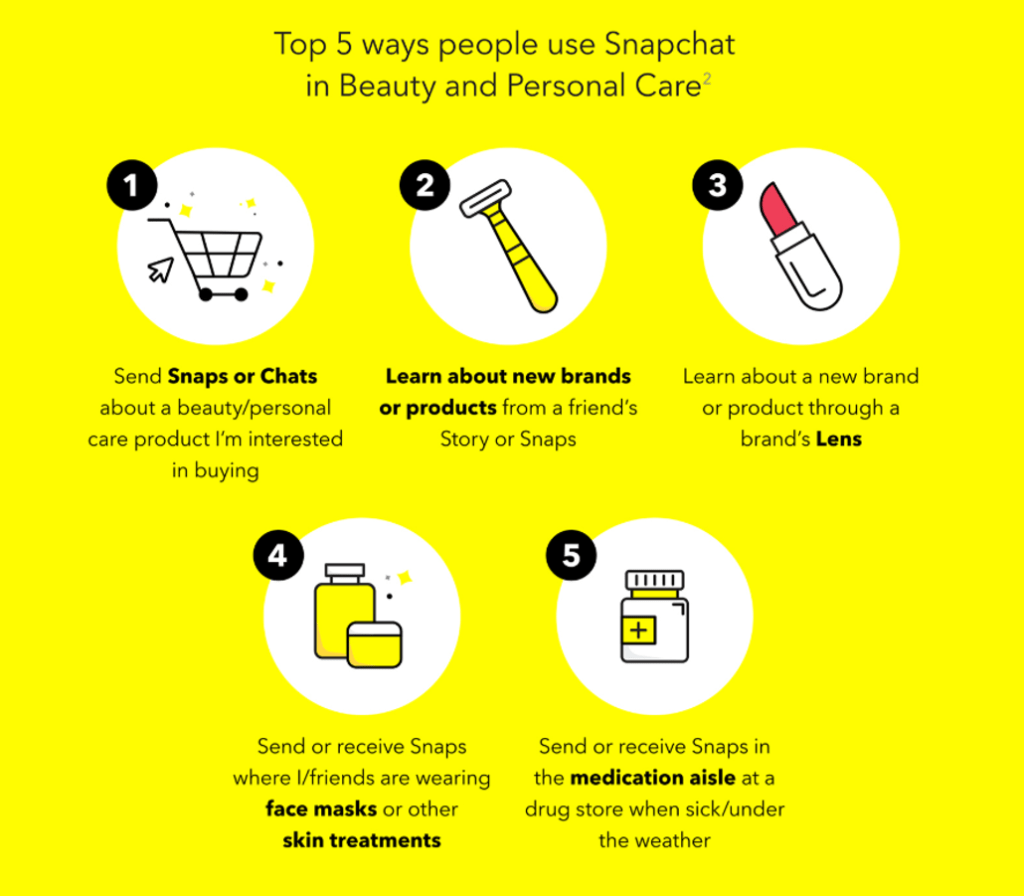 Source: Advertising on Snapchat
Partnerships
Instagram added a beauty partnerships team in April, according to Glossy. The team will reportedly focus on relationships with beauty brands and other key industry players.
Product Launches
Like Facebook, Instagram is becoming a bigger e-commerce player.
The company has been testing shopping features since 2016. As of this summer, Instagram has piloted shopping within Instagram stories.
Instagram's reported development of a separate shopping app could also be ideal for beauty brands.
If successful, this initiative could give major beauty e-commerce players a run for their money.
Through its partnership with Facebook, L'Oréal and ModiFace also plan to bring makeup try-on to Instagram, which would likely offer better conversions than try-on through Facebook Messenger.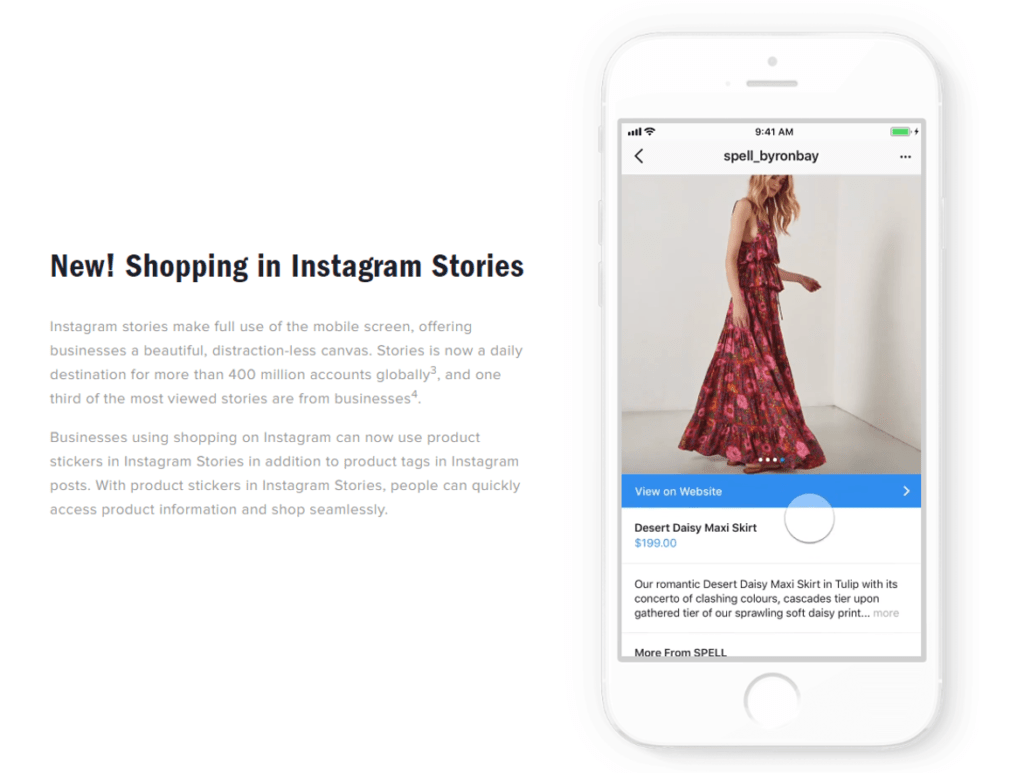 Source: Instagram Business
Beyond e-commerce, Instagram has been building up its beauty content.
Its new TV platform, IGTV, will be launching a beauty show hosted by Real Simple's beauty director. The show will offer makeup tips for commuters. (Facebook has similarly launched beauty programming on its Facebook Watch platform.)
Such programming could enable longer beauty content, giving Instagram opportunities to compete with YouTube, the go-to destination for online beauty tutorials and beauty influencer videos.
Apple
Apple's ARKit supports makeup try-on use cases
Product Launches
Apple has been expanding into augmented reality and smart speakers, both of which offer beauty use cases.
At its Worldwide Developers Conference in June 2017, Apple went public with ARKit, which offers tools for iPhone and iPad app developers, and a machine learning library called Core ML.
ARKit's face tracking technology has laid the groundwork for beauty product try-on applications. In its notes on "Creating Face-Based AR Experiences," ARKit notes that with its 3D mesh geometry, a mesh can "place or draw content that appears to attach to the face" such as makeup onto a user's skin.
ARKit developers released augmented reality apps within a few months of its launch. ModiFace, for example, launched an ARKit demo last August, with demos of lipstick try-on and a virtual makeup counter.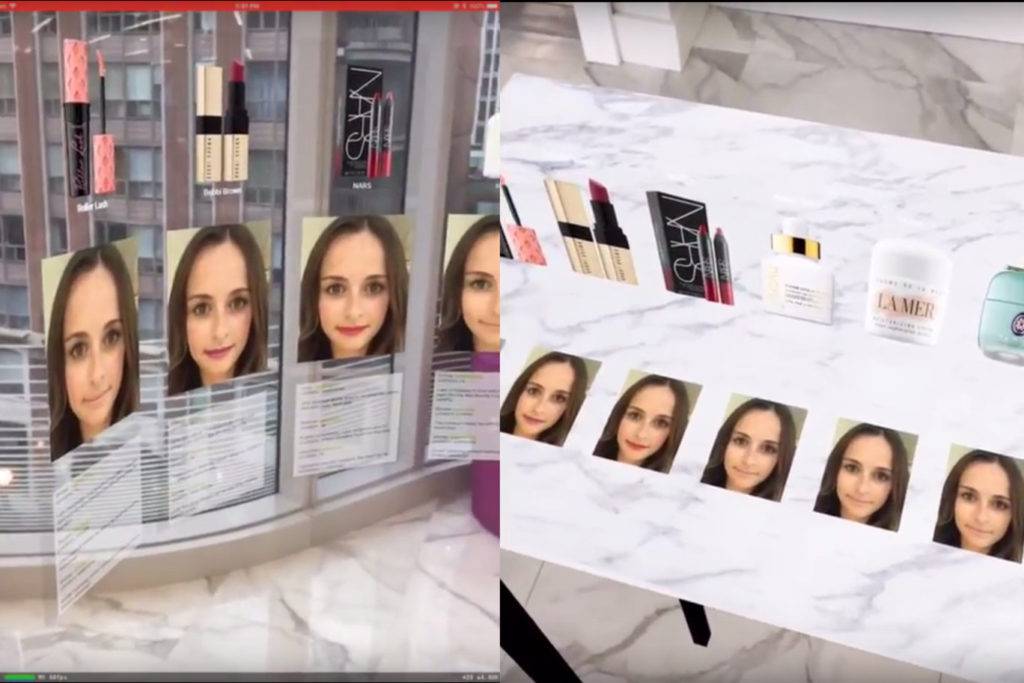 Source: 9to5Mac
With ARKit's footprint projected to rocket up to 850M units by 2020, there are ample opportunities for beauty brands to develop augmented reality try-on apps on the platform.
Compared to other industries, beauty is one industry where AR applications have become mainstream, thanks to providers like Perfect Corp and ModiFace. AR can help solve beauty shoppers' pain points around the messiness of makeup try-on, and more importantly, collect data on consumer and product preferences for retailers.
With beauty augmented reality applications expanding beyond trying on makeup to testing hair treatments and nail polish colors, ARKit could aim to use its beauty applications help brands increase conversions, reduce product return rates, and improve brand recognition.
Siri & HomePod could foray into beauty skills
Beyond augmented reality, Apple's HomePod speaker system is poised to expand Siri's footprint in the home — competing with Amazon Echo and its accompanying virtual assistant Alexa.
Apple's HomePod could be the first signal of a wider move into the smart home market.
As with Amazon Echo and Google Home, HomePod could pursue similar beauty partnerships to bring beauty skills and features to its smart speaker.
Looking ahead
From beauty e-commerce to advertising to consumer insights, GAFA is playing an active role in the beauty industry.
But GAFA isn't infallible. Even the world's largest and most successful tech companies have limitations, and all have experienced failed products and initiatives. Their bets (and their partner's bets) on some of the technologies described above — chatbots and voice assistants in particular — should be treated with caution.
Beyond GAFA, tech-adjacent partnerships are enabling personalization across the beauty industry.
For example, in March 2018, Sephora launched a Europe-focused partnership with Salesforce to help personalize the shopping experience based on consumer preferences. Sephora aimed to customize its site experience with different languages and currencies to enable a deeper level of personalization.
Tech-enabled personalization in the beauty industry is also extending to new use cases.
According to Glossy, IBM Research partnered with fragrance and flavorings manufacturer Symrise to launch an AI-based digital fragrance model. Called "Philyra," it can act as a perfumer, offering customized new scents for perfumes, home products, personal care products, and more. The model can also analyze archived fragrance formulas.
Philyra's first initiative will be two new perfumes for the Brazilian market for cosmetics company O Boticário, set to launch in early 2019.
Going forward, we can expect to see new kinds of partnerships between tech and beauty and personal care brands — beyond some of the more obvious use cases.
Content and media players are also dipping their toes into the beauty space.
Spotify, for example, began selling artist merchandise (via Merchbar) and the artist beauty looks in partnership with Pat McGrath Labs and musician Maggie Lindemann. Though this initiative doesn't offer a revenue stream for Spotify, and it's unclear whether the company would launch similar initiatives with other artists, it does give musicians a new way to make money on Spotify beyond streaming.
Meanwhile, Netflix is developing a documentary about the beauty industry.
Though beauty and personal care hasn't historically been a focus area for FAMGA and other tech companies, these giants could continue to extend their influence in the sector — seeking to monetize their data, platforms, and devices as the beauty industry becomes more tech-enabled.
If you aren't already a client, sign up for a free trial to learn more about our platform.