Also covered are how holistic living is hitting real estate and where chemicals companies are investing.
Today, we discuss Google's partnership to fend off Amazon, Domo's haircut, the most explosive fintech company ever, and more, including:
Google's new strategy: The enemy of my enemy is my friend

The fintech platform growing faster than Facebook

Told you so: Domo's valuation gets clobbered

 Patchouli in the vents? Real estate tries wellness
The big names in chemicals are investing in these areas
The enemy of my enemy is my friend: Google's #1 competitor is Amazon (and not Facebook)
Google has been striking a number of partnerships highlighting how much Amazon is on Googlers' minds. Using the business relationships dataset we are accumulating, we looked at some of Google's notable recent partnerships to blunt the impact of Amazon.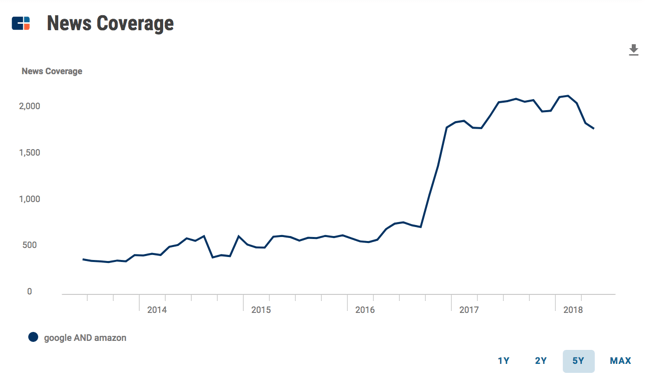 As the news trend above highlights, joint mentions of Google and Amazon in media articles jumped at the end of 2016 and have continued to gain steam.
This was a very cozy relationship for a while. 
Amazon would pay Google for traffic.

Google would send lots of traffic to Amazon.