These three tech giants have each made moves on the fringes of the health insurance space over the last several years. We take a look at their current initiatives in the space, and what each company may do next.
Big tech companies are picking up steam in the healthcare space, with Google in devices and data, Amazon in the pharmaceutical and hospital supply chains, and Apple in personal data and wearables.
Now the tech giants are venturing into health insurance through partnerships and investments.
Google, for example, has invested in insurance startups Oscar and Clover. Amazon now accepts pre-tax payments from health savings accounts (HSAs) and flexible spending accounts (FSAs). Apple has partnered with insurers to offer its Apple Watch.
Major insurers have begun to take notice, with mentions of the three companies increasing in earnings calls each year.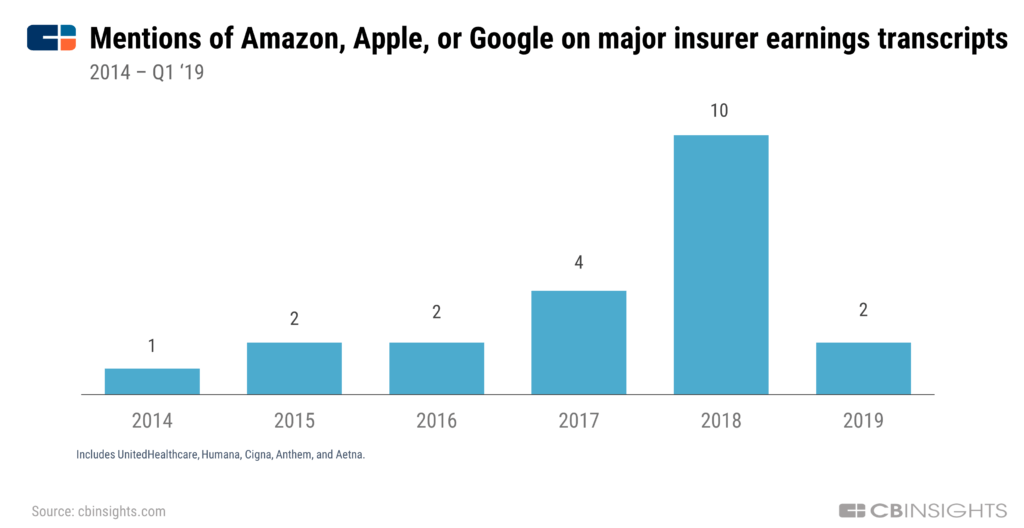 Big tech companies have the data savvy and technology that can be used to drive down costs for patients, and to date, they have worked with insurers to get a piece of the savings.