Google, Amazon, Paytm, and others are in a bare-knuckled fight to win India's next billion financial services consumers. These companies are launching apps and digital wallets, as well as creating partnerships and walled gardens to hurt competing products.
With historically weak banks and many citizens without proper identification, India has always lagged in access to financial services.
According to a July 2017 Ernst & Young study, 19% of India's population of 1.2B were still unbanked — representing a huge opportunity for those fintech players nimble enough to cater to India's unique market. 
The wide availability of smartphones and more fintech-friendly government policies have paved the way to tap into that opportunity, luring Google, Amazon, Alibaba, and other outside companies more deeply into the Indian payments space.
We used CB Insights to create a timeline of major moves made by the players above. Check out the graphic below to take a closer look.
Please click to enlarge.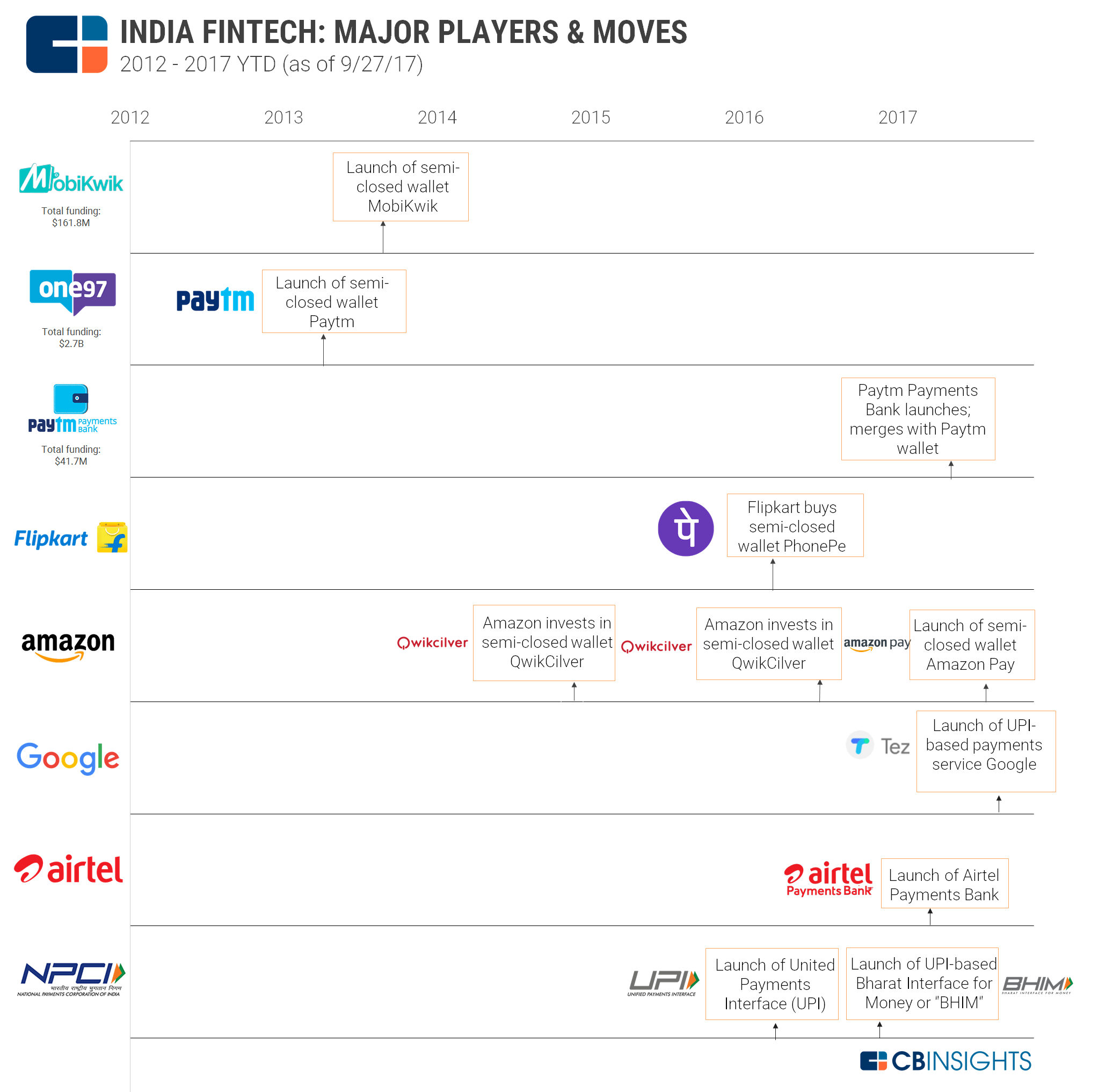 An Indian payments network for the 99%
One key development in the Indian payments space was the launch of the United Payments Interface (UPI) in 2016. UPI is a payment system that allows two individuals with bank accounts to instantly transfer money to each other with a single identifier.
Among these identifiers is Aadhar, a unique identity number tied to biometric identifiers like a fingerprint or an iris scan. Aadhar is part of the Indian government's attempt to tie the identities of Indian citizens to biometrics, clamping down on fake identities and identity theft. As of August 2017, the government said it had registered the biometric identities of 1.2B people.
Aadhar identification has been heralded as the game-changer that will help affordably secure and connect millions of India's previously identity-less citizens to services like banks, through the UPI and other means.
Its success has helped persuade tech and finance companies that fintech and payments innovation will accelerate in India. For example, Google is among the tech companies that have recently launched apps built atop the UPI rails.
The race for mobile-friendly fintech
The Indian government is also trying to encourage the emergence of a new fintech ecosystem by offering different types of licenses that make it easier for companies to provide mobile banking services.
One option is the e-wallet license. Fintech startups that want the ability to hold deposits can register with the Reserve Bank of India (RBI) for e-wallet licenses. Mainly, they apply for what is known as a semi-closed wallet license, which allows them to hold money. The limit is INR 20,000 (roughly $300).
The e-wallet concept is akin to PayPal in the United States. Customers can use e-wallets to transact on internal websites — like the Amazon e-wallet, which works on the Amazon India website — as well as on external websites that the company providing the e-wallet has partnered with. In Amazon's case, this includes Indian coffee chain Cafe Coffee Day and fast food brand Faasos.
A more robust option is the payment bank license. In 2015, the Reserve Bank of India (RBI) granted 11 companies this license.
A payment bank can hold up to approximately $1500 per user and can operate both checking and savings accounts. They go a step beyond e-wallets, issuing debit cards, providing online banking services, and allowing for cash withdrawals at ATMs. Customers also earn interest on the money in their accounts. The only thing separating these banks from official banks is that they cannot give out loans or other credit products.
How VCs and corporates from the US and China are playing this market
Indian customers are largely divvying themselves up between two ways of transacting:
Giving their business to fintech companies with e-wallets and payment bank licenses
Using apps that innovate on the UPI along with traditional bank accounts — which are proliferating as a result of Aadhar identification methods
1. e-Wallets and payment banks
Several companies have e-wallets offerings. One such startup, MobiKwik, ranks #15 on India's iOS store (as of 9/28/2017), according to app analytics firm App Annie. MobiKwisk has raised $162M in total funding to date, from investors including Sequoia Capital, Indian media conglomerate Times Group, and American Express Ventures.
Uber-rival Olacabs has its own e-wallet, Ola Money. It is the only e-wallet payments option that the company accepts.
Major global tech companies have also launched their own e-wallets. Amazon's semi-closed e-wallet for India launched in July 2017, and is capable of holding money and powering payments on other sites.
Entinties operating with payment bank licenses are less common, both because of more stringent requirements put on them by the RBI as well as the difficulties in turning a profit off them.
One of the 11 companies granted a payment bank license is Indian telecommunications provider Airtel. Customers with an account here can deposit cash at the telco's country-wide kiosks and transact digitally.
Another entity that has received a payment bank license is Vijay Shekhar Sharma, founder of Paytm-operator One97 Communications. Paytm, which was originally an e-wallet, was folded into the payments bank service in May, allowing customers to place more money into it as well as earn interest on their deposits.
According to App Annie, Paytm is ranked 8th on the iOS store in India, making it the most downloaded fintech app in India.
One97 Communications has received multiple investments from Alibaba and Ant Financial, and together the two investors own a majority 62% stake in the company. One97 Communications' e-commerce site, Paytm Mall (which was spun off in Q3'16), has received its own $200M in funding and is also backed by Alibaba Group, among others.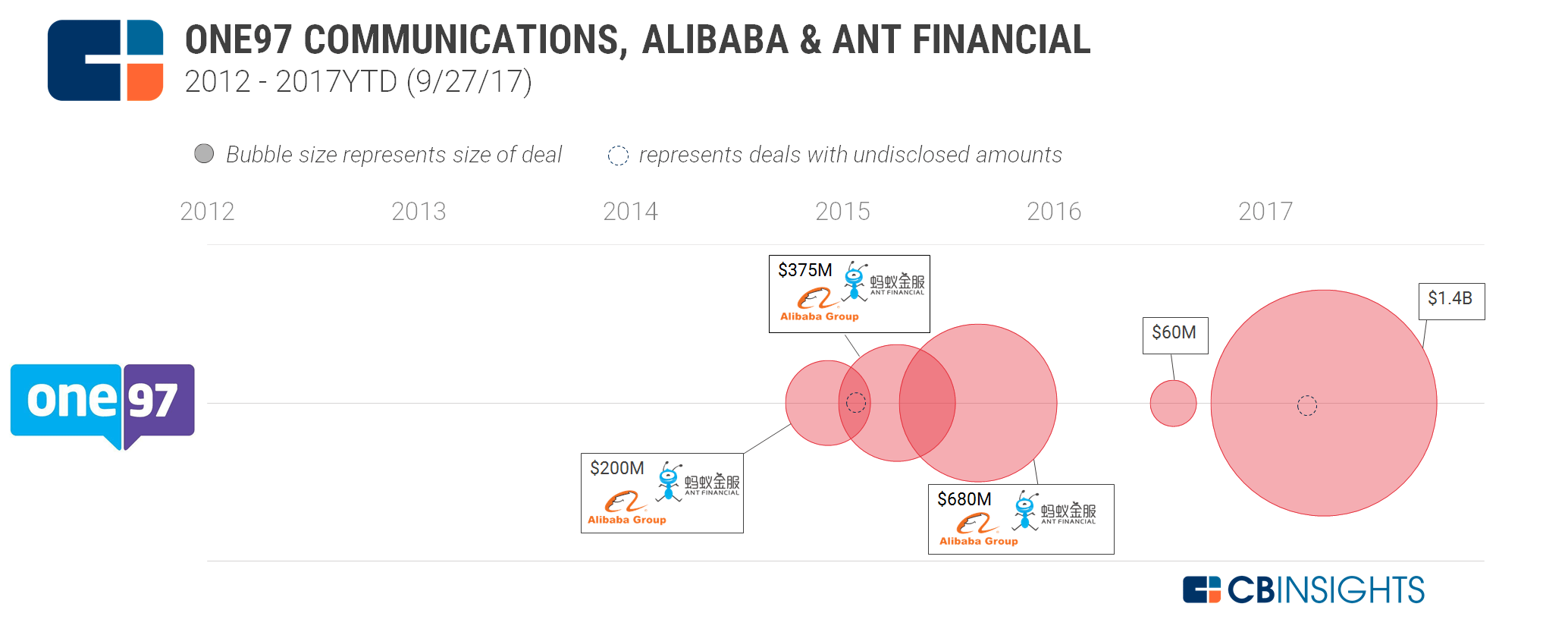 2. UPI Innovators
Some companies are betting that the next wave of digital consumers in India will get bank accounts and use the UPI.
The NPCI, the non-governmental organization behind the UPI, launched the app BHIM (Bharat Interface for Money). The app uses the UPI to help users transfer money, allowing customers to identify themselves with an Aadhar number or a specific QR code.
In Q2'16, India e-commerce unicorn Flipkart bought PhonePe, a UPI money transfer system. While it cannot hold money, customers can use the technology to pay for goods from their bank accounts via the UPI.
In September 2017, Google launched Tez in India. As with PhonePe, Tez cannot hold money, thought money can be transferred over UPI or via an "audio QR code," which Google claims is its own proprietary technology.
The audio-based code allows users to transfer money to other users within the vicinity via sound waves. Tez is offered as a payments option by certain payment gateway operators, like PayU, as well as on specific company sites, such as that of transportation booking service redBus.
Competition between giants heats up
Companies are making moves to protect their wallets' edge. Neither Flipkart nor Amazon accept MobiKwik or Paytm (in fact, Amazon exclusive accepts its own e-wallet option).
E-commerce unicorn Snapdeal does not accept Paytm, MobiKwik, or the UPI. While Snapdeal temporarily owned its own e-wallet with a UPI option, Freecharge, it sold the e-walled to Axis Bank in Q3'17. Currently, Snapdeal only accepts conventional online banking options, credit, or Freecharge balance.
Uber straddles multiple options, accepting Paytm, MobiKwik, and most recently, the UPI-based BHIM app. None of the above options currently accept Tez.
If you aren't already a client, sign up for a free trial to learn more about our platform.