Goldman has pursued talent acquisitions of fintech startups in alternative lending and personal finance including Clarity Money, Final, and Bond Street.
Goldman Sachs introduced Marcus — its digital consumer bank — in October 2016. While Marcus is being developed in-house, Goldman has been active in M&A deals to strengthen its consumer bank.
Goldman Sachs' M&A strategy has been to target consumer fintechs and acquire engineering and product teams to onboard into Marcus. According to Harit Talwar, Head of Marcus, "deals are usually as much about bringing in good talent as well as the product themselves."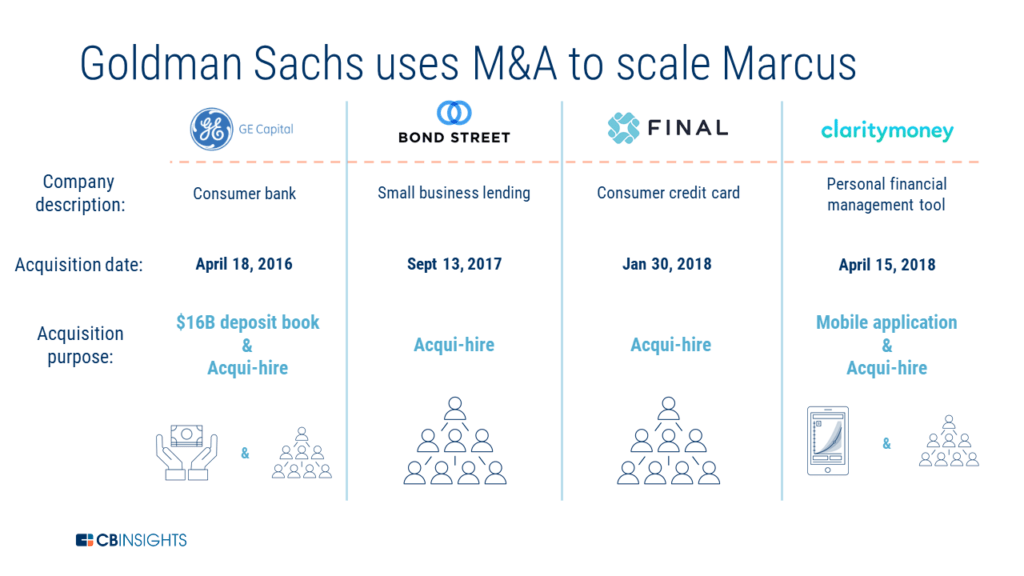 Goldman expedited Marcus' growth by acquiring companies for three general reasons:
Customers:

Goldman Sachs acquired GE Capital Bank to attain its customers and their $16B in deposits. These customers helped establish GS Bank, which soon after re-branded into Marcus.

Acqui-hire:

Through Goldman's acqui-hires, the bank has brought in 60+ consumer fintech-focused employees with backgrounds in engineers, product management, risk, marketing, and C-suite leadership. In January, Goldman acquired the team behind credit card startup, Final, which is expected to help build the bank's highly-anticipated Apple-branded credit card. 

Product:

In the case of Clarity Money, Goldman acquired the personal financial management tool to serve as a mobile storefront for Marcus. In the future, Goldman plans to re-brand Clarity Money into Marcus, and integrate products into the app.
Acquiring digital talent has been a top priority for all banks as they strive to become more tech oriented. For Marcus, Goldman has been able to accelerate this process by acquiring strong outside talent, and integrating them into its existing team.
This strategy has played a role in Marcus' viral success in its first two years. To date, Marcus has attained over 1.5M customers — accruing $26B in deposits and $4B in total loans originated.
If you aren't already a client, sign up for a free trial to learn more about our platform.