Goldman Sachs, Citibank, and JPMorgan Chase & Co. top the list of US banks with the most fintech investments. From capital markets to small business enablement, we visualize where these banking giants see opportunity in the space.
US banks are future-proofing their businesses by investing in fintech.
The most active US bank investors in fintech (based on number of deals backed) are Goldman Sachs, Citigroup, and JPMorgan Chase & Co. While all 3 have ramped up their fintech investment activity in recent years, they've taken different strategic approaches.
Below, we visualize how these US banking leaders have built their fintech portfolios over the past decade.
Please click to enlarge.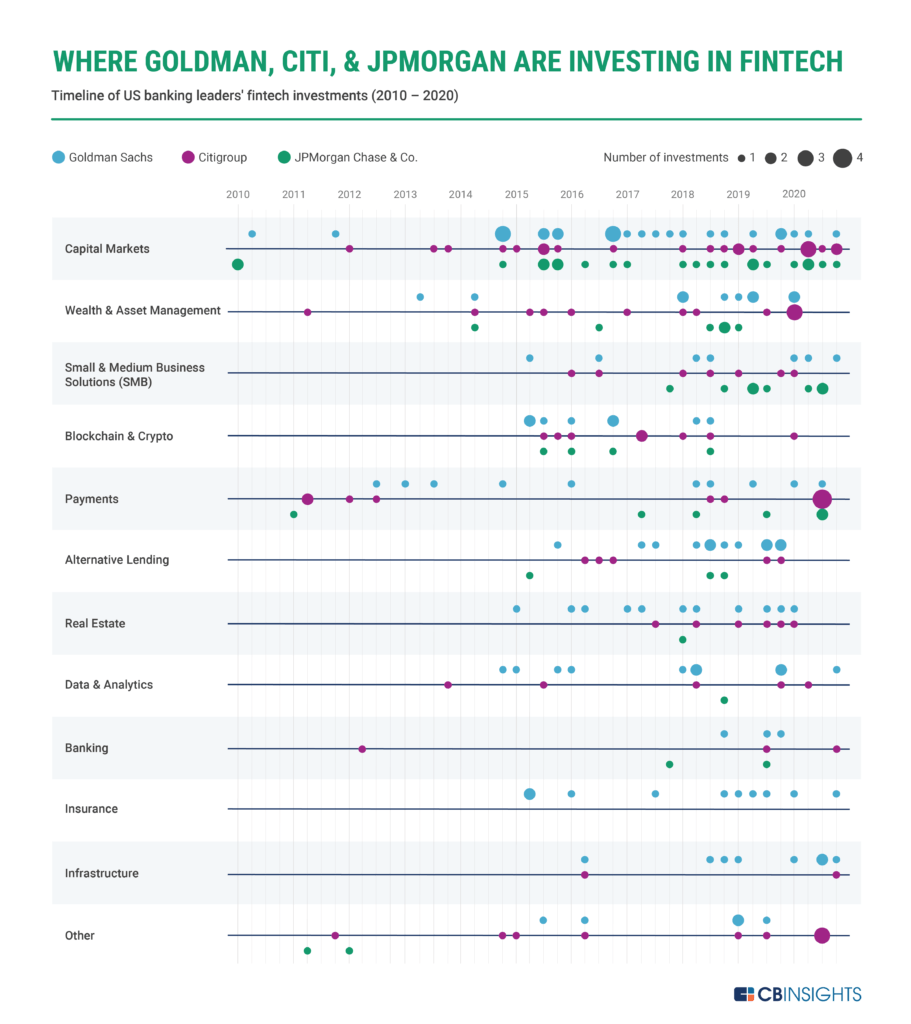 Goldman Sachs and Citigroup are among the most active investors (largely due to their investment arms — GS Growth and Citi Ventures), participating in 69 and 51 fintech deals from 2018 through 2020, respectively. As a result, the two banks continue to invest in a wide range of fintech sectors.
Goldman Sachs has focused its M&A strategy in recent years on wealth management. In May 2019, the bank spent $750M to acquire wealth management firm United Capital. More recently, it snapped up boutique wealth management custodian and technology provider Folio Investing in May 2020.
The bank has also set its sights on alternative lending and capital markets. Betting on these sub-industries aligns with Goldman's digital strategy of scaling its consumer offering, Marcus, and enhancing its digital wealth capabilities.
Citi has also had a capital markets focus, backing 13 deals in this area since 2018. The bank has also made 6 payments investments and 6 wealth & asset management deals over the same period.
Generally, these investments fit into Citi's efforts to enhance its Institutional Clients Group business, specifically the Investment Banking and Markets & Securities Services functions.
JPMorgan, meanwhile, remains focused on supporting its capital markets and small business offerings. The bank backed 12 deals in capital markets and 7 in small- and medium-sized business (SMB) solutions from Q1'18 through Q4'20. Over the same time period, JPMorgan also made 4 investments in wealth & asset management and 4 in payments.
For more insights, get the free report on Where Top US Banks Are Betting On Fintech here.
If you aren't already a client, sign up for a free trial to learn more about our platform.