Consumers continue to buy gluten-free products, but food company executives are focused elsewhere.
Is gluten-free old news?
Consumer focus on gluten-free foods has grown over the past decade, and at least 20% of US consumers say they try to avoid or reduce how much gluten they eat.
Big food and beverage companies continue to release gluten-free versions of everything from beer to brownies (AB InBev's Stella Artois and Dunkin' Donuts, respectively, in the past week alone).
But, these companies are no longer touting their gluten-free initiatives on earnings calls, as General Mills, Hain Celestial, McCormick, and other players frequently did in 2014-2015.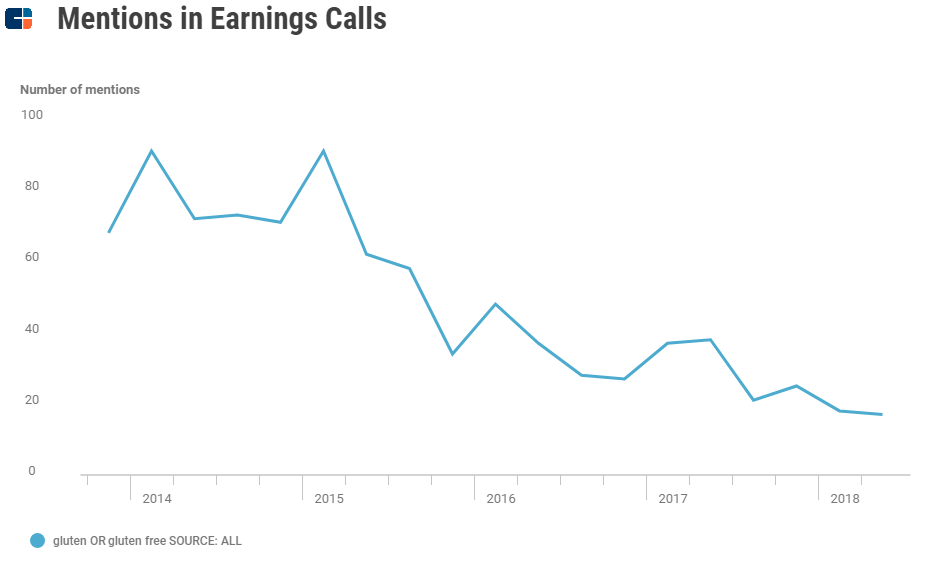 (We included the phrases "gluten" and "gluten-free" in our search since gluten is most commonly discussed in the context of gluten-free foods). 
General Mills, for example, brought up gluten-free efforts 22 times in Q3'15 — when it launched a major marketing effort around gluten-free cheerios, and discussed new gluten-free formulations for Lucky Charms, Nesquick, and Chex — but only twice on its most recent earnings call.
Why the dropoff?
New gluten-free product releases helped drive publicity a few years ago; but, as consumer resistance to gluten has grown, companies may have realized that in 2018 gluten-free offerings look more like table stakes than like major marketing wins.
Furthermore, the gluten-free market may not be as large as many food executives initially hoped.
According to the CB Insights database, the gluten-free market may hit $5B globally by 2021.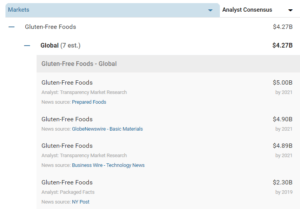 Even if Nestle, for example, captured this entire market, it would still represent under 6% of the company's total sales.
Gluten-free has become a subset of the overall global wellness trend that's impacting food along with hospitality, real estate, office management, and other industries. The opportunities in the wellness space are far broader than any single ingredient.
Amidst these changes, it seems that simply launching gluten-free products no longer earns you bragging rights in food company boardrooms.
If you aren't already a client, sign up for a free trial to learn more about our platform.