After years of astronomical growth, the global unicorn club — 1,200+ members strong — is on the cusp of shrinking.
Just a couple of years ago, the once-rare phenomenon of becoming a unicorn (a private company worth $1B+) was practically commonplace. 
The tech world's exuberant "growth-at-all-costs" mentality, combined with VC FOMO, drove the creation of over 650 unicorns in a matter of 5 quarters — or 100+ per quarter — from Q1'21 to Q1'22.
However, everything changed when volatile public markets and an unstable macroeconomic environment burst the bubble. Starting in Q2'22, the number of new unicorn births each quarter began to fall precipitously, as venture funding progressively dried up. 
Unicorn births reached a low point in Q3'23 at 12, the fewest in over 6 years.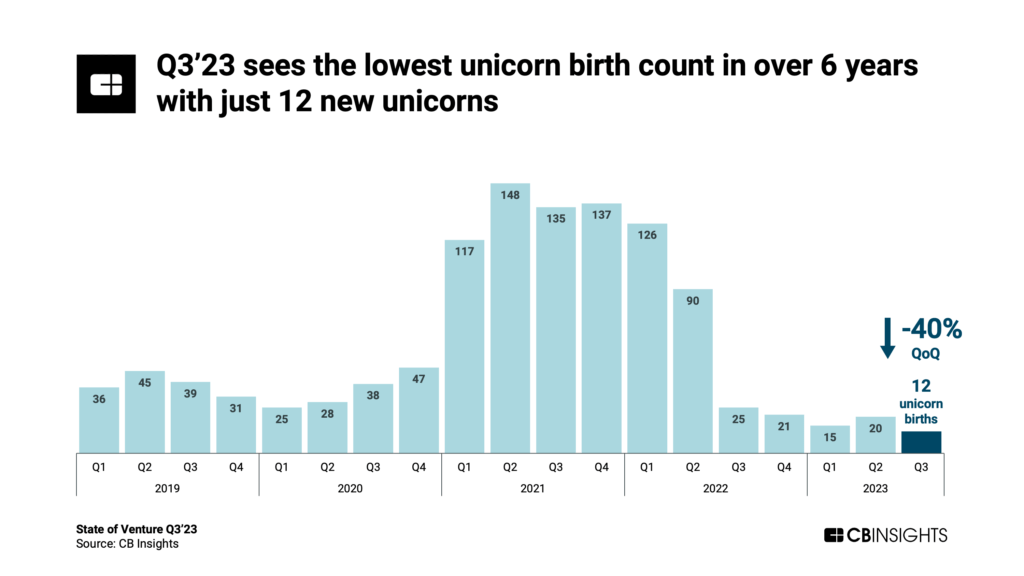 For a full breakdown of the venture market across industries, geographies, and investment stages, download our State of Venture Q3'23 Report.
Meanwhile, many existing unicorns may struggle to keep their billion-dollar valuations should they seek to fundraise or exit. Combined with the dearth of new unicorns, the total count of unicorns globally will likely soon start to decrease.
A handful of factors, which we've already begun to see play out, could fuel this reversal in the coming quarters:
Unicorn exits via IPO

Down rounds & shutdowns

Consolidation via M&A
Below, we'll break down each of these factors. But it's not all doom and gloom: Read on to see how the generative AI boom has been an exception to this rule.
IPOs
As private-market financing dries up, especially among late-stage rounds, it has become more difficult for companies with high burn rates to stay private indefinitely. More companies will be considering an IPO as a means to fundraise while also achieving liquidity for investors and employees — especially if the IPO market can remain stable enough to ensure a decent debut. 
This isn't a certainty: Tech companies Arm, Instacart, and Klaviyo all went public recently, and they have all seen their share prices remain flat or slip into the red since their debuts. Nevertheless, we could see more unicorns follow in their footsteps if the market conditions are right.
Down rounds & shutdowns
Meanwhile, tighter capital markets have placed immense pressure on public and private tech company valuations. Should they raise VC funding, many of today's unicorns will be hard-pressed to get anywhere near their 2021 valuations. 
Because investors remain risk-off — especially at the late stages, which account for the majority of today's unicorns — it makes it more difficult for these companies to raise funding on favorable terms. 
Furthermore, the median unicorn valuation is $1.6B. At that level, a down round that cuts a unicorn's valuation by 38%+ would bring its value below the $1B threshold — i.e., it'll lose its unicorn status.
We've seen some former unicorns face even more dramatic haircuts. Formerly valued at $3.1B, cybersecurity player Cybereason lost roughly 90% of its value in a down round. Norway-based Oda saw its valuation fall by 71%, from $1.2B to $353M, in late 2022.
And in the worst-case scenario, some have shut down altogether. Just last month, digital freight forwarder Convoy (last valued at $3.8B) ceased operations. Two weeks later, healthcare AI company Olive shuttered, after having last raised funding at a $4B valuation in 2021.

M&A
Alongside the prospect of an IPO, VC-backed unicorns may look to lock in an exit via an acquisition. Today's discounted prices could be appealing to tech buyers, including incumbents looking to bolster their tech chops, rival tech firms seeking greater market share, and PE firms.
Late last year, for instance, ultrafast delivery firm Getir bought out competitor Gorillas for $1.2B — a 61% discount to Gorillas' 2021 valuation of $3.1B. The cybersecurity space has seen similar consolidation, with public player Check Point recently buying unicorn Perimeter 81 for less than $500M. 
The generative AI anomaly
Over the last year, one technology category has had an outsized impact on the unicorn landscape: generative AI. The tech has given rise to more than 10 unicorns in 2023 alone while gaining the attention of major tech players and incumbents across practically every industry.
GenAI unicorns like Anthropic, Adept, and Cohere are reaching the $1B valuation mark much faster than the average unicorn — in fact, nearly twice as fast.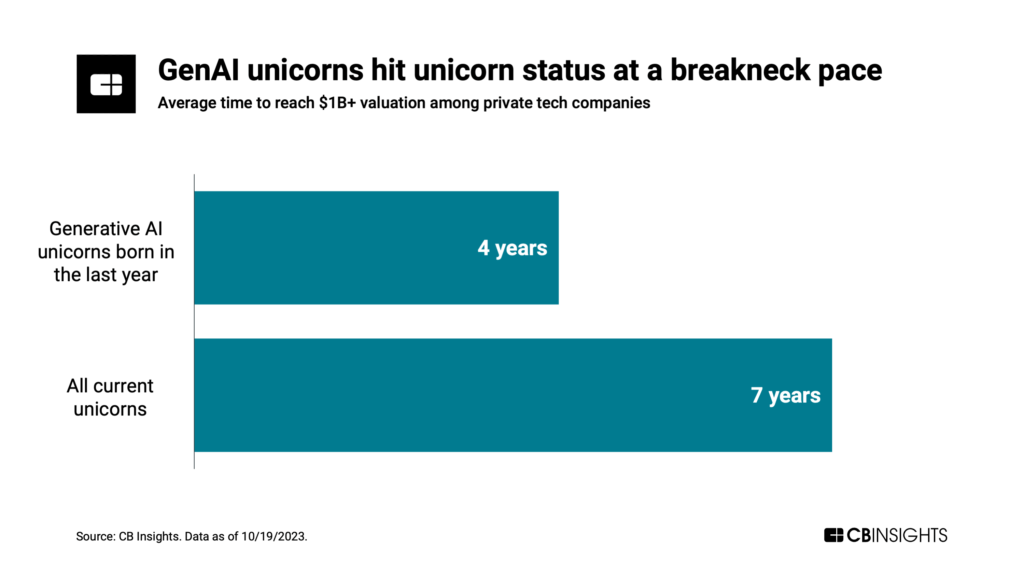 While the genAI space shows no signs of slowing down, we don't expect future genAI unicorns to offset the decline seen around the rest of the market. 
Furthermore, many of today's genAI unicorns have yet to prove commercial viability and will face plenty of hurdles as they try to grow into their lofty valuations. If they aren't able to translate their grand promises into outcomes, they'll eventually face the same challenges as the rest of the unicorn herd.
To dig into more global VC trends, including M&A and IPO data, download the entire State of Venture Q3'23 Report here.
If you aren't already a client, sign up for a free trial to learn more about our platform.