In recent years, the United States has seen its share of the world's new unicorn companies drop dramatically, from 75% in 2013 to just 43% in 2016.
Today, there are 214 unicorn startups globally — private companies that have reached a hefty valuation of $1B+.
Of these, the United States has taken the largest share of the world's most valuable private companies, with 127 US-based startups reaching unicorn status since 2013. China follows in second place, producing 59 unicorn companies over the same time period.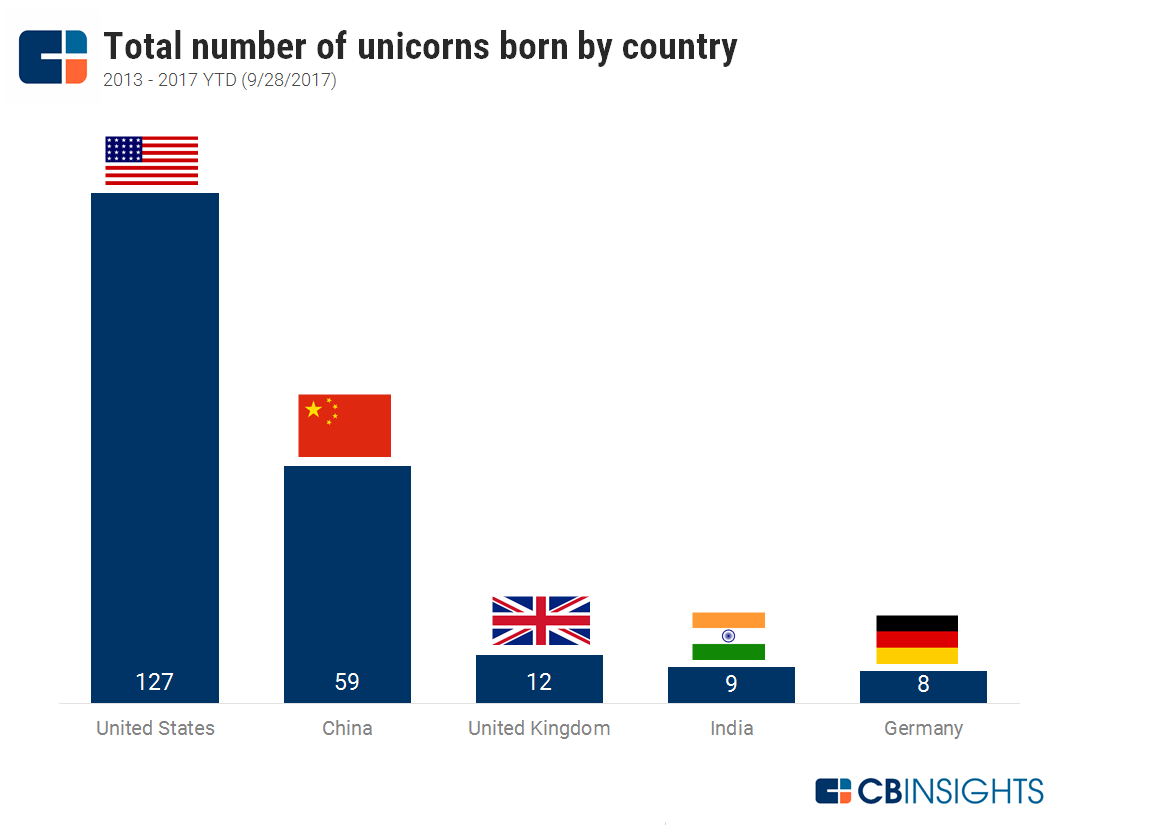 While the US has been the historic leader in unicorn births, other countries are starting to catch up. Since 2013, the share of new unicorns born each year in the United States has consistently dropped, from 75% of all unicorn births in 2013 to less than half (49%) by 2015. That number sunk even lower to hit just 43% last year.
In recent years, new unicorns born outside the US have proliferated, particularly in China, which has consistently grown its share of new unicorns every year since 2014. This year to date, China has been home to more than a third of unicorn births, closing in on the United States (at only 41%).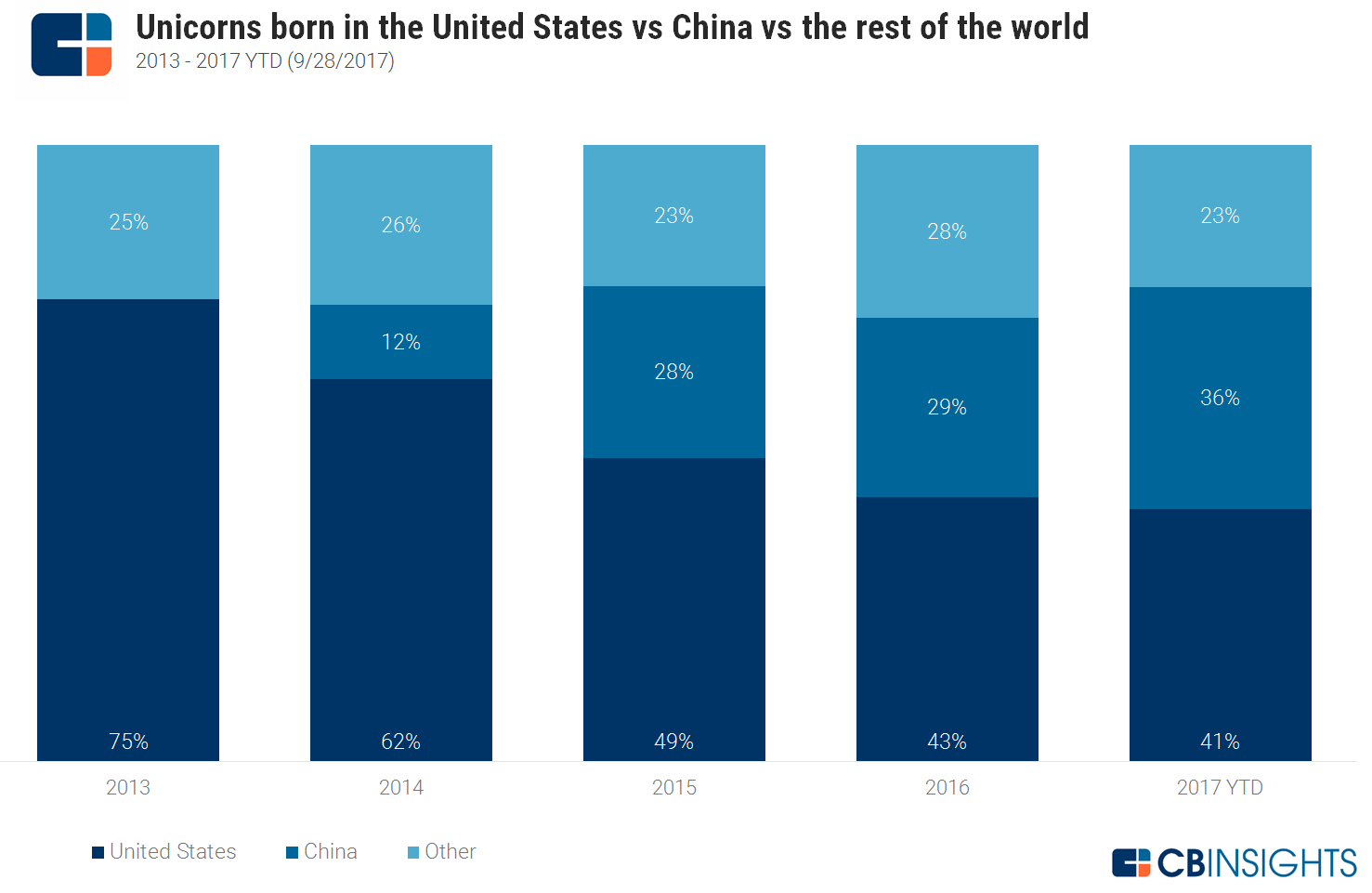 Over the last five quarters, China's unicorn births have narrowly trailed those of the United States, and even surpassed US figures in Q1'17, when China saw the birth of 4 unicorns, compared to 3 in the US. Last quarter, the two countries tied, producing 5 unicorns apiece.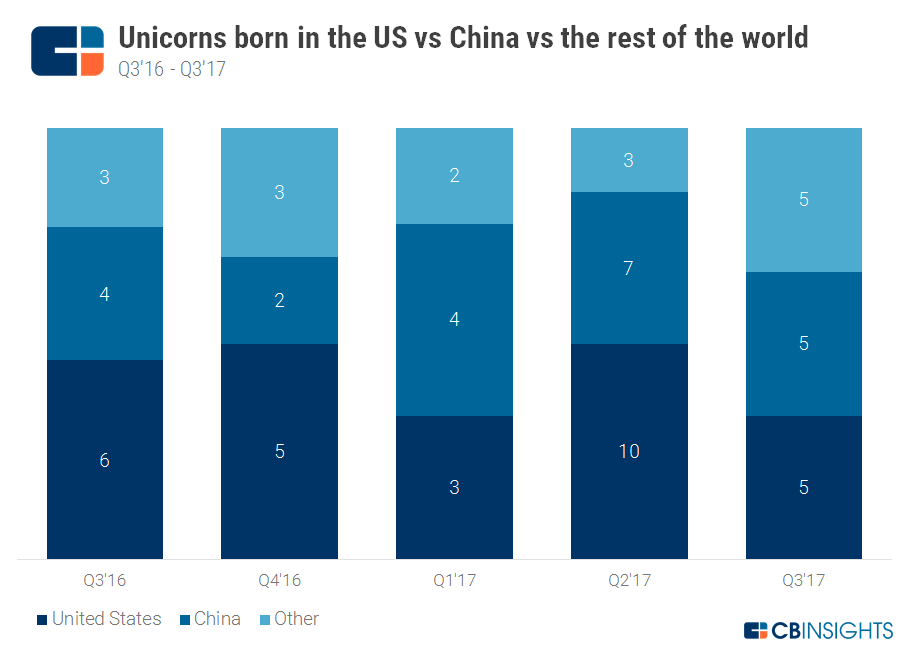 TRACK ALL THE UNICORN STARTUPS IN THIS BRIEF AND MORE ON OUR PLATFORM
Startups valued at $1B+. Look for Unicorns - Billion Dollar Startups in the Collections tab.
Track Unicorn startups
CHINese unicorns RISing
Chinese unicorns account for an increasing share of the world's new unicorns. In 2017 YTD, 16 new unicorns have been born in China.
This includes news reading app Bytedance, which, with its $11B valuation, ranks among the most highly valued companies at time of their initial unicorn valuation. The company entered the unicorn club in Q2'17, following a $1B Series D from CCB International and Sequoia Capital China.
Bike-sharing company Mobike also recently reached unicorn status: after raising a $600M Series E, it reached a $3B valuation in Q3'17. Investors in Mobike's unicorn round included Hillhouse Capital Management, Industrial and Commercial Bank of China, Sequoia Capital China, and Tencent Holdings.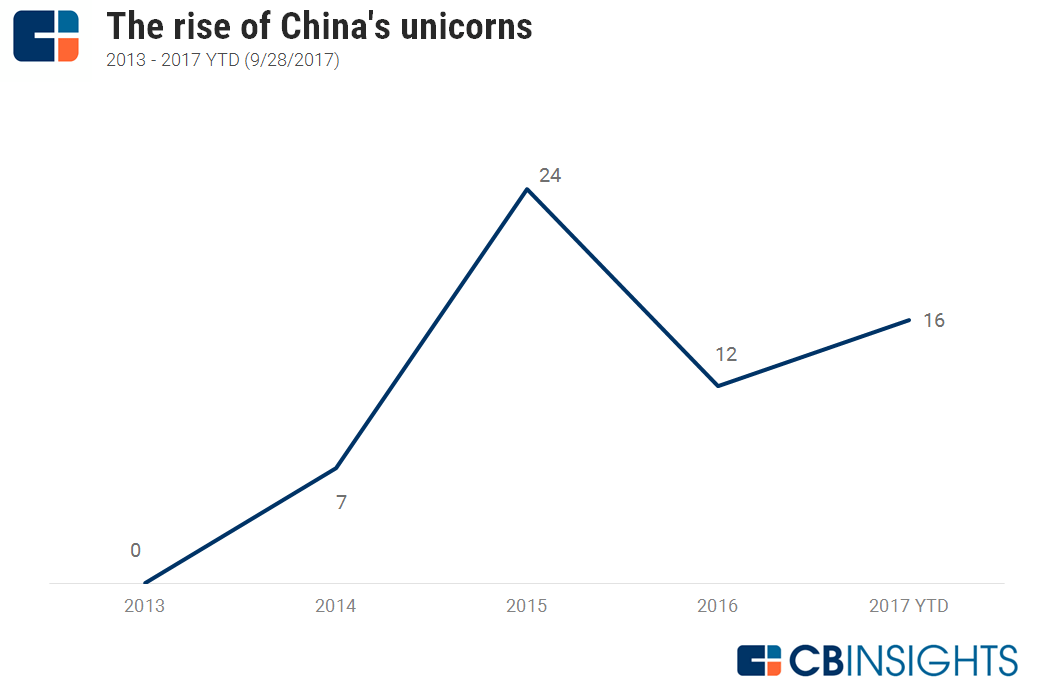 The country has seen several other notable unicorn births. Daily deals platform Meituan-Dianping gained unicorn status in Q4'14, after raising $700M from Sequoia Capital China. It was valued at $7B at the time.
In Q3'14, Lu.com, a finance marketplace that deals largely with P2P lending, reached a $10B valuation after a VC round backed by Morgan Stanley and Ping An Insurance. In the same quarter, drone technology company DJI Innovations entered the fold, with a valuation of $1.6B. (As of Q2'15, the company had grown to a $10B valuation.)
In 2015, China saw its highest annual number of new unicorns. Ride-hailing startup Didi Chuxing found its way into the unicorn club with a $8.8B valuation in Q1'15, following a $600M Series E investment from Coatue Management and Farallon Capital Management left the company with a valuation of $8.75B.
That valuation has skyrocket to $50B as of Q2'17, making Didi Chuxing the second most valuable private company in the world, after Uber at $68B.
Biotech company iCarbonx entered the unicorn club in Q2'16, after it raised a $154M Series A round from WeChat operator Tencent Holdings and cell and gene engineering company Vcanbio, reaching a $1B valuation.
VALUATIONS WHEN ENTERING THE UNICORN CLUB
Looking at companies with the highest valuations upon their entrance into the unicorn club, 7 of the top 10 spots go to China-based companies, with the US claiming the remaining 3.
Among the US unicorns is Theranos, which reached a $9.9B valuation in Q3'14. The controversial company, which initially aimed to conduct blood tests using small samples of blood, has since come under fire for lying about the capabilities of its technology.
Another US company, Facebook, clocks in at #9 on the list, with a $7.9B valuation in Q2'09. The company went public 3 years after its unicorn round.
In terms of Chinese unicorns, Alibaba Group received the highest valuation at the time of its initial unicorn valuation: $32B. The valuation came in Q3'11, following a $1.6B round from a clutch of investors including Russia's DST Global, New York-based Lead Edge Capital, and California's Silver Lake Partners.
When Alibaba later went public in Q3'14, it also claimed the title for the largest global IPO at that time, at a valuation of $167.6B.
Highest Valued Unicorns Upon Time Of Entrance (YTD 9/28/2017)
| Company | Country | Date of Unicorn Valuation | Initial Unicorn Valuation ($B) |
| --- | --- | --- | --- |
| Alibaba Group | China | 9/23/2011 | $32 |
| China Internet Plus | China | 12/22/2015 | $15 |
| Bytedance | China | 4/7/2017 | $11 |
| Lu.com | China | 12/26/2014 | $10 |
| Infor | United States | 11/16/2016 | $10 |
| Theranos | United States | 6/13/2014 | $9.9 |
| Didi Chuxing | China | 3/31/2015 | $8.8 |
| Zhong An Insurance | China | 6/11/2015 | $8 |
| Facebook | United States | 5/12/2009 | $7.9 |
| JD.com | China | 11/14/2012 | $7.3 |
If you aren't already a client, sign up for a free trial to learn more about our platform.