We break down 3 of the top global healthcare funding trends from H1'19.
We analyzed healthcare data through the first half of 2019 and dug into digital health and seven sub-sectors within the healthcare landscape, including:
Clinical trials
Women's health
Cannabis
Artificial Intelligence
Mental health and wellness
Genomics
Digital therapeutics
Takeaway 1: Strong start for global healthcare
Healthcare started strong with H1'19 seeing a first half record in both deals and dollars, in addition to record highs in funding for healthcare AI, mental health and wellness, and women's health in Q2'19.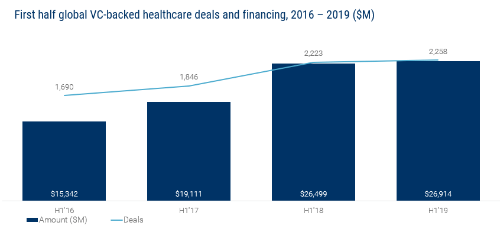 Takeaway 2: Digital health funding rose for the second straight quarter
Total digital health funding was $3.5B, up 23% versus Q1'19. There were 371 digital health deals compared to 354 in the first quarter. Funding and deals are still off from Q2-Q3'18 highs.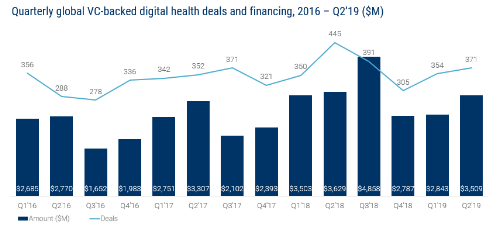 Takeaway 3: New York hottest metro area for digital health
For a second straight quarter, the New York metro area was home to the most digital health deals. This follows a rare loss to Boston in Q4'18. (World Series euphoria spilling into equity investments? That's analysis for another time perhaps.)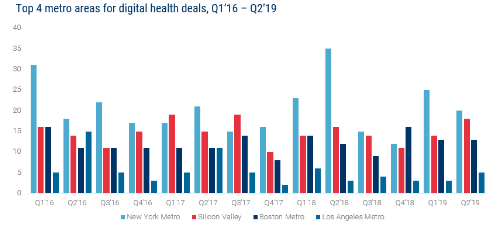 You can download the report here.
Want more healthcare trends? On August 22 healthcare analyst Josh Mark will dig into this report and what we're watching for in the next half of the year. Sign up here.
If you aren't already a client, sign up for a free trial to learn more about our platform.