After a slow Q1'20, projections based on Q2 activity point to a possible recovery in global healthcare funding and deals. 
Q1'20 saw a global slowdown in healthcare funding activity, likely attributable to the Covid-19 pandemic. 
Last quarter, healthcare funding deals fell 6% compared to Q4'19. China's healthcare deal count dropped to its lowest level since Q2'17. 
All signs seemed to point to sluggish healthcare funding activity in 2020 — but data from Q2 suggests it could already be rebounding. 
Below, we look at the Q2'20 global healthcare funding trends that point to a more promising year ahead.  
Q2'20 is on track to be a strong quarter for global healthcare funding

Healthcare companies around the world raised over $8.8B across 672 deals between April 1, 2020 and May 24, 2020.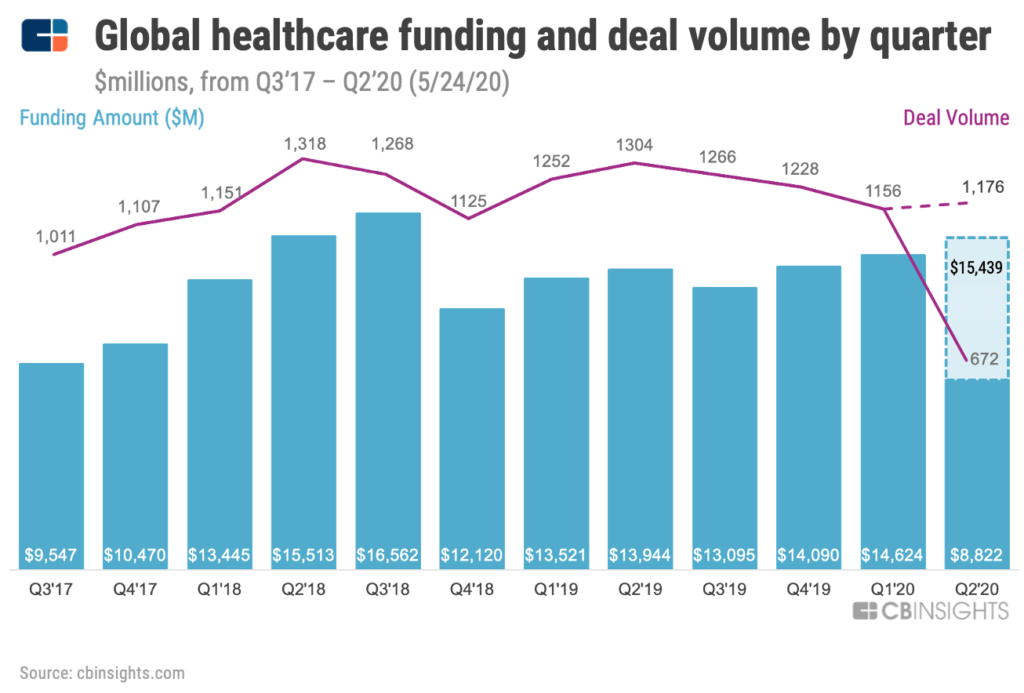 At this pace of funding activity, Q2'20 could close with over $15B in funding and almost 1180 deals, which would make it one of the strongest healthcare funding quarters in the last 3 years. 
The projections, based on the current run rate, show a 6% jump in funding compared to Q1'20 and an 11% increase year-over-year. Deal volume could also see a 2% boost quarter-over-quarter. 
Funding to Asia-based healthcare companies could rebound while North America sees a dip 
Despite the global upward funding trend, the projected funding rebound for Q2'20 currently varies by continent.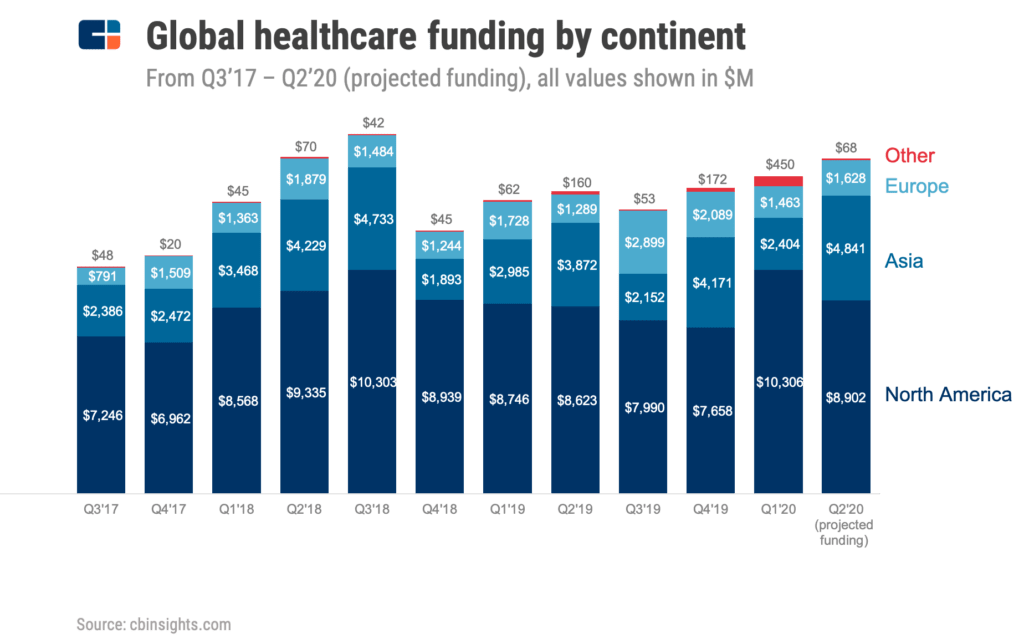 In aggregate, funding to healthcare companies based in North America could see a significant quarterly decline. 
On the flip side, Asian and European countries could land a strong quarter — suggesting that re-opening and recovery efforts have positively affected healthcare funding growth. This could be a positive sign for countries in North America and other parts of the world that are further behind in re-opening their economies. 
For Asia, Q2'20 is projected to pull in the most healthcare quarterly funding for the region to date with $4.8B set to be raised, beating the record set in Q3'18. This boom is largely driven by $100M+ mega-rounds on the continent, especially in China, which has started to see economic recovery from the pandemic.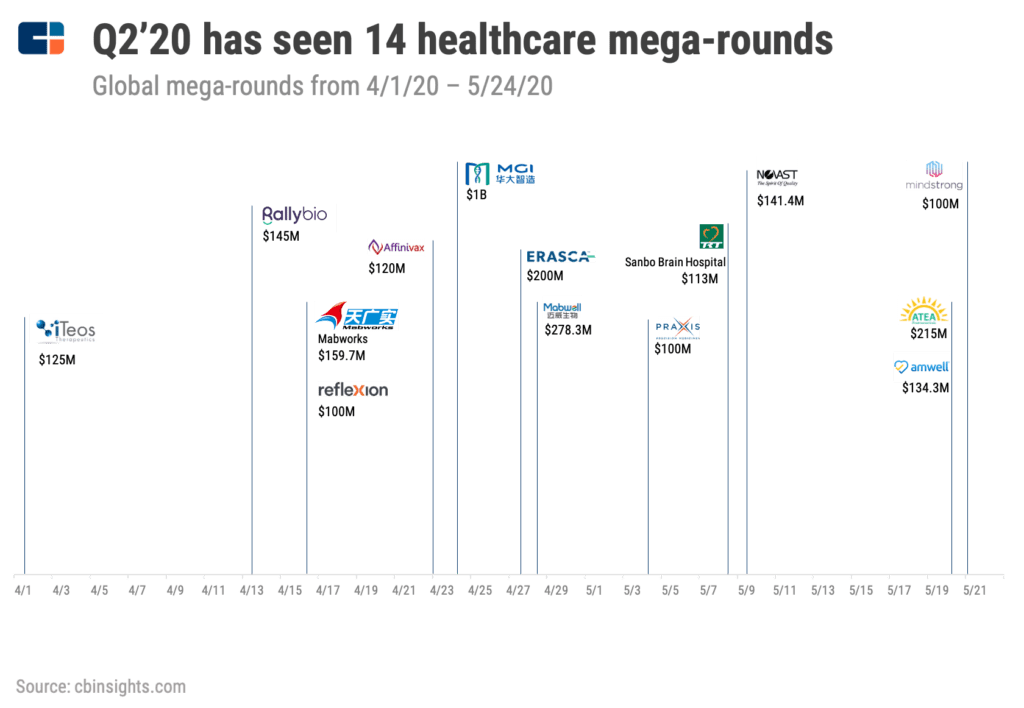 Five of the 14 mega-rounds raised from April 1 through May 24 went to China-based companies. This includes a whopping $1B round for MGI Tech, a BGI Genomics-affiliated manufacturer of DNA sequencing instruments. 
Meanwhile, US-based companies pulled in 8 mega-rounds over the same period, worth a combined $1.1B. Erasca closed the largest round from this cohort, raising a $200M Series B co-led by ARCH Venture Partners and Cormorant Asset Management. The company says it will use the funding to further its pipeline of oncology therapies. 
Global digital health funding is on the decline
For digital health companies, the mid-quarter data points to a different story: global digital health funding levels could see a 16% quarterly decline and a 31% nosedive year-over-year.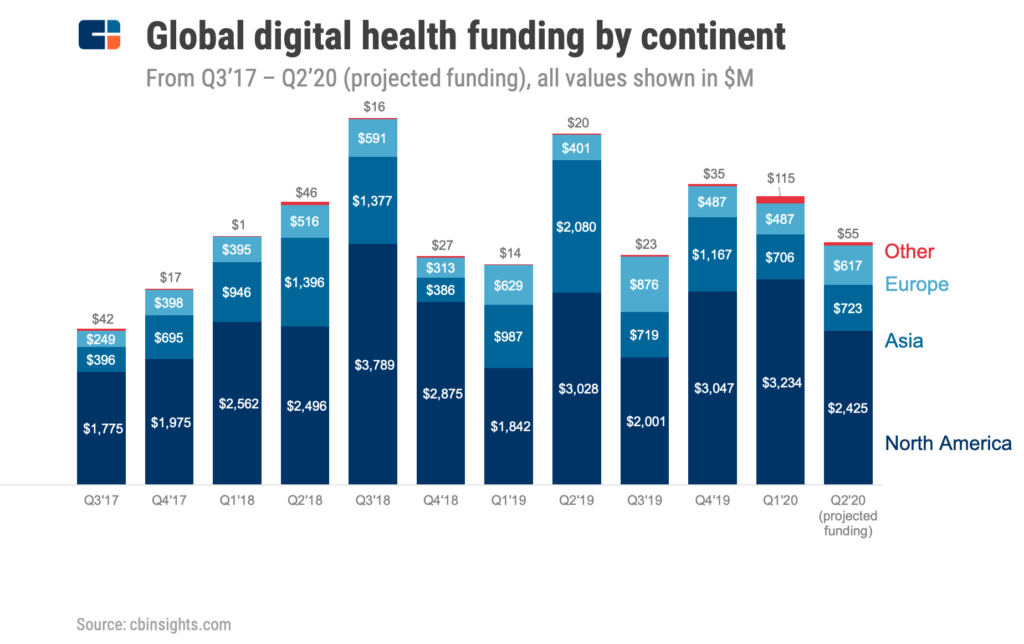 Similar to the trend in global healthcare funding activity described above, the quarterly drop is driven by declining funding to digital health companies based in North America — which could dip by 25% from Q1'20.
Notably, US-based digital health companies are on pace to pull in just under $2.4B in Q2'20, an almost $800M drop from Q1. The associated deal count is also projected to decrease to 208 over the same period, down from 231 in the previous quarter.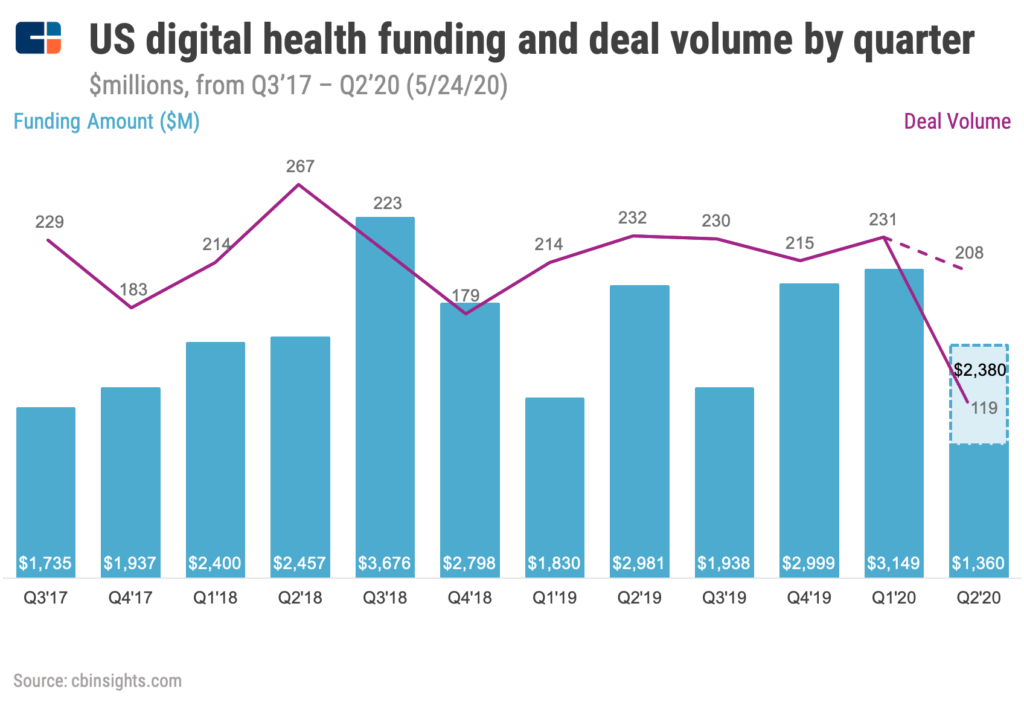 The biggest deal to a US-based digital health company in Q2'20 so far was telehealth company Amwell's $134M round. Amwell has reportedly filed to go public later this year, adding to the momentum from the Covid-driven surge in demand for telehealth services. 
See more healthcare trends in our State Of Healthcare Q1'20 Report.
If you aren't already a client, sign up for a free trial to learn more about our platform.