Getsafe's total funding now stands at $121.5M. Here are the top-line bullets you need to know.
Getsafe, an insurtech startup, has raised an additional $63M in Series B funding — in total, the round has brought in $93M. The extension drew participation from CommerzVentures, Abacon Capital, Swiss Reinsurance Company, and Earlybird Venture Capital.
How's the company performing?
Germany-based Getsafe's AI-driven technology helps users buy and manage insurance via its website and mobile app. Its insurance products cover personal liability, dog liability, drone liability, bike theft, home contents, and automobiles.
The startup currently caters to nearly 225,000 and 25,000 customers in Germany and the UK, respectively, with millennials comprising the majority of its customer base.
Getsafe is currently supported by a team of more than 150 employees.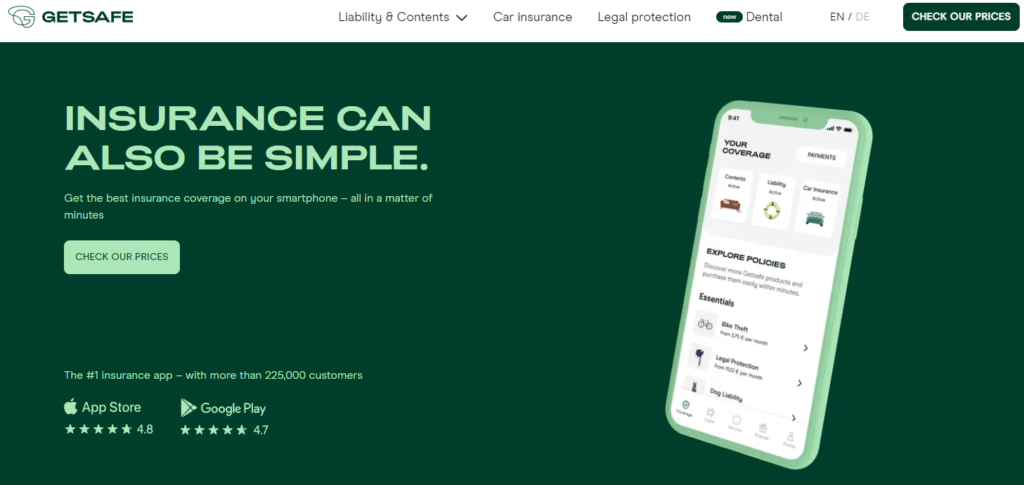 Source: Getsafe
Why does the market matter?
The global insurtech market is projected to grow at a CAGR of 48.8% and reach a value of $60.98B by 2028, according to Grand View Research.
In the first half of 2021, insurtechs raised $7.4B — surpassing the $7.1B raised over all of 2020 by more than $300M.
Rising demand for the digitization of insurance services and simplification of claims processes is driving market growth.