Gesture recognition's potential extends beyond limiting surface contact. From workout tracking to in-store monitoring, gesture recognition is being applied across industries like healthcare, auto, retail, and more.
Interest in gesture recognition tech is on the rise as the world prepares for a new normal following the Covid-19 pandemic.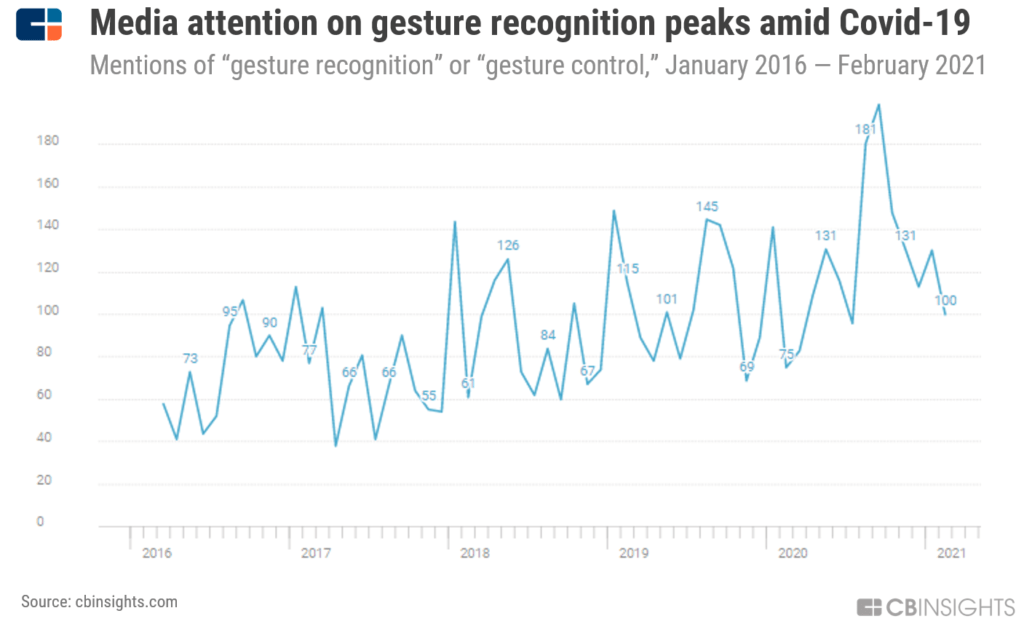 To reduce the spread of germs, gesture recognition solutions are turning touch-operated devices like elevators and in-store kiosks into contactless ones. Now, customers can wave their hands over a screen to place an order in stores, or employees can use unique gestures as security keys to access their office. 
FREE DOWNLOAD: THE COMPLETE AI 100 LIST
Get an excel file with the entire AI 100 list including each company's total funding, focus area, and more.
But gesture recognition's potential extends beyond limiting surface contact. The tech has applications across multiple industries, from enhancing AR/VR gaming to augmenting remote physical therapy. 
Below, we highlight 4 key areas that could be impacted by gesture recognition.
1. Entertainment
Gesture recognition enables more precise movement detection, which is advancing gaming and gamification in immersive AR/VR environments.
In fact, gesture recognition is a core part of the technology infrastructure supporting the $287B AR/VR market, according to the CB Insights Industry Analyst Consensus. The most common gesture recognition-related patent topics include augmented reality, virtual reality, and mixed reality.