From more accurate underwriting to automating claims, insurers are employing geospatial analytics across the value chain.
The use of geospatial imaging data — which consists of digital images from satellites, drones, and other aerial and ground-level sensors — has grown significantly in recent years.
Google Earth's Engine, for example, which launched in 2010, holds over 20 petabytes of geospatial imaging data and is updated on a daily basis. Alongside the sheer growth in data, advances in processing power, cloud storage, computer vision, and AI have made this data more accessible and useful for a variety of industries, including P&C insurance. 
Insurers have access to both publicly available resources, such as Google Earth's Engine, as well as more polished geospatial analytics products sold by a growing cohort of startups that specifically cater to insurance use cases. Regardless of the public vs. private data strategy, taking advantage of this emerging data class can unlock greater efficiencies and improvements for insurers.  
Why P&C insurance?
Physical buildings make up a significant portion of many insurers' portfolios. Understanding the risks associated with a building — such as its location, structure material, and other property features — is necessary to accurately price property insurance.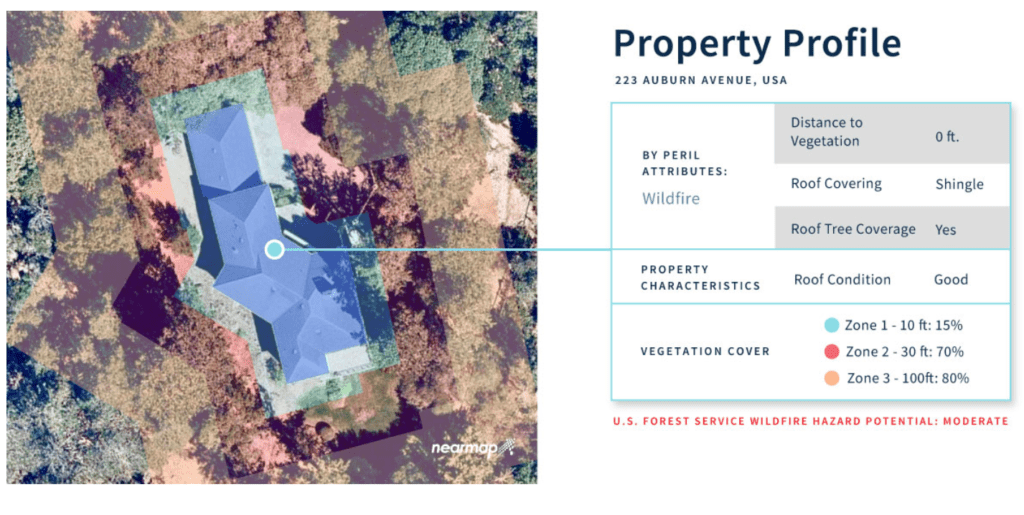 Source: Cape Analytics
However, this data capture is traditionally a very manual process, with insurers often relying on public records, property owner applications, and on-site inspections.
Geospatial analytics offers a way to automate this process, using computer vision to estimate these data points at scale and with reliable accuracy. In fact, in many cases, data from geospatial analytics is more accurate than traditional datasets. For example, geocoded building footprints can more precisely locate buildings than traditional address data, which often locates the building at the center of the property plot or next to the street rather than its true location.

Source: Ecopia
In the past few years, high-profile hurricanes and wildfires have caused billions of dollars in property damages. Scientists have also warned that climate change will lead to more frequent and severe catastrophic events. Geospatial analytics has the potential to better inform insurers and property owners of the risks they face as at-risk flood and wildfire areas grow in size over time. 
More generally — and beyond catastrophe events — geospatial analytics can help insurers make more accurate underwriting decisions, help reduce losses, and assess claim payouts. 
More accurate underwriting & pricing
Before selling a policy, an insurer needs to understand a property's underlying risks. Historically, data collection has been time-consuming and expensive, but geospatial analytics allows insurers to access critical data more efficiently. Many of the available platforms are able to generate instant risk scores, which insurers can use to categorize properties to reject, quote, or further assess.
For individual homeowners policies — which are often simpler than commercial property policies — this data can help facilitate "instant" underwriting decisions. Arturo's geospatial analytics platform, for example, enables homeowners insurance startups Hippo, Kin, and Openly to provide quotes within minutes to consumers.