Genomics funding this year has already surpassed total 2016 funding, as cancer diagnostics startups raise large rounds.
Several important recent developments in the world of genetics—such as the release of cheap sequencing technologies and gene-editing tools—have boosted interest in the genomics space. 2017 is on track to see almost double the funding levels of 2016 and a slight increase in deal totals.
We used CB Insights data to analyze the genomics landscape. These are companies involved in the sequencing and/or analysis of genetic data. Examples include sequencing hardware, cancer biopsies using circulating DNA, direct-to-consumer testing kits, and more. Not included is the application layer, such as CRISPR, gene therapies, etc.
GEnomics financing trends
2017 has been a banner year for genomics startup funding activity, and to date 2017 funding has already surpassed the 2016 total, with $1.9B invested across 65 deals. In general, funding has been concentrated around the blood-based cancer diagnostics area, with companies focused on cancer detection and disease screening raising large rounds: GRAIL has raised nearly $1B this year in total, Guardant Health raised a $360M Series E in Q2'17, and Freenome raised a $65M Series A in Q1'17.
At the current run rate, full-year funding could increase by 98% from 2016's total of $1.7B, while deal activity is poised to be on par with the previous two years.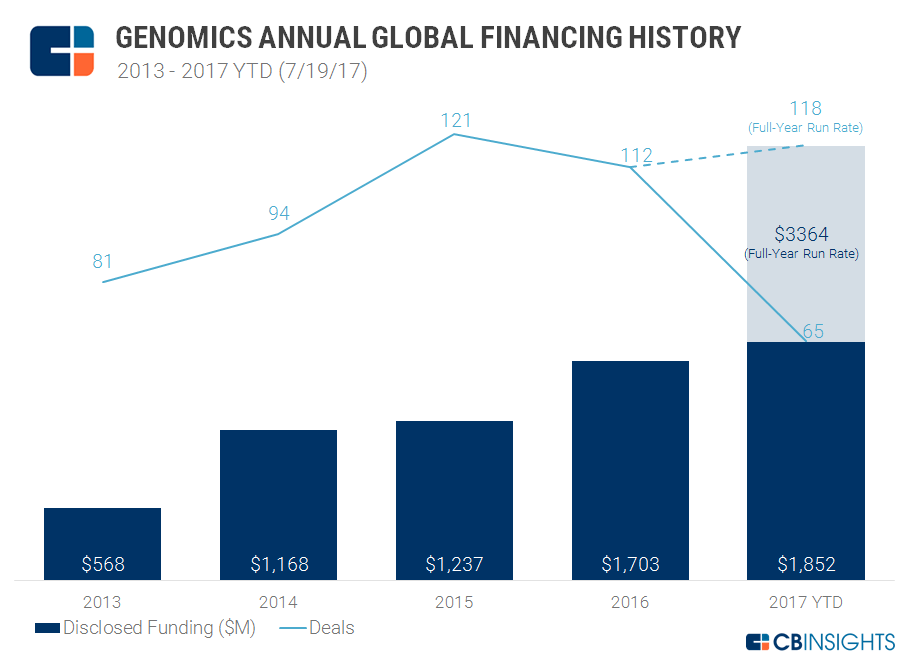 At the quarterly level, the last few quarters have sustained strong funding numbers: since Q4'16, genomics companies have raised more than $500M each quarter. Q4'16 also saw a peak in deal activity, with a record of 37 deals that quarter. Q2'17 tied with Q3'15 as the second-highest quarter for deals to date.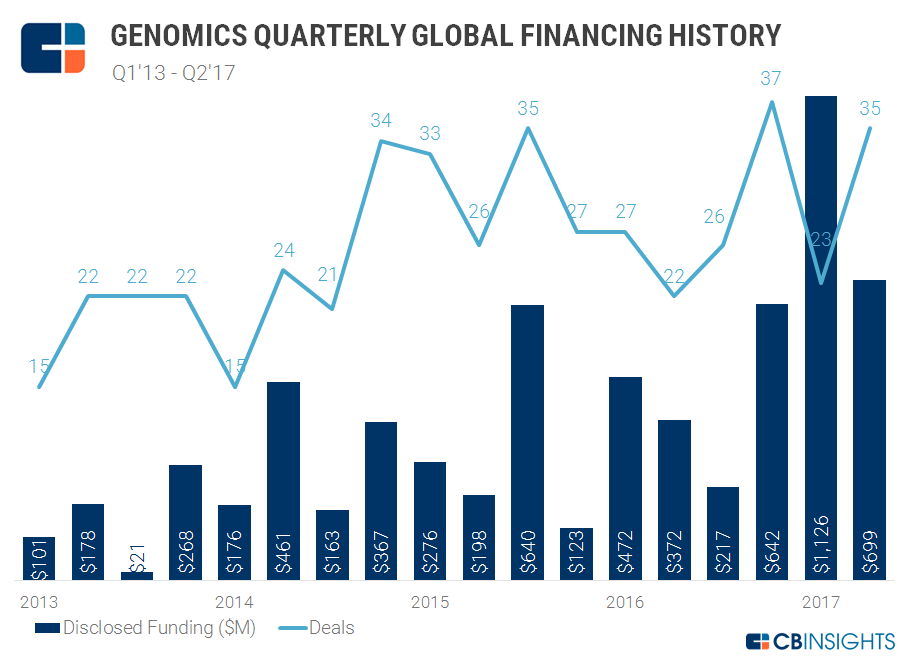 Genomics Activity By Stage
Looking at genomics deals by stage, there is a clear increase in early-stage (seed/angel and Series A) deals from 2013 – 2015. However, at only 25 so far this year, 2017 has seen a slow start for early-stage deals in the space, putting them on track to drop below 2014 levels.
Compared to the lag in early-stage deals, late-stage deals (Series D, Series E+, Growth Equity, and Private Equity) seem to be gathering steam: there have already been 6 late-stage deals in 2017 (compared to 8 total in 2015 and 2016), as corporates such as Novartis Venture Fund and Johnson & Johnson, as well as deeper-pocketed investors like OrbiMed and Temasek, make plays in the later-stage genomics space.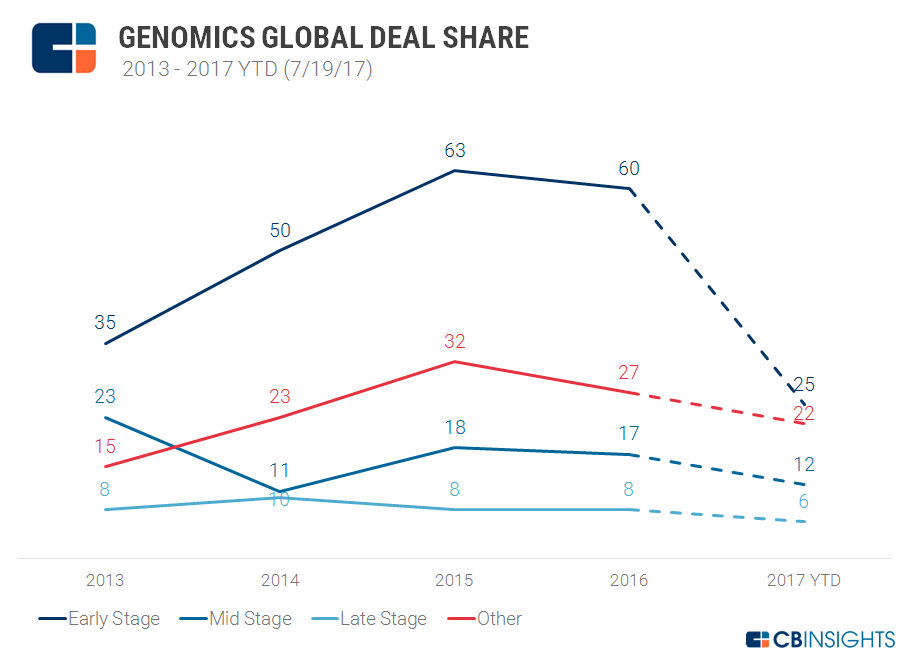 Genomics Activity By Geography
The US commands the majority of deal share in genomics companies globally, with American companies accounting for more than two-thirds of all deals since 2013. The UK follows at just under 10% of deals. While China claims only 3% of deal activity, China-based genomics companies have raised substantial funding: genomics research nonprofit BGI-Shenzhen raised a $320M round in 2014, and more recently, Beijing-based Novogene raised a $75M Series B in Q3'16.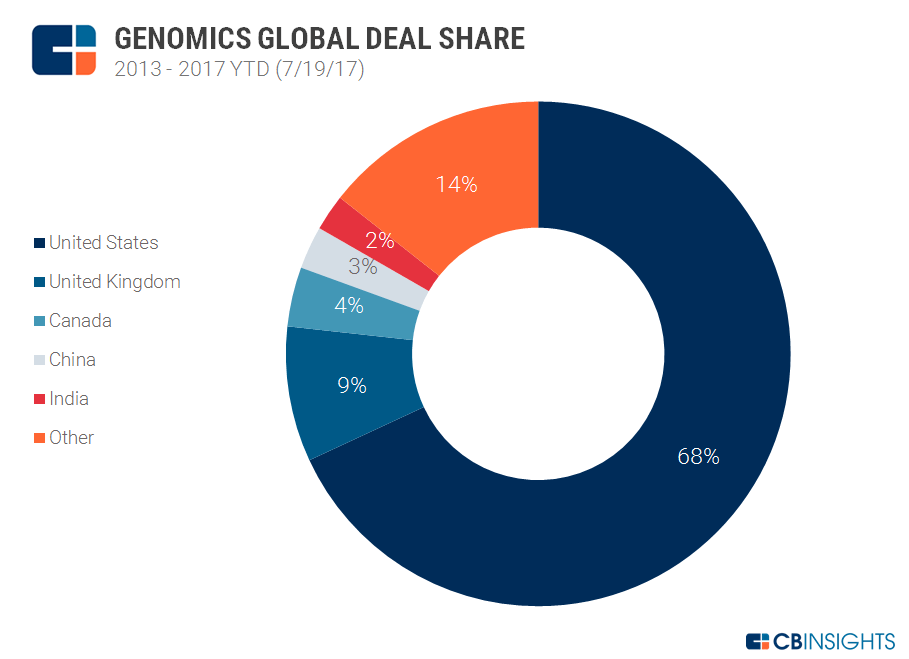 Within the US, California leads, accounting for 43% of genomics deals since 2013. Massachusetts, a hub for biotech activity, makes a stronger showing than usual at 12%. More than a third of all deals happened outside of the three major markets (California, Massachusetts, New York), including recent deals into Navican Genomics (Utah), Benson Hill Biosystems (Missouri), and Metabolon (North Carolina).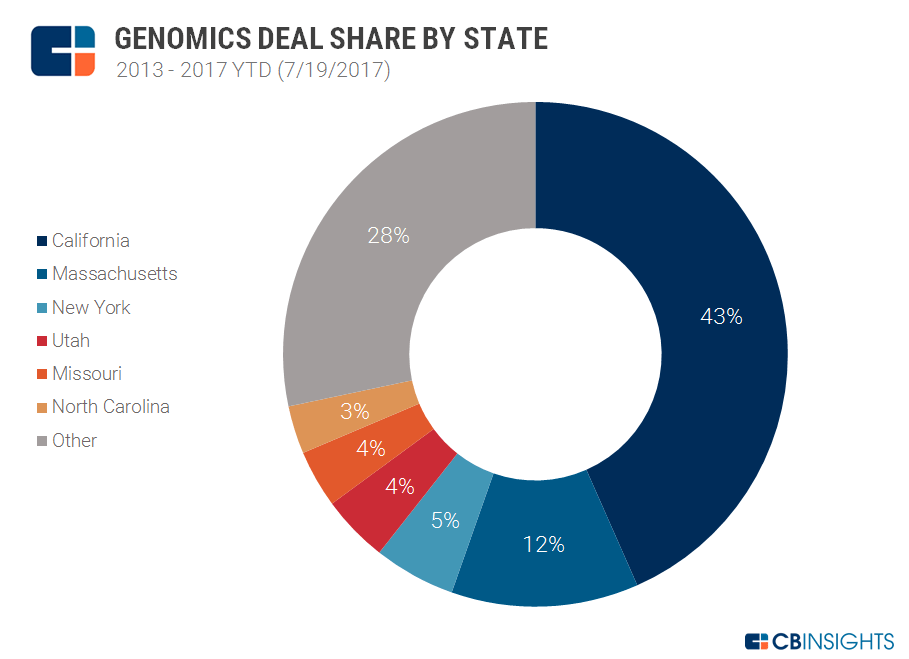 If you aren't already a client, sign up for a free trial to learn more about our platform.