Genomics is seeing activity from a wide range of investors, from purely healthcare-focused investors to more generalist big-name VCs.
The genomics field has several characteristics that make it attractive to a wide array of investors: not only does it deal with both technology/software and biology, but it also has a lot of consumer-facing applications (DNA testing kits, blood tests, etc.) as well as enterprise. This combination has attracted a wide range of investors, from both the technology side as well as the more purely biotech- and healthcare-focused funds.
Using CB Insights data, we mapped out the most active investors in the genomics ecosystem since 2013. We define this space as companies involved in the sequencing and/or analysis of genetic data. Examples include sequencing hardware, cancer biopsies using circulating DNA, direct-to-consumer testing kits, and more. Not included is the application layer, such as CRISPR, gene therapies, etc.
Y Combinator takes the top spot with 8 unique portfolio companies in genomics. Accelerators play an important part in the genomics space, with Indie.Bio and Illumina's Accelerator taking another 2 of the top spots. All 3 accelerators have portfolio companies in genomics companies focused on non-human applications, including Smart Shepherd,TL Biolabs and Trace Genomics.
Lab equipment and services corporate Illumina not only has an accelerator, but also makes investments through its parent company, as well as its venture arm, Illumina Ventures (not shown on table). Illumina itself ranks No. 2 for unique genomics investments, and, when including its accelerator and investing arm as well, it has a grand total of 14 portfolio companies (more in total than Y Combinator). Parent company Illumina has invested across the genomics spectrum, from testing kits like 23andme, to new types of sequencing hardware like Oxford Nanopore, and more specific applications like Kallyope, which works primarily in the microbiome.
On the venture side, healthcare-focused investors like ARCH Venture partners and Polaris have made investments in 6 genomics companies each, including shared investments in Genomics Medicine Ireland, Arivale, WuXi NextCode, and AgBiome.
More generalist venture firms like Lightspeed Venture Partners and Sequoia Capital also made the list. Lightspeed has made several investments in consumer-facing genetic testing companies, such as Guardant Health and Natera (which went public in 2015). Sequoia is an investor in both of those companies as well, and additionally invested in personalized medicine firm Assurex Health, which exited last year through acquisition by Myriad Genetics.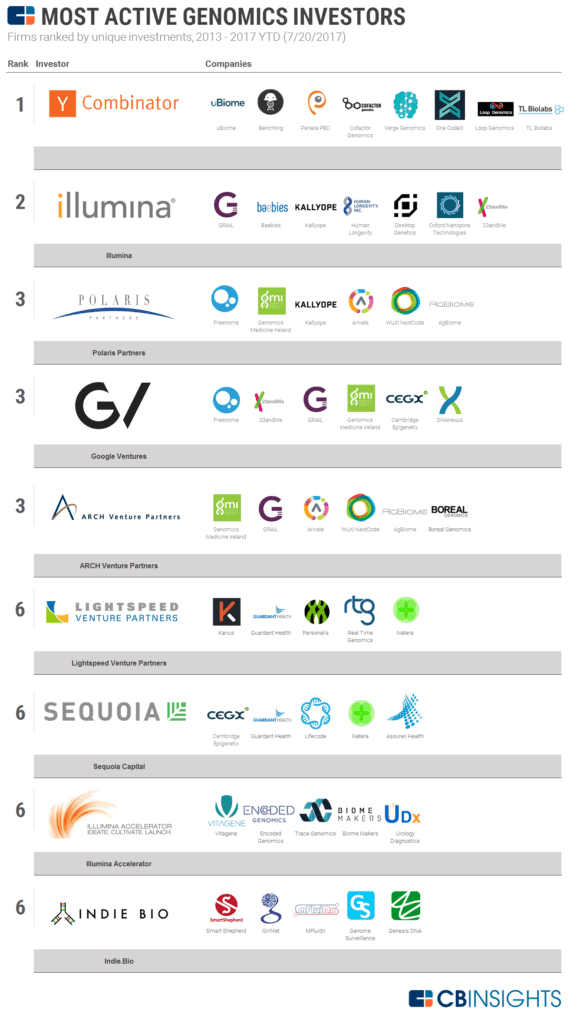 If you aren't already a client, sign up for a free trial to learn more about our platform.