Media mentions of "genomics" is trending up, but funding activity seems to be slowing down.
Lately, talk of genomics seems to be trending upwards.
New applications for advanced sequencing technology along with the consumer-facing products are just two of the trends driving this upswing.
Speaking of genomics news, Richard Scheller, the chief scientific officer at 23andMe, has left the company after 4 years of steering its direction in drug discovery. He has joined BridgeBio — a biotech company that raised $340M in its IPO last month — as its chairman of R&D.
In addition, consumer testing company uBiome continues to see more senior execs leaving as the company deals with a fallback from an FBI raid in April. Its CEOs & co-founders resigned, followed by its interim CEO also leaving soon after. Its board of directors and key advisors are also shrinking.
And now, the company is reportedly laying off half of its employees, which will stunt its operations severely. This has been a surprising turn of events given the company's traction with investors — having raised $109M in total disclosed funding.
It remains to be seen on how this could impact the gut microbiome space and the larger genomics space in general.
Funding in genomics slips
Despite all the media attention that genomics is getting, funding activity seems to be slowing down.
Compared to 2017's all-time funding high of $3.6B+, 2018 saw a small drop down to $3.1B.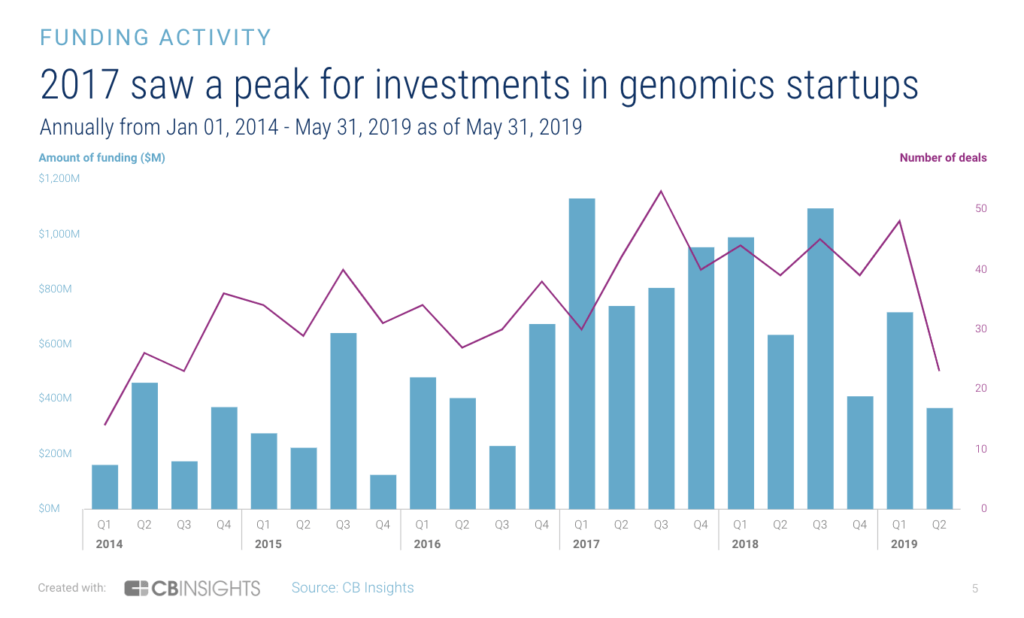 And yet, genomics is also seeing a wave of innovative platforms being developed especially with the rise of more advanced sequencing methods and emerging technologies.
One example of this is the consumer health angle that is helping harness real-world evidence data in driving personalized medicine forward.
Its potential lies in the trove of data that one day could translate to effective medical treatments for those diseases that continue to elude us — cancer, Alzheimer's disease, and the list goes on.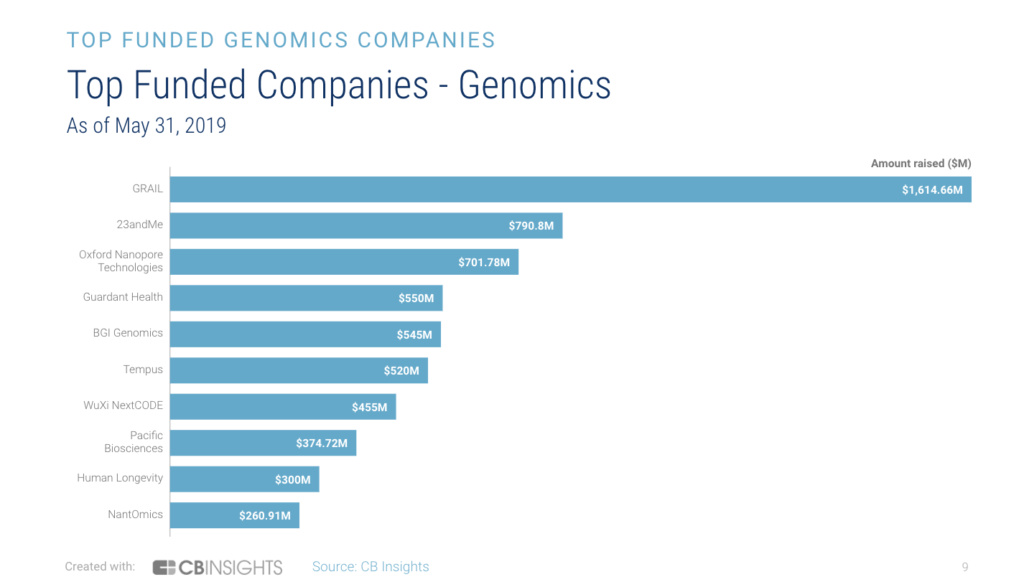 The charts seen above are part of our upcoming Genomics by Numbers report — which will be available exclusively on our platform for clients.
In this report, we will walk through key data points you won't want to miss on the industry, unpacking everything from corporate investments to the early signals of where it may be headed next.
If you aren't already a client, sign up for a free trial to learn more about our platform.