Global funding to private genomics companies has experienced fast, consistent growth since 2013. Recently, this trend has been driven by funding activity outside the US.
Global funding to private genomics companies has boomed over the past decade, with funding up more than 6x in 2019 compared to 2013. Now, there are signs that the market may be maturing, as investors cut bigger checks to more established players. 
In the last couple of years, there's been a notable rise in investment to genomics companies located outside the US, as startups seek to improve genetic data diversity. Demand for Covid-19 genetic tests has further accelerated the funding trend, with total global funding to private genomics companies projected to reach over $4.4B in 2020. 
We define genomics to include companies involved in the capture, sequencing, and/or analysis of genetic data, such as personal genetics company 23andMe and telemedicine genomics company Genome Medical. 
Below, we take a closer look at global funding trends in the space.
GENOMICS DEALS DIP, BUT FUNDING STAYS strong amid record mega-rounds 
Annual funding to genomics companies grew more than 6x from 2013 to 2017. While deals continued to rise over the next 2 years, total funding has since leveled off at around $4B annually. 
Although 2020 funding is on track to surpass 2019 totals, year-to-date (YTD) data suggests that deal making is slowing, with a projected fall to 2016 levels.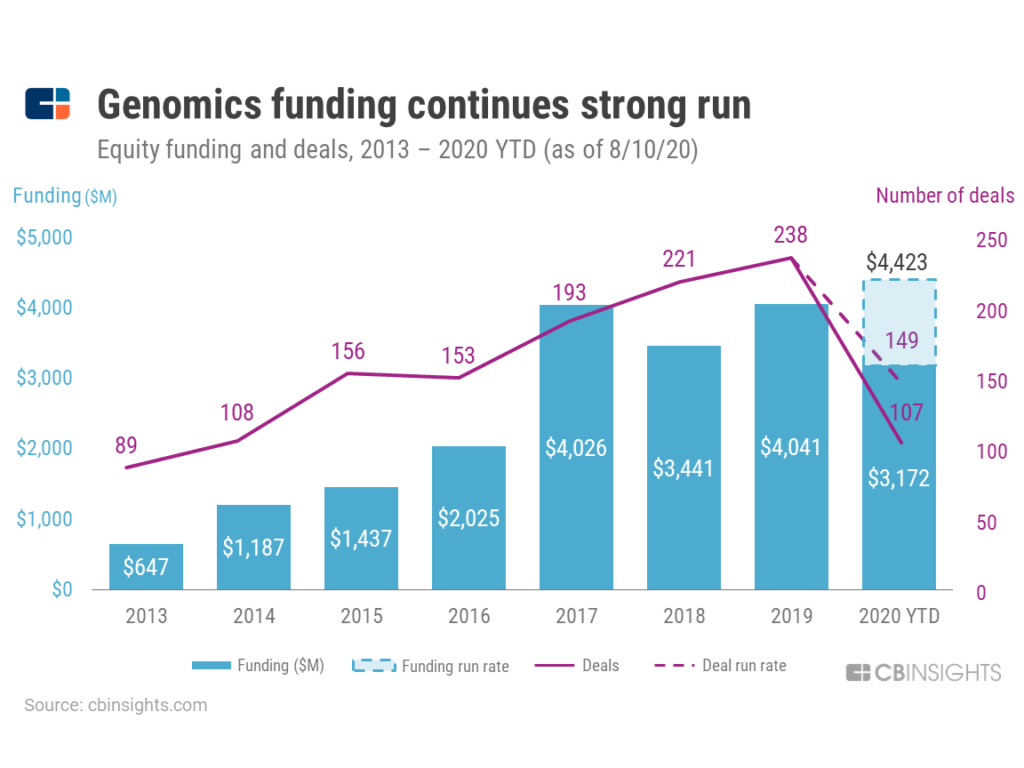 The expected rise in funding this year can largely be attributed to 7 mega-rounds (deals worth $100M+) — already the most to take place in a single year to date.
The largest genomics funding round in 2020 YTD was a $1B Series B to China-based sequencing device, equipment, and consumables company MGI Tech. The round, which was backed by investors including IDG Capital, CPE, and GoldStone Investment, earned the company a unicorn valuation of $4B. 
Most recently, mega-rounds have gone to:
Encoded Therapeutics

, which uses computational approaches to screen DNA for gene therapy targets and is conducting its first clinical trial ($135M Series D).

Sema4

, a reproductive health and oncology screening company ($121M Series C at a $1.1B valuation).

DNAnexus

, which offers a genomics data analytics platform ($100M Series F).
Other 2020 mega-rounds went to Karius, Kallyope, and Tempus.
Seed & angel deal share falls as mid-stage deals rise
The genomics space is beginning to show signs of maturing. Seed/angel deal share has dropped in recent years, down from 44% in 2016 to just 27% in 2019.
This trend, in combination with 2020's projected drop in total deals and an uptick in mega-rounds, suggests that investors are focusing on larger deals to more established, later-stage companies.