Runway and Cohere are the latest generative AI startups to join the billion-dollar valuation club. We look at what's happening in the market and where it's headed.
The tech world is facing a funding drought, widespread layoffs, and investor demands for profit over growth — but you wouldn't know it from looking at generative AI.

The nascent market has already produced 13 unicorns. Five have joined the ranks this year, including Cohere and Runway just last week. 
These startups are taking far less time to get to $1B+ valuations than most of their unicorn peers: Across the 13 genAI unicorns, the average time to reach unicorn status is 3.6 years but for the unicorn club as a whole the average is 7 years — almost twice as long.
Meanwhile, the excitement about generative AI has led to a wide gulf between these companies' soaring valuations and their modest revenues. 
Below, we dig into the generative AI unicorn cohort using CB Insights data on:
Valuations

Revenues and revenue multiples

Employee headcount growth

Top unicorn investors
Valuations
So far, 13 generative AI companies have reached a $1B+ valuation. The vast majority of these passed the unicorn threshold within the last year or so as generative AI took off with mainstream users.
OpenAI, on the other hand, became a unicorn in 2019 and has seen its valuation grow 10x since then. It leads the pack with a $29B valuation. It's followed by Anthropic ($4.4B valuation), Cohere ($2B), and Hugging Face ($2B).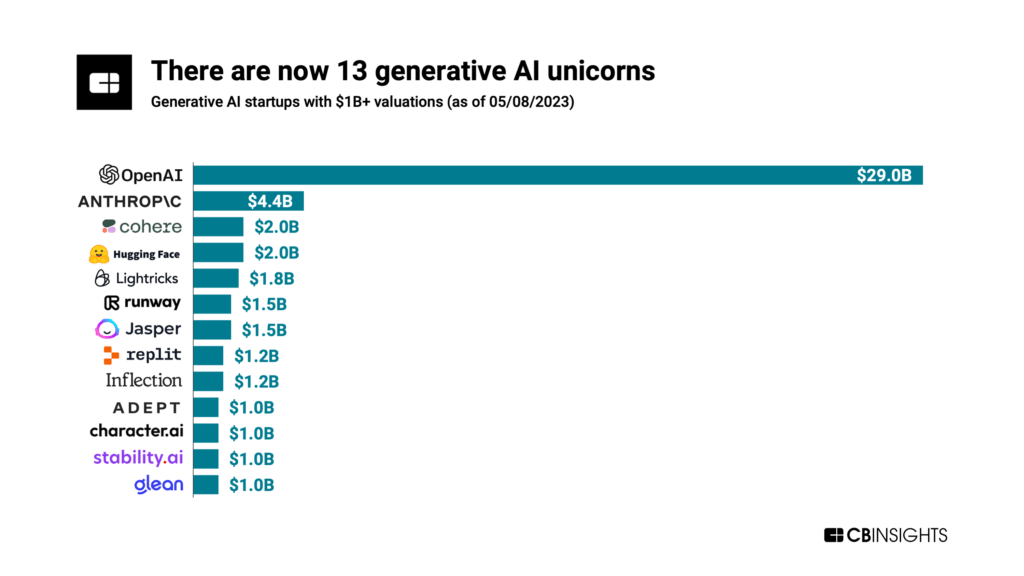 Many of these unicorns develop their own large language models (LLMs) — a capital- and computation-intensive task — and have fundraised substantially to support these efforts. (For a selection of LLM developers, check out this Market Profile.)