We mined the CB Insights database to map 250 startups across 45 different categories, from protein design to patent generation, building on Sequoia Capital's recent work in this fast-growing space.
The field of generative AI — and the hype around it — has exploded in recent months.
Generative AI comprises artificial intelligence technologies and applications that generate entirely new content: code from natural language, 3D assets from 2D images, and even human-like voices from scripts. For enterprises, generative AI can augment and accelerate creative tasks such as design prototyping, as well as reduce costs by, for example, allowing fashion brands to generate models without hiring external talent.   
A number of advances in the field of AI in the last decade — particularly research from big tech companies and OpenAI — have contributed to rapid progress in this space.
The introduction of generative adversarial networks (GANs) in 2014 powered a slew of "deepfake" videos and images. In the following years, powerful language models drastically improved text generation and comprehension. Just this year, we saw the release of several multimedia models that can, for instance, create realistic visual depictions of text prompts like "jackfruit doing karate in the snow."
But the applications of generative AI extend far beyond media and entertainment. Startups are now using these technologies to automate parts of patent-writing, design new proteins and drugs, power the next generation of search engines, design building architectures, and create better experiences in virtual worlds and games. 
The availability of open-source tools and APIs have led to an explosion of new startups entering the market. Sequoia Capital recently published a detailed report on the topic and mapped the landscape with 109 generative AI startups and tools.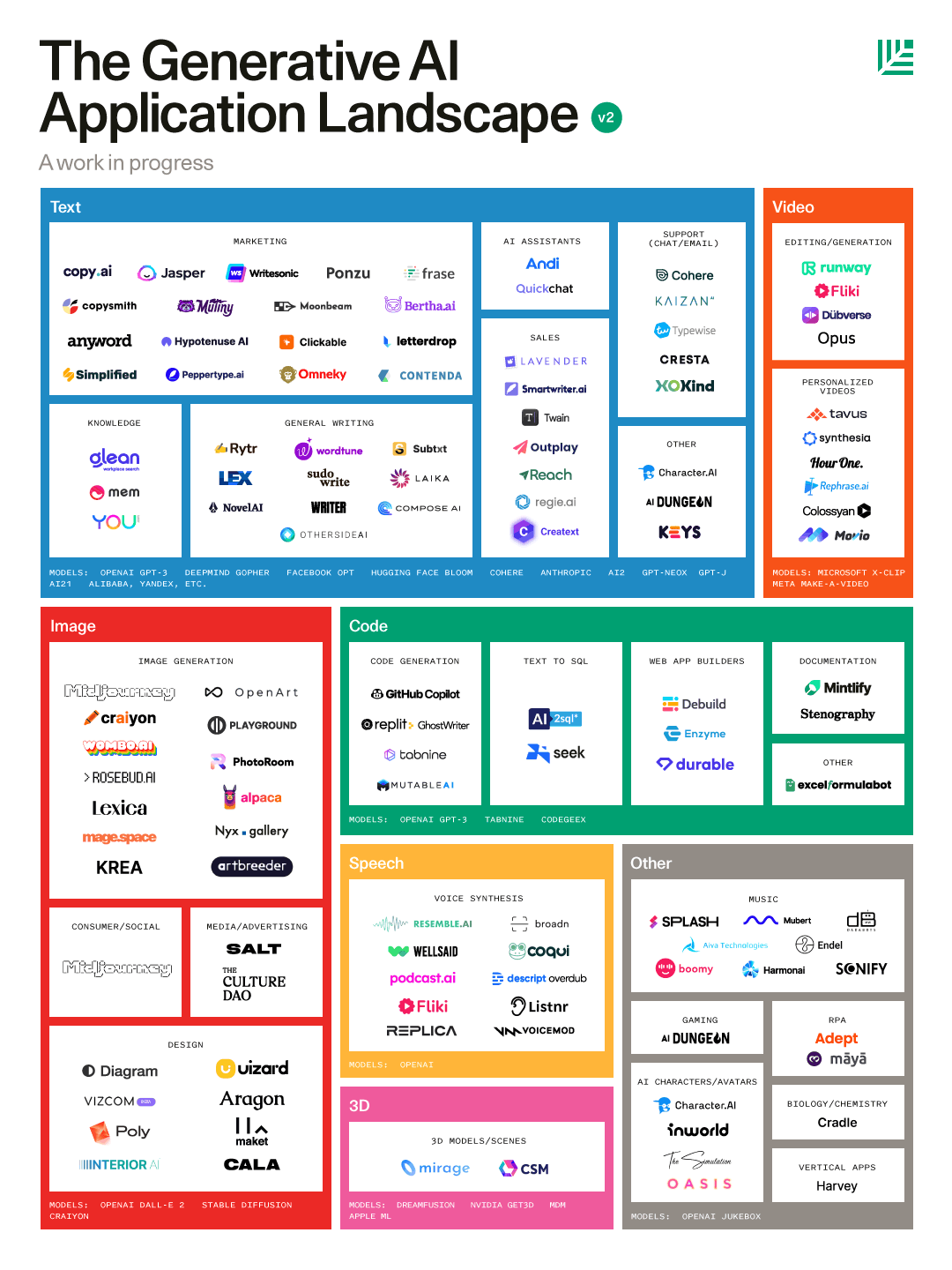 Source: Sequoia Capital 
We mined the CB Insights database to find other generative AI companies and build on Sequoia's work.
In the market map below, we've identified 250 startups developing generative AI applications across 45 different categories, including in specific industries like gaming, education, healthcare, retail, and legal.
Note: Our map includes startups only. We exclude companies that were acquired by larger corporations, as well as open-source tools by citizen developers. We include a list of notable generative AI model developers — including research institutions, startups, and big tech companies that are driving innovation in the space — at the bottom of the map.

Please click to enlarge.