From infrastructure design to materials discovery, we look at 6 ways industrials companies can leverage generative AI — and the vendors building tech solutions in each area.
Generative AI — which refers to AI technologies that generate entirely new content, from lines of code to images to human-like speech — is kindling excitement across manufacturing, automotive, and other industrial sectors.
The tech is already delivering time and cost savings in a range of business functions, from R&D to product design. For instance, generative AI could reduce design timelines by up to 90% for infrastructure projects and slash raw material use by upwards of 95% in industrial design. 
Industrials incumbents are moving quickly to take advantage. Hyundai, for instance, has used Autodesk's generative design software to figure out how to efficiently make parts for new vehicle modalities. IBM, meanwhile, is using generative AI to identify and test computer chip materials. 
Here are 6 industrials applications where generative AI can accelerate product development and scale critical work: 
Building design

Manufacturing & product design

Infrastructure design

Materials discovery

Synthetic data for autonomous driving

Procurement
CB Insights clients can dive deeper into each area — including vendors building relevant tech solutions — below.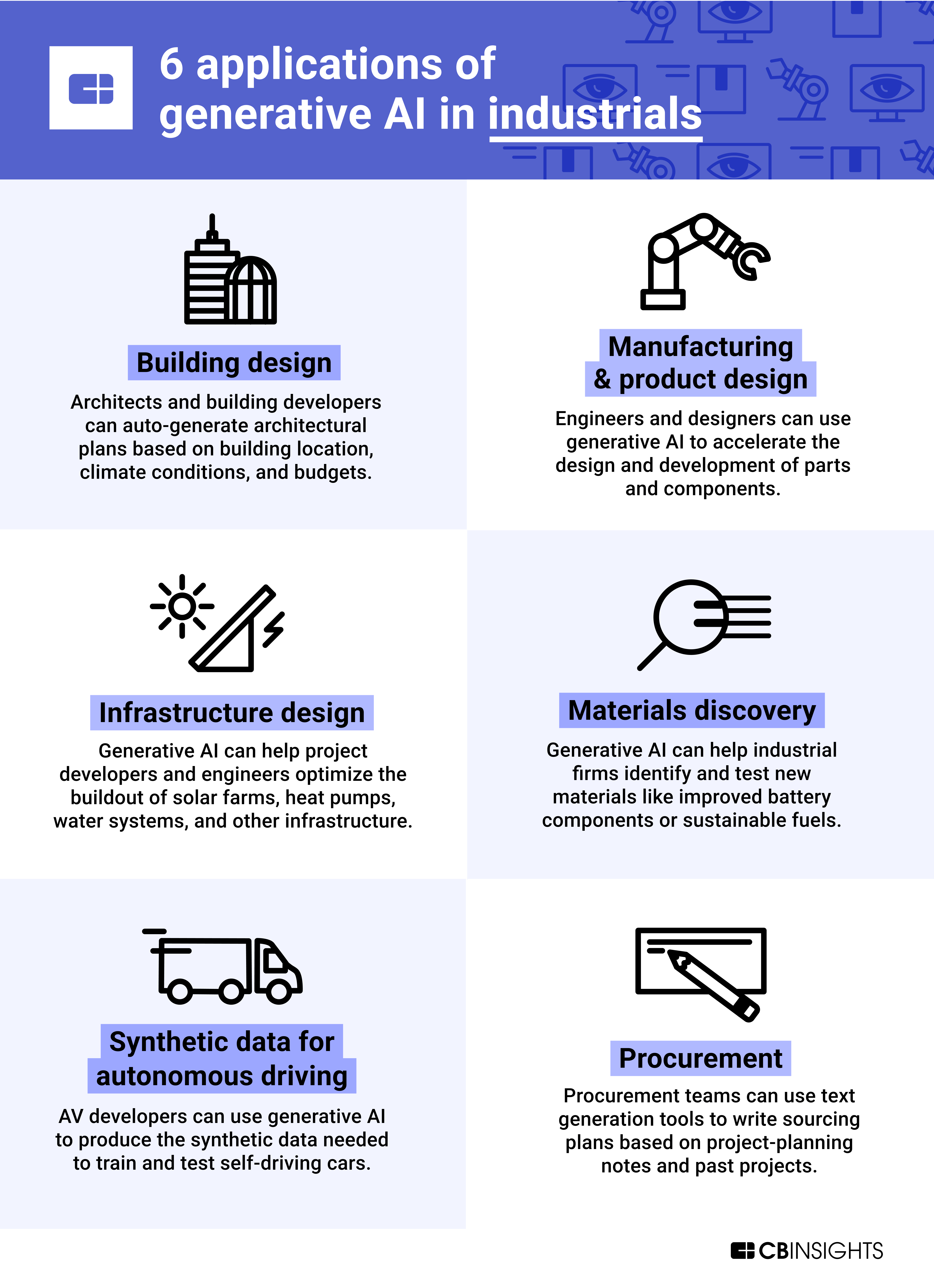 Vendors bringing generative AI to industrials
Building design: Companies are using generative AI to automatically generate building designs, floor plans, and other architectural plans based on client criteria like building location, climate conditions, and budgets. Automated calculations save substantial time and money since these tasks typically require thorough research in-house or from outside consultants. 
For instance, real estate developers can use Archistar's software platform to generate and compare multiple building designs at once, as well as run environmental analyses and financial feasibility modeling.