We break down the generative AI landscape across funding trends, top-valued startups, most active VCs, and more.
The buzz around generative AI — which refers to AI technologies that generate entirely new content, from lines of code to images to human-like speech — has reached a fever pitch.
The tech news cycle has been dominated by applications like ChatGPT, a chatbot that tallied up 1M users in under a week following its late 2022 release. But beyond the headlines, a wave of startups have already entered the market and are rapidly expanding the use cases for generative AI, tackling everything from search engines to motion capture animation.
The vast majority of these startups have received little to no equity funding — signaling that there is still a massive opportunity for investors to get in early on this potentially transformative technology. 
Using CB Insights data, we dug into the generative AI landscape. Below, we cover:
Equity funding and deal trends

Company breakdown by funding stage

Top valuations in generative AI

Where the money's going in generative AI

Which categories are gaining the most momentum 

Which applications are hot — and which are not

Most active VCs
Let's dive in.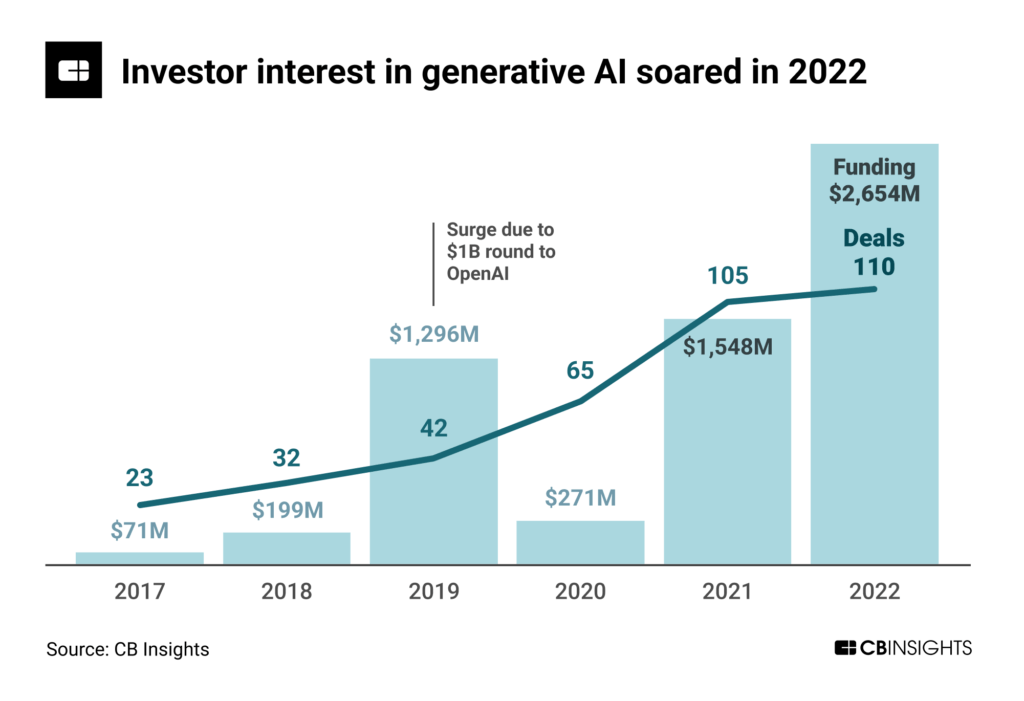 2022 was a record year for investment in generative AI startups, with equity funding topping $2.6B across 110 deals. 
The year's largest rounds went to these companies: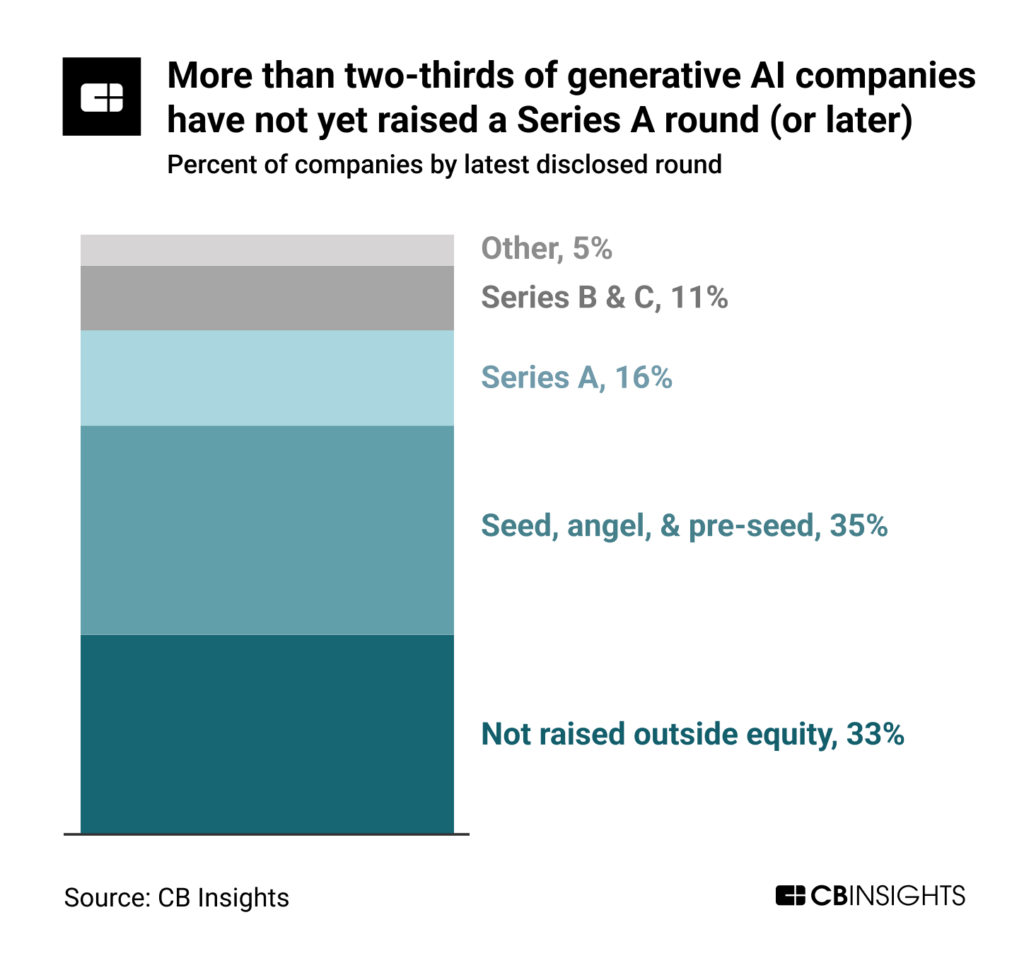 The generative AI space is nascent.
Among the 250+ generative AI companies we've identified, 33% have yet to raise any outside equity funding. Another 51% are Series A or earlier, highlighting the early-stage nature of the space.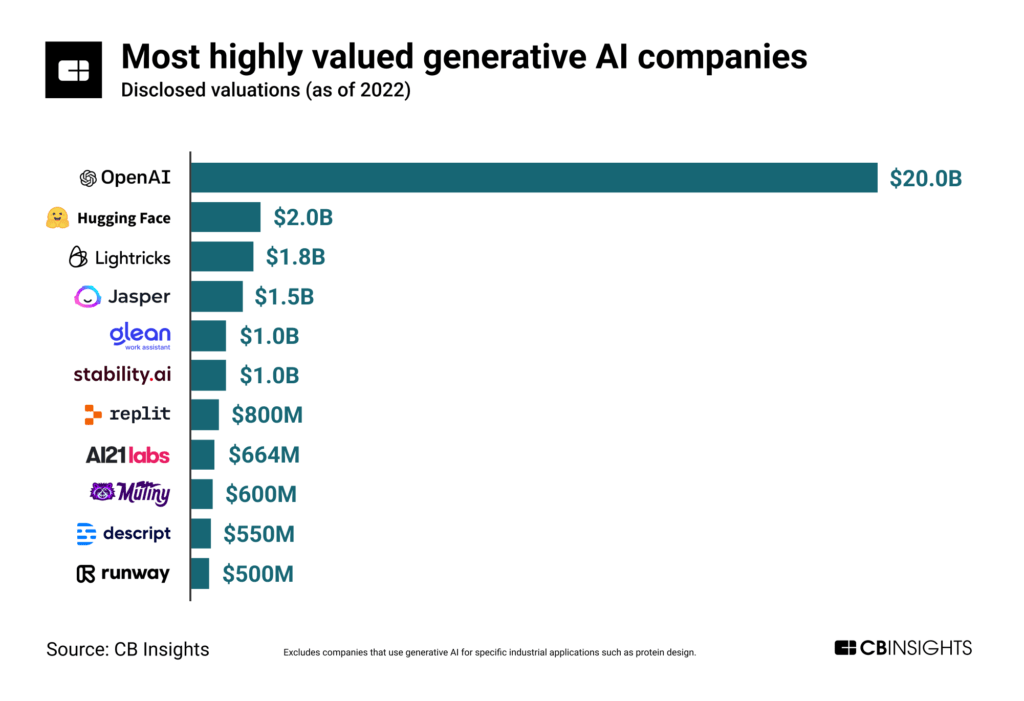 So far, the generative AI space has seen 6 companies reach unicorn status (valued at $1B+), including:
The most recent entrants to the unicorn club are Jasper and Stability AI, following their $100M+ mega-rounds in Q4'22. 
Meanwhile, it's rumored that OpenAI — which just raised a multi-billion-dollar round from Microsoft — was recently valued at $29B. Its latest disclosed valuation of $20B comes from a secondary share sale in 2022.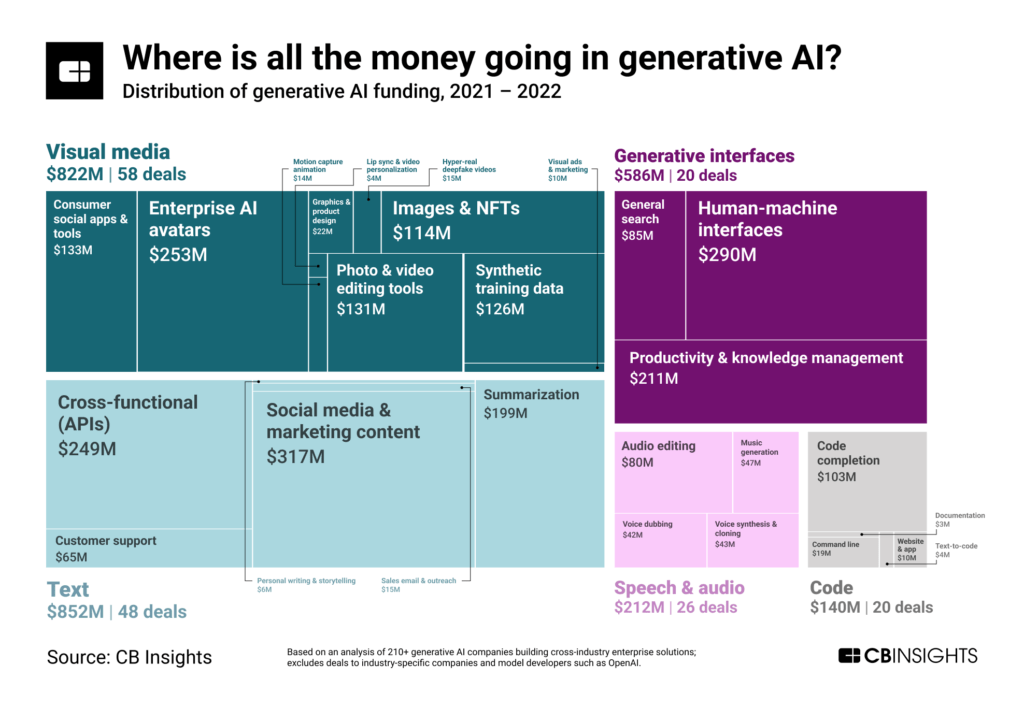 There is a wide range of emerging focus areas in the generative AI space, which we've mapped here. Among these, companies in text generation — which includes text summarization, story generation, and marketing content automation — have received the most funding, raising $852M in equity funding across 48 deals since 2021.
Meanwhile, companies in visual media generation — creating everything from still images to lip-synced videos to avatars for enterprises — have led generative AI deal volume, seeing 58 deals totaling $822M since 2021. Check out our generative AI market map for detailed descriptions of these and other areas.