We break down the generative AI landscape across funding trends, top-valued startups, most active VCs, and more.
The rapid emergence of generative AI — AI technologies that generate entirely new content, from lines of code to images to human-like speech — has spurred a feeding frenzy among startups and investors alike.
As the space matures, big tech companies and waves of new tech vendors are aggressively building out generative AI capabilities to meet the demand from businesses looking to adopt the technology. This is driving an expansion in the breadth of genAI use cases.
In the first 6 months of 2023, funding to the space shot up more than 5x compared to full-year 2022, and the space has already seen 18 companies hit unicorn status. Is generative AI just getting started, or is it overhyped?
Using CB Insights data, we dug into the generative AI landscape. Below, we cover:
Equity funding and deal trends

Company breakdown by funding stage

The categories that investors are betting on the most

Where the money's going in generative AI

Top valuations in generative AI

Top startups by headcount growth

Most active lead investors
Let's dive in.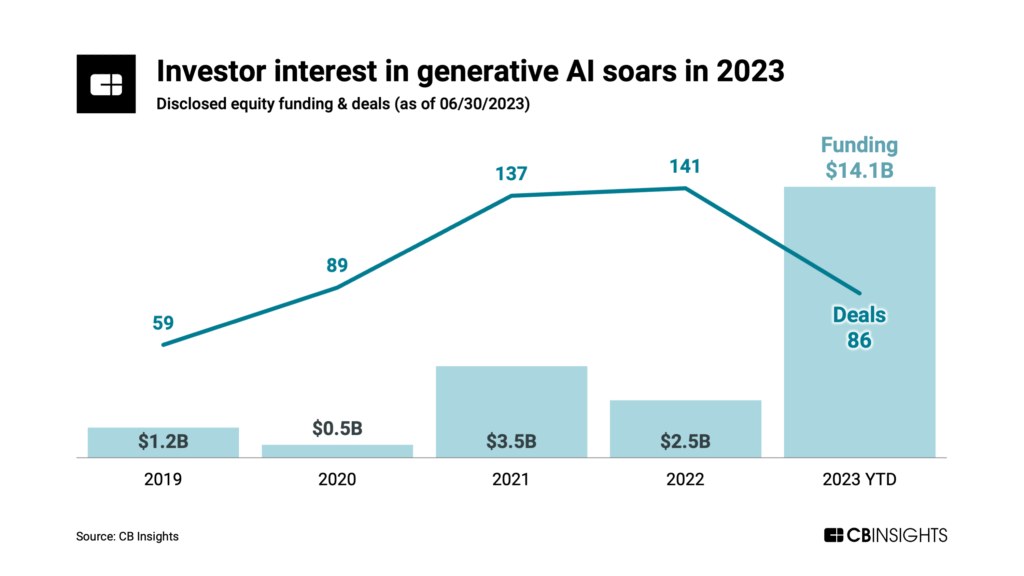 2023 is already a record year for investment in generative AI startups, with equity funding topping $14.1B across 86 deals, as of Q2'23.
The 5 companies that have raised this year's largest equity rounds are: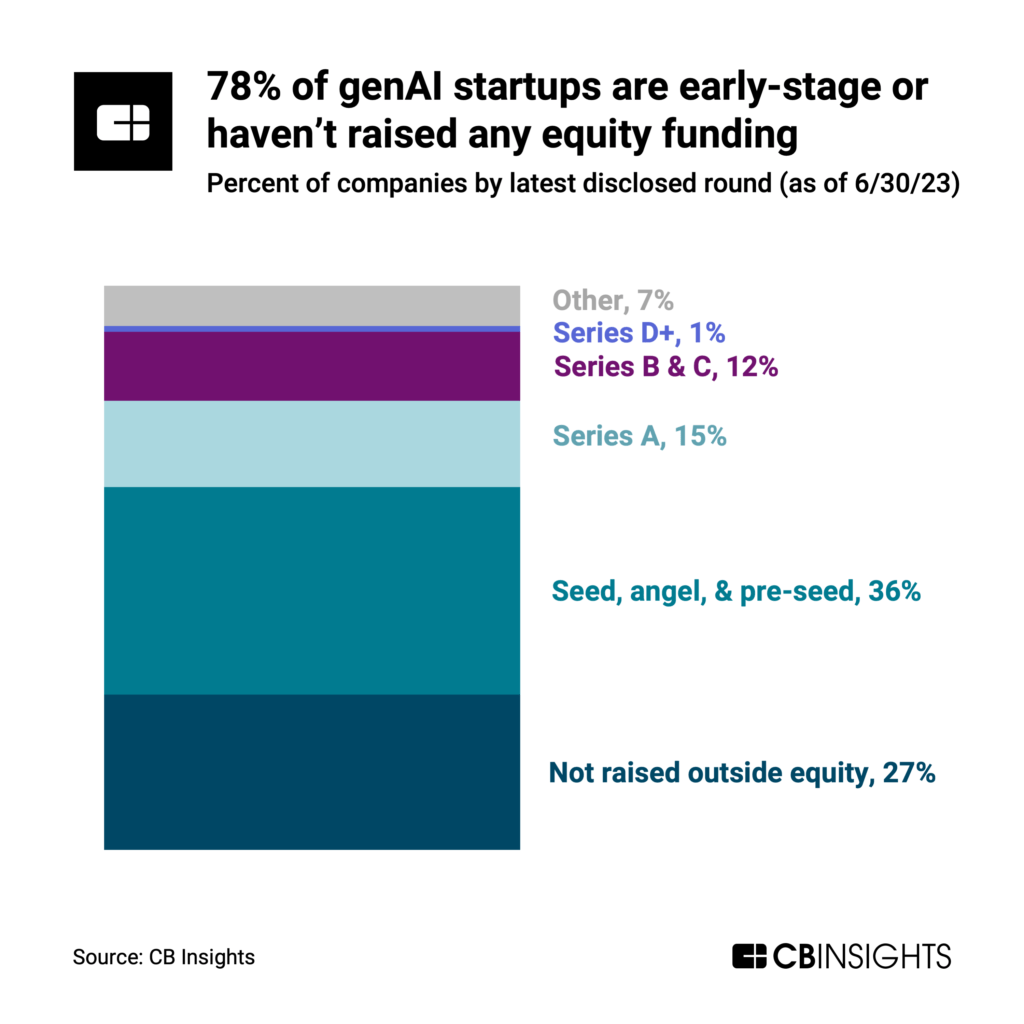 Despite a handful of $100M+ mega-rounds this year, the generative AI space is still largely nascent.
Among the 360+ generative AI companies we've identified, 27% have yet to raise any outside equity funding. Meanwhile, over half are Series A or earlier, highlighting the early-stage nature of the space.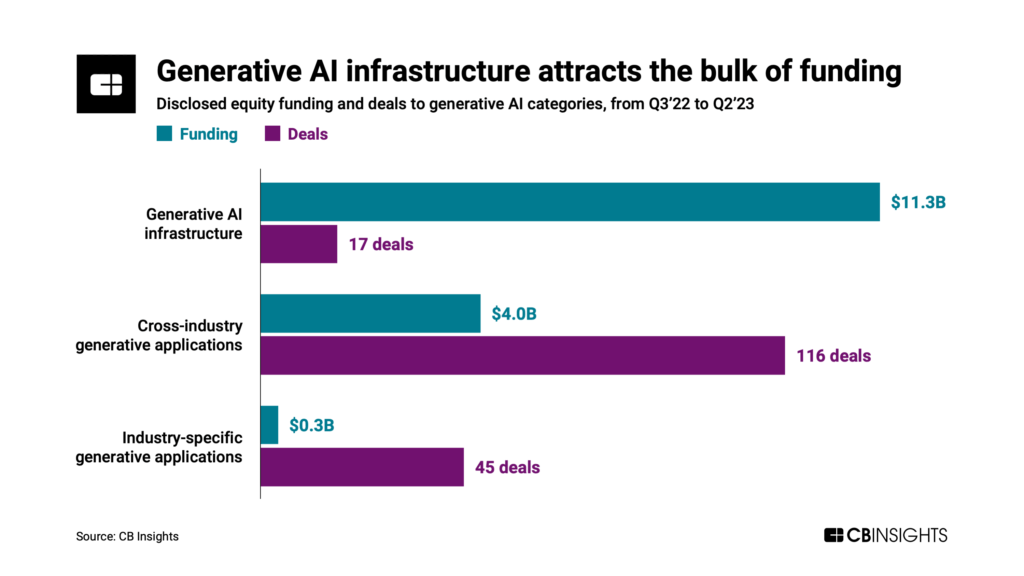 Likely due to the capital-intensive nature of developing large language models, the generative AI infrastructure category has seen over 70% of funding since Q3'22 across just 10% of all generative AI deals. Most of this funding stems from investor interest in foundational models and APIs, MLOps (machine learning operations), and emerging infrastructure like vector database tech. 
Meanwhile, one-fourth of generative AI funding since Q3'22 has gone to cross-industry generative AI applications, which include text and visual media generation, as well as generative interfaces. This area has dominated deal volume during that time.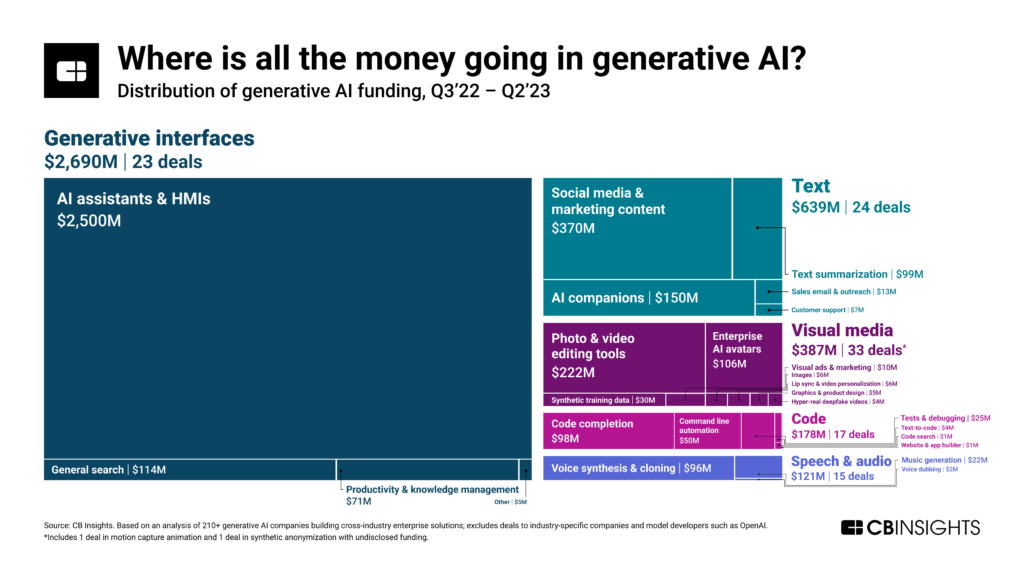 There is a wide range of emerging focus areas in the generative AI space, which we've mapped here. Among these, companies developing generative interfaces — which include productivity & knowledge management, general search, and AI assistants — have received the most funding, raising $2.7B in equity funding across 23 deals since Q3'22.
Meanwhile, companies in visual media generation — creating everything from still images to synthetic training data — have led generative AI deal volume, seeing 33 deals totaling $387M since Q3 of last year. Check out our generative AI market map for detailed descriptions of these categories and other areas.