This acquisition will help Generac Holdings move into the smart home space. Here are the top-line bullets you need to know.
Generac Holdings, a manufacturer of generators and other engine-powered products, has acquired Ecobee, a home automation platform geared toward sustainability, in a deal that could be worth up to $770M. Current terms stipulate that Generac will pay $200M in cash and $450M in stock. Additionally, Ecobee is eligible to receive up to $120M in additional stock — the final amount will be contingent upon the achievement of certain performance targets by the end of June 2023. The transaction is expected to close during Q4'21.
Who are the parties to the deal?
Ecobee: Canada-based Ecobee offers Energy Star-certified thermostats and home monitoring products. Its smart thermostats are capable of optimizing heating and cooling systems in order to help homeowners cut energy costs. The company's product suite includes SmartThermostat and SmartCamera, both of which are equipped with voice control. Catering to more than 2M connected homes in North America, Ecobee has helped its customers save over 20 TWh of energy. Ecobee operates out of its Toronto office, and it maintains a team of 500 employees globally.
Generac Holdings: Wisconsin-based Generac Holdings designs and manufactures natural gas-powered generators and power systems for homes and businesses. Its product suite includes advanced power grid platforms, solar energy and battery storage solutions, and engine- and battery-powered tools and equipment. It has offices across the US, Mexico, Brazil, Italy, Germany, China, and Australia. As of August 2021, the company had 7,900 employees, distributed across 25 countries.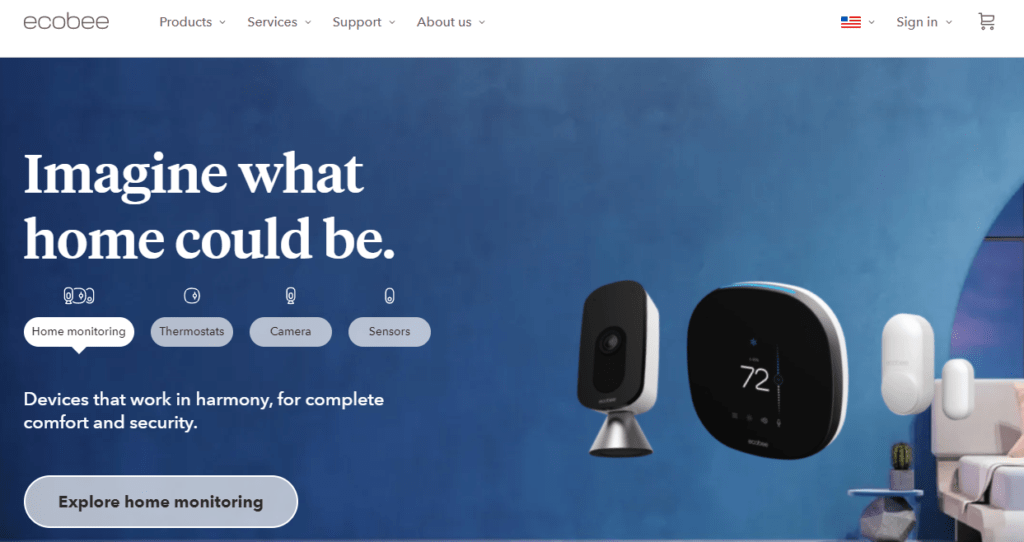 Source: Ecobee
Why does the market matter?
The global smart thermostat market is projected to grow at a CAGR of 20.5% and reach a value of $6.3B by 2027, according to Research and Markets.
The advancement of AI and IoT technologies coupled with the rising demand for smart infrastructure — in both commercial and residential settings — is contributing to market growth.