The share of 16-year-olds getting their licenses has decreased by almost half since the 1980s.
Lets talk about the intensely competitive auto insurance market.
In recent weeks, several different news items pertaining to the $245B auto insurance industry caught our eye.
The first is that the share of 16- to 19-year-olds getting their driver's licenses has fallen drastically since the 1980s. J.D. Power estimates that Gen Zers will purchase about 120,000 fewer new vehicles this year compared with millennials in 2004.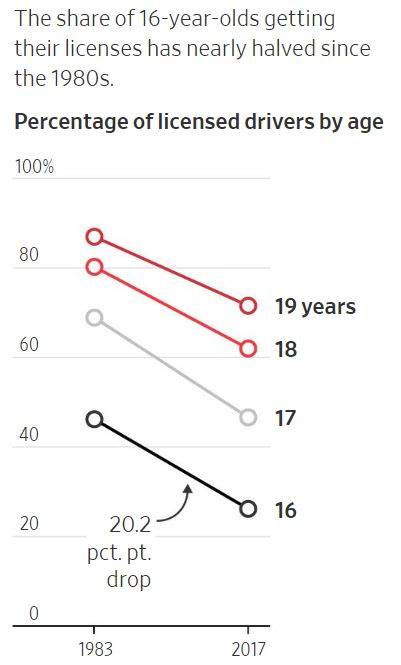 Wall Street Journal
Several reasons are contributing to teenagers skipping out on their licenses:
The high cost of insurance and car loan payments
The ability of smartphones to provide access to ride-hailing, food delivery, and video chat
A more difficult driver's-ed process
Rising auto prices
On the latter, automakers are betting that younger people will eventually need to buy cars and, when they do, will buy SUVs. But automakers also risk alienating younger drivers with safer, but higher-priced and less appealing first cars.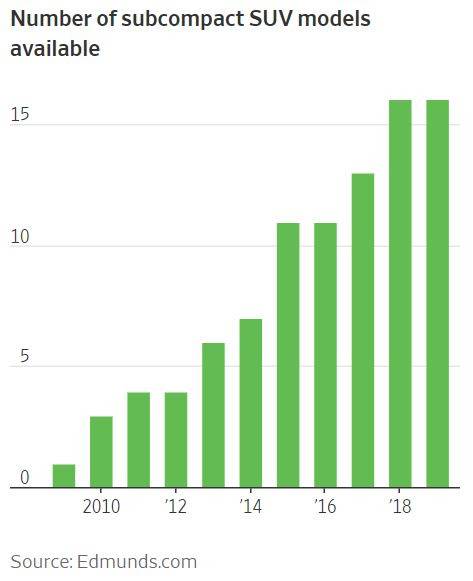 For auto insurers, fewer younger drivers should mean safer roads. Per the AAA Foundation, the crash rate of drivers ages 16-17 years was nearly double that of drivers ages 18-19, and approximately 4.5 times that of drivers ages 30-39, 40-49, and 50-59.
Younger drivers are also more distracted. Drivers ages 18-24 use their phones 20 times every 100 miles, according to a recent study by Root Insurance.
That leads us to our second item.
A shrinking pool of new drivers also promises an even more competitive market where digital and direct-to-consumer options are making a bigger difference.
58% of new auto insurance premiums in 2018 went to Geico and Progressive, according to a J.D. Power study. Compared to the same quarter last year, Progressive's direct auto policies jumped from 6,385 to 7,335 in Q1'19.
The last item was a speculative mention by Tesla CEO Elon Musk, who teased a new insurance product in "about a month" with rates partly set by data gathered remotely from drivers. While more automakers have been delving into offering insurance as part of car subscriptions, Tesla's potential announcement could be an interesting new wrinkle.
We'll be discussing these trends with speakers including Assurant CEO Alan Colberg, Fair.com co-founder Craig Nehamen, and Cambridge Mobile Telematics CTO Hari Balakrishnan at our Future of Insurance event on June 11 in NYC.
If you aren't already a client, sign up for a free trial to learn more about our platform.