From realistic in-game physics to high-quality gaming landscapes, the Unity and Unreal engines are providing everything a developer needs to design the next big mobile, PC, or console game.
Gaming is a booming business. The industry generated over $120B in revenue in 2017, and is expected to reach more than $180B in 2021.
And everybody wants a piece. The market has been buoyed by investments by video game publishers like Tencent and Activision Blizzard, as well as hardware incumbents like Sony (PlayStation) and Microsoft (Xbox).
But two lesser-known organizations are also playing a key role in driving the industry forward: Unity Technologies and the Unreal Engine.
These are two of the most popular game engines today, providing the digital infrastructure for many of the world's most popular games, such as Pokémon Go (made with Unity Engine) and Fortnite (made with Unreal Engine).
From realistic physics in a game environment to landscapes and structures, these engines offer everything a developer needs to design advanced mobile, PC, and console games.
As the industry grows, these engines are now starting to converge. Unity Technologies, known for its focus on mobile gaming, is now pushing into PC and Console game development, while Unreal Engine, known for its PC and console game engine, is optimizing its platform to draw more mobile game developers. The platforms are also competing for market share in emerging areas like AR/VR.
Below, we dig into both organizations, their monetization models, and the industries they may dominate in the future.
GAMING INDUSTRY
Gaming companies are defined as those developing technologies for the PC, console, mobile, and/or AR/VR video gaming market.
Track The Gaming Space
Unity refines its engine to attract sophisticated PC & console game developers
Unity Technologies was founded in 2003 and has since risen to become one of the most popular game development engines used today, powering nearly half of all mobile games. In 2016, over 30% of the top 1000 mobile games were built using Unity, which reported having 45% of the entire global game engine market. 
Mobile gaming is the fastest-growing segment in the overall gaming industry, expected to rise at an average annual rate of 17%+ between 2017 and 2021. Unity will be an important contributor to future growth, providing the digital infrastructure necessary to take the mobile gaming segment $100B+ in the next few years.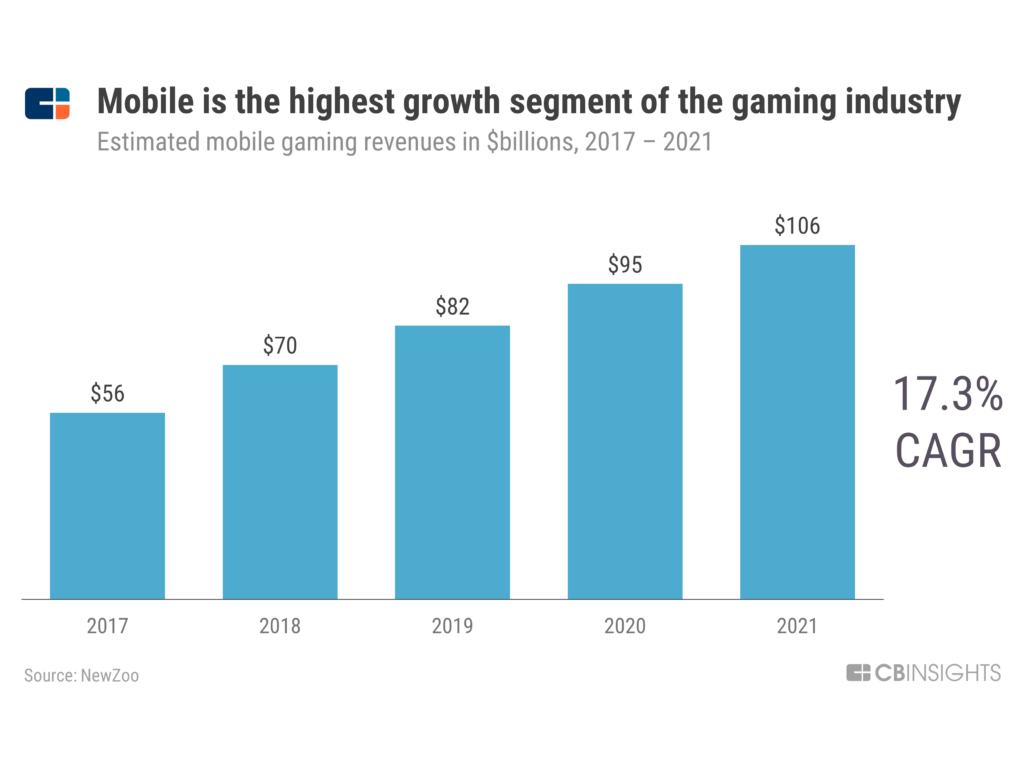 Recently, Unity has particularly benefitted from the growing popularity of mobile gaming throughout Asia. Many of the mobile games published by incumbents like Tencent and NetEase leverage the Unity Engine.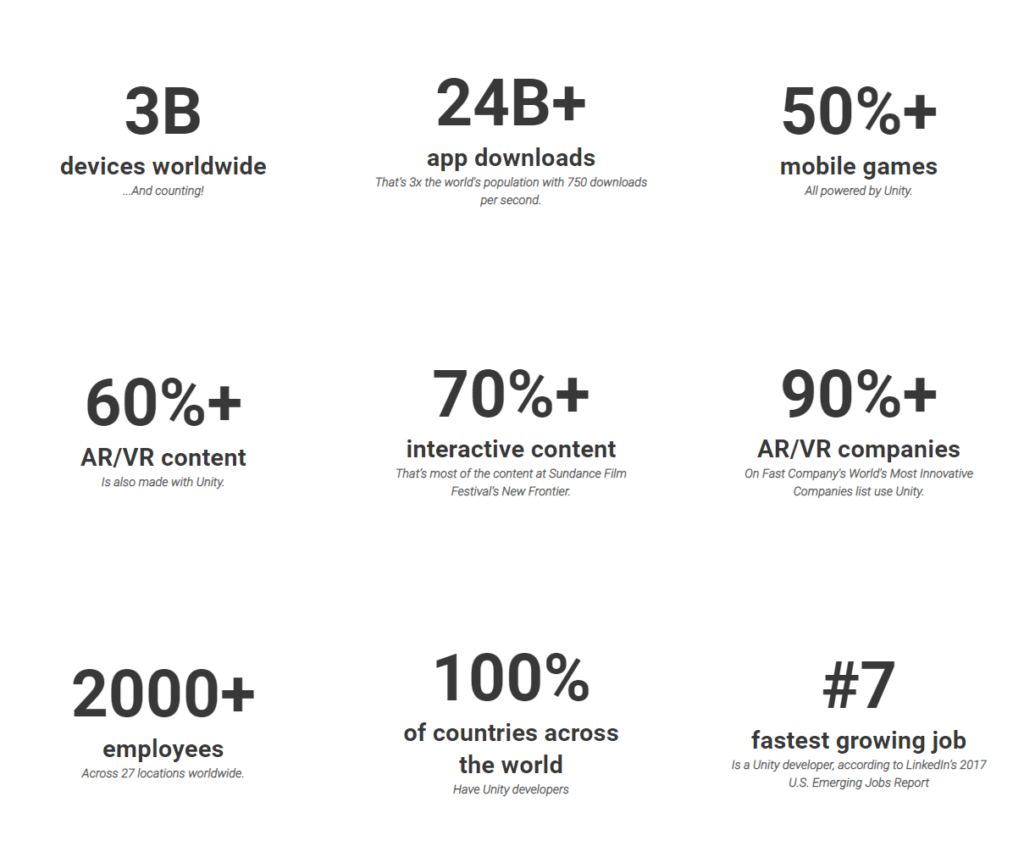 One of the most popular mobile games built using Unity is Nintendo's Pokémon Go, which reached 5M daily active users in April 2017 and has been downloaded more than 800M times.
Unity's dominance in the fast-growing mobile segment has made it an appealing partner: Google recently partnered with it for a digital advertising campaign. Sissie Hsiao, VP of mobile advertising at Google, cited Unity's "incredible reach with 1.5 billion devices on Android and iOS" as the motivation behind the deal.
Beyond mobile development, Unity is also the engine of choice for AR/VR developers. According to the company's website, over 60% of all AR/VR content is made with Unity.
Business model: revenue-based pricing
Unity's pricing model is based on its clients' revenue: the more revenue earned or money raised, the greater the cost per developer.
The company even offers a free version for organizations that earn <$100K in annual revenue or that have raised <$100K in total funding. This model has made Unity particularly popular with smaller up-and-coming studios that cannot afford expensive gaming engines.
This growing adoption by smaller studios has benefitted Unity by driving more users to its marketplace, the Unity Asset Store. The store is an online portal where developers can buy and sell pre-configured gaming assets, ranging from digital landscapes and buildings to vehicles and weapons.
This marketplace provides another source of revenue for Unity, which takes a 30% cut from all peer-to-peer transactions.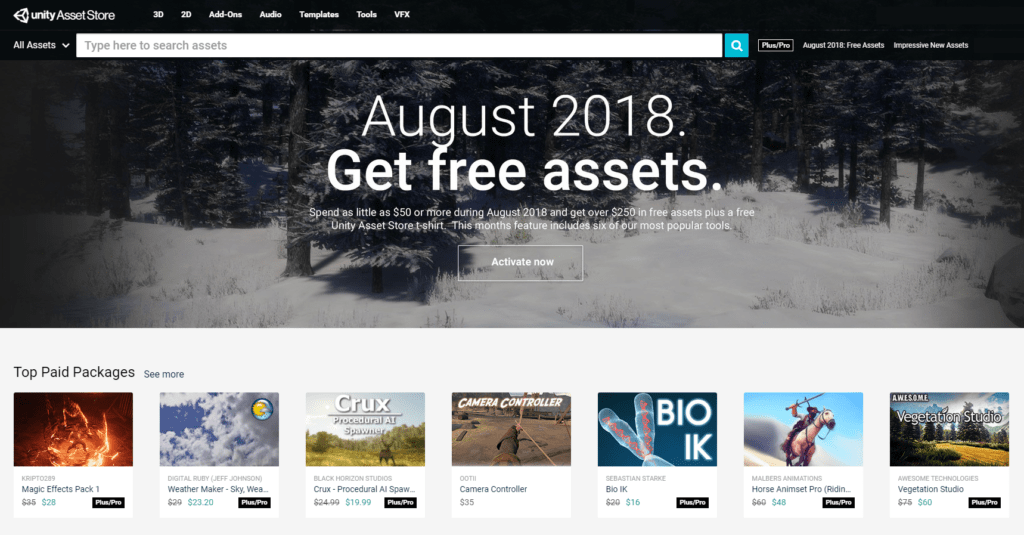 Unity has supported nearly 40M asset downloads, compared to 8M on Unreal — likely due to all the smaller studios its pricing model has attracted.
As Unity's business model yields results, investors have taken notice. To date, Unity has raised nearly $450M from investors like Silver Lake, DFJ Growth, Sequoia, Thrive, and Diane Greene (CEO of Google Cloud). The company last raised a $250M Series D from Silver Lake in May 2017, when it was valued at $2.6B.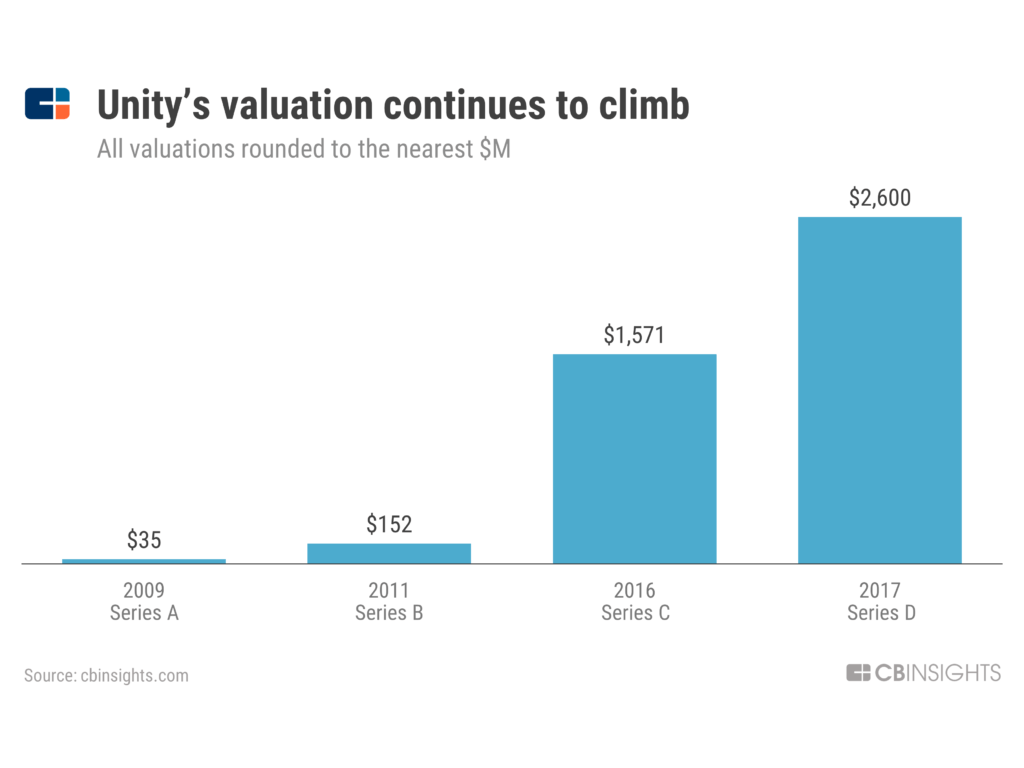 Unity's $450M war chest has allowed it to build on its existing strengths while also expanding into new areas. The company released the latest version of its engine in early July, and has plans to release the next version sometime this fall. The most recent releases improved rendering and performance to improve PC and console gaming, while the next version promises advanced machine learning capabilities.
Unreal aims to capitalize on smartphone growth by optimizing its engine for mobile
Unreal Engine, developed, owned, and operated by Tencent-backed Epic Games, was one of the first publicly available gaming engines. It grew out of Epic's Unreal series, which included some of the first successful online multiplayer games. After publishing the game, Epic chose to share the engine and tools used to develop and support it, and the Unreal Engine was born.
Where Unity is known for mobile gaming, Unreal is known for its focus on PC and console. While these segments of the overall gaming market don't see the same level of growth as mobile gaming, they do still generate a significant amount of revenue (up to $67B by year-end).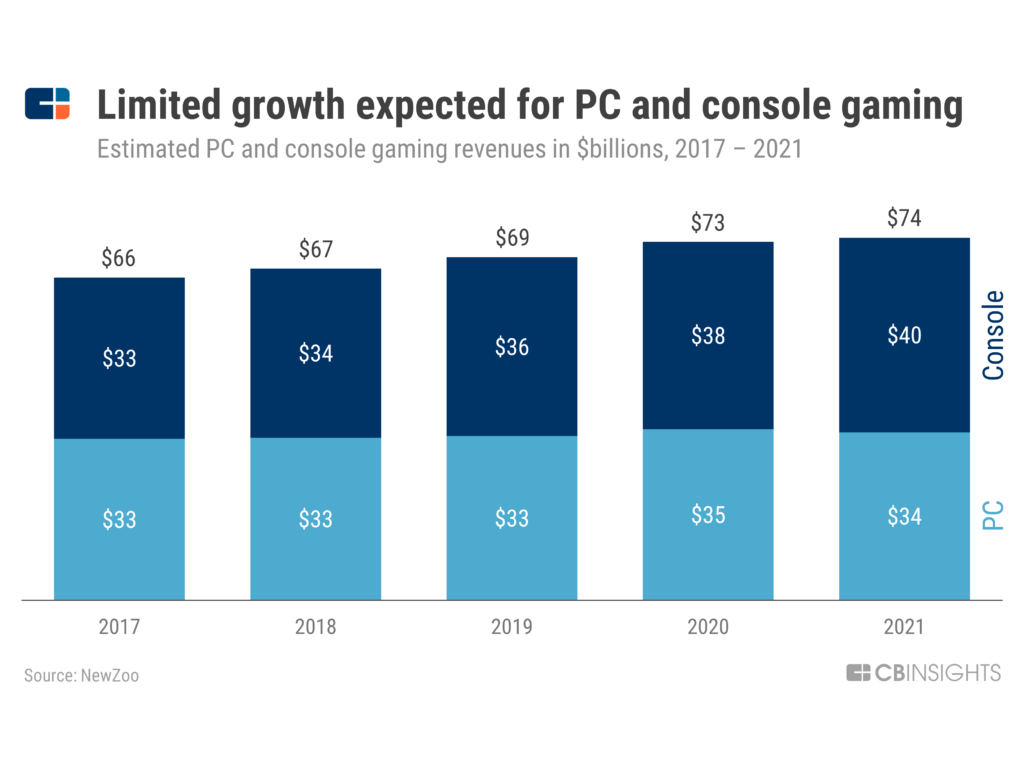 Epic Games became a mainstream sensation in 2018 with the introduction of its massive multiplayer online (MMO) game Fortnite Battle Royale.
Recent estimates list nearly 125M Fortnite players, while the game is expected to generate $2B by the end of 2018.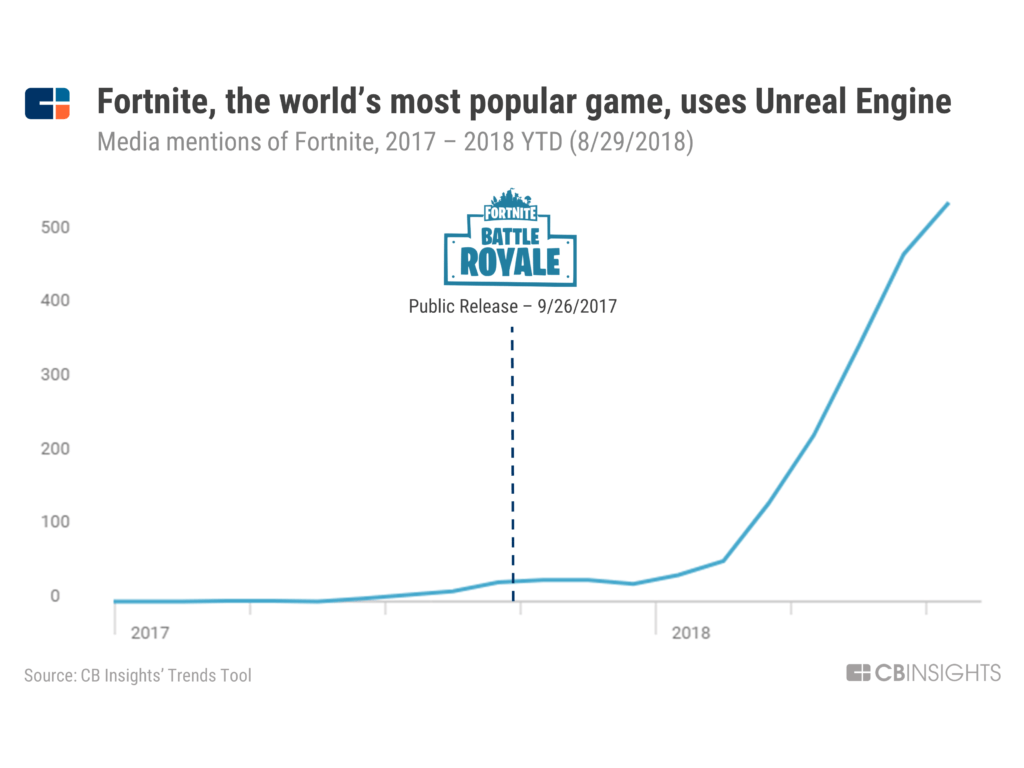 Fortnite's massive success has given Epic and the Unreal Engine some key advantages over competitors.
First, it provides a valuable feedback loop the Unreal Engine designers, who in turn regularly upgrade the Unreal Engine to improve the performance of the game.
Second, it provides Unreal with significant monetary resources and the freedom to invest in its engine without having to generate a return in the short-term.
While Unreal has long been known as a popular professional game engine, widely used by large studios and publishers, this capital allows Epic to invest in technologies and resources that will attract new indie developers as well.
One example of this is Unreal's recent investments in AR/VR. The company has recently optimized its engine for AR/VR gaming, while also partnering with established AR/VR organizations like Oculus. In October 2016, Oculus announced it would pay Epic royalty fees for any Unreal-powered Oculus Rift game published in the Oculus Store.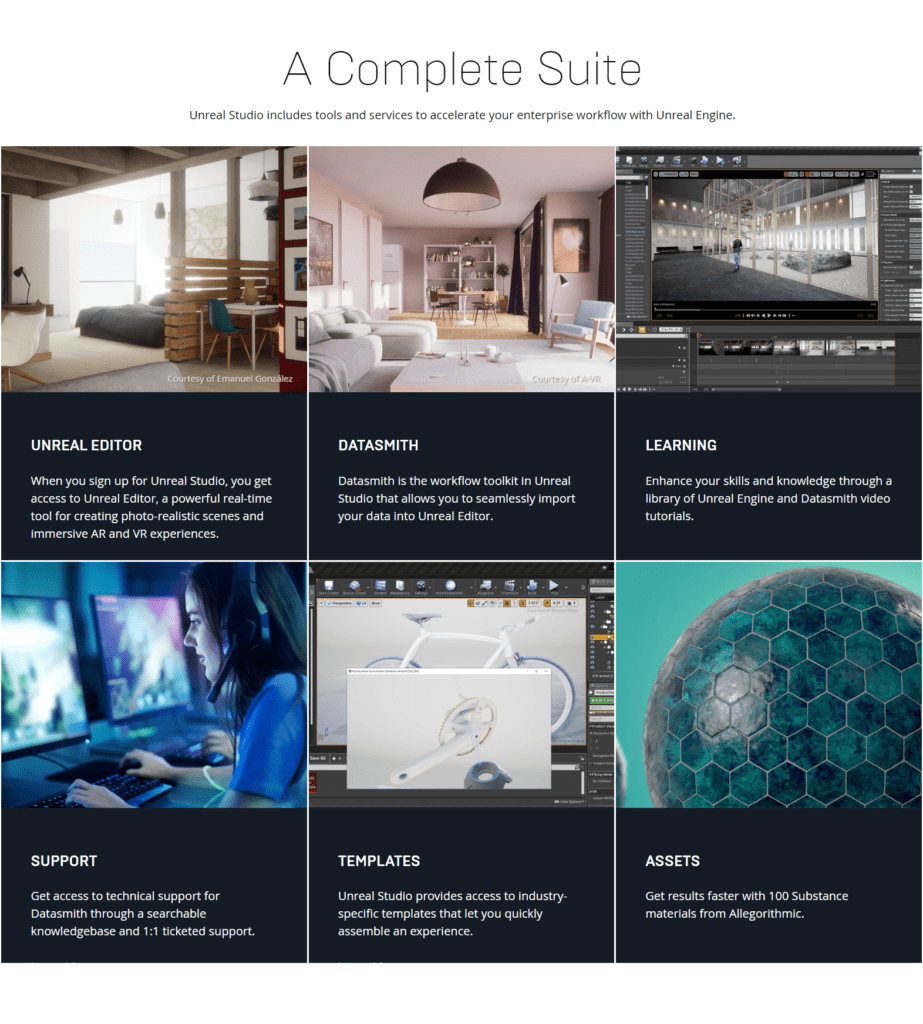 Despite these successes, Unreal has run into some trouble with Bluehole-developed game PlayerUnknown Battleground (PUBG), which was built using the Unreal Engine. Recently, Bluehole sued Epic Games for copyright infringement, citing similarities between Fortnite and PUBG. Though the lawsuit was dropped, this tension over intellectual property may make some developers more wary of using the Unreal platform.
Business model: 'We win if you win'
Epic has followed in Unity's footsteps by offering its engine for free to developers who earn <$3,000 in quarterly revenue.
However, once a commercial product (usually a game) earns $3,000 in revenue, the organization developing the product is obligated to pay a 5% royalty to Epic for as long as the game or content continues to generate revenue.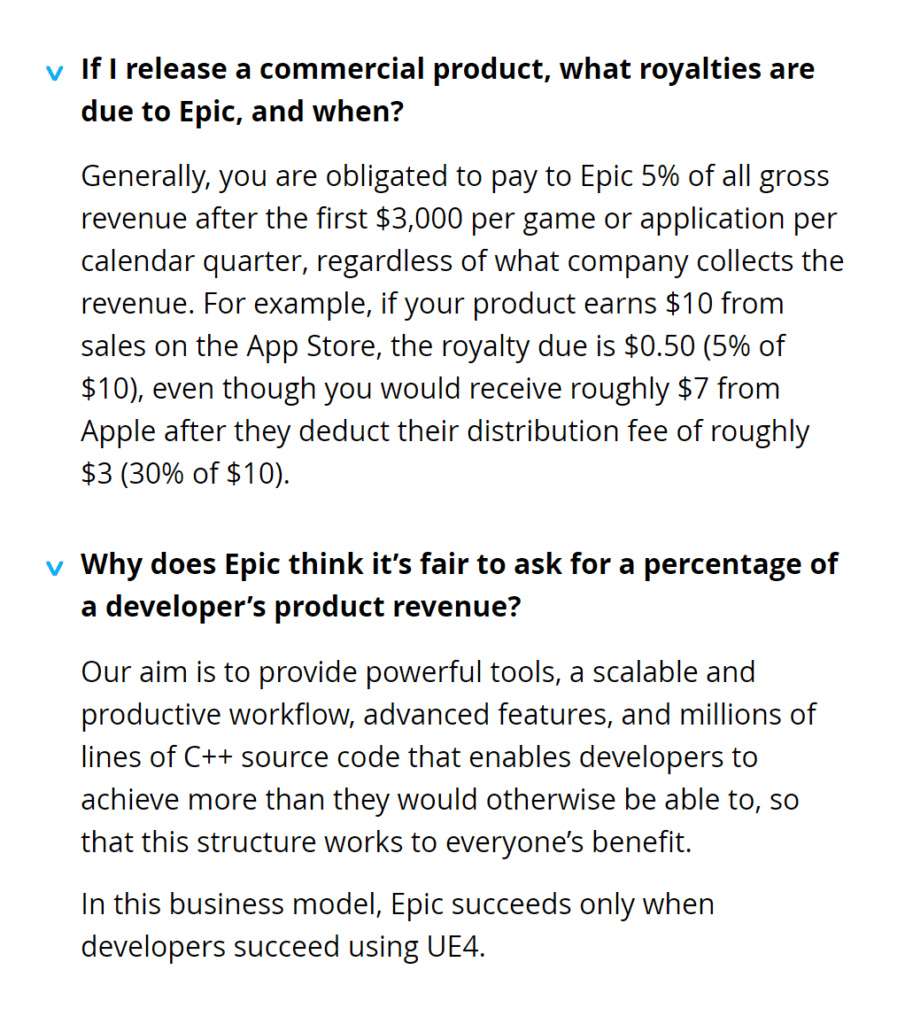 This "we succeed if and only if you succeed" mantra is very attractive to developers looking to avoid upfront costs. Epic also offers custom licensing agreements for some of the most successful games, where a 5% royalty might be enormously costly.
Unlike Unity, Unreal doesn't charge per developer. The 5% royalty is the only cost outside purchases made in its asset store. This is ideal for Unreal's target audience, PC and console developers, that typically work together in larger teams on larger projects.
"[Asset] stores taking 30% is just out of line. There's a 4X profit margin or more." — Epic Games CEO Tim Sweeney
Unreal also differs from Unity in terms of how it capitalizes on its assets store: the company recently announced that it would transition from collecting the standard 30% of each asset store transaction to collecting just 12%.
This strategy aims to attract more asset designers and artists who will in turn attract developers.
As the gaming industry grows, Unreal is expanding its horizons. Similar to how Unity is now pursuing PC and console gaming, Unreal is now moving into mobile gaming.
The company has optimized the Unreal Engine to improve mobile gaming, while a new generation of more powerful mobile devices is also working to the company's advantage, as more powerful devices will compliment higher-performance game engines.
What comes next?
Together, Unity and Unreal have a stronghold on the gaming industry. But despite Unity's dominance in mobile gaming and Unreal's dominance in PC and console, these organizations now have their sights set on bigger opportunities.
While AR/VR is one of these areas, animated content more generally offers a significant opportunity. According to CB Insights' Market Sizing tool, the global animation software industry is estimated to exceed $700B by 2021. This is nearly quadruple the estimated size of the gaming industry in that same year.
Though it's hard to say whether or not these engines will one day compete with the likes of Pixar, they are certainly positioning themselves to play the long game, moving towards becoming comprehensive gaming platforms rather than just mobile- or console-specific. Unity in particular has adapted its gaming engine to improve computer-animated film.
Moving forward, these engines could provide a one-stop shop for creators looking to publish content optimized for a variety of different devices. But for now, they will continue to act as the building blocks of the quickly growing gaming industry.
If you aren't already a client, sign up for a free trial to learn more about our platform.