From wellness-infused personal care products to big tech brands in beauty, we round up 3 major trends at the 2018 Indie Beauty Expo.
The indie beauty category is booming.
Independent, direct-to-consumer beauty brands are chipping away at the market share of personal care corporations.
The segment saw the largest number of deals in 2017 across the industry, as corporates are increasing their investments in and acquisitions of these up-and-coming brands. P&G, with a market cap of approximately $200B, recently acquired skincare and cosmetics brand First Aid Beauty in a signal of how the industry is shifting.
Fitness In The Post-Covid World
Download the free report to learn how technology is changing the way we work out.
What does 2018 and beyond have in store for the beauty industry?
From our spot at the 2018 Indie Beauty Expo, we rounded up 3 trends shaping the beauty industry in 2018 and beyond.
Wellness-infused personal care
Brands are embedding wellness into their personal care products.
Beauty supplements
are using wellness to promote the inner-outer beauty connection. Major retailers from Sephora to Nordstrom to Anthropologie are betting on this trend and stocking their shelves with the latest products from buzzy inner beauty brands.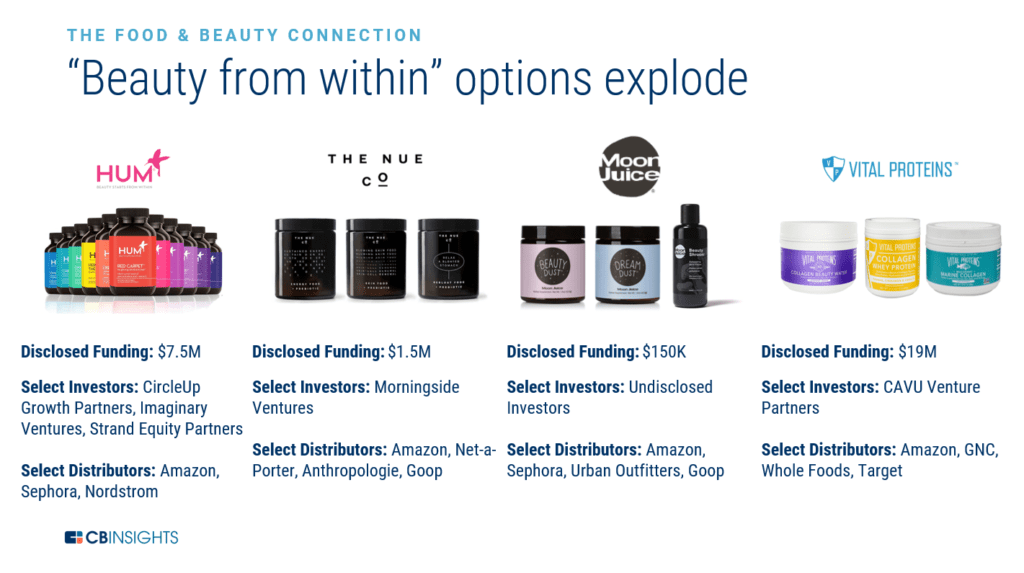 Vitamin retailers are also looking to cash in on the trend, as they aim to navigate the retail apocalypse by enhancing their stores and offering a wider product assortment.
The Vitamin Shoppe, for example, launched an incubator program in July 2018 dubbed Launchpad to find emerging vitamin and supplement brands for its customers. One of its incubated brands, Ora Organic, offers vegan supplements ranging from protein powders to probiotics.
Such initiatives could help vitamin retailers appeal to customers with modern day brands that meet consumer preferences for better-for-you
active nutrition products
.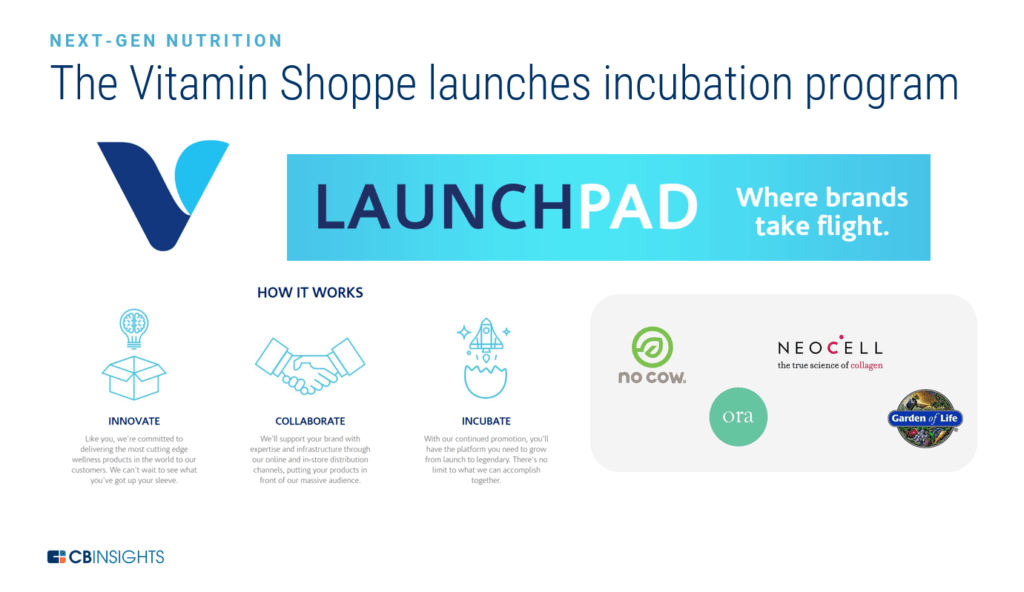 Cannabis has become increasingly integrated in beauty, from broad personal care products to cannabis-based beauty lines.
Brands like Ho Karan (a 2018 Sephora Accelerate cohort member) and Apothecanna are integrating CBD across their product lines. Other up-and-coming brands like Crave Skincare and Cannabliss Organic, featured at the Indie Beauty Expo, offer luxury cannabis-based skincare products.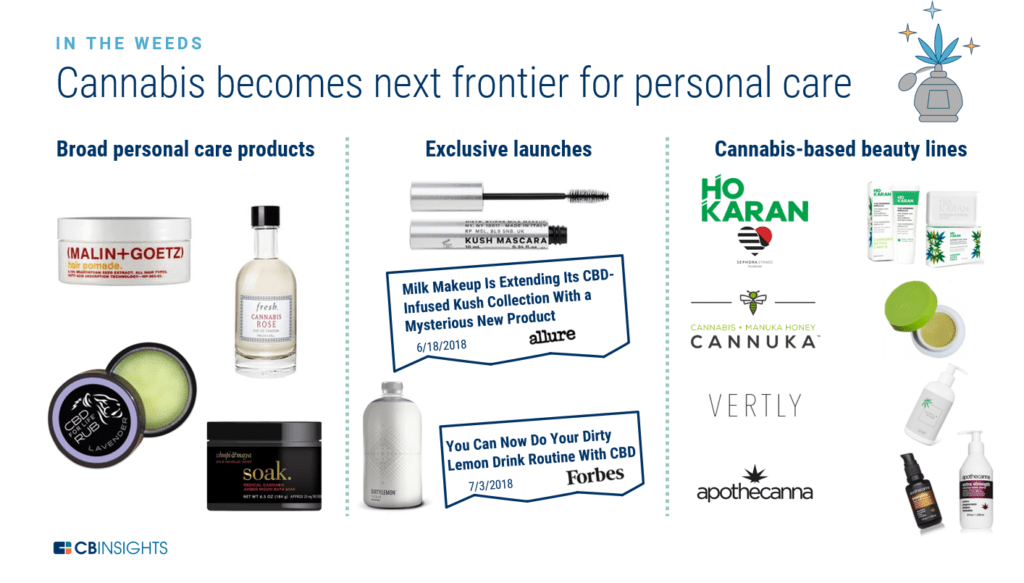 Beyond beauty supplements and cannabis, other brands like Australia-based Black Chicken Remedies offer non-toxic beauty and personal care products. The brand's line includes products focused on wellness such as essential oil blends and sleep repair products.

inclusivity & new beauty rituals
While the mainstream media has historically targeted women when it comes to beauty and grooming products, increased options for men's personal care products are emerging.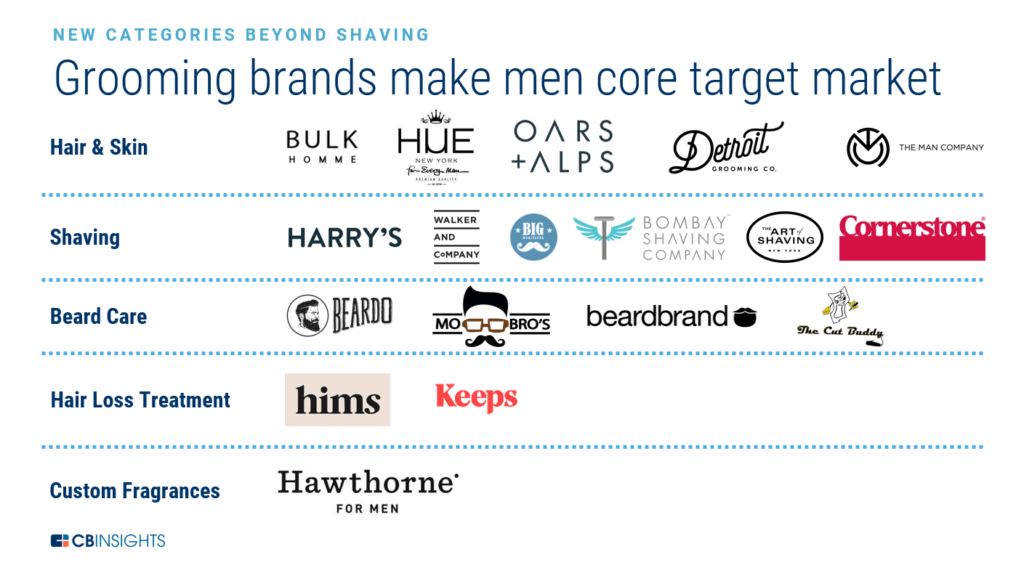 "Boy beauty" and gender neutral makeup support this new market of male-focused beauty products.
Companies like Asos, Calvin Klein, Yves Saint Laurent, Clinique, and others offer makeup for men while startups like Context and incumbent brands including MAC, Tom Ford, and Marc Jacobs have launched gender neutral makeup lines.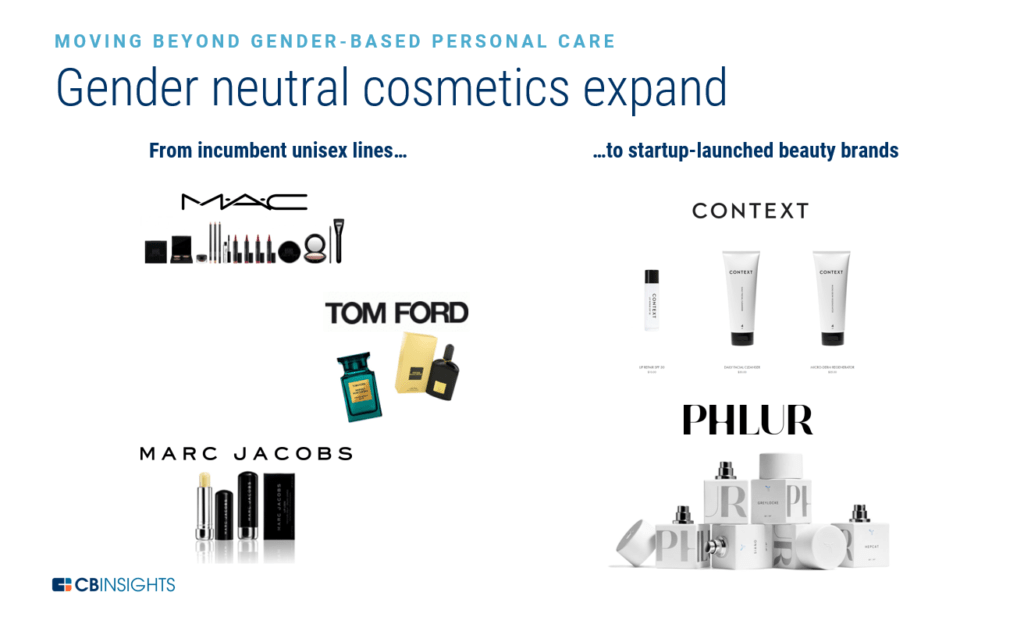 The Indie Beauty Expo showcased a variety of brands targeting broader audiences. For example, Babo Botanicals makes organic personal care products for babies, children, and adults, while FatCo creates natural and paleo personal care products using tallow from grass-fed, pasture-raised cows.
The rise of personal care products focused on a wide audience underscores a larger theme of inclusivity and new beauty rituals.
Notably, K-beauty and J-beauty have grown in popularity with Western consumers. Beauty traditions from other geographies are also emerging in Western markets.
Ayurvedic beauty brands are seeking to make traditional Indian medicinal and beauty rituals accessible to Western consumers. For example, Sahajan, which was accepted into Sephora's inaugural Accelerate cohort in 2016, offers an Ayurvedic-inspired organic skincare brand. Newly-launched Aavrani is a luxury skincare brand inspired by India's ancient beauty rituals.
Brands inspired by Chinese beauty rituals are also gaining greater traction in the West. Amaranthum, for example, has developed an individualized natural skincare line inspired by Chinese herbal remedies.
Big tech pushes into beauty
Big tech is realizing opportunities across the beauty industry.
Retailers like Walmart and Target have expanded into beauty with private label brands and accelerator activity, but now big tech is pushing into the beauty space and using their massive data sets on consumer preferences to guide cosmetics sales.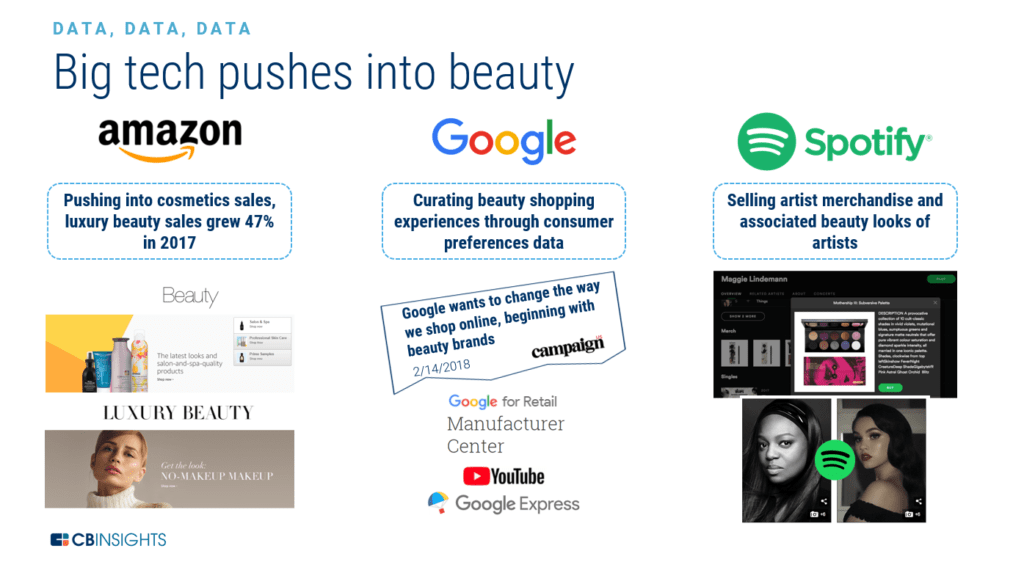 Though Amazon has historically struggled to move into luxury beauty, their sales in the category grew 47% in 2017.
Additionally, Amazon is making a more concerted effort to attract indie beauty brands.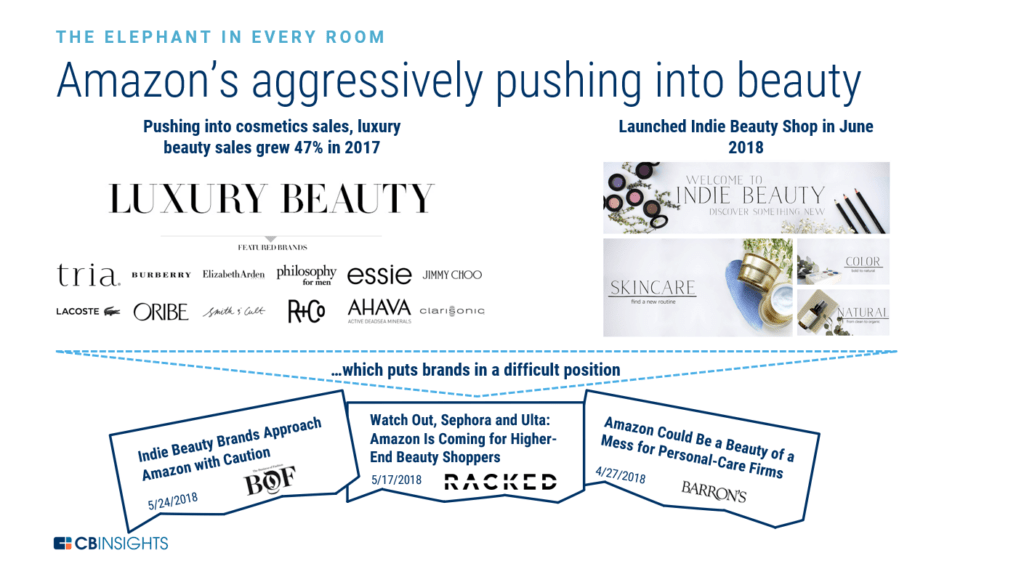 This trend isn't limited to US-based tech giants. Alibaba, spotted at an unexpectedly humble booth, attended this year's Indie Beauty Expo, citing an increased interest in partnering with Western beauty brands to bring their product lines to Chinese consumers.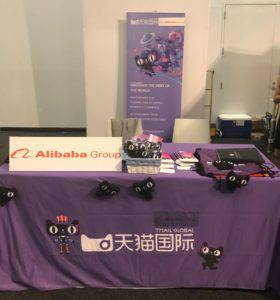 Alibaba booth at Indie Beauty Expo 2018
Ultimately, big tech will become more aggressive in the beauty space, whether it's attracting customers to buy beauty products on their platforms or curating shopping experiences based on collected consumer data.
If you aren't already a client, sign up for a free trial to learn more about our platform.