From drone delivery to real-time crowd sentiment analysis to live event holograms, startups are transforming the stadium experience.
Sports stadiums are facing an uphill battle for fans' attention.
Thanks to personal entertainment systems that keep us away from live experiences, fewer people are attending major sporting events than in years past.
Now stadiums are investing in technology to bring people back into the stands.
The Oakland As, for example, are looking to build out a new tech team to "revitalize systems and infrastructure that power the fan experience" at the ballpark.
In its bid for the 2022 World Cup, Japan proposed recording games with HD cameras to broadcast those games across the world live and in 3D.
Startups are rising to the occasion with novel stadium tech ranging from blockchain and computer vision for ticketing and security, to paying for concessions using biometric identifiers, to AI for analyzing crowd emotions, and more.
We used the CB Insights database to identify 50+ startups enhancing the stadium experience and organized them into 11 categories, from stadium analytics and its component parts to live betting technology, and more.
Please click on the map to enlarge.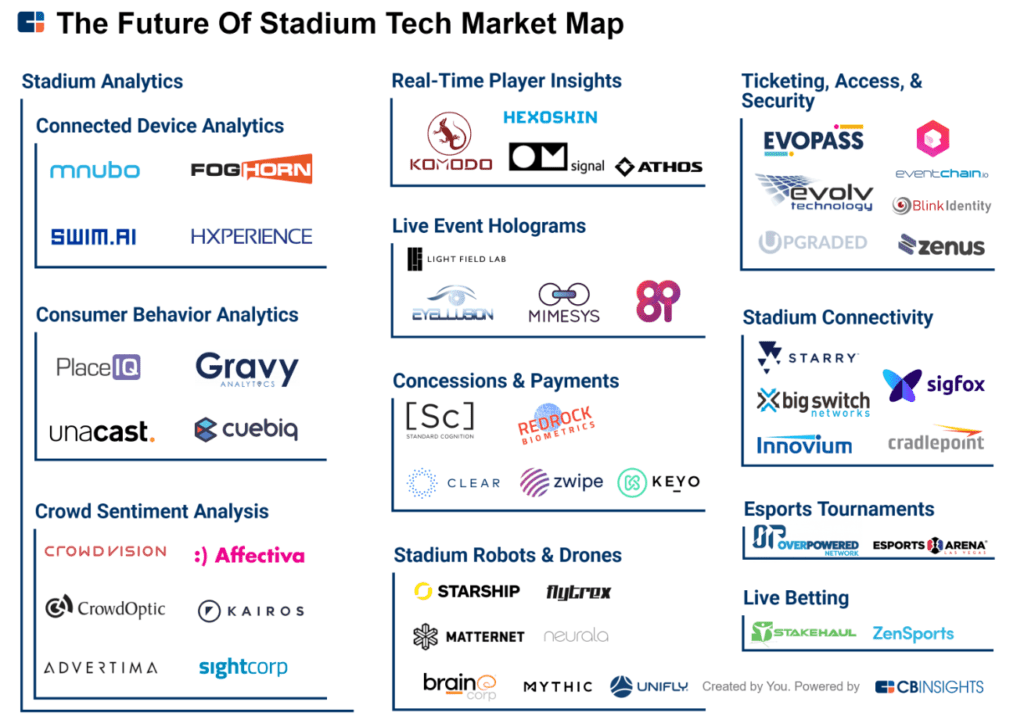 This market map includes private companies only and is not meant to be exhaustive of companies in the space. Categories are not all mutually exclusive. 
Clients with access to expert collections can recreate this Market Map using our Collections tool.
CATEGORY BREAKDOWN
Stadium Analytics: Stadiums are increasingly connected via sensor networks, and in turn generate vast amounts of data. That data can be analyzed and used to drive efficiency, convenience, and profits. Startups are primarily offering analytics products and services across the following areas:
Connected Device Analytics: Companies in this category include SWIM, which offers software that locally processes and analyzes large amounts of streaming data, reducing network volumes and generating real-time insights for stadium operations. Hxperience offers software that uses IoT and predictive analytics to collect, analyze, and leverage data related to a stadium's physical infrastructure.
Consumer Behavior Analytics: These startups track and analyze stadium attendee behavior. For example, PlaceIQ offers a location-based audience platform that provides consumer analytics and media targeting. It also sells foot traffic measurement technology, which could give access to granular data about the fans' entire stadium experience.
Crowd Sentiment Analysis: These companies track attendees' emotions in real time to understand how much they enjoyed an event. SightCorp is developing face analysis, mood measurement, and audience analytics. CrowdOptic monitors and tracks what crowds look at, photograph, and share during live events.
Real-Time Player Insights: Companies in this category are developing wearables to track player activity metrics such as heart rate and body temperature. Fans can access corresponding mobile apps for a deeper glimpse into their favorite player's game time diagnostics. Athos makes smart performance apparel for tracking biometric data during physical activity. Hexoskin offers connected health devices for tracking cardio, respiratory data, and general physical activity monitoring.
Live Event Holograms: These companies are building the foundations for players to be digitally rendered in stadiums as holographic projections. Startups include 8i, which uses HD video from multiple cameras to create human holograms for augmented, mixed, and virtual reality. Eyellusion creates holograms for the live music industry.
Concessions & Payments: These startups are leveraging fingerprints, palm prints, and facial recognition to let fans pay for concessions with linked accounts instead of credit cards and cash. Standard Cognition is developing machine vision technology to allow fans to buy what they want without having to go to a cashier. Keyo is building a network of payment terminals that use fingerprint authentication to make in-store purchases faster and safer.
Stadium Robots & Drones: In the future, a drone could deliver snacks on-demand to your seat in the stadium. Autonomous robots could clean and maintain stadiums during events. Flytex is working to make this happen with a cloud solution for tracking and managing delivery drones. Neurala creates software that makes robots and drones more autonomous.
Ticketing, Access, & Security: Next-generation access management for stadiums will involve ticketing and security systems developed on blockchains, as well as facial recognition and other novel identity technologies. Companies developing these technologies include Blink Identity, which uses facial recognition to identify people at walking speed upon entering a venue, and Evolv, which offers a security gate that can conduct rapid body scans of people without requiring them to stop. Eventchain Smartticket Service developing a decentralized blockchain token network that powers a secure ticketing system.
Stadium Connectivity: Startups in this category are building connectivity solutions for providing internet in densely packed Wi-Fi zones. SigFox, for example, provides dedicated cellular connectivity for devices and machine-to-machine communications. CradlePoint specializes in implementing software-defined 4G LTE network solutions.
E-Sports Tournaments: Startups are helping traditional stadiums adapt to the new reality of video game-focused live events. OverPowered Network, for example, helps organizations run e-sports gaming events, operate tournament venues, and more.
Live Betting: Startups that could be involved in provisioning the underlying tech for live betting in stadiums (5G, blockchain, etc.) include companies like social betting app StakeHaul, blockchain-based betting app ZenSports, and the prediction marketplace Augur, among others.
If you aren't already a client, sign up for a free trial to learn more about our platform.