Tech players could keep P2P and B2C transactions entirely in-house via sticky digital wallets, bypassing legacy payments infrastructure.
How will people pay in the future?
As consumer and business preferences shift toward tech-first digital payments and away from paper cash and checks, a slew of public and private companies are looking to answer that question.
Indeed, private payments tech companies have raised $30B+ since the start of 2014, with a whopping ~$17B raised in 2018 alone.
Track all the payments startups in this brief and more on our platform
A growing crop of startups are changing how consumers and businesses pay. Look for Payments in the Collections tab.
Track Payments Startups
To understand where all this money is being deployed — and where it might be deployed next — we used the CB Insights' database to surface payments trends, and understand where the sector is headed.
Specifically, we're looking at five areas of payments: (1) peer-to-peer payments, (2) income payments and payroll, (3) e-commerce and retails point-of-sale payments, (4) business-to-business payments, and (5) bill payments.
In this first of five posts, we'll look at peer-to-peer (P2P) payments, where they are now and where they'll go next.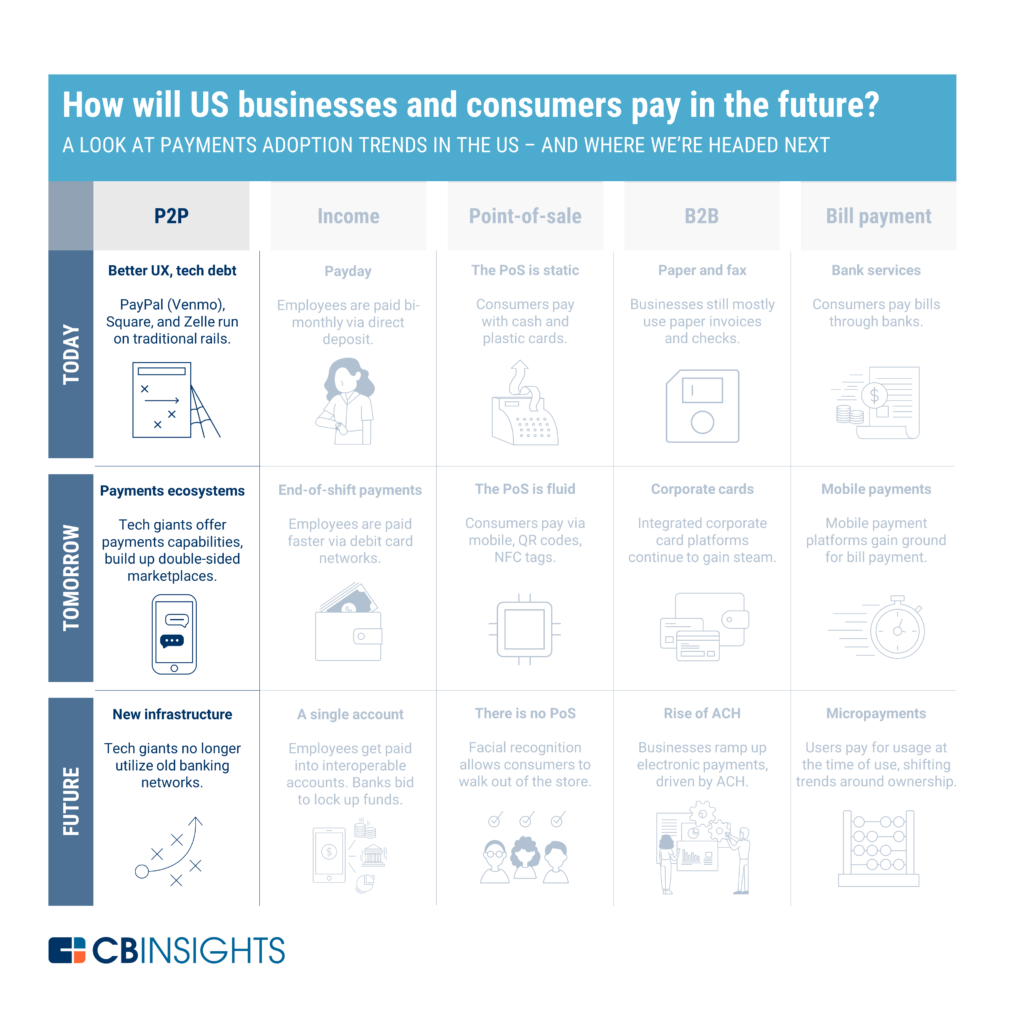 Today: P2P is better design on top of legacy rails
P2P payments are growing fast, but don't earn much revenue
In the US, popular mobile P2P platforms include Paypal's Venmo, Square's Cash App, and Zelle (a banking joint venture discussed in further detail below).
While their gross payments volumes (GPVs) are relatively small, P2P platforms are seeing fast adoption. Cash App and Zelle, in particular, are relative latecomers, but have surpassed earlier entrant Venmo in terms of app downloads and payments volume.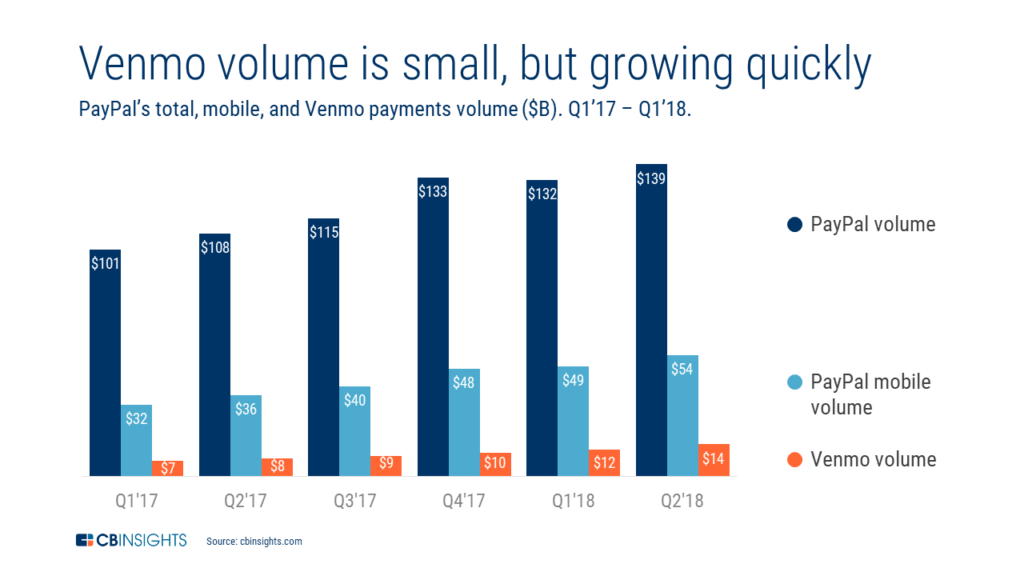 At the same time, P2P payments have poor economics and low margins. Consumers don't pay a fee to send each other money, and only pay when cashing out to a bank account. 
In one effort at monetization, Venmo and Cash App are expanding to include merchants. Both companies now allow users to pay merchants in-store and online.
For in-store payments, Venmo and Cash App have released debit cards that link to users' P2P accounts, and have partnered with merchants to offer rewards around these debit cards. Cash App's Boost program, for instance, offers discounts to swipe at popular merchants like Chipotle and Shake Shack. Launched in June 2017, Square says that its debit card offering is on pace to see $1B in payments volume in 2018.