We explore the evolution of e-commerce and the future of the post-purchase experience, from automated logistics to AI-powered virtual agents and beyond.
The post-purchase journey of the future will be built by key technologies including: 
Automated logistics facilitating efficient product delivery and returns
Interactive product setup and care solutions enabling immersive self-service
Predictive customer service to provide proactive assistance
AI-powered virtual agents enabling hyper-personalized interactions
Utility NFTs creating post-purchase engagement opportunities
Embedded recommerce solutions integrating with the post-purchase journey
Below, we dive into these technologies: how they work, who has an edge, and how they're shaping what happens after we make a purchase. 
The following graphic follows a post-purchase journey for a customer named Rachel, featuring the technologies and innovations that will impact her experience.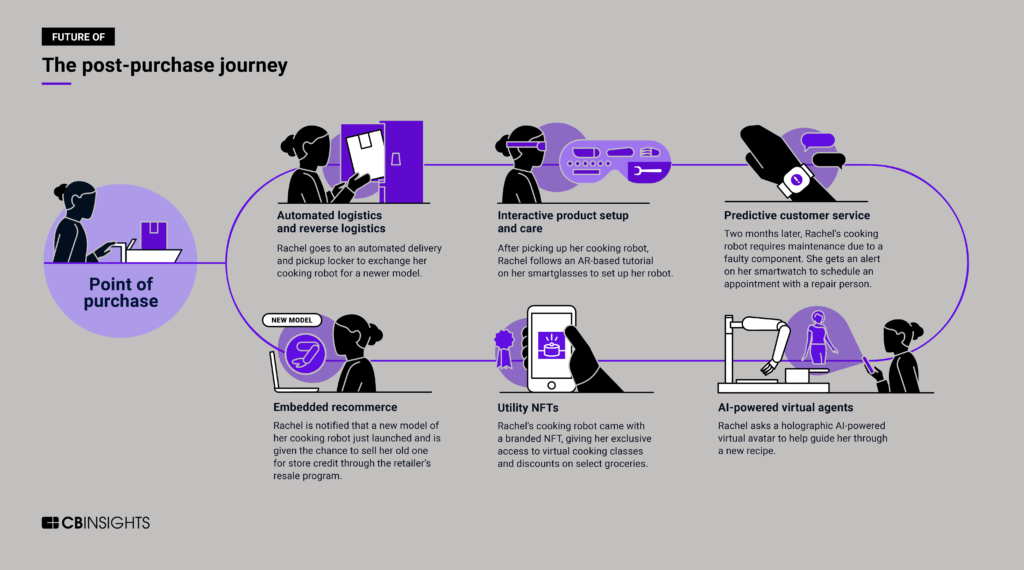 What's at stake?
WHY IT MATTERS
Post-purchase — the period of time after a customer buys something — is a crucial stage of the shopping journey for brands and retailers to re-engage with customers. A positive post-purchase experience can boost loyalty, encourage repeat purchases, and compel current customers to refer the brand's products to others. 
The rise in digital channels has made it easier for consumers to not only compare products based on price and reviews but also switch channels and brands. Online shopping — where it's not possible to physically try something on or gauge how a product feels — has also led to a rise in product returns, which is negatively impacting profitability.
To stay relevant to their customers and protect their margins, brands and retailers will have to not only make the post-purchase experience more interactive, engaging, and accessible but also seek out and experiment with the rapidly changing technology that is digitizing an increasing portion of consumers' lives. Technologies that help create more human-like digital interactions will open up new opportunities for brands and retailers by making e-commerce more accessible to more segments of the population.
They will also have to adopt emerging business models such as recommerce to boost customer satisfaction, create new revenue streams, and help reduce the impact of costly returns.