We dive into the evolution of the job site and where technology is taking it next, from drones for more efficient surveying to hardhats integrated with AR/VR capabilities.
The job site of the future will be built on key technologies such as: 
AR/VR & reality capture

to visualize project plans, train workers onsite, and measure daily progress

Building information modeling (BIM) & digital twins

to give realistic representations of project plans and reduce product development costs

Drones

for surveying, monitoring, and maintaining safe operations

Workplace safety & exosuits

to improve safety and reduce the physical strain of work

Automation & robotics

to drive efficiency and productivity by reducing manual labor and minimizing errors

Industrial internet of everything (IIoE)

for overseeing and coordinating entire projects, from design to execution
Below, we dive into these technologies: how they work, who has an edge, and how they're shaping future job sites around the planet.
Download The
AR/VR Trends to Watch Report
Employers are simulating training with AR/VR to decrease employee ramp time and training cost. Learn about this and 4 other trends to follow closely.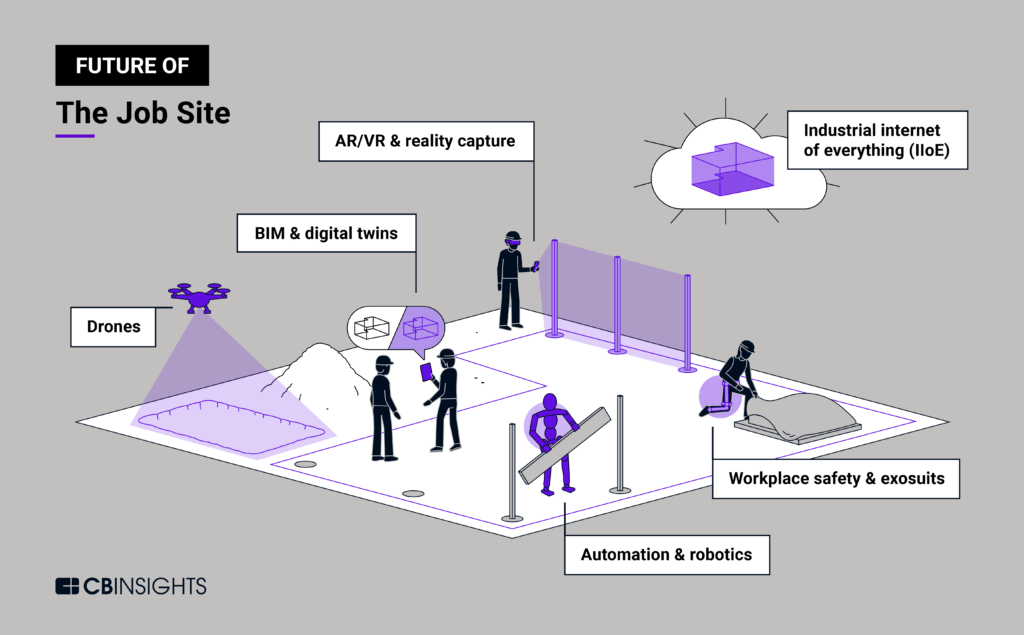 What's at stake?
WHY IT MATTERS 
The job site is foundational to some of the largest industries in the world, including construction, discrete and process manufacturing, oil & gas, mining, ports, forestry, railroads, and more. As these multi-trillion-dollar global markets continue to grow, tech companies are seeing new opportunities to create solutions that streamline job site operations.
While industries like construction and mining have historically been slow adopters of tech, this could change as solutions emerge that are more economic and easier to implement.
Not only do these solutions drive operational improvements for companies, they also improve conditions for workers, boosting productivity and helping mitigate labor shortages.
WHY NOW
In the face of economic uncertainty, companies around the world are looking to maximize efficiency and lower costs. New tech solutions could reduce labor needs on the job site while providing greater transparency into what is actually happening on the ground.
Further, tech solutions that help job sites stay on schedule and within budget are of growing importance. 54% of contractors view the ability to gather accurate information from the job site as a priority, while 93% view project performance data as the most important type of project data, according to Dodge Data & Analytics and Viewpoint.
New wireless capabilities, such as the recent launches of 5G and Wi-Fi 6 (and the eventual emergence of 6G), will enable much faster data processing, helping to improve job site technologies like AR/VR, drones, and robotics. 
WHO NEEDS TO PAY ATTENTION 
The future of the job site boasts opportunities for players across industries, including discrete manufacturing (Siemens, Ford, GM), process manufacturing (Dupont, BASF, INEOS), construction (Turner, Bechtel, Fluor), oil & gas (Saudi Aramco, Chevron, ExxonMobil), and mining (Rio Tinto, Glencore). 
These companies are all looking to drive efficiency, increase production outputs, and ensure a safe working environment.
AR/VR & reality capture
Given shortages of skilled labor around the world, it's more critical than ever to quickly train workers onsite. This is where AR/VR technologies — or mixed reality — come into play. 
These solutions can show instructions and digital representations of plans directly in front of workers in real time, as well as provide immersive training before a project begins to reduce errors and increase productivity.
The tech also plays an important role in the design and build phases. AR/VR is critical for 3D modeling applications, while reality capture helps key stakeholders monitor daily progress, ensuring that projects are on track and completed correctly.