We dive into the evolution of the fleet and where technology is taking it next, from digital twins to roads that charge electric vehicles as they drive.
The fleet of the future will be built on key technologies such as:
Virtual fleets

that provide on-demand vehicle-sharing services to eliminate the cost of owning a fleet

Electric roads

to recharge electric vehicles (EVs) as they drive, allowing fleets to operate more sustainably

Digital twins

for fleet management to enable better decision-making and scenario management

Fully autonomous fleets

that sidestep driver shortages while also improving fleet efficiency and road safety

In-vehicle payment platforms

to improve efficiency by automating payments associated with charging, services, and maintenance
Below, we dive into these technologies: how they work, who has an edge, and how they're shaping the future of the fleet.
download the 12 Tech Trends To Watch Closely In 2022 report
Download our full report to find out the top trends poised to reshape industries in 2022.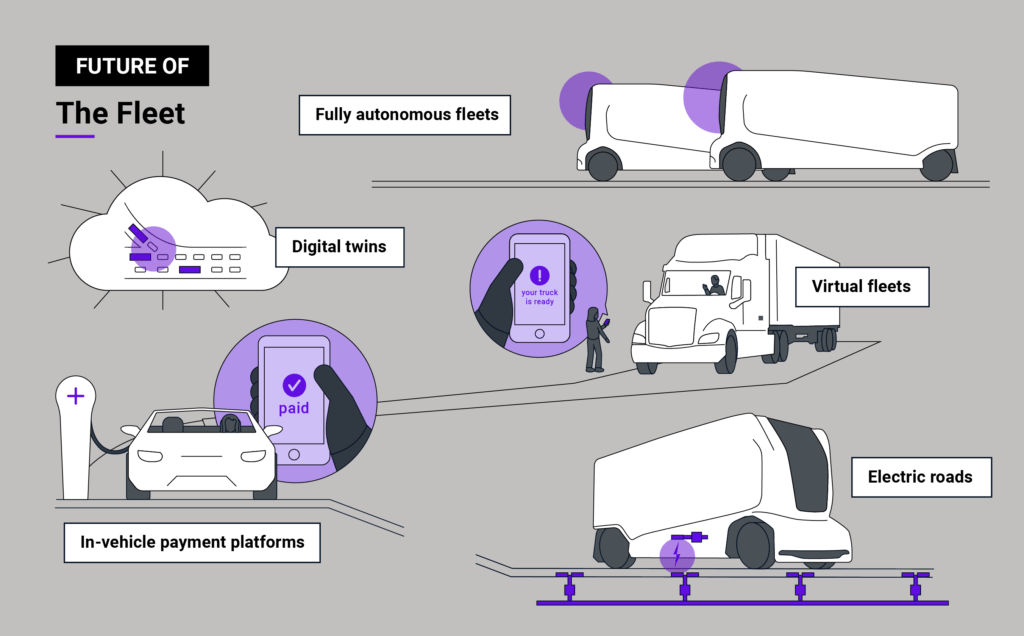 What's at stake?
Why it matters 
Historically, fleet managers have been relatively resistant to adopting new technology as updating existing fleets is an expensive and complex undertaking.
However, the current combination of market forces — from squeezed supply chains to rising fuel costs to labor shortages — and concerns around sustainability have piled pressure on the bottom line for fleet operators. 
In response, global logistics providers are turning to tech-enabled solutions to improve the efficiency of fleet operations and reduce emissions. And the opportunity is massive: The global freight market is estimated to be worth nearly $4T, and it's expected to keep growing in the coming years.
Why now
Investing in the next-generation fleet is more important than ever. As fuel costs remain elevated, inflation persists, and labor shortages worsen, the cost to operate a traditional diesel-powered fleet will likely keep rising. Unprecedented e-commerce demand coupled with supply chain disruptions have also made fleet management more challenging, as bigger volumes of freight have to be shipped in shorter time frames to more places.
Compounding these issues is a growing concern around sustainability and the freight industry's carbon emissions. Over the next 2 decades, new regulations will compel many fleet managers to electrify their fleets. For instance, by 2040, the UK will ban the sale of heavy goods vehicles with internal combustion engines. California will ban the sale of new gasoline-fueled cars by 2035. Currently, transitioning a fleet to electric can cost up to twice as much as replacing diesel vehicles, but by 2035, medium- and heavy-duty electric trucks are projected to be cheaper to purchase, operate, and maintain than traditional diesel ones.
Hopes are also being placed on autonomous vehicles (AVs) as a way to improve road safety, reduce delivery times, and tackle labor shortages. Advances in AI, robotics, and data science are quickly increasing the viability of autonomous driving — especially for trucks operating on well-defined routes that mostly avoid tricky edge cases where AVs sometimes struggle. 
Who needs to pay attention
Fleet managers for e-commerce companies, shipping companies, and logistics providers are beginning to partner with tech companies to usher in the future of the fleet. Hurdles such as high costs and stiffening regulations remain in place for much of the tech needed to power next-generation fleets, but pilot programs are already helping fleet managers to understand how to integrate these new technologies effectively.
Large corporations are also showing interest in the future of the fleet. Walmart, for example, is working with AV tech company Gatik to use driverless trucks for its online delivery business, while freight tech firm Einride recently gained US federal approval to test autonomous delivery between GE Appliance warehouses.