Will a meatless food industry featuring lab-grown meat, seafood substitutes, and insect protein be the future of food? As Covid-19 upends the traditional meat supply chain, food giants and startups alike are working to navigate a future where protein isn't dominated by conventional meat sources.
At the moment, meat is still king.
By some estimates, 30% of the calories consumed globally by humans come from meat products, including beef, chicken, and pork. The global meat market could be worth as much as $2.7T by 2040, according to CB Insights' Industry Analyst Consensus.
Americans consumed a near-record 220 pounds of red meat and poultry per capita in 2018 — in 1960, that figure was just 167 pounds, according to the USDA.
To meet this growing demand, the meat industry has evolved into a complex global business that involves farms and feed lots, as well as meat middle-men, like processing and storage centers, transportation and logistics, slaughterhouses, and more.
In the US, just 4 producers — Tyson Foods, JBS, Cargill, and National Beef — control more than two-thirds of all US beef processing.
But as Covid-19 spreads across the globe, shifting consumer behavior and virus outbreaks in factories dealt major blows to the meat supply chain, which is estimated to face losses of more than $20B in 2020.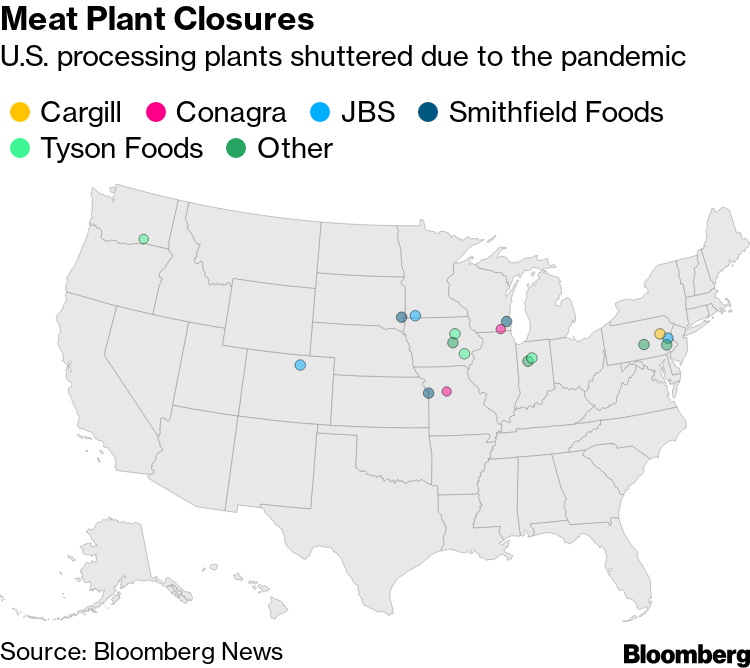 Source: Bloomberg
In contrast, startups focusing on plant-based protein — including Plantible Foods, Rebellyous Foods, Livekindly, and InnovoPro— have continued securing millions in funding amid the pandemic. Demand for vegan meat soared, with sales up by a staggering 264% in the 9 weeks ended May 2, 2020.
Going forward, the meat value chain could be simplified dramatically, as "clean meat" labs could take the place of farms, feed lots, and slaughterhouses.

Using CB Insights data, we dug into some of the major trends in the growing meatless industry, from startups to watch to key investors to future trends & challenges.
TABLE OF CONTENTS
The current state of the meat and plant-based industries
In the past decade, the meat industry has seen massive consolidation, as companies like Hormel and Brazil-based JBS have grown bigger and bigger through the acquisition of new meat brands and products. 
One of the biggest deals in this space was pork producer W.H. Group's $4.7B acquisition of US-based Smithfield Foods, which owns brands such as Armour and Farmland, in 2013. 
Since 2014, Hormel has spent around $3B on acquisitions, including Applegate, Fontanini Italian Meats and Sausages, Ceratti, and Columbus Manufacturing.
Despite high-profile deals in the sector, the industrial meat industry faces a rising tide of challenges related to business, ethical, and environmental concerns. 
These corporations have also begun the shift into plant-based protein amid pressure from upstarts and changes in consumer behavior. The world's largest meat company, JBS launched its own meatless protein in June 2020. Other meatpackers offering their own lines of plant-based alternatives include Tyson, Smithfield, Hormel, and Cargill.
Meanwhile, startups using technology to engineer meat in labs or manufacture it from plant-based products are rising in popularity.
In 2019, one of the world's biggest alternative protein brands, Beyond Meat, which manufactures the plant-based Beyond Burger, went public at a valuation of almost $1.5B. The company is making inroads into Asian markets, inking a deal with Starbucks in April 2020 to offer its meatless sausage in China. In June, Beyond Meat also announced that it would debut its products in select KFC, Pizza Hut and Taco Bell stores in China.
Beyond Meat's chief competitor, Impossible Foods has also seen aggressive growth. The Redwood City-based company has aggregated more than $1.3B in total disclosed funding. Its products can be found at chains like Burger King, Qdoba, White Castle, and Red Robin.
Valued at $4B as of March 2020, Impossible Foods has seen rapid expansion this year as well, forging a partnership with Kroger to sell its burgers across 1,700 Kroger-owned grocery stores nationwide, up from just 150 grocery stores selling its burger at the beginning of 2020. Starbucks also recently announced that it would add an Impossible Foods sandwich to its US menu.
Impossible Foods president Dennis Woodside has said he expects the company's retail footprint to expand more than 50-fold in 2020 alone.
"This is why I think people are increasingly aware plant-based products are going to completely replace the animal-based products in the food world within the next 15 years," Impossible Foods founder and CEO Pat Brown said in a June interview. "That's our mission. That transformation is inevitable."
Why the shift towards meatless?
Covid-19 may accelerate the shift to meatless alternatives
During the onset of the coronavirus pandemic, the meat industry was slammed by warnings of meat shortages due to shuttered plants, resulting price increases, and growing numbers of sick workers — conditions that would potentially present new opportunities for plant-based companies.
Traditional meat distribution channels were and remain upended, as restaurants, schools, and other facilities closed. Declining output and rising prices left consumers with fewer options, and plant-based meat alternatives began to see a lift.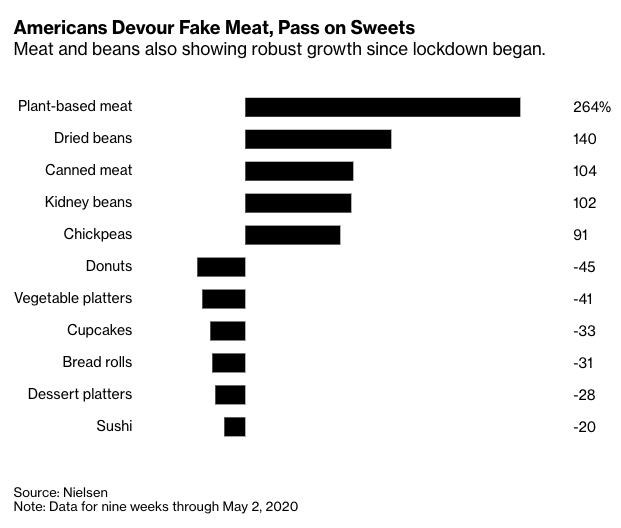 Source: Bloomberg
The plant-based meat industry saw sales surge 264% in the 9 weeks ended May 2. While these numbers are still a small portion of meat sales, their growth still highlights the opportunity that meat alternatives gained amid the pandemic. Even dairy alternatives saw a surge: in the first week of March, oat milk sales were up 347% year-over-year against a backdrop of declining dairy demand.
Beyond the shortage, the pandemic has also forced many consumers to face issues in the meat supply chain for the first time, including the health of the workers or the ethical treatment of animals.
Reports of the millions of animals being euthanized as slaughterhouses were forced to close fueled consumer distaste. The outbreak has resulted in reportedly the largest pig culling the US has ever seen, with about a billion pounds of meat destroyed in the second quarter alone.
As America's largest meat suppliers reopened, their employees reported unsafe working conditions, with scarce precautions for social distancing. Meatpacking plants were found to be coronavirus hotspots — at least 35,000+ meatpacking workers have tested positive for Covid-19 and over 150 food processing have died, according to the Food and Environment Reporting Network.
News of meat factories' concentrated Covid-19 outbreaks may cast traditional meat products in an unappealing light, influencing consumers to opt for plant-based alternatives instead.
"Covid is shining a light for consumers to start evaluating their own choices and whether or not they want to continue to buy meat," Josh Balk, vice president of farm animal protection for the Humane Society, said in an interview with Bloomberg News.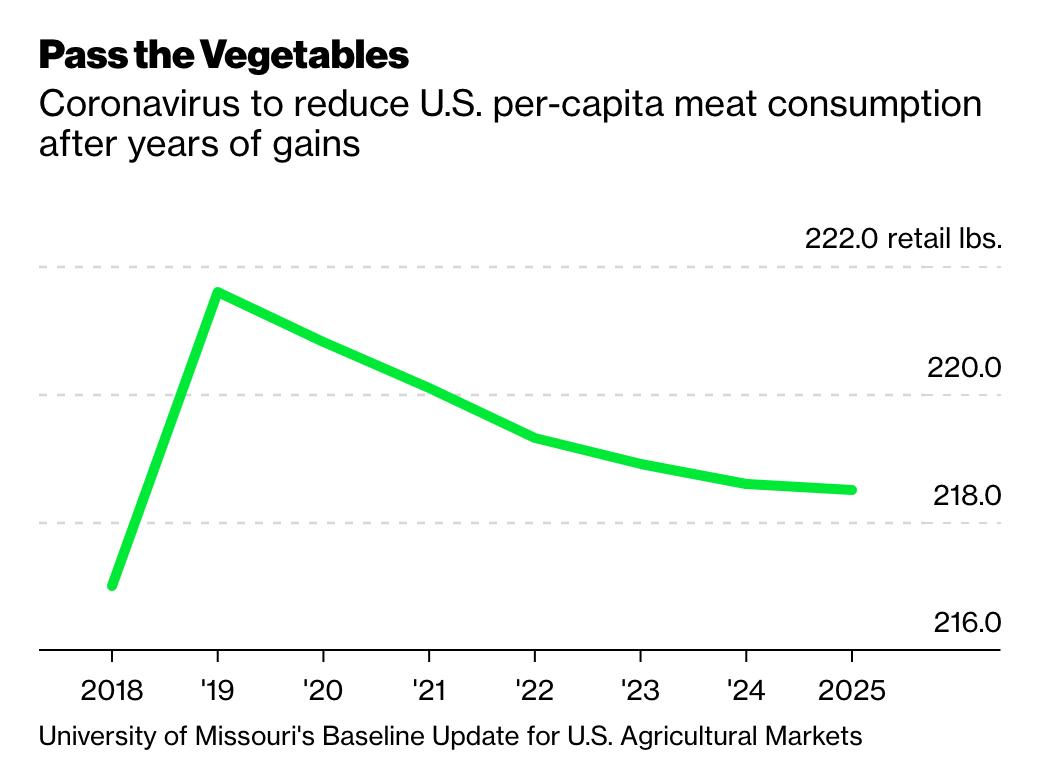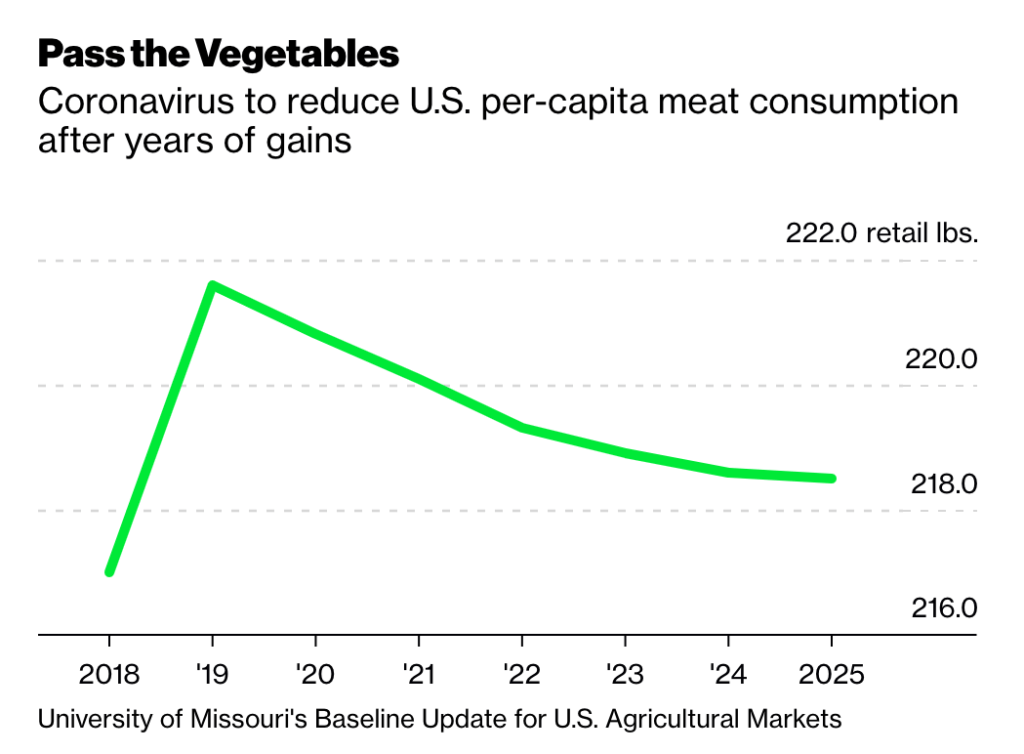 Source: Bloomberg
Macro reasons propelling the meatless trend
Beyond Covid-19, there are several macro-level reasons for the shift toward a more meatless future.
Forces like urbanization, population growth, and a rising global middle class lead to greater meat consumption. Approximately 55% of the world's population lives in urban settlements, and this percentage is expected to increase to 68% by 2050, according to the UN.
Meanwhile, the world's population is expected to surge to 9.7B by 2050, leading to a massive increase in food production. Emerging markets are driving this growth: China, in particular, is the world's largest consumer of meat, with protein consumption expected to grow by around 4% a year due to its rising middle class.
This increasing demand could create challenges for feeding future generations, and meatless companies are looking to help fill the gap.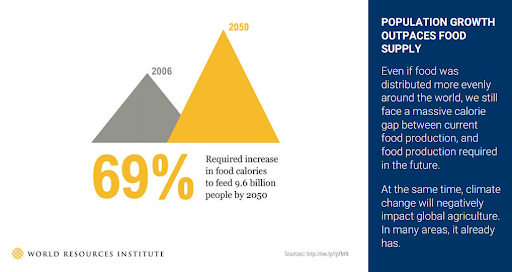 Alternative protein sources can reduce the negative environmental impact associated with meat production. As mentioned above, livestock is a major contributor to greenhouse gas emissions. Additionally, reducing livestock could free up global cropland, decrease soil erosion, and relieve pressure on the world's water supply.
Consumers are also seeking healthier food alternatives. Rising obesity rates across the globe, coupled with consumer interest in healthier food alternatives, are also driving demand for meatless proteins.
In 2019, the annual retail food market grew by 2.2%, but plant-based foods swelled by 11.4% in comparison, according to the Plant Based Foods Association.
Additionally, advances in ag tech and synthetic biology are enabling high-tech meatless products. Cellular agriculture and molecular engineering are fueling tech-enabled meat substitutes that better emulate the flavor and texture of traditional animal meat. (We cover 100+ startups driving ingredient innovation in this client-only brief.)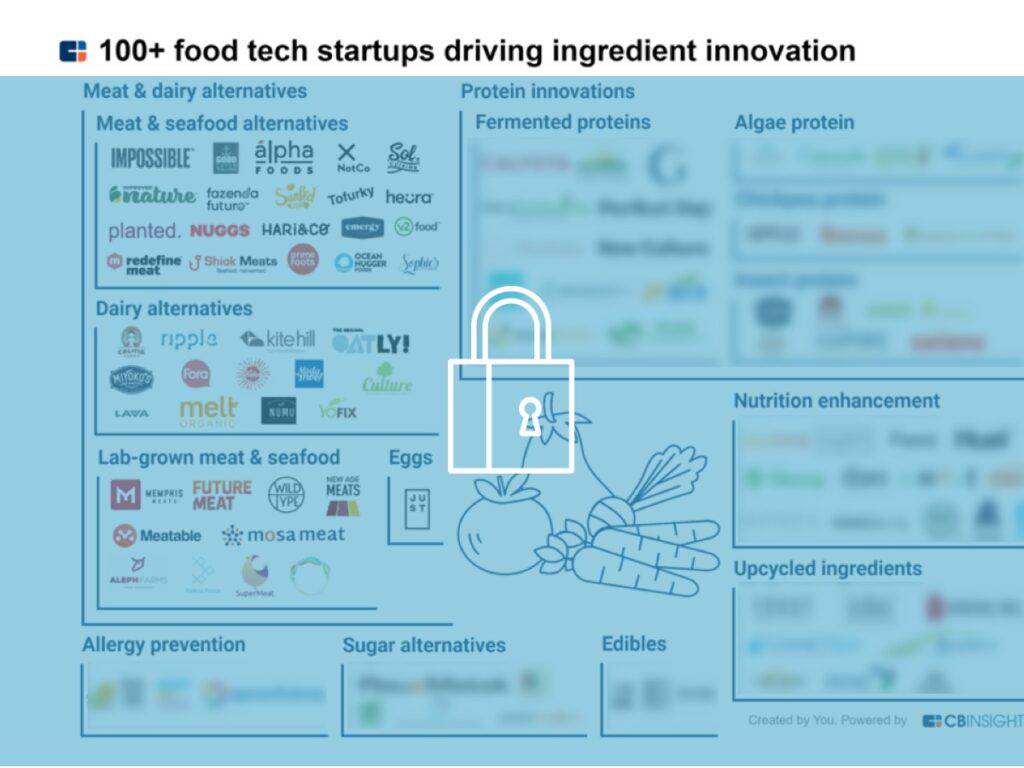 Meatless consumption could also alleviate ethical questions around meat consumption, as the meat industry has long been subject to ethical concerns behind meat production practices.
A spike in the discussion of blockchain in conjunction with meat and food, for example, indicates a rising consumer desire for transparency around the food supply chain. Agriculture giant Cargill announced in 2017 that it was testing blockchain technology to show turkey buyers where their individual bird came from. The Norwegian Seafood Association partnered with IBM in June 2020 to leverage its blockchain to ensure food traceability in its supply chains.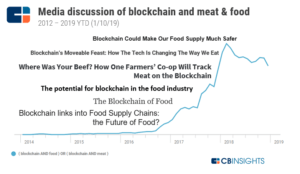 Alternative meats could also reduce contamination: Growing lab-grown meat in a sterile environment can cut back on contamination and eliminate antibiotics from the meat production process. This could play a role in reducing global health problems linked to the current food production value chain.
Alternative protein startups are innovating across the meatless ecosystem
Given rising consumer interest and pandemic-caused meat plant shutdowns, more startups are innovating in the meatless space. They are not only competing with prepared and frozen meats, but also exploring other methods of incorporating non-meat proteins into diets, with snacks (such as Beyond the Shoreline's kelp jerky) or meal substitutes.
MEAT & DAIRY ALTERNATIVES 
Meat & seafooD
Plant-based burgers that 'bleed' and taste like the real thing
Plant-based burgers have seen a jump in popularity. Startups producing these burgers are targeting both meat-based and plant-based diets by 1) increasing options for vegetarians and vegans and 2) using a meat-like taste to help entice meat eaters to consume environmentally-friendly protein.
"We think of it as meat made a better way … Meat today basically is made using pre-historic technology, using animals to turn plants into this very special category of food … But to your typical consumer … the value proposition of meat has nothing to do with its coming from an animal."

– Pat Brown, CEO of Impossible Foods
Impossible Foods, one of the biggest players in this space, leverages molecular engineering to create "bleeding" plant-based burgers that the company claims is nearly indistinguishable from meat.
The company's use of heme, an iron-rich molecule in animal proteins, has enabled it to replicate the "meaty" flavor in its plant-based products.
Impossible Foods last raised a $500M Series F in March 2020, bringing its valuation to $4B. To date, it's raked in more than $1.3B in total disclosed funding.
Instead of directly targeting consumers, Impossible Foods started by targeting the commercial and restaurant market with its meatless burger product. In 2017, Impossible patties could only be found in around 40 US restaurants. By 2018, that figure had reportedly grown to more than 3,000.
In early 2019, Impossible Foods launched its largest restaurant partnership yet — the Burger King Impossible Whopper. Burger King also recently announced that it would add the Impossible Foods sausage to its menu. 
In May 2020, Impossible Foods announced that its patties would be sold across 1,700 Kroger-owned grocery stores nationwide, a dramatic increase from just 150 grocery stores selling its burger at the beginning of 2020.
Impossible Foods also inked another major deal in June 2020, when Starbucks announced that it would add the Impossible Sausage sandwich to its US menu.
It is also working on a few other types of meat products to accompany its main ground beef product, including meat-free sausage and a plant-based pork product the company is planning to launch in China.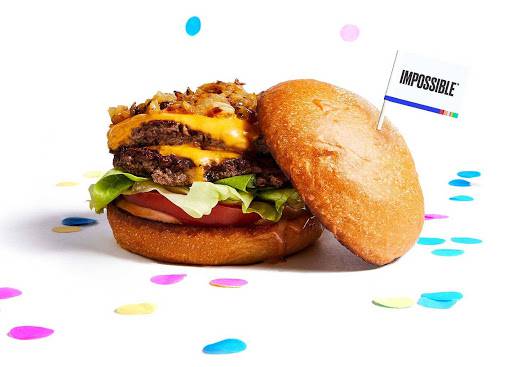 Beyond Meat is another major competitor in the space, making plant-based burgers and other imitation meat products such as plant-based chicken and sausage.
After receiving a total of $164M in disclosed equity funding, Beyond Meat went public in May 2019. Beyond Meat's stock price surged after its IPO, with its market cap increasing more than 8x within a few months — its current market cap hovers around $8B to $9B.
Beyond Meat, which primarily sells directly to consumers in grocery stores, has launched its own major retailer partnership, working with Dunkin' Donuts to roll out a plant-based sausage breakfast sandwich in 2019. 
Looking beyond the American market, the company also announced a partnership with Starbucks to roll out its products in its China locations in March 2020. Beyond Meat also already sells its products in Starbucks' Canadian locations, but was dealt a blow when Starbucks chose to debut Impossible Foods' products in its US stores instead.
The faux meat maker has maintained its goal to open a production facility in Asia before the end of 2020, and already sells its products in Taiwan, Singapore, and Hong Kong.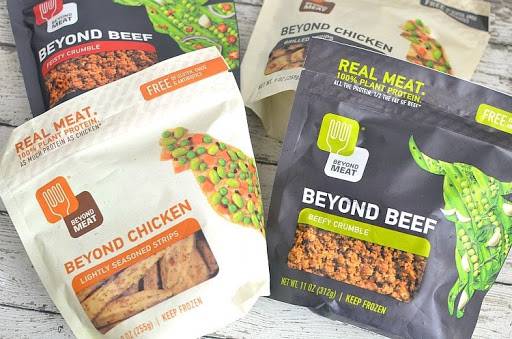 Fish-free seafood alternatives
In addition to land-based meat, companies are applying similar processes to create sustainable seafood alternatives.
This is due to the ever-increasing demand on the ocean's resources. With 90% of global fish stocks overwhelmed and overfished due to rising global demand, startups are looking for ways to satiate consumers without fully depleting the earth's fish supply.
Because of the increased pressure on the fishing industry, companies in the seafood-alternative space are seeing greater media attention and funding.
"Shrimp has one of the worst supply chains in the seafood industry," – Dominique Barnes, New Wave Foods Co-Founder & CEO
Pennsylvania-based startup Good Catch Foods raised a $32M Series B in January 2020, as well as undisclosed investments from celebrities like Woody Harrelson, Paris Hilton, and Lance Bass in May, bringing its funding total to at least $51M.
The company develops vegetarian tuna, crab cakes, and fish patties and sells its products in Whole Foods, FreshDirect, and Thrive Market stores. Its seafood look-alikes are made from lentils, chickpeas, fava beans, and other legumes.
There are a number of other startups in the space. Finless Foods, which has raised almost $7M, uses cellular agriculture to grow fish meat, while New Wave Foods, which has received backing from Tyson Ventures, produces pea protein and algae-based imitation shrimp. Wild Type is a startup developing lab-grown salmon. It raised a $12.5M Series A in October 2019 to bring its total funding to $16M.
Additionally, French startup Odontella, which produces algae-based salmon, raised a seed round in October 2017. Its first product, a vegan smoked salmon from the Odontella aurita microalgae, was launched in April 2018. In mid-2019, the company announced that its next product would be a microalgae-based steak substitute named Tona.
While still in the early stages of R&D, fish-free seafood products are further expanding the possibilities of an animal-free future. As with animal-free meat, fishless seafood could radically simplify and clean up the associated production value chains.
Lab-grown products
Lab-grown or "cultured meat" is another alternative meat product, but unlike some other offerings in the space, this approach is not plant-based imitation meat — it's real. 
San Francisco-based Memphis Meats produces meat from self-reproducing cells, thereby growing meat that is an "animal-based" product but avoiding the need to breed, raise, and slaughter huge numbers of animals.
The company debuted its first synthetic meatball in 2016 and followed up with the world's first cell-cultured chicken and duck in 2017.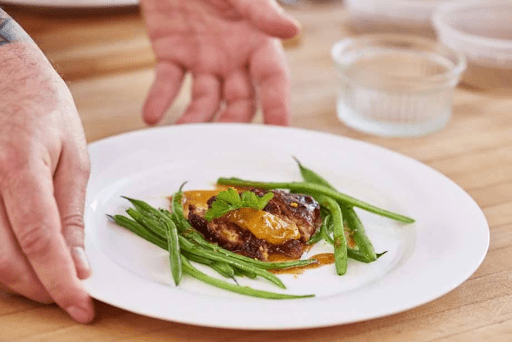 Source: Memphis Meats
Memphis Meats aims to decrease the cost of lab-grown meat in order to compete with commercial meat.
While its original meat cost $18,000 a pound, by January 2018, the company had gotten costs down to $2,400 per pound. The company also claims that it can produce animal-free products using just 1% of the land and 1% of the water compared to meat-producer incumbents. In March 2018, the company announced its intention to bring clean chicken and duck to stores by 2021.
Memphis Meats has raised 2 tranches of its Series B totaling $186M in 2020 to date, bringing its total funding to about $211M. Additionally, Tyson Ventures backed the company for an undisclosed amount in early 2018. 
More recently, in a series of patents, the company announced its intention to use the gene-editing technique CRISPR in order to help it develop its lab-grown meat products with even less impact on the environment and even less consumption of land and water.
In the future, lab grown meat companies like Memphis Meats could cut production, slaughter, and processing out of the meat production value chain.
Memphis Meats wasn't the first company to explore lab-grown meat products: Dr. Mark Post, a Netherlands-based researcher, produced the world's first lab-grown burger in 2013, in research originally financed by Google's co-founder Sergey Brin. This initiative spun off into MosaMeat, which aims to bring in vitro meat to market in the future.
Another company in this space, New Age Meats, has raised nearly $3M for its lab-grown sausage product. The company plans to put its sausage on the market by 2021.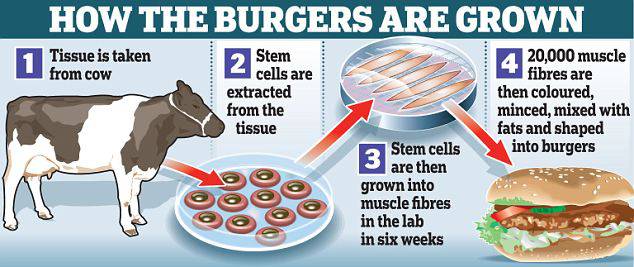 Source: MosaMeat
Both plant-based meat products and lab-grown "clean" meat have seen notable investors, including some top VCs (Khosla Ventures, Kleiner Perkins Caufield & Byers), meat corporates (Tyson Foods, Cargill), and others.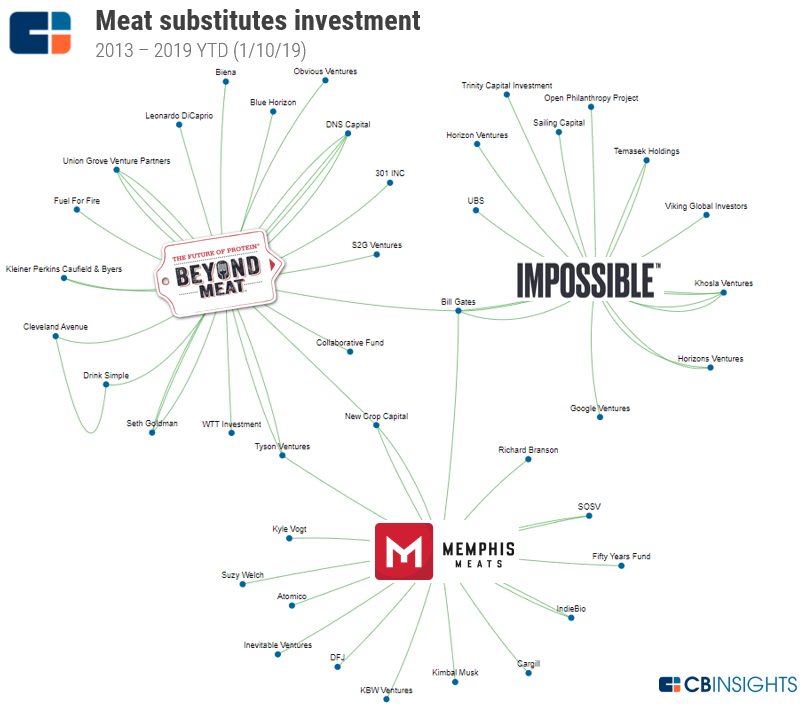 The regulatory future of lab-grown meat, however, is still a bit of an experiment. The USDA regulates meat production and advocates for agriculture, but the potential conflict of interest surrounding lab-grown meat left both the FDA and USDA in charge of oversight of alternatively grown meat. 
Furthermore, while the environmental benefits of lab-grown meat are potentially dramatic, meatless products are still significantly more expensive on a per-pound basis than animal alternatives.
Methane-based protein sees early funding
Biotech companies are even exploring methods for engineering meat-like products from methane. While companies producing biotech foods are already creating methane-based animal feed, startups are now expressing interest in engineering methane-based protein fit for human consumption.
California-based Calysta last raised $45M in 2019, bringing its total disclosed funding to $138M. The startup manufactures its alternative protein product, which can replace traditional animal feed, by fermenting natural gas. It formed a joint venture with the China-based feed additive manufacturer Bluestar Adisseo in February 2020.
India-based String Bio, another startup in the space, has raised funding from Future Food Asia, Ankur Capital, and others to commercialize its technology, which leverages methane to develop alternative proteins for animal feed.
"We'd sell it [protein] to someone else who makes it into a steak-like product, or a fish-like product, or something like a tofu perhaps, that we could grill and eat…"

– Ezhil Subbian, Founder & CEO at String Bio
While protein products developed by these companies are not currently fit for human consumption, methane-based proteins could help reduce the environmental impact of meat production, and eventually further fuel the meatless revolution by creating another food source.
In line with String Bio CEO Ezhil Subbian's comment, the first step is creating a methane-based protein that can be marketed to humans and subsequently integrated into their diets.
Open-source clean meat startups take an alternative route
Some companies in the meatless space are competing to be first-to-market with animal-free products. Taking a different approach, Yuki Hanyu, founder of Tokyo-based Integriculture and nonprofit Shojinmeat Project, is working to acclimate future generations to a meatless future through open-source tech. 
Hanyu is providing Japanese high school students access to specially designed heated boxes that allow them to culture animal cells at home and grow them into meat-like products.
The concept may seem far-flung, but the Shojinmeat Project is looking to establish a crowd-sourced, bottom-up approach to meat development that allows people to play with lab-grown meat and ultimately integrate it into their diets. 
In May 2020, Integriculture raised a $7.5M Series A to further develop its cell-based meat. Its first product will be a cell-based foie gras, which it plans to launch in restaurants by 2021.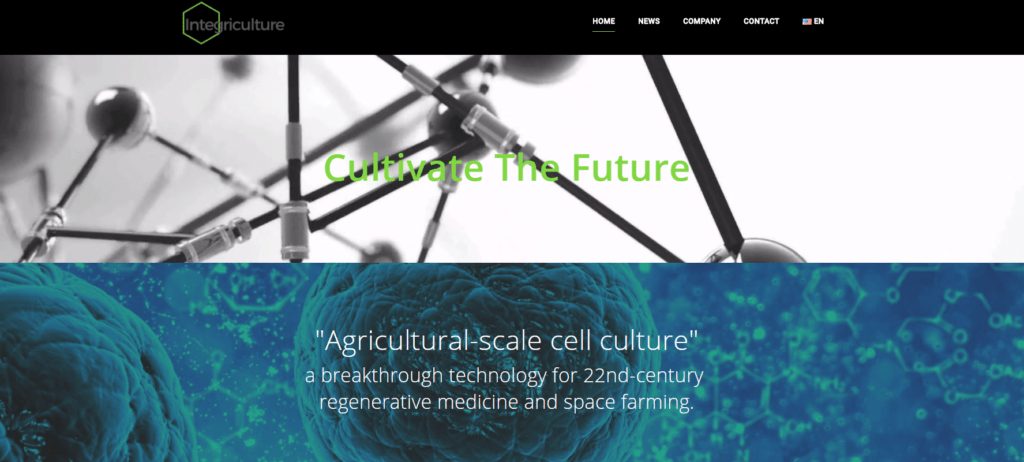 In February 2020, bioresearch platform Kerafast teamed up with nonprofit Good Food Institute to launch an open-source catalog with "recipes" for sustainable, lab-grown meat and seafood.
Dairy & eggs 
Oat milk flew off the shelves in the early days of the pandemic. But the plant milk craze began long before 2020, as consumers increasingly lean towards plant-based diets and protein alternatives.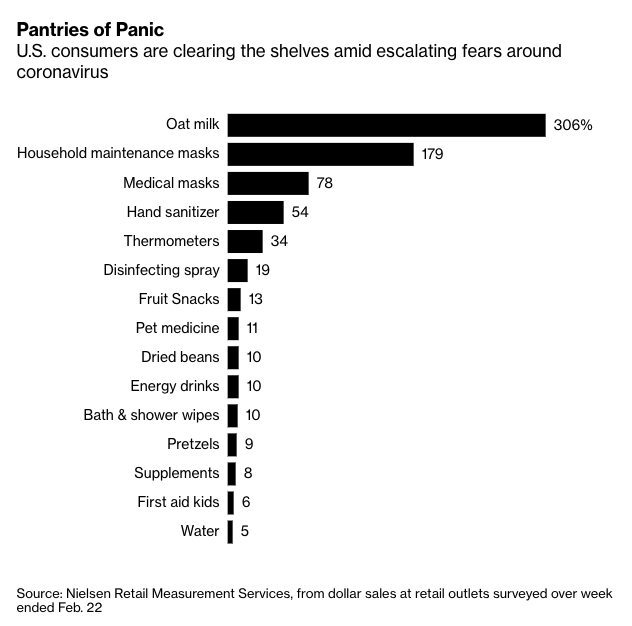 Source: Bloomberg
Americans are consuming 40% less milk than they did in 1975, according to the USDA. Dairy alternatives have siphoned greater and greater market share from traditional dairy companies in recent years, squeezing traditional milk companies and even forcing some to begin production of alternative dairy products.
The pressure has forced 2 major industry players to restructure. Dairy icon Dean Foods declared bankruptcy in late 2019 and saw most of its assets snapped up by the Dairy Farmers of America in April 2020. Borden Dairy followed soon after, filing for bankruptcy in January 2020, and was quickly acquired by KKR and a private equity firm in July.
Several startups have capitalized on this trend, raising massive tranches of funding to address surging demand.
Pea-protein milk producer Ripple Foods, for example, recently saw a $30M Series D from Google Ventures, Inventages Venture Capital, and Prelude Ventures in June 2020, bringing its total disclosed funding to $151M.
In April 2020, AI-powered eggless mayo producer NotCo raked in a $33M Series B from Kaszek Ventures and SOSV. Previous investors have included Bezos Expeditions and IndieBio.
Another company, Perfect Day, uses fermentation to make cow-free milk. The company most recently raised a second tranche of funding, boosting its Series C to $300M total in July 2020.
In 2018, plant-based startup Just (formerly Hampton Creek) started off producing vegan mayo, but has since expanded to vegan eggs, which are sold in select Whole Foods, Fairway, and Walmart locations. In February, it also announced a partnership with food provider Sodexo to serve its vegan egg product on campuses and corporate sites. As of June 2020, the company says it has sold the equivalent of 40M chicken eggs.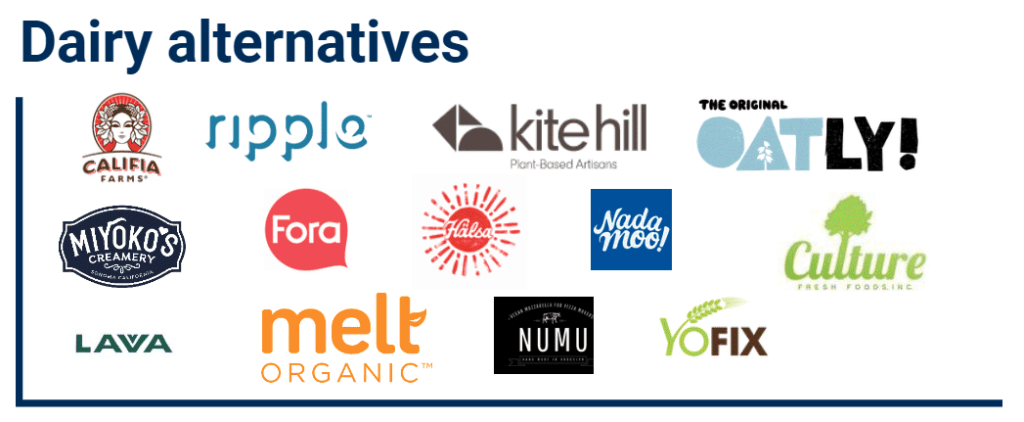 Protein innovations
Beyond meat and dairy substitutes, some startups are developing sustainable food solutions by leveraging alternative protein sources such as algae or insects.
Algae farms gain traction for their sustainability
Algae serves as a source of sustainable, nutritious protein that grows rapidly, which has helped it garner some attention in recent years. Algae farms also avoid the problem of immense land and water usage that most farms face when growing traditional crops or raising livestock.
While a relatively niche market, companies like Algama Foods or Odontella are capitalizing on algae to make various food and beverage products, such as egg-free mayonnaise or salmon.

Source: Algama Foods
Chickpea protein grows popular among health-conscious consumers
As consumers clamor for healthier and allergen-free alternatives, chickpeas are a popular source of protein for companies developing vegan food products. Many plant-based meat brands already use peas to add protein to their products.
Banza, which raised a $20M Series B round in November 2019, makes chickpea-based pasta, while Hippeas sells chickpea-based snacks like puffs and chips.
In April 2020, Israel-based chickpea protein company InnovoPro also raised $15M from Jersualem Venture Partners, CPT Capital, among others.
Insect protein goes mainstream
While the idea of eating insects is taboo in some countries, bugs and insects are nonetheless growing as a nutritious, environmentally-friendly protein source. 
2B people around the world eat insects, according to the UN's Food and Agriculture Organization, and more than 1,000 species of insects and bugs are eaten in 80% of nations around the world. 
To make insect consumption more palatable, startups are using insects as alternative ingredients, e.g. making flour from crickets, mealworms, and other insects, which can be raised at scale, or using them to produce snacks, protein bars, and even insect-enriched pasta.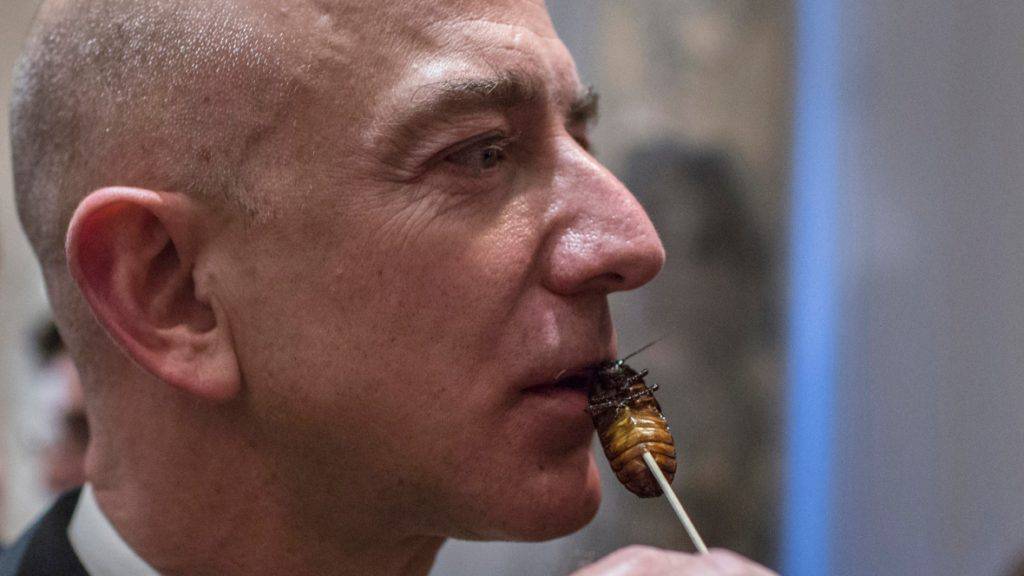 Some notable startups in the space include Hargol, which makes protein bars out of locusts, and Entomo Farms, which raises insects for human consumption. Israel-based Flying Spark uses fruit fly larvae to produce protein powders, while Exo produces cricket-based protein bars. It raised $5M before being acquired by Aspire Food Group, an edible insect company operating in both Ghana and the United States, in March 2018. 
Chapul, an early player in the protein bar space, exited in the summer of 2019, citing difficulties convincing Western consumers to purchase cricket-based products. The company is pursing the insect farming business instead.
Cricket-raising results in 100x lower greenhouse gas emissions than beef cow production, and crickets also have higher proportions of protein than beef or chicken. And because crickets require proportionally less feed than livestock animals, production is more efficient.
The Oklahoma startup All Things Bugs, founded in 2011, is seeking to develop a finely-milled cricket powder that can be supplemented as a base ingredient in recipes.
All Thing Bugs has supplied other insect-based food companies that are working in the cricket product space, including the aforementioned Exo and Chapul.
San Francisco-based Bitty Foods, which has raised $1.2M in disclosed funding, has a line of snack products that are made with insect powders. The company's cricket chips use crickets exclusively from US farms specializing in insects for consumption.
Insect-based protein brands could eventually displace meat-based snacks by offering healthier and more sustainable options.

Meal substitutes 
It's not just meat substitutes disrupting the traditional food chain: meal replacement alternatives have gained some momentum in the food space, though the hype and momentum have diminished since its peak.
Among these startups, Soylent leads the pack with over $71M in disclosed funding from investors like Andreessen Horowitz, Lerer Hippeau Ventures, Google Ventures, and others.
The drink has run into some problems, including a now-lifted ban in Canada, where regulators said it does not meet all of their specific requirements for meal-replacement products. The company has also experienced a management shake up and downsizing — the CFO replaced the CEO in February, and it also quietly shut down its Food Innovation Lab while downsizing to a smaller office.
Soylent has expanded distribution steadily, however. It focuses mostly on a D2C model, but is also available in retailers like 7-Eleven, Walmart, Target, and Kroger across the US, and launched in the UK in late 2018.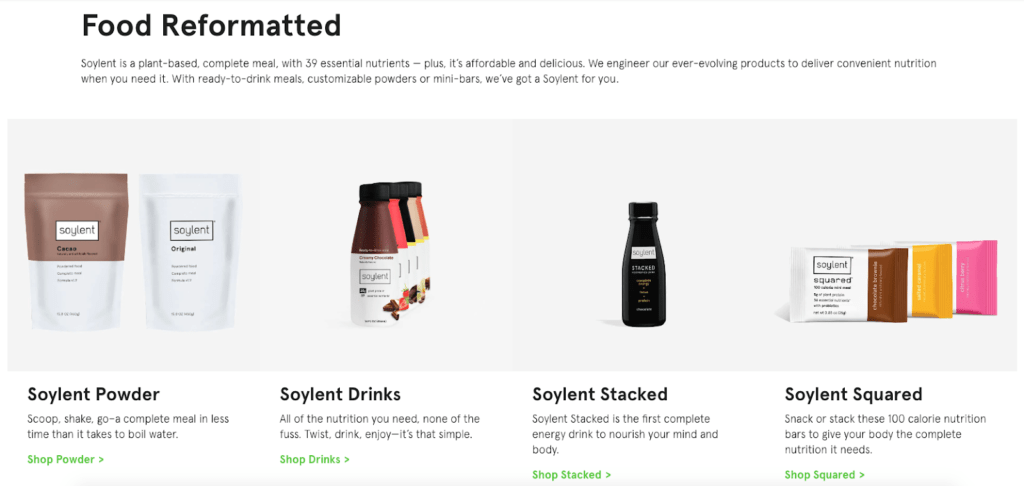 Source: Soylent
The UK-based Huel, which raised $26M from Highland Europe, launched its product in 2015 and offers a flavored meal replacement shake similar to Soylent's. It also launched a snack bar in December 2019. The company says it was profitable for the first 3 years of its life, and though it made a loss in 2019, it expects to be profitable in 2020. 
San Francisco-based startup Ample Foods raised $2M in seed funding in 2018 and 2 angel rounds over 2019 and 2020, bringing its total disclosed funding total to over $3.4M. Ample has taken aim at the plant-based food industry by offering meal replacement products, including a vegan option and one intended for ketogenic diets.
French powder-based meal replacement startup Feed raised $17M in 2018, bringing its total funding to over $21M, with the goal of propelling its meal-replacement products forward in Europe, with plans for future expansion to other regions.
The company offers French-made, vegan, gluten-free, lactose-free, and GMO-free meal-replacement options, with the company saying that it has sold over 2M pounds of powder so far.
Corporates and accelerators back the meatless future
Corporates bet on new protein sources 
Major corporations involved in the meat industry are investing in meat innovation, with some of the largest companies even rolling out their own meatless products.
In early 2020, JBS USA's subsidiary, Planterra Foods, launched Ozo, a plant-based protein brand that offers burgers, meatballs, and ground meat. Tyson, the world's second-largest meat processor, sells both plant-based alternatives, such as meatless chicken nuggets and plant-based shellfish, as well as blended, part-meat, part-plant options.
Smithfield also manufactures a line of soy-based protein, and Hormel is selling meatless ground meat. Food-trading giant Cargill, which previously invested in Memphis Meats, announced in early 2020 that it would roll out faux meat patties made of pea and soy protein.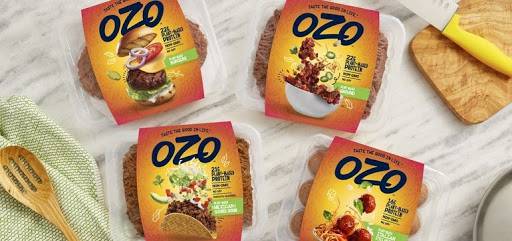 Source: Ozo
It's not just the meat giants, either. Major food conglomerates are also jumping on the opportunity to invest in the plant-based trend, either by rolling out new product lines or investing in plant-based companies.
Nestle, which has introduced a veggie burger, said in May 2020 that it plans to infuse $100M into building a plant-based food facility in China. General Mills' venture capital arm, 301 Inc, has infused cash into several plant-based food brands, such as Gathered Foods, Kite Hill, No Cow, and Beyond Meat. In late 2019, Kellogg's launched a soy-based meat brand, Incogmeato, which offers burgers and sausages.
Large grocery chains also began selling plant-based meat products, and more retailers, including Kroger, Wegmans, and Loblaw, have launched private label plant-based offerings.
Some have set their sights beyond the US, with PepsiCo snapping up Chinese snack company Be & Cheery, which offers plant-based sausage, in February 2020.
"Plant-based protein is growing almost, at this point, a little faster than animal-based, so I think the migration may continue in that direction."

– Tom Hayes CEO, Tyson Foods
Additionally, the rise of corporate-backed funds with a strong emphasis on alternative meat production and innovation, such as Tyson Ventures, indicates that meat producers foresee the possibility of a meatless future.
Tyson Ventures has made multiple investments in Beyond Meat, but exited before the plant-based protein company went public. Tyson has since invested in other similar companies, like Memphis Meats, the Israel-based Future Meat Technologies, MycoTechnology, and New Wave Foods. With the launch of this "Internet of Food" fund, Tyson appears to be looking to pivot from a meat producer to a broader protein brand.

VC bets point to a meatless-minded future 
Beyond corporates, venture capital firms and accelerators are also funding research and development into these high-tech foods. Biotech accelerator IndieBio has placed many bets in animal-free foods, with notable investments in Memphis Meats, New Wave Foods, and Finless Foods, as well as startups focusing on dairy and gelatin substitutes.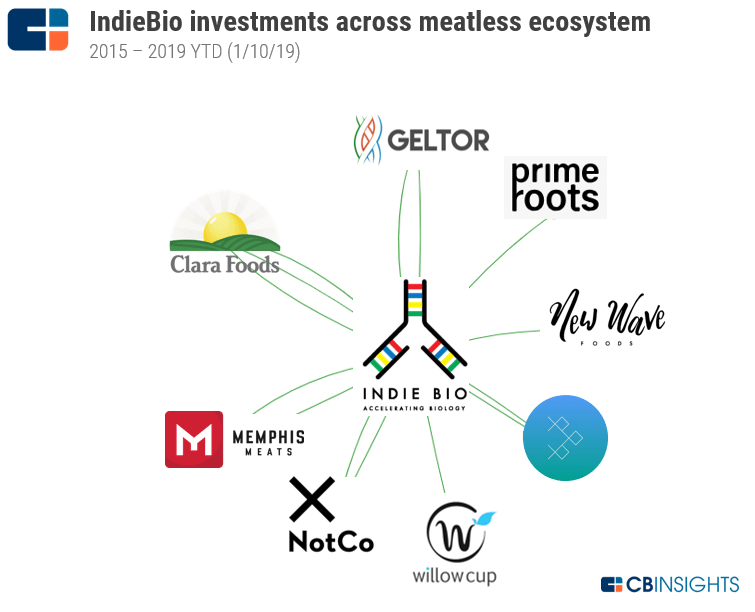 Early-stage venture capital fund New Crop Capital funds startups that develop cultured and plant-based meat, dairy, and egg products, along with service companies that facilitate the promotion and sale of these products.
New Crop Capital's investments include participating in a $10M investment for plant-based seafood company Good Catch (which is run by the founder of New Crop Capital), multiple seed rounds for packaged plant-based foods company Alpha Foods, and participation in lab-cultured meat startup Memphis Meats' $17M Series A.

Big Idea Ventures is a hybrid venture firm that also offers an accelerator program, with a focus on plant-based food/alternative protein startups. It closed a $50M fund in May 2019 to invest in plant-based foods, and most recently closed a $6.5M fund in June 2020. It's backed by Tyson Foods, Temasek, the Singaporean government's venture arm, and plant equipment manufacturer Bühler Group.
The meatless revolution is global
The greatest concentration of alternative meat deals has occurred in the US, which is home to a well-developed food and beverage sector. At the same time, there are also developed and fast-growing meatless markets in Europe and Asia.
As Covid-19 has an increasingly negative impact on the meat industry, Chinese consumers are also opting for animal-free alternatives — and US-based companies are looking to break into the market. Sales of Just's egg product on JD.com and Tmall have reportedly jumped 30% since the outbreak, while companies like Impossible Foods and Beyond Meat are working to launch their products in mainland stores.
But competition is fierce, with local companies like Whole Perfect Food, Jinzi Ham Company, and Zhenmeat also looking to dominate the market.
In September 2017, China announced a $300M deal to import lab-grown meat from 3 Israel-based companies — SuperMeat, Future Meat Technologies, and Meat the Future — as part of a broader plan to decrease the country's meat consumption by 50%.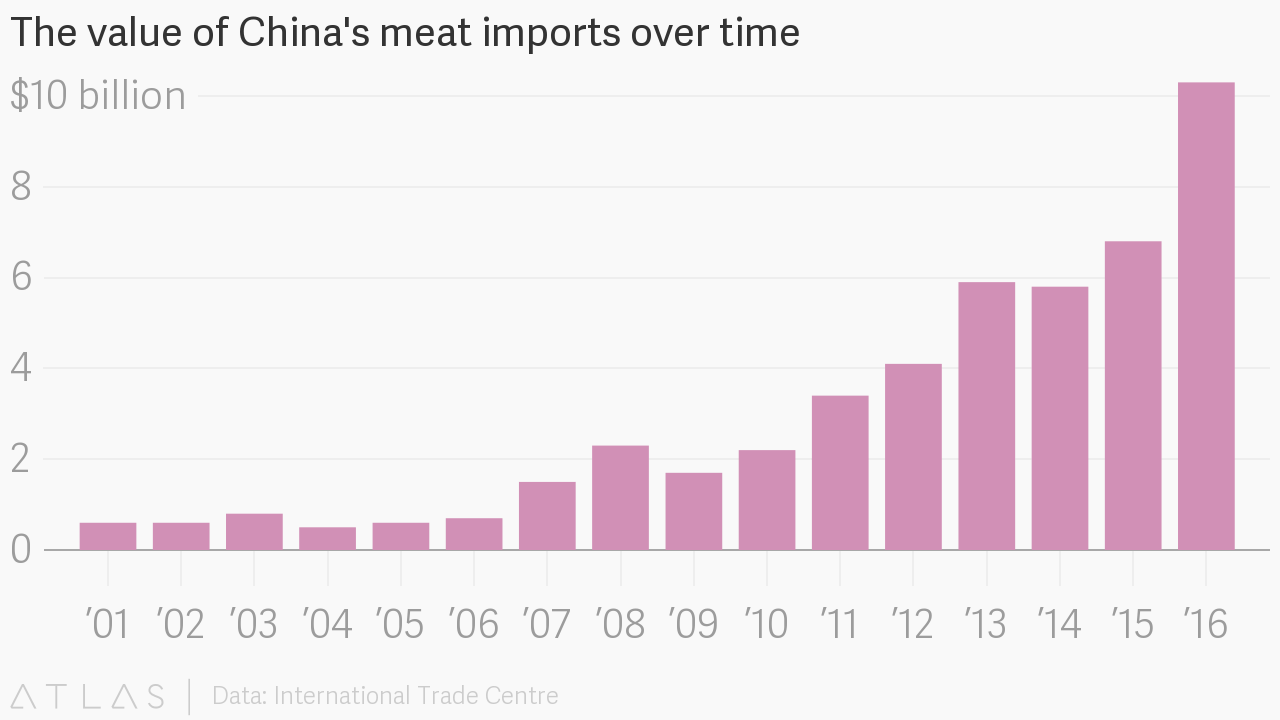 Regulation is also starting to play a bigger role, as regulators explore cellular agriculture as a viable food source in the future and individual US states, particularly in meat-producing regions, respond to the economic forces represented by meatless trends.
In March 2017, the National Academies of Sciences, Engineering, and Medicine in Washington, DC released a report on the future of biotechnology developments and regulation, while the White House launched a review of how US agencies regulate agricultural biotechnology.
Legislation seeking to prevent plant-based meat products from being labeled as "meat" or "beef" is now being developed in around half the states in the US, with successful bills passing in several prolific meat-producing states.
In March 2019, the FDA and USDA announced a framework to regulate cell-based meat, outlining a transparent path to market for cell-based meat companies.
As of now, artificial meat regulation is still in the early stages. Regulatory responsibility in an animal-free ecosystem could extend across multiple bodies, as biotechnology for food overlaps with many regulatory systems. Alternatively, a single regulatory agency could be created in the future to deal with the unique challenges of artificial meat regulation.
Challenges
While plant-based products and other protein sources are taking off, lab-grown meat, in particular, faces a few obstacles.
First, fake meat often sounds icky. Many consumers face a psychological barrier towards eating lab-grown foods and may prefer the familiar taste of traditional meat products.
While groups like the aforementioned Shojinmeat Project are looking to acclimate future consumers to cultured meat, this socialization will need to happen on a global scale.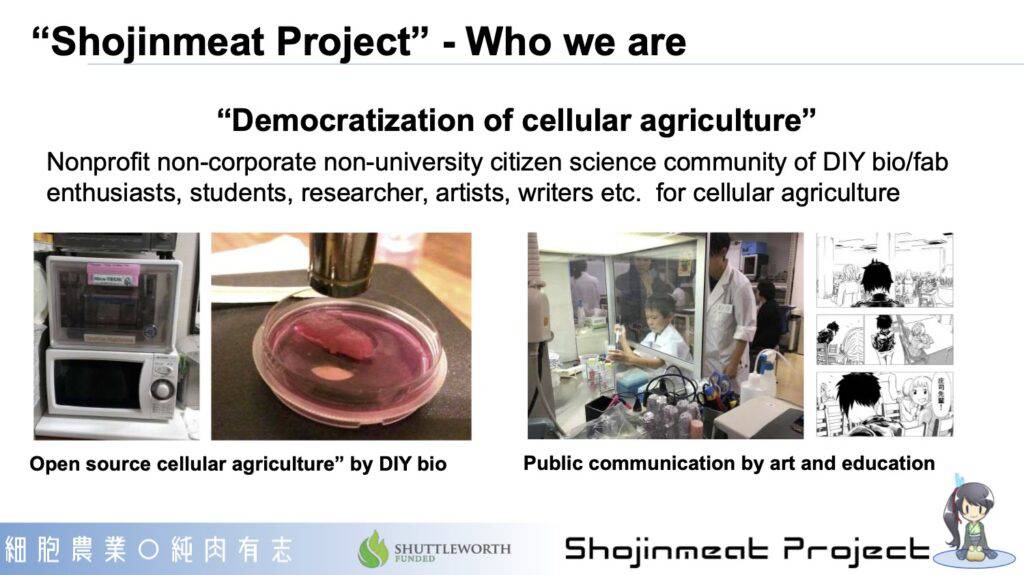 Source: Shojinmeat
Second, high-tech meat is expensive. Cost remains a largely prohibitive factor, with high-tech meat alternatives priced as luxury goods.
One of the main reasons that lab-grown meat is so expensive is due to fetal bovine serum, or FBS, being prevalent in these products. FBS, which is extracted from cow fetuses, is a core and costly ingredient in lab-grown meat.
However, startups are looking to eliminate FBS from the meatless equation in order to cut costs. Just has reported that it has developed a method to grow cell-cultured chicken without FBS, while Memphis Meats is validating methods to produce its meats without the ingredient.
Third, the question remains: can clean meat scale? Though many startups in the space claim that their products will revolutionize meat consumption, the question remains whether clean meat will provide a scalable method to feed the future — or whether it's simply a new wave of molecular gastronomy.
The aforementioned cost considerations are crucial in scaling these products for mainstream consumption.
Furthermore, will meatless products really be better for the environment? Despite claims that less meat consumption will reduce environmental impact, lab-based technologies come with their own high costs for electricity, heating, and other resources.
The automation of meat production could have far-reaching job implications for the agriculture industry. The meat sector is the largest employer within US agriculture, and mainstream meatless consumption could create economic challenges that eliminate jobs across the meat production value chain.
Meat producers, lobbyists, and other bodies have a great deal at risk when considering the effects of automation across the meat industry.
Where the meatless revolution is headed next
The race is on.
Cost and scale are immediate considerations in moving these products from novelty purchases to kitchen staples.
This issue is particularly urgent when attached to the $1.6T annual bill in economic costs that meat consumption could rack up globally by 2050, according to a University of Oxford study.
In the next few years, we can likely expect to see the cost of lab-grown meat decrease considerably.
From there, it's just a matter of which companies will get their products to market first and best position their products as worth the price.
Continued advances in genetic engineering and plant-based innovation will enhance the taste, flavor, and healthiness of meatless products to incentivize consumption.
These technologies will also continue to expand across largely untouched meat and seafood categories (e.g. pork, duck, and eel). We could see direct competitors to meat incumbent brands across virtually all frozen and prepared food categories.
Amid Covid-19-induced shortages and the heightened consumer focus on ethical consumption, alternative meat products are seeing soaring interest, capturing investor and public attention alike.
---
This report was created with data from CB Insights' emerging technology insights platform, which offers clarity into emerging tech and new business strategies through tools like:
If you aren't already a client, sign up for a free trial to learn more about our platform.