Major US technology companies are constructing corporate housing, self-sufficient towns, and even entire urban neighborhoods. Adding to the mix, insurgent startups are also redefining how the homes of the future will be built.
Technology companies have infiltrated the home.
Smart home products and personal digital assistants sit on our coffee tables. We can use mobile apps and voice commands to control our lighting, temperature, and home security.
But despite how smart — or at least mildly intelligent — our home devices have become, the home itself, from design to materials, hasn't fundamentally changed. 
That is beginning to shift.
Technology trends and market needs are pushing companies to set their sights on the residential real estate and construction industry.
Forward-thinking startups and large tech companies like Facebook and Google are focused on innovation in single-family and multi-family residential construction. These companies are advancing a variety of construction methods to build ambitious development projects that reimagine everything from the wood used in homes to the ways we think about private vs. communal space.

In this report, we examine the materials and methods reshaping residential construction, new housing and community development projects, and what these trends could mean for the future of where we live.
Table of contents
Cities' housing shortage
In 1964, American writer Isaac Asimov famously attended the World's Fair in New York and wrote about what the world would look like 50 years in the future. 
Asimov predicted the exploding population would cause US cities like Boston and New York to converge along the coast into combined super-urban bodies, while suburban communities would have to expand downwards, building subterranean homes.
"The surface will be given over to large-scale agriculture, grazing and parklands, with less space wasted on actual human occupancy." — Isaac Asimov
While super-urban centers and subterranean homes have not yet come to pass, cities have gotten more crowded, as economic growth has drawn hundreds of thousands of new high-income residents.
Cities' housing supplies have not kept up with demand, and growth in urban center populations has driven up rent and housing prices.
Housing supply is dire nationally, with the US reportedly staring down a housing shortage of 7.3M units. Home prices rose 6.2% in 2017 — twice the rate of incomes, and 3x the rate of inflation, according to the WSJ.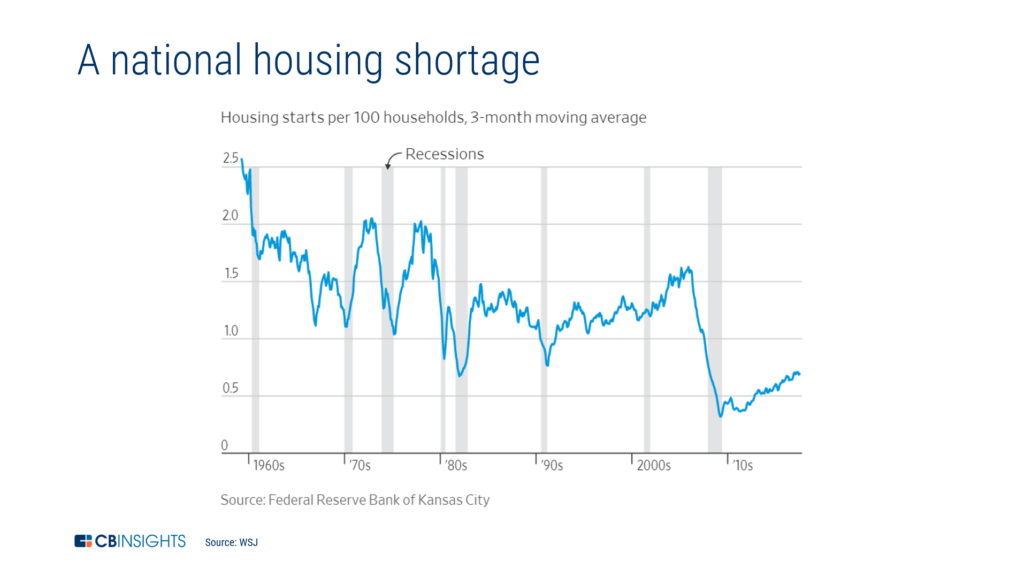 Faced with these challenges, cities are using a combination of regulations and incentives to try to address the housing shortage, but few look likely to fully solve these issues. Now, startups and tech giants are getting in the mix, trying to fix the ways the real estate industry designs, builds, and operates.
Construction industry trends
Labor and land supply, regulation, and the economics of financing new real estate are all important factors that have led to the housing crisis — but this crisis is largely the result of the construction industry's failure to invest in research and development.
The US construction industry invests 0.5% of annual construction value in R&D, according to a Sidewalk Labs designer Eric Baczuk and research conducted by McKinsey. This compares to 3.7% for auto and 8.8% for computing & electronics.
"The net result is that buildings are made the same way they were during the mid-20th century," says Baczuk. "Workers perform highly repetitive tasks and custom-fit stock materials together on-site."
According to Trevor Schick, President of Katerra materials, "The last craft industry, construction, has yet to enter the industrial or technology age…People are building homes today essentially the same way they did in the mid-1800s. Economies of scale just don't exist: most projects are designed, planned, quoted, bought out and built as one-off projects."
However, new technologies could help bring the construction industry into the modern era.
Funding to construction tech companies has increased dramatically in 2018, primarily driven by a $865M Series D round to Katerra (more on Katerra below). Through June of this year, 45 deals have been completed, putting construction tech deals on track to meet or exceed 2017 figures.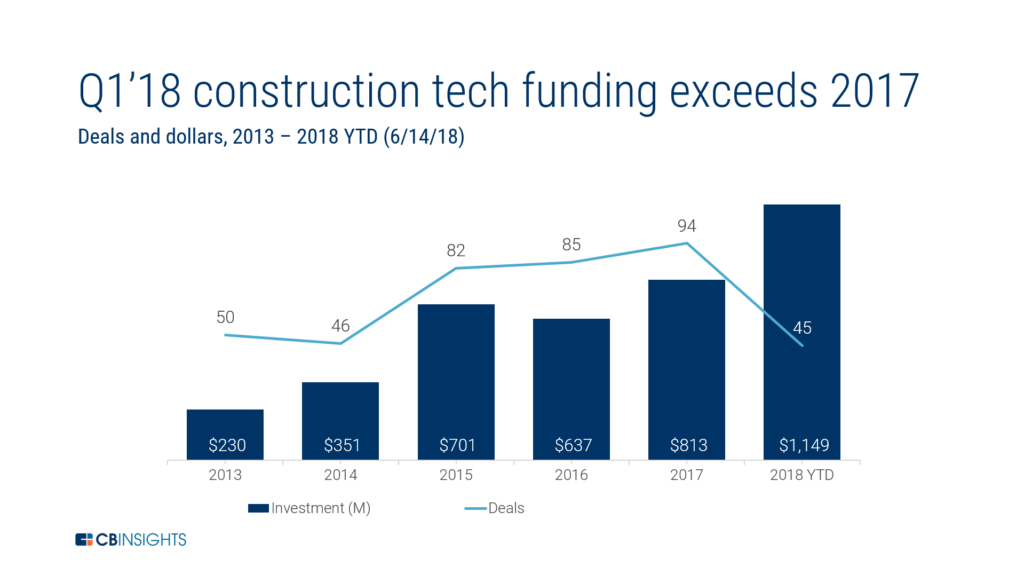 Below, we dive into some of the new technologies and processes — from prefabricated materials to the use of tall timber — startups are bringing to the construction sector.
Offsite, modular, & prefabricated
Among the most promising solutions to the high cost of construction are offsite prefabrication, standardizing design elements, and creating efficient economies of scale in materials sourcing.
Broadly speaking, offsite construction involves designing and constructing pieces of a building away from the actual construction site.
The benefit of this approach (in theory) is that steps can be handled simultaneously, from the foundation on up.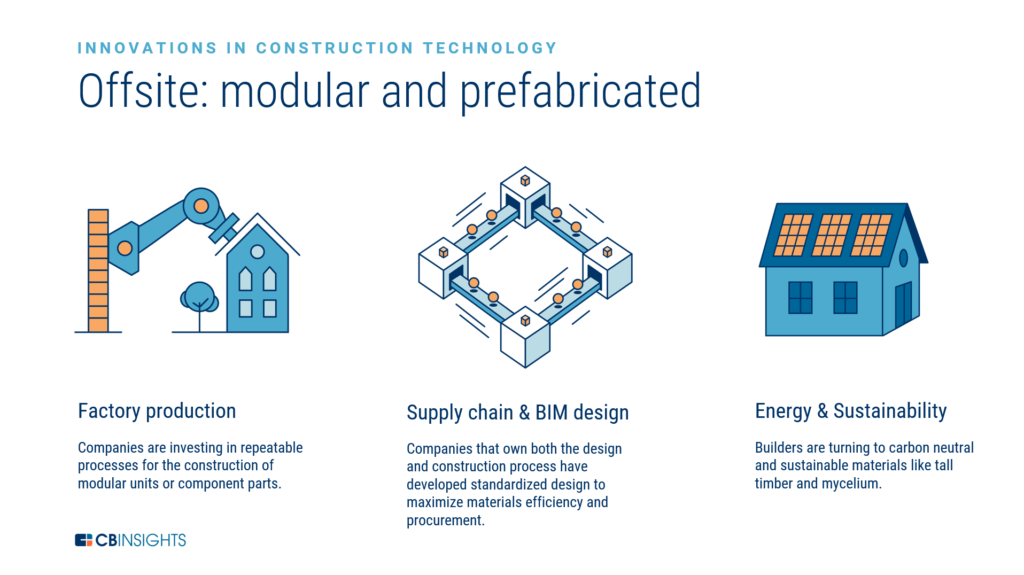 Several startups are already operating in this space; however, so far they've had only fledging success.
Fullstack Modular is a Brooklyn-based modular prefabricated company thatclaims to incorporate Building Information Management (BIM) design and lean construction management to produce "a process which is faster and more cost-effective than conventional building."
The company has raised $6M and is led by Roger Krulak, formerly SVP of modular construction at the real estate developer Forest City Ratner Companies.
Fullstack Modular's most high-profile project is 461 Dean, a 32-floor apartment building adjoined to the Brooklyn Nets' Barclays Center, developed by Forest City Ratner.
However, the project ran into major problems, wrapping up two years behind schedule — not exactly a model for efficient design and construction. FSM took over the project after Skanska, a construction company that initially worked on the project, ran into complications, eventually leading to lawsuits back and forth with Forest City Ratner, the original developer.
The project gives many in the industry pause as to the promise of prefab beyond smaller scale, single-family construction.
But despite public setbacks like these, startups are moving forward with modular construction methods.
Blokable is another modular construction company. The Washington-based company has raised $6M to date from Vulcan Capital, among others.
Vulcan Capital, the private equity arm of Vulcan, made early bets in Seattle on downtown commercial real estate now largely occupied by Amazon.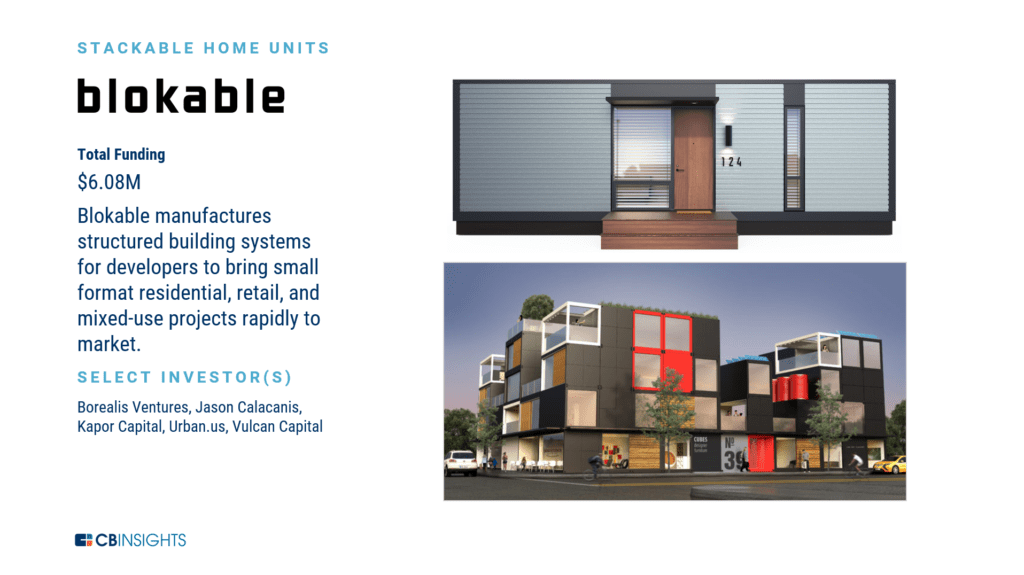 Blokable was founded by Aaron Holm, who formerly spearheaded physical retail efforts at Amazon. Holm has been vocal in his criticisms of the construction industry:
"On the one side, I was building all kinds of hardware and software with the engineering team. And then in the outside world, looking at how to scale out the physical stores, I was looking at this world that was just completely inefficient. I was like: 'This is crazy.'"
Blokable's modular homes are designed to be "plug-and-play," coming fully designed with all appliances, wiring, plumbing, etc. They can serve as stand-alone homes or be connected/stacked to create buildings up to five stories high. Meant to widen access to affordable homes, the units cost between $58,000 and $85,000.
Combining the factory and supply chain
Katerra is one startup that has gained serious momentum in the prefab construction space.
While prefab startups benefit from efficiencies in repeatable construction, Katerra's strengths in supply chain and inventory give it an edge.
Katerra aims to bring to a highly integrated construction process to multi-family and workforce housing construction. Katerra's approach is to own all facets of the construction process, from design and manufacturing to logistics and onsite implementation.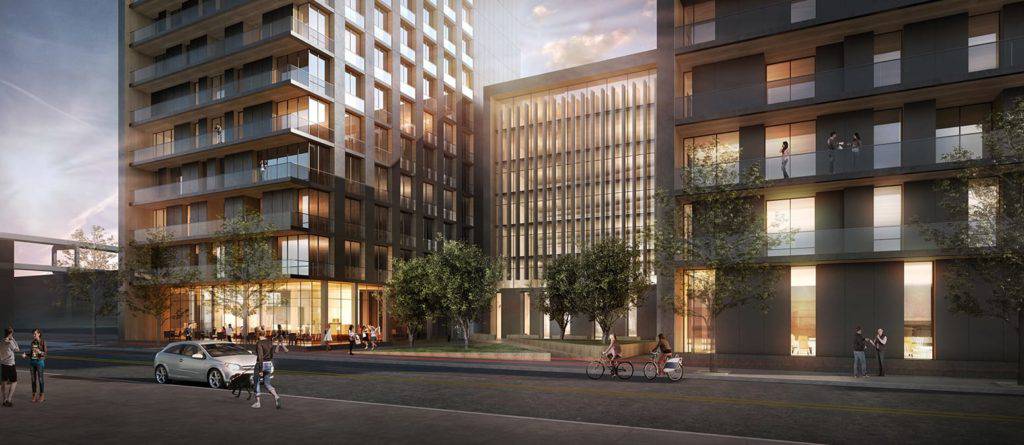 The Menlo Park-based company has raised $1.16B in capital, most recently raising a $856M Series D from Foxconn Technology Company, Soros Fund Management, Khosla Ventures, and SoftBank Group, among others. To date Katerra has had $1.3B worth of bookings, and as of April 2018, it employs over 1,400 people.
The company is developing a factory-like manufacturing process where repeatable "kit-of-parts" designs can be easily configured, constructed in offsite factories, and finally integrated onsite.
The company uses building information modeling (BIM) to produce design scripts for its projects that plug into its global supply chain, integrating design and materials sourcing. Per Katerra's website, the company leverages the Katerra Market Analytics platform, a logistics mobile app, and IOT to organize construction sites and inventory.
"Plans go directly from design to the factory floor and to the construction site," Craig Curtis, president of Katerra Architecture told ArchPaper. "Materials and products arrive at our construction sites on time and ready to install. As a result, the activity at a Katerra construction site more closely resembles a process of precision-sequenced product assembly than traditional construction."
Katerra hopes that its repeatable designs will allow it to standardize its procurement of supplies, which would eventually help it find efficiencies ordering in bulk.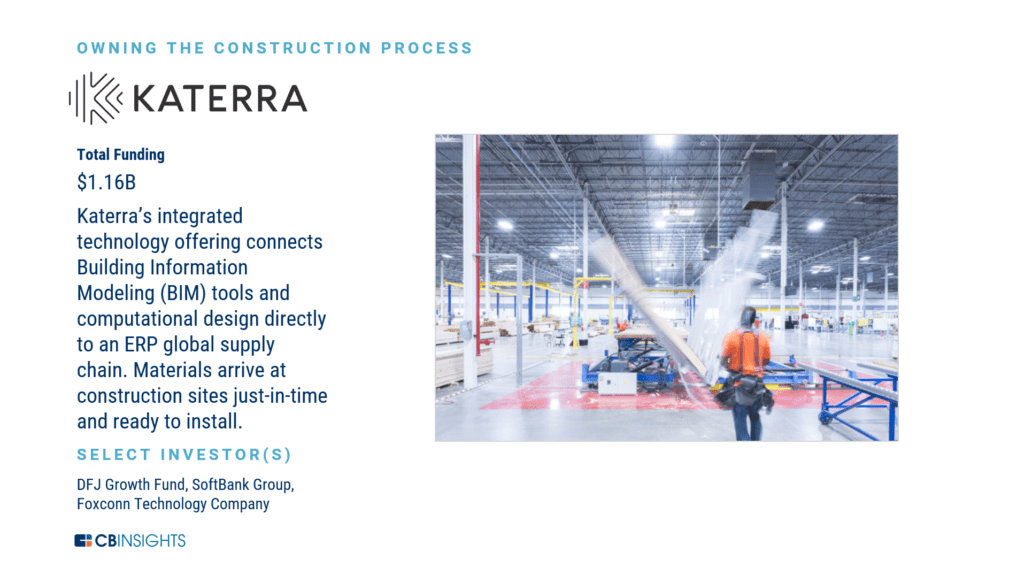 Down the road, the company estimates that it will be build a three-story suburban product for "workforce housing" 40% faster than the industry average.
As of March 2018, Katerra had 12 multi-family projects in construction with 200 — 400 units per site, as it plans to expand property types it constructs.
Katerra is also expanding its factory capacity. The company has plans to open six manufacturing plants in 2019, including a timber factory in Spokane, Washington. (More on the benefits of timber in the next section.)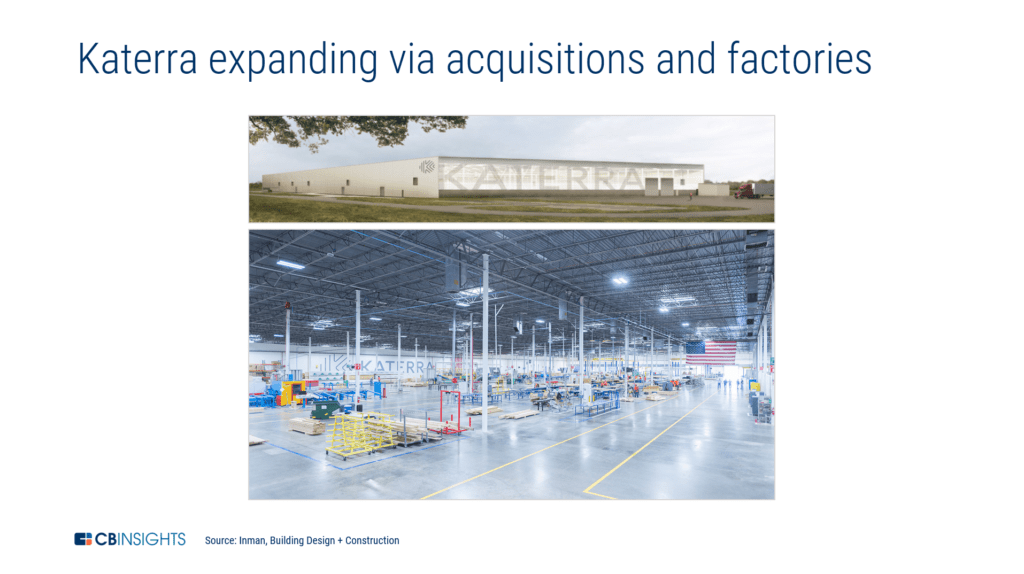 Katerra has also been active in M&A, recently acquiring Fields Construction Company of New Jersey as well as Vancouver-based Michael Green Architecture, previously a "design consortium partner" to Katerra and advocate of tall timber design.
The potential of tall timber
Katerra's focus on timber reflects the widely held belief that the material is useful in large-scale construction.
The push for timber has two major drivers: it's cost-effective, and it's sustainable compared to steel and concrete, which comparatively require a significant amount of energy to produce.
Additionally, timber construction reduces the weight of buildings by approximately 30% compared to steel and 60% compared to concrete. This allows for small building foundations.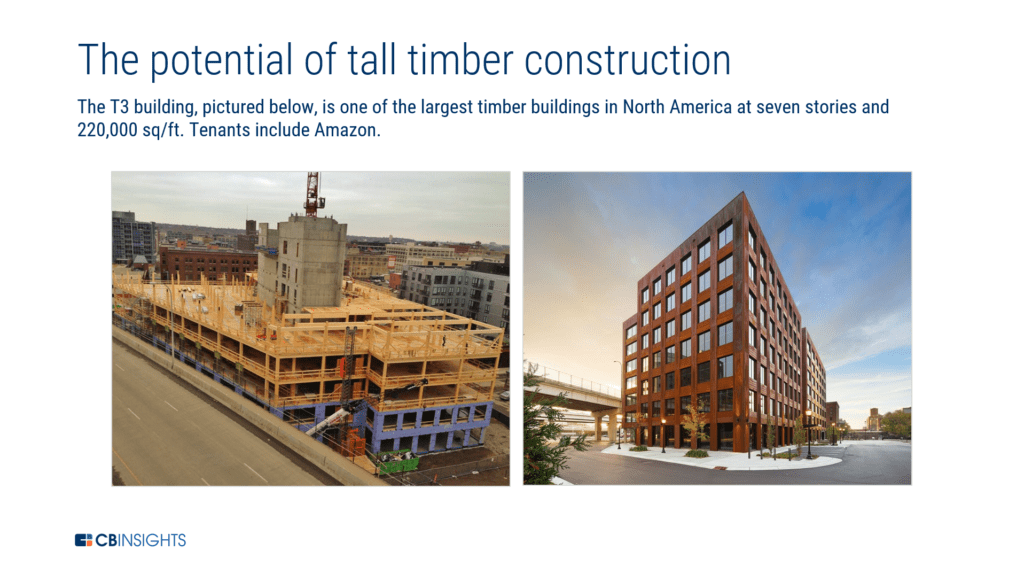 The T3 building, pictured above, is a seven-story 220,000 sq/ft timber building with tenants including Amazon. T3 is one of the largest timber buildings in North America.
Given the abundance of lumber in Canada, timber activity has been largely concentrated in the region, but increasingly it is gaining traction in the US. However, tariffs in flux between the two countries could dampen the timber market.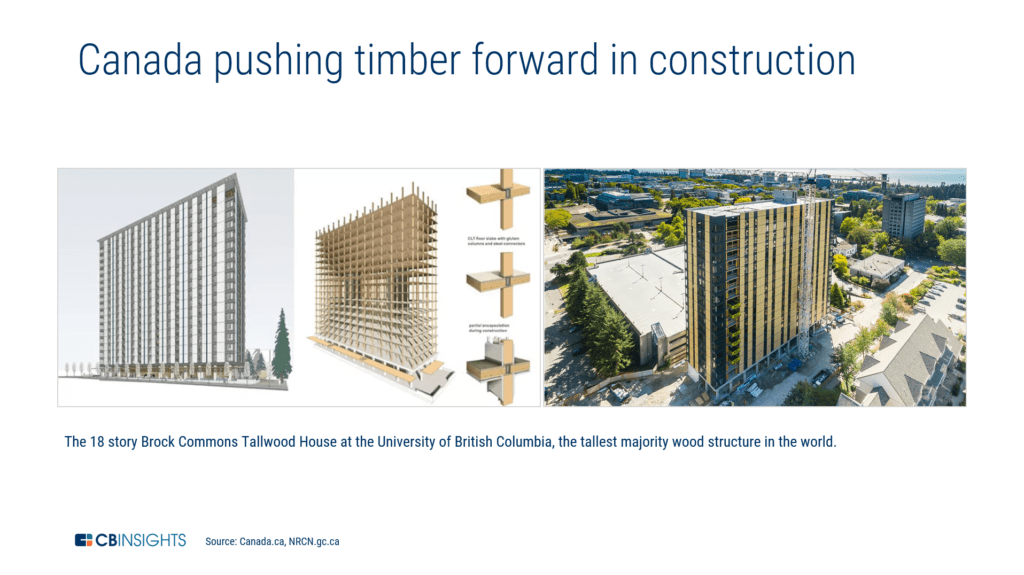 Track all the construction tech startups in this brief and many more on our platform
Startups working in construction tech have the potential to upend approaches to design, procurement, and operations. Look for Construction Tech in the Collections tab.
Track Construction Tech Startups
For more companies in the offsite space, check out Piece By Piece: 14 Offsite Construction Companies Transforming The Building Industry.
Reimagining city living
Cities like Seattle and San Francisco have been especially affected by the housing shortage. Massive economic growth coupled with an underinvestment in housing supply has led to well-reported housing inaccessibility.
In Seattle, as Amazon has grown from 5,000 employees in 2010 to 40,000 in August 2017, home prices are reportedly rising faster than any other city in the US. Seattle now is in third place for the most "mega-commuters," priced-out residents who travel more than 90 minutes to work.
While it's certainly easy to blame large companies like Amazon for housing inaccessibility, much of Seattle's housing crisis is due to zoning regulations and the high costs of construction which are stifling housing supply. 
Single-family zoning accounts for 49% of all "developable land mass" in Seattle, while 8% is devoted to multi-family, and 8% for commercial real estate, according to the Seattle Times. The majority of new housing is focused within that 8% multi-family land supply.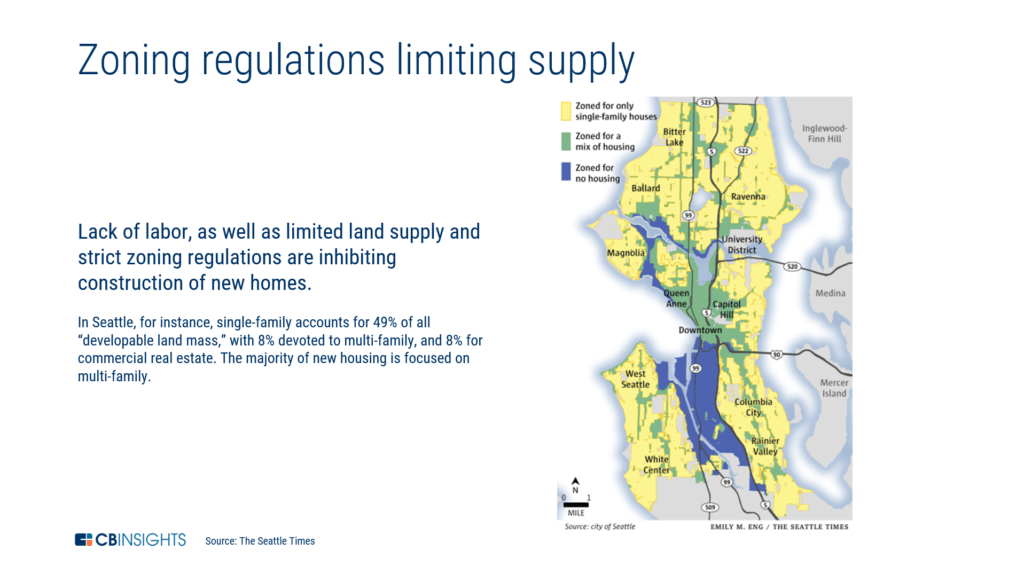 Mixed-used development for the wealthiest
Major tech hubs facing acute housing challenges and a large population of upper-income professionals are focusing on high-end mixed-used development in multi-family zones.
In Los Angeles, the Playa Vista neighborhood was not considered prime real estate until recently. It was purchased and developed in 2012 by Brookfield Residential, which anticipated that the tech industry would outgrow its existing office space in LA. The neighborhood is now home to companies like Alphabet, Yahoo, Microsoft, IMAX, Electronic Arts, and Facebook. 
The mixed-use development includes an on-site Whole Foods, movie theater, and fitness studio, among other retail amenities. Around 5-6K employees currently work in the area, and homes are valued at over $4M. When fully completed in 2020, the Playa Vista community will have 6,046 units, according to the WSJ.
Still, while multi-family developments at the higher end of the market are becoming more common, it still doesn't offer a solution for the lower end of the market, where people are struggling to pay rent. One in every four Americans is "severely rent-burdened" (i.e. paying more than 50% of their monthly income on housing), according to Sidewalk Labs (an Alphabet company).
Co-living
In addition to offsite construction of prefab and modular homes, some startups are retrofitting existing buildings for greater residential efficiency by transforming them into co-living spaces where residents rent smaller individual spaces and share common areas such as kitchens and lounges.
WeWork is the most well-known player in the space, with WeLive co-living locations in New York City and Washington D.C. However, despite plans for more rapid expansion, the company has only two WeLive locations since its launch in 2016.
WeWork put the program on pause until it could be "10 times better." James Woods, head of WeLive, has said the company wants "to take the time to refine this product and get it right" amidst rumors of a new location in Seattle.
Despite these public stumbles from a company as well capitalized as WeWork, other startups have been pushing ahead with co-living facilities.
Starcity is an example of a growing co-living company. The San Francisco-based startup is a graduate of Y Combinator and has raised $18.6M to date, most recently via a $16.4M Series A from Alrai Capital, Bullpen Capital, Invest AG, and Y Combinator.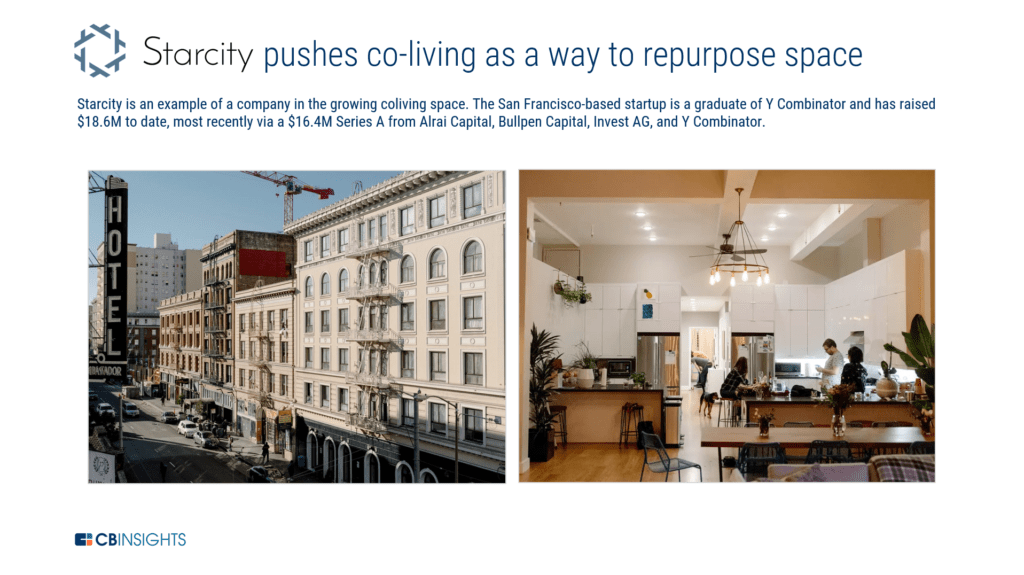 Starcity's business model takes properties via lease or outright purchase and repurposes them for communal living at a cost of about $1,800 per person, including free Wi-Fi, utilities, and cleaning services. Residents rent a bedroom and have access to communal space.
The business strategy is similar to WeLive in that it is capital intensive; construction and renovation build-out costs add up.
Roelof Opperman of Fifth Wall Ventures, told The Information:
"This could work and might work. Many venture capitalists have had a hard time wrapping their head around these startups because the capital intensity that they're projecting is way above anything many are used to."
Starcity has three buildings open with 36 units total and 8,000 people on its waiting list, according to the New York Times. It also has nine buildings in development and plans to buy former hotels, parking garages, and commercial real estate. 
At of the time of its Series A fundraise, Starcity told the Times it had plans for hundreds of units in the SF area in 2018, and thousands by 2019.
Hubhaus and Common are two other co-living startups that are taking different approaches to co-living. Both companies partner with landlords and charge a management fee.
Common earned $6M in management fees in 2017, taking 30% of a building's net operating income and 3% of gross rental income. Nonetheless, the company posted a loss of $8.3M before interest, taxes, and depreciation (EBITDA) for the year.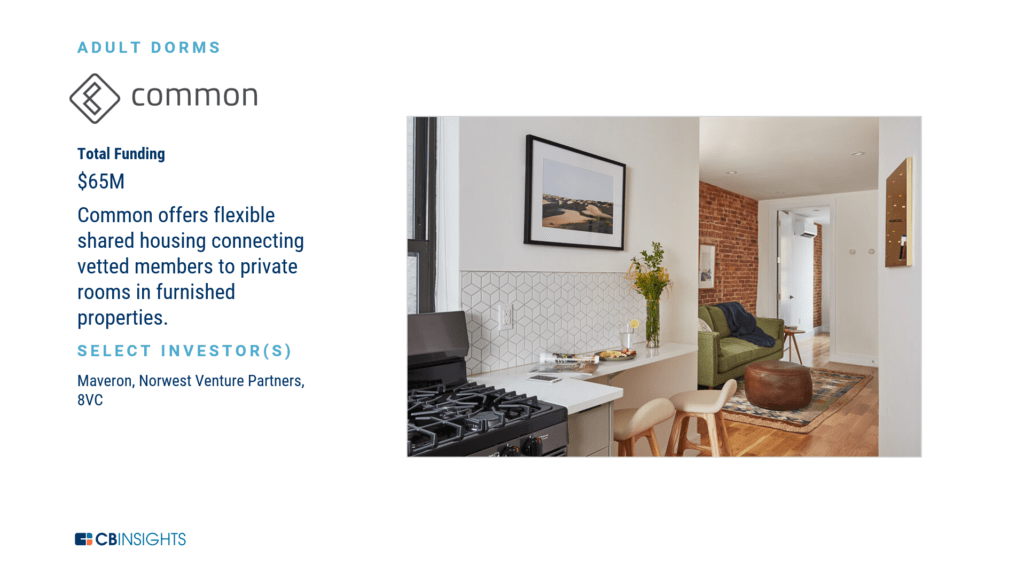 Common has ambitious growth goals. As of December of 2017, Common had 500 residents, but projects out revenue to increase to $130M by 2020 by taking on new properties and adding upwards of 25,000 residents.
Tech giants make their mark on residential real estate
In addition to insurgent startups, some of the biggest technology companies are driving real estate disruption via partnerships and direct development of their own property. While the primary focus is on expanding access to housing for employees, there are a few projects with a broader residential focus. 
From Office Campuses to residential housing
Major technology companies have markedly increased their pace of real estate construction recently. Capital expenditure on equipment and facilities among public companies rose nearly 20% year-over-year in Q1'18, according to the Wall Street Journal.
While large capital outlays are not entirely new — Apple paid $5B for its spaceship-esque headquarters in Cupertino — the focus on developing housing for employees and the general public is recent.
Although Apple has stayed clear of residential development for now, other technology companies are starting to build out housing on their campuses. The strategy is an effort to improve their relationship with their communities and improve their own employees' access to housing.
Facebook's Willow Campus 
Facebook, for instance, has plans to expand its campus in Menlo Park, adding residential housing for employees and the public.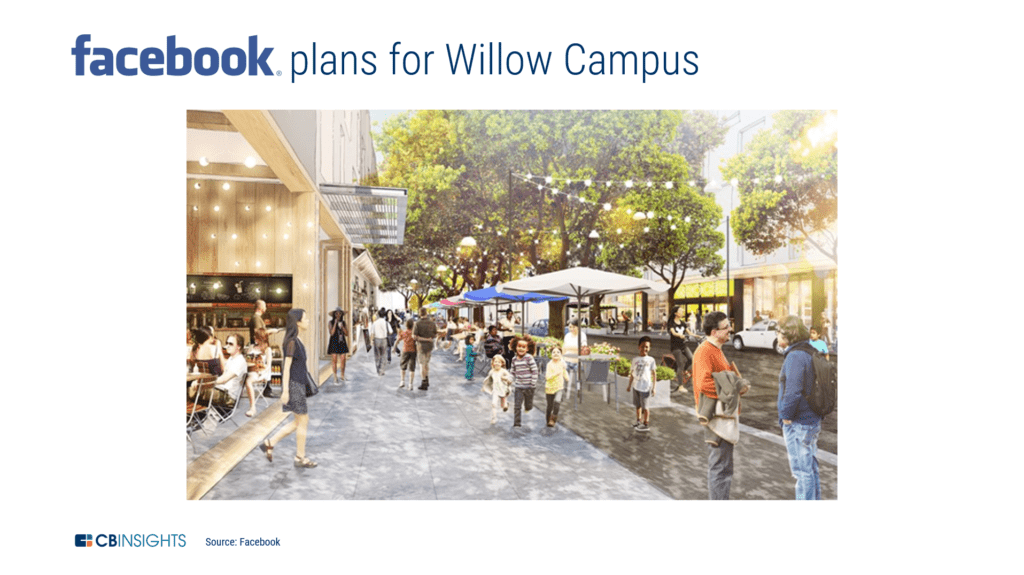 The first phase of the 59-acre project, called the Willow Village, is set for completion by 2021, according to the New York Times. The space will include 1,500 planned apartments, 225 of which will be below the market rate. Additionally, the plans call for mixed-use retail, including a grocery store and pharmacy, with 8 acres of plazas, parks, and biking/pedestrian paths.
Alphabet's modular housing
Alphabet, Google's parent company, tripled its capital spending year-over-year to $7.3B in Q1'18. According to CFO Ruth Porat, the spending was driven by real estate, data centers, and undersea cables.
Google's largest foray into residential construction to date has been its development plans for Moffett Field in Mountain View. The company purchased 300 modular housing units, spending between $25-$30M on the order with Vallejo-based Factory OS.
Google also recently issued a request for a proposal for more on-campus apartments, according to The Information. Katerra was one of the companies that replied.
In December 2017, Google received approval from local officials to build a 9,850 unit development. The project is related to the company's plans to expand its North Bayshore campus in Mountain View, according to Business Insider. In addition to the nearly 10,000 housing units, the company will build 3.6 million sq/ft of new office space.
Google's VP for real estate development Mark Golan remarked: "We are in agreement with the city and community that development should be done in a way that is open to everyone, including varying levels of affordability and allowing for a diverse community while helping to alleviate traffic congestion and the jobs and housing imbalance."
An Alphabet company tackles the smart city
The most ambitious vision for real estate is likely Sidewalk Labs' plan for the Toronto Waterfront. Sidewalk Labs, a subsidiary of Alphabet, is focused on studying and developing technology for the urban environment.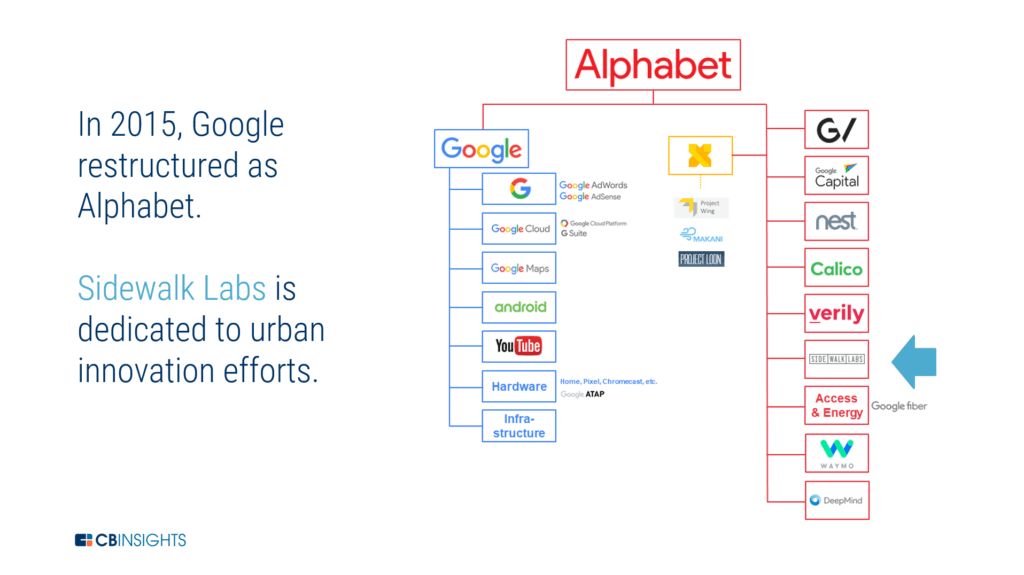 In its response to Toronto's RFP for the development of the waterfront, Sidewalk Labs laid out an expansive vision.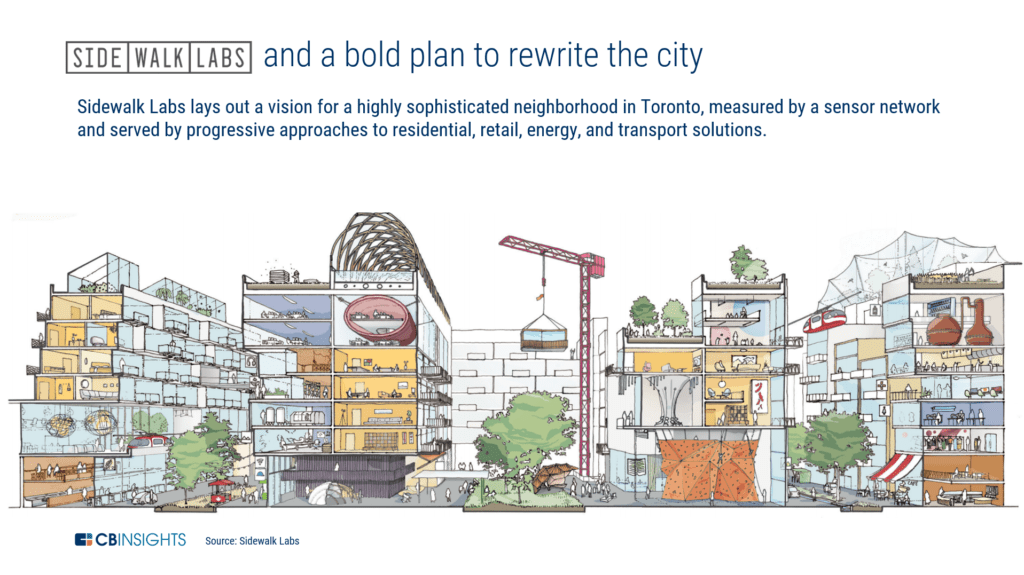 The company proposed a technologically sophisticated neighborhood served by progressive approaches to residential housing, retail, energy, and transportation.
After winning Toronto's preliminary approval, the company has committed $50M and one year's engagement to develop Quayside, a portion of the waterfront. Quayside is 12 acres, and under current plans its first residents would move in in 2022, per Reuters. The current plans call for between 5.5-6.5M sq/ft of construction, with 65% of the space devoted to residential housing.
While Sidewalk Labs has plans for how it will approach retail space, energy, waste removal, mobility, and more, we restrict our focus to its plans for residential development, construction, and the digital layer that will integrate the site.
A digital layer for improved public space & services?
The neighborhood will use a net of sensors and cameras to create a "digital layer" that will provide an "unprecedented degree of insight into the physical environment."
The digital platform will be able to measure the environment and suggest improvements, model simulations for hypothetical events, geo-locate infrastructure and resources, and offer a portal where residents can engage with public services.
Given public concerns about data privacy, there is considerable attention paid to what Sidewalk Labs would do with all of the data it collects. Dan Doctoroff, Sidewalk Labs' CEO, has said the company would "destroy all nonessential information, only retain data that would improve quality of life, and not sell them to advertisers."
Affordable housing, flexible construction
Sidewalk Labs says it will allocate 20-30% of the residential units to affordable housing. In fact, the company predicts a 14% reduction in the cost of living for a family of four relative to surrounding Toronto, primarily achieved through lower rents, transportation, and utility costs.
One key feature of Sidewalk Labs' housing plans is a building product named Loft.
The product's thesis centers on the assumption that "ongoing and frequent interior changes" will be demanded of each building. This theory is summarized as "radical mixed use," where residential, retail, office, and parking might occur within the same buildings.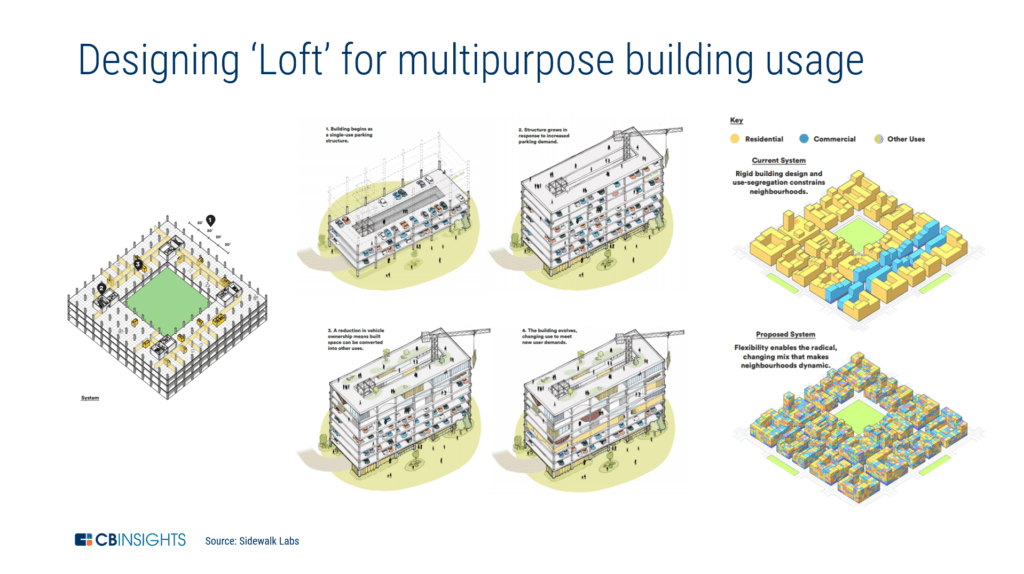 From a regulatory perspective, Sidewalk Labs suggested Toronto consider an "Outcome-Based Code" to allow for diversity of building usage. Under this rule, properties would be zoned to minimize pollution and other factors rather than zoning based on purpose of land use. For example, site safety, noise, energy use, and pollution might be measured.
The company also plans to promote co-living via its digital platform, enabling radical sharing of durable goods, splitting costs of building and personal services, and increasing space efficiencies.
Microunits of 250-350 sq/ft are also planned.
Sidewalk Labs will rely on a blend of the technology trends we've discussed here — modular construction, prefab manufacturing & standardization, and tall timber construction. The use of modular construction alone might save 12.5% on "commercial fit-out costs."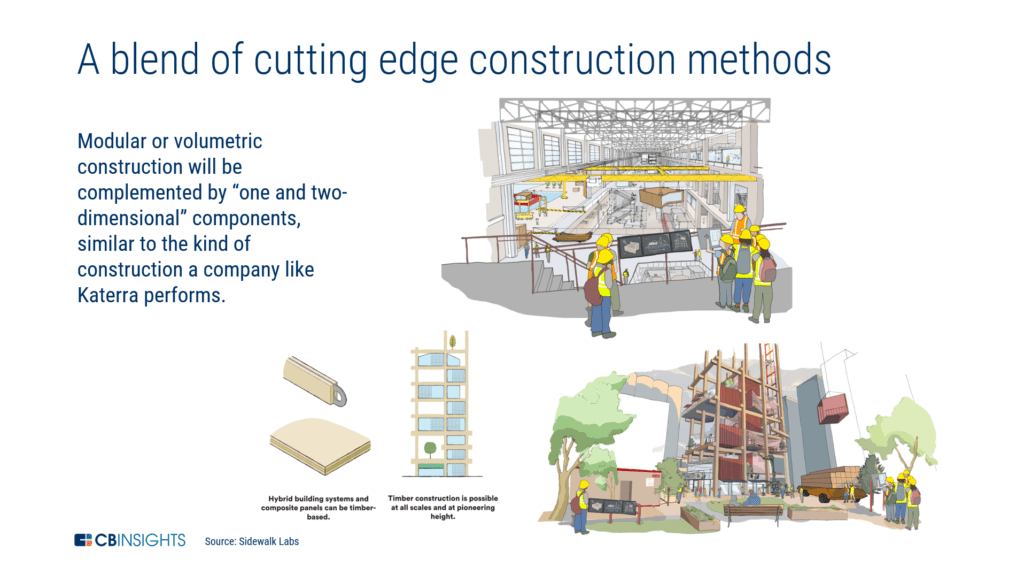 The RFP notes:
"This comprehensive approach will enable the creation of an entire parts library with standardized connections and interoperability that will supply every major assembly in a variety of building typologies. By combing this versatile product library with advanced manufacturing techniques, such as repeatable assemblies, robotic construction, on- and off-site automation, and 3D printing Sidewalk will be able to achieve new production efficiencies in design, labor, and material use."
Amazon makes the smart home a built-in amenity
Amazon's plans for the home are far less ambitious than Facebook or Google, but it is arguably the most ubiquitous player in the smart home space via its voice assistant product. Now, it's integrating itself into a home's very beginnings.
The company recently partnered with Lennar, Shea, and Brookfield Homes, some of America's largest residential home builders and developers.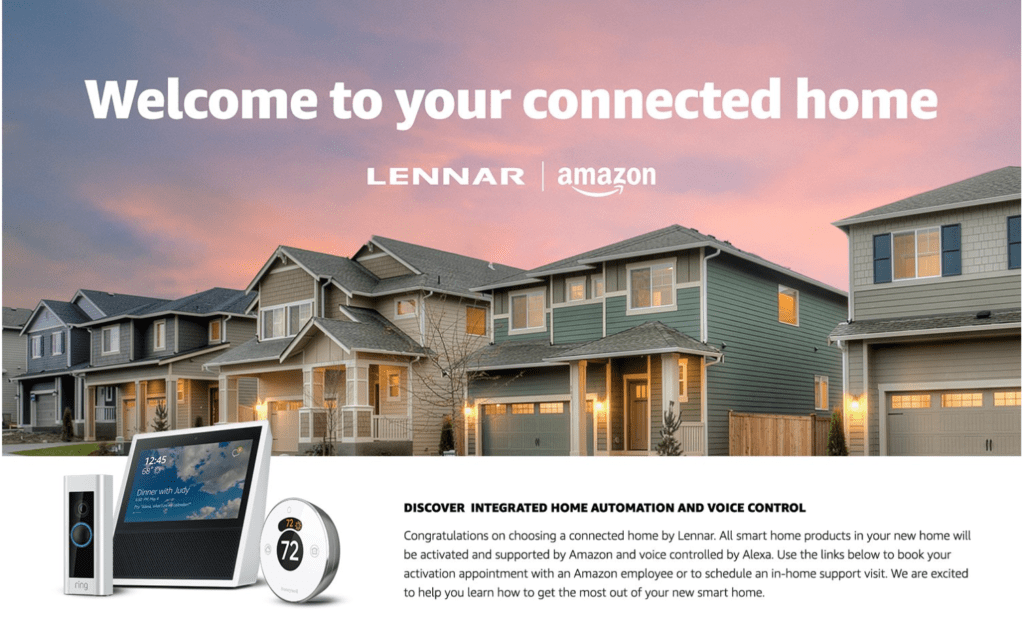 Amazon's experience centers across multiple states in the US will give customers a tour of Lennar homes and allow them to interact with Amazon's suite of smart home devices. The devices will now be physically implanted into every new residence the company builds, according to The Information.
The deal with Lennar is significant for a few reasons. Amazon is forming a partnership with a high volume builder that constructed nearly 30,000 homes in 2017. Apple and its HomeKit suite had a partnership with the builder as well. However, unlike Apple, Amazon offered its Amazon Home Services division to assist home buyers in setting up their new smart homes.
The benefits of such a partnership to Amazon are clear, as they nearly guarantee the homeowner will become a customer (unless they physically rip the devices from their walls).
Lennar Executive Chairman Stuart Miller imagines that the partnership will serve to create "obsolescence" in the real estate industry for the first time.
"I've always wondered when we would see obsolescence filter into the homebuilding world. …Obsolescence, natural and technological…has made its way into the automobile industry and every other industry we've seen…The home will give way to technology innovation that makes older homes more obsolete. And people will be looking for new styles, new technologies and new ways to live, and I think that will benefit the homebuilding industry, as long as we're able to adapt."
Final thoughts
Construction tech startup activity is on the rise, with major tech companies commissioning and building their own housing. As these trends mature, there's little doubt that we'll see the real estate market finally get its tech upgrade.
The real estate market has been largely relationship-driven and dominated by companies that could drum up huge amounts of capital from lenders. Newer entrants will use a more data-driven and digitally savvy approach to designing homes, and participation from technology's largest companies may serve to upend historical dynamics in the industry.
However, it's important to keep in mind just how challenging the real estate market is.
Labor, zoning, land usage, and capital are just a few of the obstacles these companies will face, in addition to a deeply entrenched development industry. Moreover, even if tech companies are successful with individual projects, these solutions still may not be enough to tackle the housing crisis on a broader scale.
The national housing shortage won't be solved quickly, but cities with some of the most significant housing shortages are also likely to be the incubators for some of the most innovative solutions.
If you aren't already a client, sign up for a free trial to learn more about our platform.