From the CEO of the world's largest telehealth company to the former CEO of GE, check out some of the speakers joining us at Future of Health 2019.
We're excited to announce our latest round of speakers for the Future of Health (October 2-3, NYC):
Former CEO of

GE

, Chairman of

Athenahealth,

& Venture Partner at

NEA

, Jeff Immelt

Theranos

whistleblower & founder of

Ethics in Entrepreneurship

, Erika Cheung

Co-CEO and co-founder of 

Warby Parker

CEO of 

Teladoc

(world's largest telehealth company)

CEO and co-founder of 

Collective Health

CEO of Connected Care, 

Philips
They join the already strong lineup of speakers, which include CEO of Roivant Sciences ($7B valuation), CEO, and GM of Bose Health.
The Future of Health will cover the future of the consumer health journey, focusing on key trends such as:
The consumerization of healthcare

Big tech in healthcare

Remote patient monitoring

Personalized medicine

The future of aging

Paying for care

Women's health

Emerging technologies
Save $500 on your ticket today before prices go up with code: greatspeakers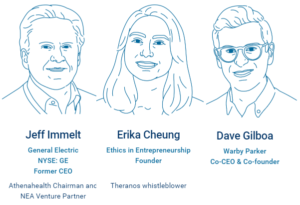 If you aren't already a client, sign up for a free trial to learn more about our platform.