Startups are pioneering new flavors, product types, and distribution methods that have potential to transform the food industry.
Big food companies have faced a variety of challenges over the past year, as smaller companies have gained market share, activist shareholders have asserted themselves, and new direct-to-consumer distribution models — including Amazon's new private-label food and beverage brands — have moved onto the scene.
At the same time, investor interest in CPG food and beverage startups are on the rise, driven partially by traditional food giants leveraging startups as outsourced R&D as well as venture capital firms turning toward the space as exit opportunities increase (mostly in the form of food & beverage-focused M&A deals).
What are the emerging food and beverage trends we expect to see unfold in 2018 which will impact the CPG food industry? We used our CB Insights platform to take a data-driven look at new developments that food companies and investors should look out for.
This post will cover:
Food & Beverage Startups
Startups working on new foods and beverages have the potential to change how and what we eat. Look for Food & Beverage Startups in the Collections tab.
Track food & beverage startups
1. Diet Tribalization Intensifies
The past several years have seen increased emphasis on lifestyle-based dietary trends, such as the paleo diet, which prescribes eating and exercise regimens based off our ancestors' habits. The paleo diet emphasizes natural, sustainable, plant-based foods, which relates to overall trends toward plant ingredients within the food space. Vegan and gluten-free foods have also moved into the mainstream since 2012. Our CB Insights Trends tool, which mines millions of media articles to track consumer trends, highlights steady growth in media discussion of vegan, gluten-free, and paleo diets over the past five years.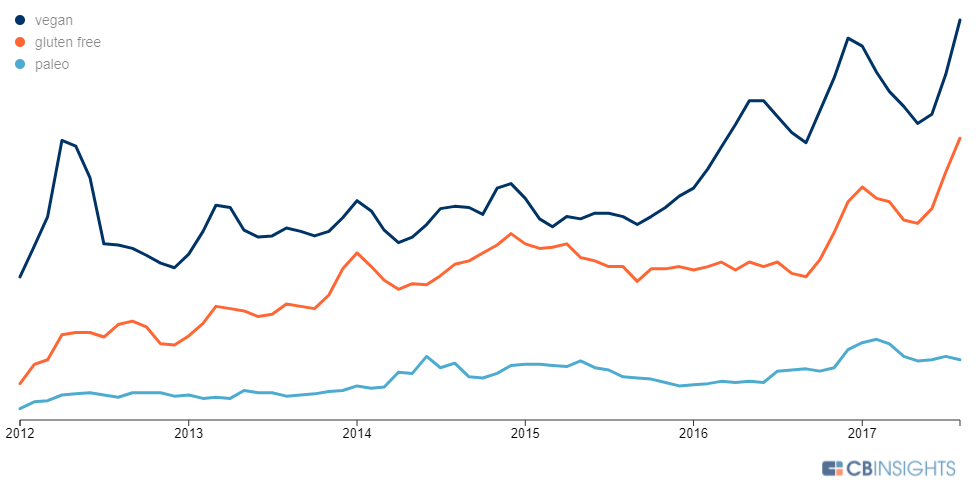 A number of vegan and paleo startups have raised investment this year, including Revere (vegan energy drink powders), Rhythm Superfoods (vegan kale snacks), and Koia (plant-based smoothies). Also notably, new meal kit startups are gaining traction by targeting specific diet tribes. While non-diet-specific meal kit startups such as Blue Apron and Munchery have struggled this year, Sun Basket (which offers vegan, gluten-free, and paleo meals) and Daily Harvest (which sells vegetarian, vegan, and paleo kits for smoothies and soups) have continued to raise funding.
At the same time, consumers are beginning to segment even further, into dietary tribes of one. We're seeing the initial rise of startups that offer at-home DNA testing kits, which users then send to a lab to receive personalized diet guidance, meal plans, and exercise advice. News articles began to discuss DNA-based diet plans in late 2016 — Campbell Soup kicked off the trend by investing in DNA-based diet plan and meal delivery startup Habit in October 2016.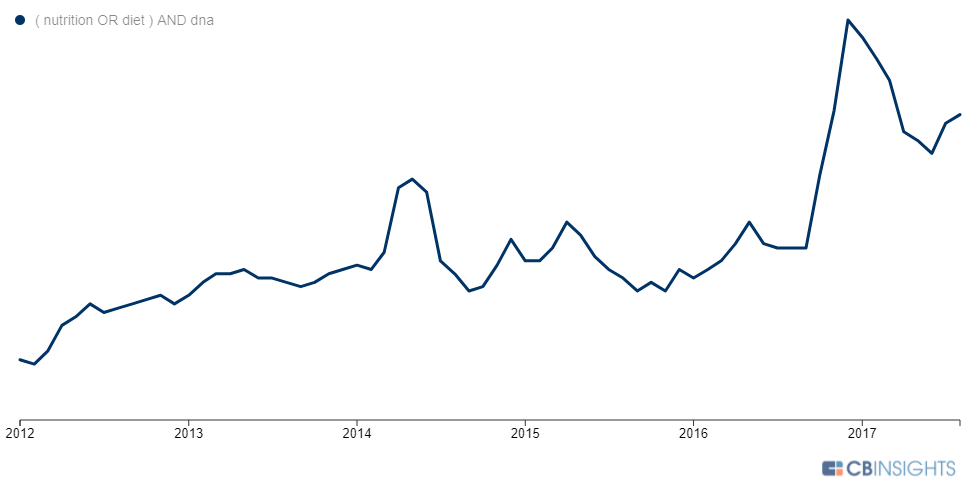 Other DNA-focused diet startups have raised funding this year, including Seattle-based Arivale, which raised $13.6M in June, and AthGene, which raised a $580K seed round in March.
2. Alternative proteins Diversify and attract meat leaders
As consumers have increasingly sought plant protein, we see startups offering new types of substitutes for meat and dairy. Clara Foods, Kite Hill, and Beyond Meat have all raised significant funding for meat and dairy substitutes, among others. Impossible Foods, which uses molecular engineering to craft plant-based burgers, raised $75M this August in one of the largest food deals of 2017, helping the company roll out its burgers to more restaurants.
As these startups multiply, some are pioneering new plant protein types that go beyond nuts or soy. Pea protein, algae protein, and chickpeas are seeing strong early stage momentum. Ripple, for example, has raised $43.6M to create and sell pea protein-based dairy-free milk substitutes, which it already sells in Target, Whole Foods and other stores nationwide. Media discussion of pea protein skyrocketed this year, as the search here shows.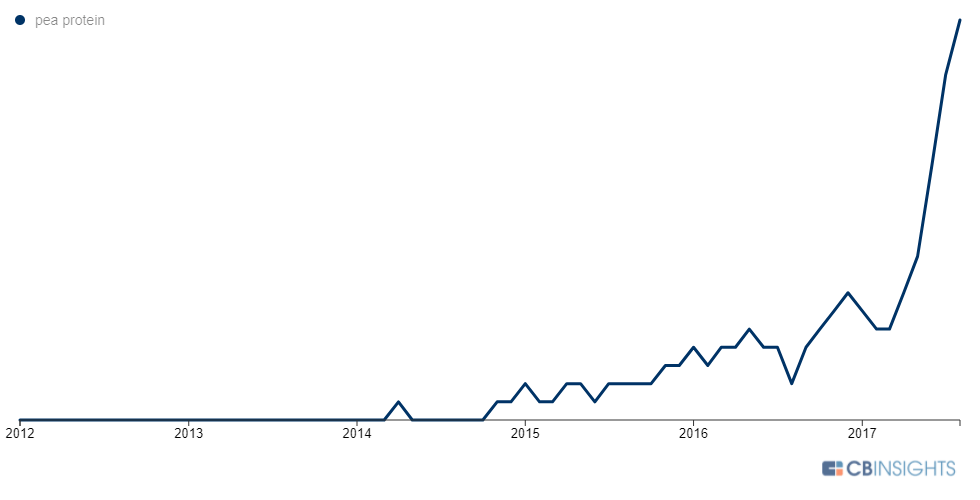 Earlier stage startups are using algae, including spirulina algae, for protein-rich foods and beverages, with early investments in 2017 to Algaria and Alg & You, while Algama expanded its store distribution. Soylent has also used algal protein in certain products.
Other startups raised funding this year to offer high protein foods based on chickpeas, such as Feed, Banza, and Hippeas.
The market map below shows a selection of meat and dairy substitute startups.