If you want to be connected to the ideas and people that are revolutionizing financial services, you need to be at the Future of Fintech.
The full agenda for the Future of Fintech (June 11-13, NYC) is here.
The lineup includes:
1:1 firesides with CEOs/founders of top global fintech companies including unicorns:

Affirm, Palantir, Plaid, Circle, Credit Karma, Oscar Health, & Toss

and public companies:

LendingTree, Green Dot, Citigroup, & Quicken Loans

Discussion with senior regulators including the

Commissioner of the SEC and the Former Chair of the FDIC

Interviews with the next gen of unicorns including: Acorns, Betterment, Upgrade, Cross River Bank, Oriente, & Wefox  

Conversations with leading VCs including:

Homebrew, Ribbit, Commerce Ventures, Bain Capital Ventures, & Nyca Partners
Check out the full agenda here.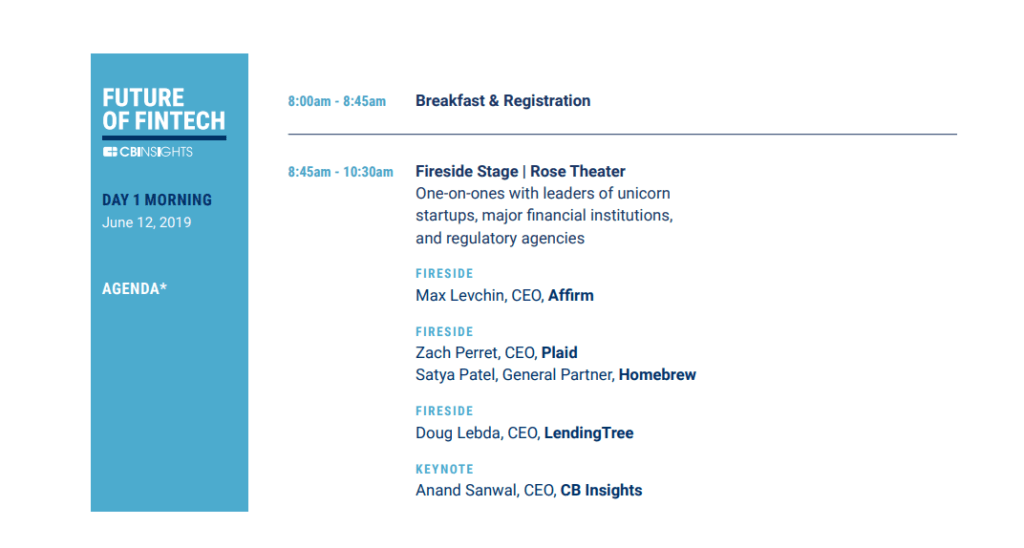 If you aren't already a client, sign up for a free trial to learn more about our platform.