Startups are making home cooking more automated, customized, and health-conscious than ever.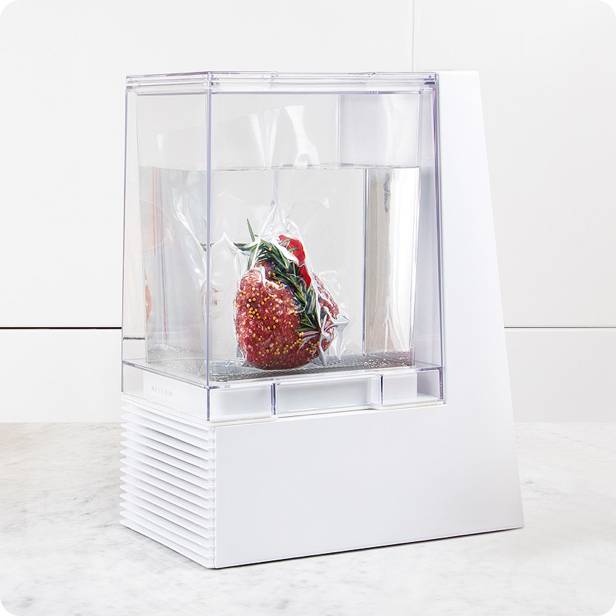 From the invention of the microwave to the emergence of frozen foods, CPG and consumer product companies are always innovating in the kitchen.
But in many ways, the fundamentals of cooking haven't changed in decades. Humans primarily use "regular" ingredients (largely harvested from livestock and plants), ovens, and stovetops to make their meals.
That may soon change, however, as tech begins to infiltrate the kitchen in more disruptive ways than ever before.
Next-generation ingredients, robotic appliances, novel cooking methods, and other technology have the potential to fundamentally change what we eat and how we cook it.
We used the CB Insights platform to identify the startups and technology with the potential to shape the future of cooking.
Table of Contents
A new kind of home 'chef'
Learning to cook takes time and effort … unless you're a robot.
Moley Robotics has created a fully automated, intelligent cooking robot capable of precisely creating meals. The system – which takes the form of an end-to-end, capsule robotic kitchen – is trained via artificial intelligence to "know" recipes, and to execute them using the same movements as a master chef.
In its at-home consumer model, the Moley kitchen is operable either by smartphone or via a touch screen equipped to the system.
Once users select a recipe, the Moley's robotic arms work with a plate of ingredients to prepare a meal – slicing, dicing, and stirring ingredients from behind an enclosed inside glass screen (which slides across the capsule kitchen for safety when the robot is in use).
When not in use, the robotic arms retract into the hood of the unit, away from view.
Of course, robotic kitchens have already infiltrated the restaurant space – with companies like Momentum Machines, CafeX, and Eatsa using robots to automate the food-service environment.
But the systems from those three companies (and others) automate food cooking in an industrial, assembly-line manner. Moley's system, on the other hand, mimics human cooking: The machine's robotic arms perform cooking activities on a regular countertop, and the tactile sensors equipped to the robot's hands behave just like fingers – even switching the stove top controls on or off.
Moley is one of the first robotics companies to bring a humanoid cooking bot to market for at-home use; the consumer version of the Moley is expected to launch in 2018.
With a reported $100,000 price tag, however, the Moley isn't likely to see mass adoption any time soon. But a more limited approach to robotic cooking may become feasible at a consumer-friendly price point with smaller countertop devices.
The following machines are still in prototype, but would likely retail for several thousand USD:
Over time, Nymble intends to deploy that user preference data into an artificial intelligence system and use it to train the device to cook food tailored to a person's individual tastes.
You can see some of Nymble's R&D efforts in the video below.
Notably, each of the robotic innovations above are marketed by their makers as tools for simplifying home cooking to make it faster and easier – not as "disrupting" or eliminating it.
Gammachef, for one, positions its product as a celebration of tasty and healthy homemade food and says it "prepares food just like real people do."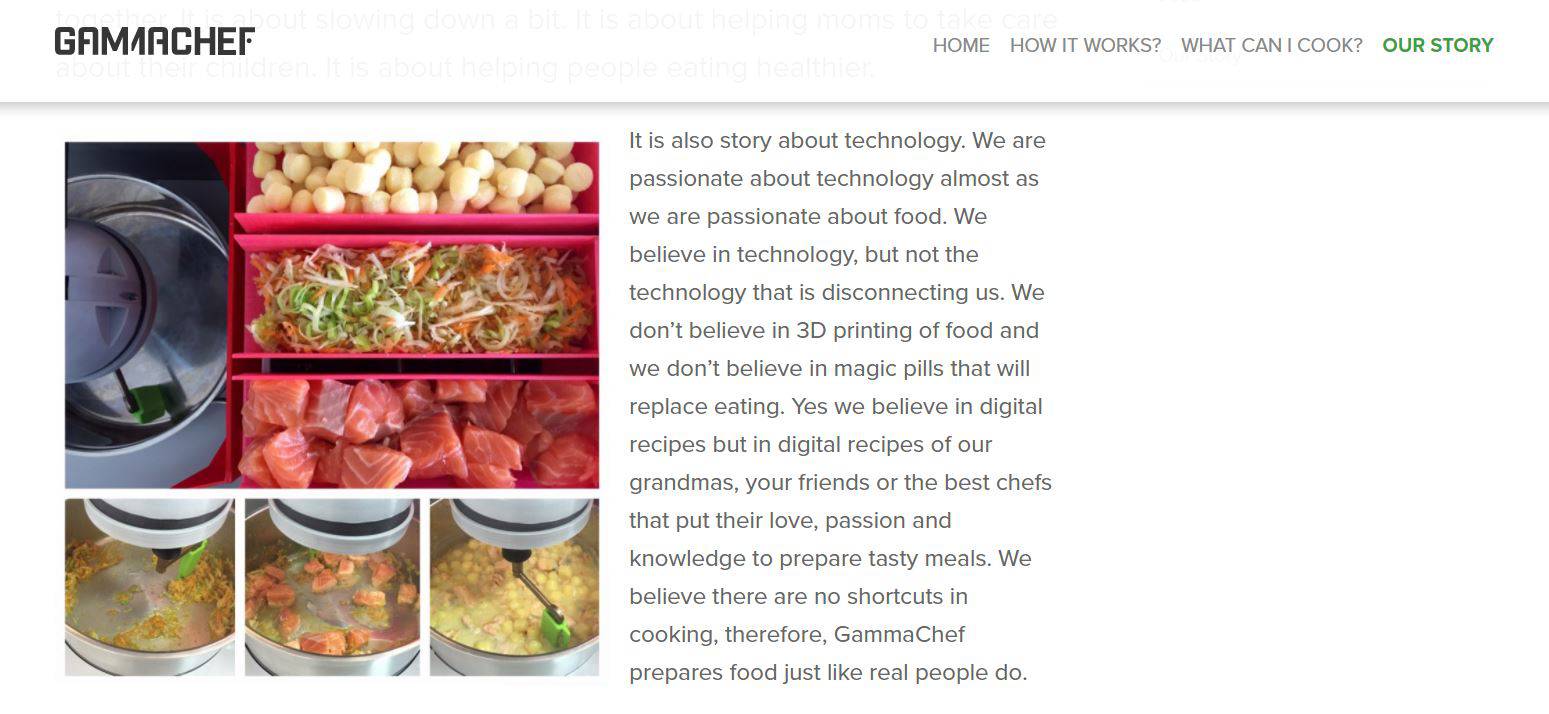 But as Gammachef's copy implies, other kitchen inventions are pushing beyond automating chopping or soup-stirring. They are reimagining what the meal is made of.
Novel (and eco-conscious) ingredients
Startups and established companies have been tinkering with ingredients and developing alternative foods for years, whether they're creating synthetic sweeteners and flavorings or "replacement foods" like Soylent.
New ingredients are gaining traction on grocery store shelves – many with an emphasis on plant-based ingredients or "trending" spices and flavors.
Among food startups that raised funding in the last 2 years, for example, we have seen a focus on flavors like Moringa, Maca, and Monkfruit (all stemming from South America and Southeast Asia).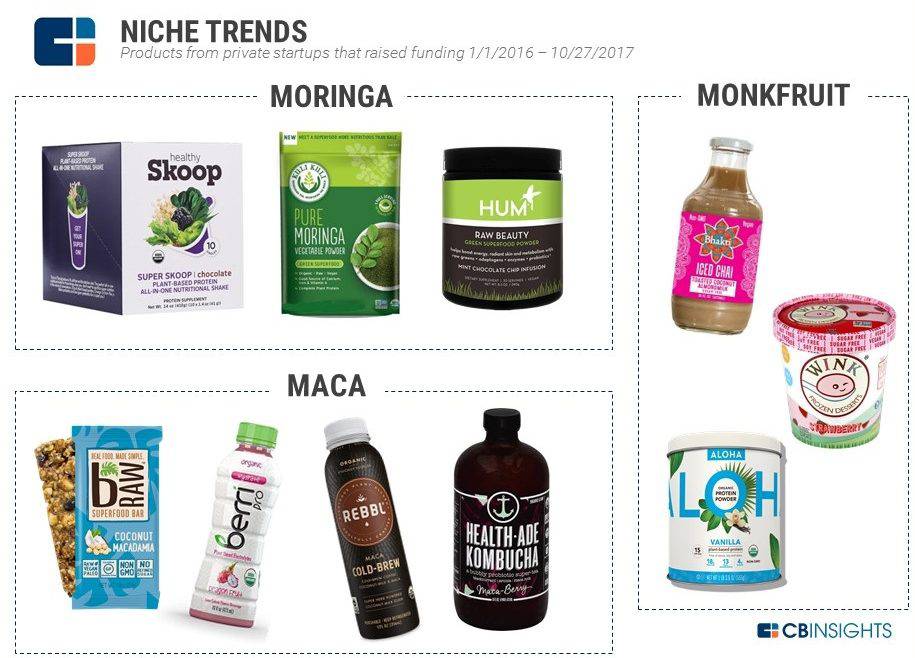 Beyond using more niche flavors and unique spices in products, some startups are aiming to replace the protein most of us get from livestock with protein from a less expected source: Insects.
Insect-based proteins are touted as a healthier and more sustainable alternative to animal proteins, since insects can be grown in more humane, energy-efficient conditions than livestock.
You can already buy cricket-based snacks from startups like Six Foods and Chapul at health food stores.
In addition, these startups are working to make insect-based versions of common ingredients:
There's even a company helping you breed and harvest your own protein source on your countertop. The Hive ($579), from startup Livin Farms, is an all-in one solution for growing "healthy, delicious and sustainable mealworms in your home."

But it's not just insects that offer an alternative protein source. Researchers and tech companies are also working to develop engineered ingredients that can replace animal protein sources entirely.
Engineered food
Researchers in the growing field of cellular agriculture are going even further by producing agricultural products from cell cultures.
New Harvest, a leading 501c(3) research institute in the space, is funding university researchers who are creating things like milk, eggs, and meat using organic protein and fat molecules, rather than relying on any living or (once-living) cells.
To do so, researchers are replicating organic biological processes.
Take milk, for example:
Milk is usually made by keeping female cows in a lactating state, but it can also be "brewed" at the molecular level using genetically altered yeast: By inserting the DNA blueprints for casein, a milk protein, into the yeast microbe, the yeast can produce casein that's identical to the casein that cows make.
Similar processes extend into the production of "cultured meat." Cultured meat is produced in the lab using cell cultures: Scientists can extract a small number of normal cells from a chicken (or other farm animal) and allow them to naturally multiply in vitro, in petri dishes, while soaked in nutrients.
After the cells multiply, scientists can expose them to additional nutrients and manipulate properties like their size and protein content. The resulting cells can then be harvested, seasoned, cooked, and consumed just like any other boneless, processed meat.
And as the video below explains, "farming" cultured meat is simpler and less resource intensive than traditional livestock farming.
According to New Harvest, another exciting aspect of cellular agriculture is the ability to design and fine-tune what you are making – for instance, making meat with fewer saturated fats and more unsaturated fats, milk without lactose, or eggs without cholesterol.
And with the help of some novel food production and cooking methods discussed below, you may be able incorporate more of those fine-tuned, customized foods into your personalized diet.
Next-gen cooking methods & tools
For those still looking to cook the old-fashioned (robot-free) way, AR/VR technology offers a new way to learn to cook like a master chef.
Augmented reality apps developed using Apple's ARKit, for example, could allow you to read cookbooks virtually via headset. In virtually reality, you could watch cooking tutorials or see how the compenents of your "future" dish will come together (as in the 3D video demo below, which shows the layers of a banana-toffee pie coming together).
For those not as interested in using AR/VR to learn the cooking fundamentals, new cooking gadgets are changing what can be done in a home kitchen. One such change: Bringing sous vide cooking (which today happens primarily in the restaurant setting) to your countertop.
Sous vide (French for "under vacuum") is a cooking method in which food is vacuum-sealed and placed in a water bath for longer-than-normal cooking times – usually 1 to 7 hours – at regulated temperatures much lower than normal cooking heat. The aim is to retain moisture while cooking the item evenly, ensuring that the inside is properly cooked without overcooking the outside.
Sous vide devices have been available to home cooks for some time, but most are offered as "immersion circulators" that largely supplement traditional stovetop cooking.
But some tech companies believe sous vide cooking could provide an automated avenue for end-to-end meal creation in the same manner as a crock-pot.
Mellow is a "kitchen robot" offering many of the same benefits touted by companies like Gammachef and Nymble – including in-app recipes, wireless device control, and AI "understanding" of your taste preference over time – but with sous vide cooking built-in.
With Mellow's system, home cooks can tell Mellow (via app) what you want to cook and how you like it prepared. Once the user loads the machine with ingredients, Mellow knows what to do from the moment the food is placed inside the water bath.
What differentiates the Mellow from other sous vides is its refrigeration function: Mellow's cooling allows food to be stored in the device instead of a refrigerator until you're ready to cook it. The device also features a weight sensor for detecting the precise cooking temperatures and times needed. (The Mellow can be ordered online for $399.)
Smaller standalone sous-vides have also been brought to market by startups like Nomiku and Sansaire, though neither features the refrigeration functionality.
IXL Netherlands B.V., on the other hand, uses the sous vide approach as inspiration for an entirely new method of cooking food.
The e-Cooker device, which resembles a toaster, has different compartments (of different sizes) that work independently of each other and can be preprogrammed to cook at different "field strengths" of electronic pulsing.
The device is currently being used in a variety of food research applications; IXL says it's cooking method better preserves the "nutritive value and the original flavor, color, structure and taste" of food better than traditional heating methods do. (Click the image at right to learn more.)
With further research, the e-Cooker's PEF concept could become an altnerative to the microwave … unless 3D food printing eliminates the "cooking" piece of home-cooking entirely.
On-demand food personalized for you
As with robotic cooking, 3D food printing has already made its way into commercial kitchens. For example:
But as BeeHex's video points out, the real value of 3D food printing lies in customization: The founders envision a future in which someone with the BeeHex app could order a pizza, right from their seat at the ballpark, with custom ingredients, toppings, or other specifications, which could ultimately extend to meeting individuals' unique dietary restrictions.
As people's dietary restrictions have increased, the trend toward personalization in food has already gained traction. In recent years, a growing body of research has shown that certain foods affect people in remarkably different ways: A dish might cause a spike in glucose levels for one person, but leave them unchanged in another. The caloric intake processed might even depend on one's genetic makeup.
Mindful of that, you can already get a customized meal delivery subscription from Habit – which crafts personalized diets based on at-home DNA testing results.
3D food home printing would allow people to take even more control over what they choose to eat and the components included in it.
BeeHex is not the only startup developing 3D food-printing tech.
Natural Machines has marketed the device in part as a way to get kids to eat healthy foods in fun shapes. The Foodini is not yet available for purchase, but is expected to retail for around ~$1,500 for the home once it comes to market.
Its functionality, however, may be limited: In prototype, the Foodini was capable of working only with pre-pureed food, and could heat ingredients but not cook them all the way through; the company has said it is working on a device that will be able to cook and "produce a three-course meal."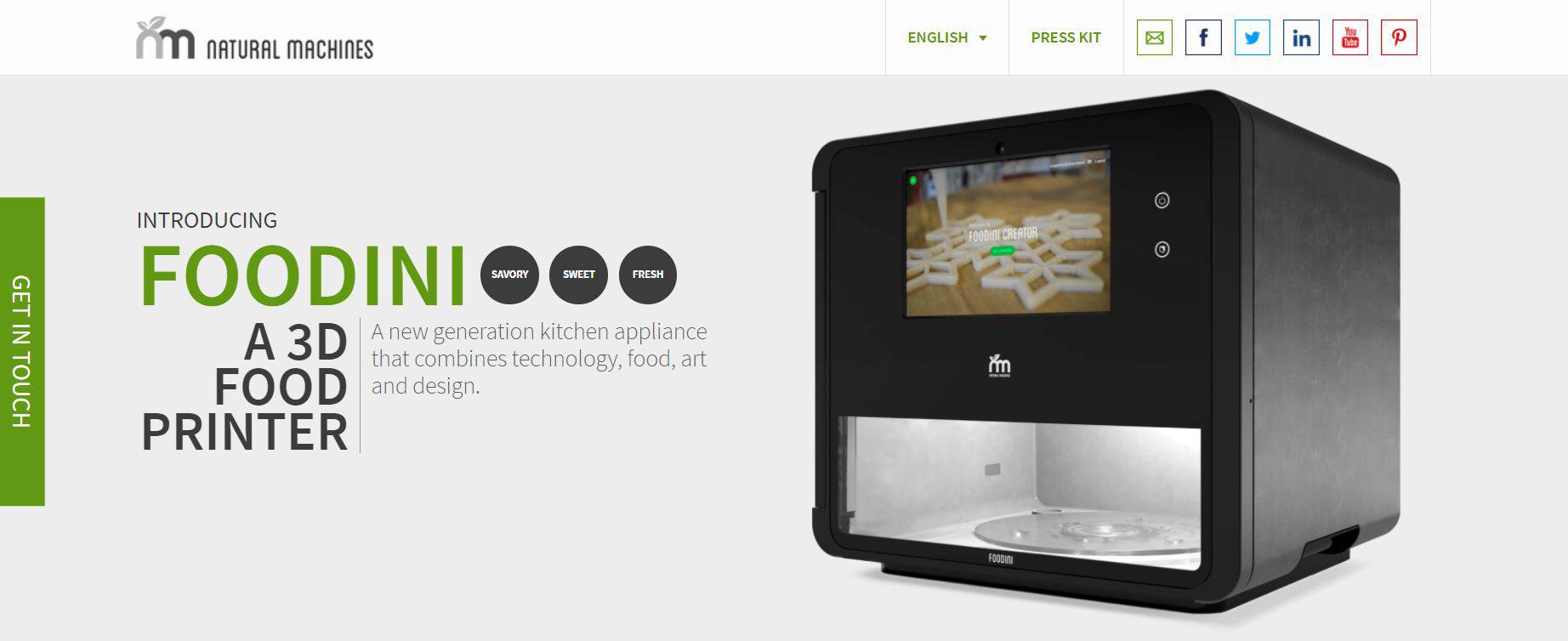 3D printers that can create easily customized meals in varying shapes, consistencies, and textures is proving valuable well beyond ballpark pizza.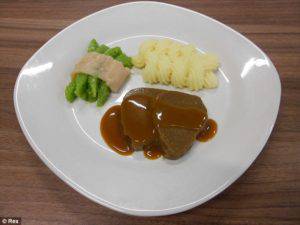 Similar to how fun shapes can make healthy fruits and veggies more palatable to kids, 3D-printing pureed foods into more appetizing shapes can make can make them more appealing to dementia patients. Some nursing homes in Europe are already doing this with so-called "smoothfood," pictured at right.
A 3D printer in your home could likewise make it easier to feed loved ones with unique health concerns or dietary restrictions.
In more futuristic applications, 3D printers will even support specialized diets based on novel foods and ingredients aligned with your nutritional needs or preferences – ranging from iron deficiency to vegetarianism to gluten-free dieting.
Nano-cellulose is a natural, edible, calorie-free fiber that can act as a binding agent, similar to starch, in food. Using nano-cellulose as a core cooking material allows for additional food components (like proteins, carbohydrates, and fats) to be "self-assembled" into the food during printing and cooking.
Yissum says their technology can also control the texture of 3D-printed foods and "cook, bake, fry, and grill while printing at the three dimensional space," which could make it the first all-in-one platform for home cooking without actual cooking.
"The ability to automatically prepare, mix, form and cook personalized food in one device, is a truly revolutionary concept. The idea is to enable full control of the substances used, for the purpose of creating healthy and tasty meals that can be eaten immediately."–Yaron Daniely, Ph.D., President and CEO of Yissum
The kitchen won't be obsolete
Even as cooking has been on the forefront of technology adoption throughout history, the home kitchen has remained an important incubator and vessel for traditions. And whether it's passing down family recipes or giving countertop appliances as wedding gifts, we're not abandoning our collective appreciation for cooking culture any time soon.
Just as the microwave once seemed foreign and industrial, it quickly became mainstream and facilitated another cultural transformation that still kept the kitchen central to family life.
While robot chefs and 3D printed food may sound dystopian, some of these inventions will likely become commonplace. Eventually we will adopt new traditions and behaviors around these inventions, just as we did with the microwave. But these behaviors will likely still keep cooking — in whatever new tech-enabled form — central to our lives.
If you aren't already a client, sign up for a free trial to learn more about our platform.