Luxury is finally getting its tech upgrade. From renting designer clothes to personalized products and lab-grown diamonds, we look at 7 trends that are reshaping the luxury sector.
For years, incumbents in the luxury industry have shunned tech innovation, refusing to even sell products online. But luxury-focused e-commerce startups like FarFetch and Moda Operandi have changed the relationship between luxury consumers and brands by successfully building online retail businesses.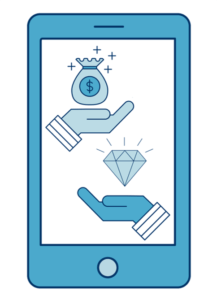 Now incumbents are beginning to move online and compete with these startups, adopting luxury-specific technology tools to improve their marketing and distribution.
Paris-based luxury conglomerate LVMH has been particularly active over the past year, building a multi-brand online shop, launching a $50M+ venture fund dedicated to emerging luxury brands, and starting a Luxury & High-Tech program with Paris-based incubator Station F.
The French company and its peers have also partnered with a number of startups offering everything from lab-grown leather to augmented reality mirrors to AI-based luxury goods authentication.
As corporate activity accelerates and startups targeting the luxury sector emerge, we look at 7 trends that are reshaping the luxury industry:
---
1. Incumbents follow startups online
Until recently, luxury companies have shied away from selling online, hoping to preserve their brands from being perceived as mainstream. Stefano Cantino, strategic marketing director at Prada, said in 2015:
"Considering the level of sophistication and image of our ready-to-wear, we feel the shopping experience has to remain immaculate and in-store."
Prada has changed its mind since then, making its ready-to-wear collection available on select luxury e-tailers in 2016 and announcing the launch of its own online shop in China in Dec'17. The Italian luxury house is now planning to roll-out its e-commerce platform globally by the end of Jan'18.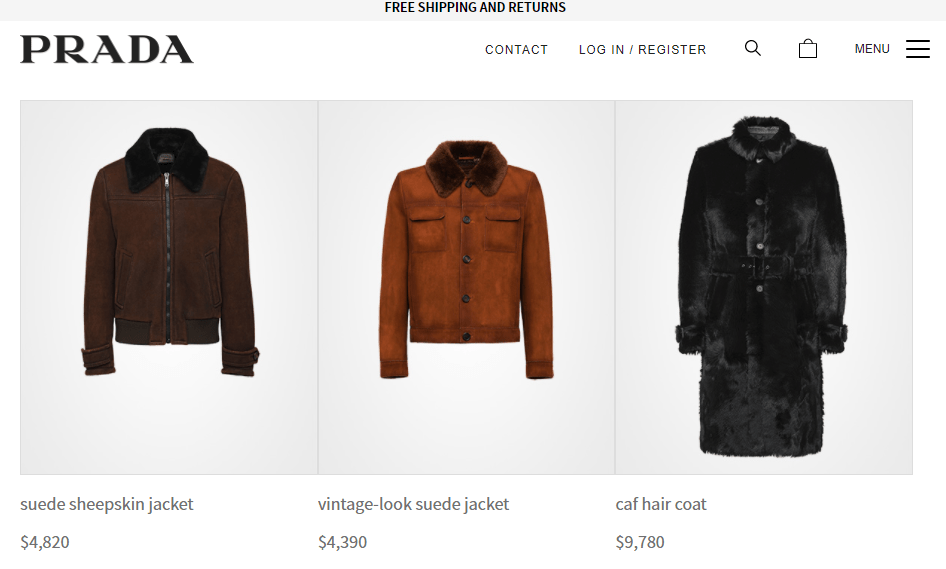 Prada isn't the only global luxury company to move online: LVMH launched its multi-brand online shop in Jun'17 and shortly followed with an e-commerce platform for its wines and spirits brands. This occurred a year after the French luxury group said no to doing business with Amazon.
This strategic shift is being driven by the rise of luxury e-tailers like FarFetch and the success of new luxury brands selling their products online. Both reflect a change in consumers' expectations: being able to shop luxury products 24/7, anywhere in the world.
Unlike old-school luxury retailers, new luxury brands such as NY-based fashion label Maiyet ($39M total funding) and Paris-based Dymant have offered online shopping from the outset. Maiyet sells its clothes and accessories on its online shop as well as through high-end e-tailer Net-a-porter. For these brands, craftsmanship and unique in-store experience are not mutually exclusive. With few or no physical stores, they focus on the quality of their products, often by promoting the artisans making them.
With soaring luxury online sales comes demand for a better e-commerce experience. Startups like California-based Cappasity are using new technologies to make online shopping more appealing. Cappasity's solution allows its clients — including luxury group Kering and jeweler Swarovski — to create 3D images of their products for users to get 360° views. The startup also offers AR/VR experiences, allowing users to walk around a virtual store and see the 3D versions of the products using a VR headset.
As startups take advantage of e-commerce while putting the emphasis on craftsmanship, luxury houses are cautiously adopting similar practices. If the recent online shops' initiatives are deemed successful, we could see an uptick in investments in startups helping brands create better online experiences. For instance, LVMH Luxury Ventures made its first investment in streetwear and sneaker e-commerce website Stadium Goods in Feb'18.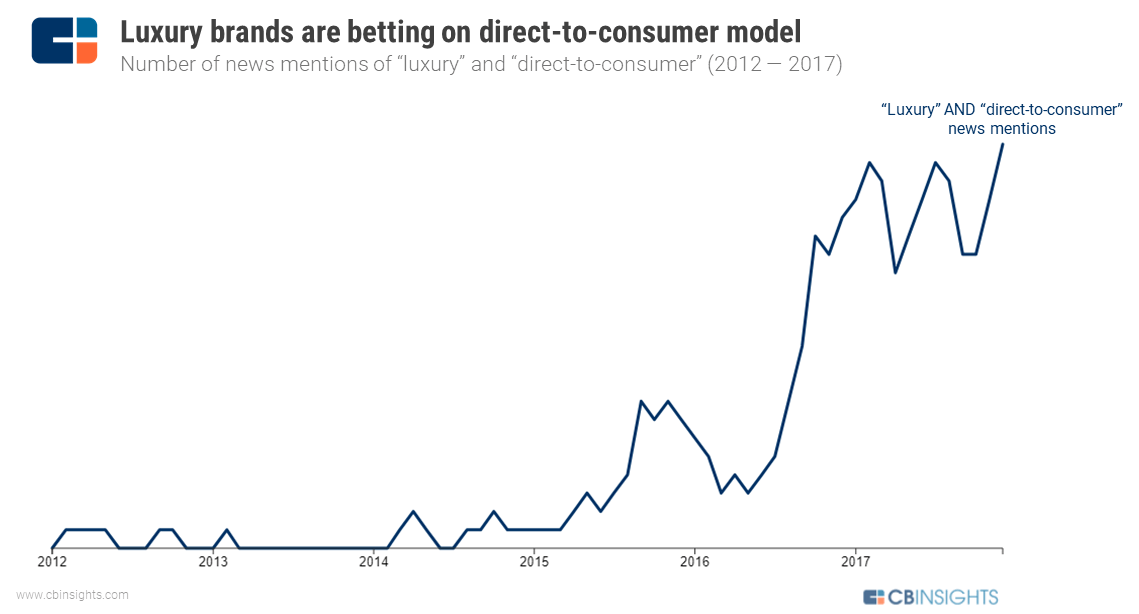 ---
2. Renting luxury goods: a new frontier for incumbents?
Over the past 10 years, startups offering to rent out luxury products have emerged, aiming to replace ownership with access.
Among the disruptors, NY-based Rent the Runway is the most well-funded, with a warchest of $176M used to develop a platform on which users can rent luxury clothes and accessories such as handbags and jewels on a monthly basis. With its millions of members — 6M at the end of 2016 — and over $100M in annual revenue in 2017, Rent the Runway is rumored to be preparing for an IPO.
At the same time, similar startups have received funding over the past year, including $20M raised by Eleven James, a luxury watch subscription platform, and $7M invested in jewelry subscription startup Flont.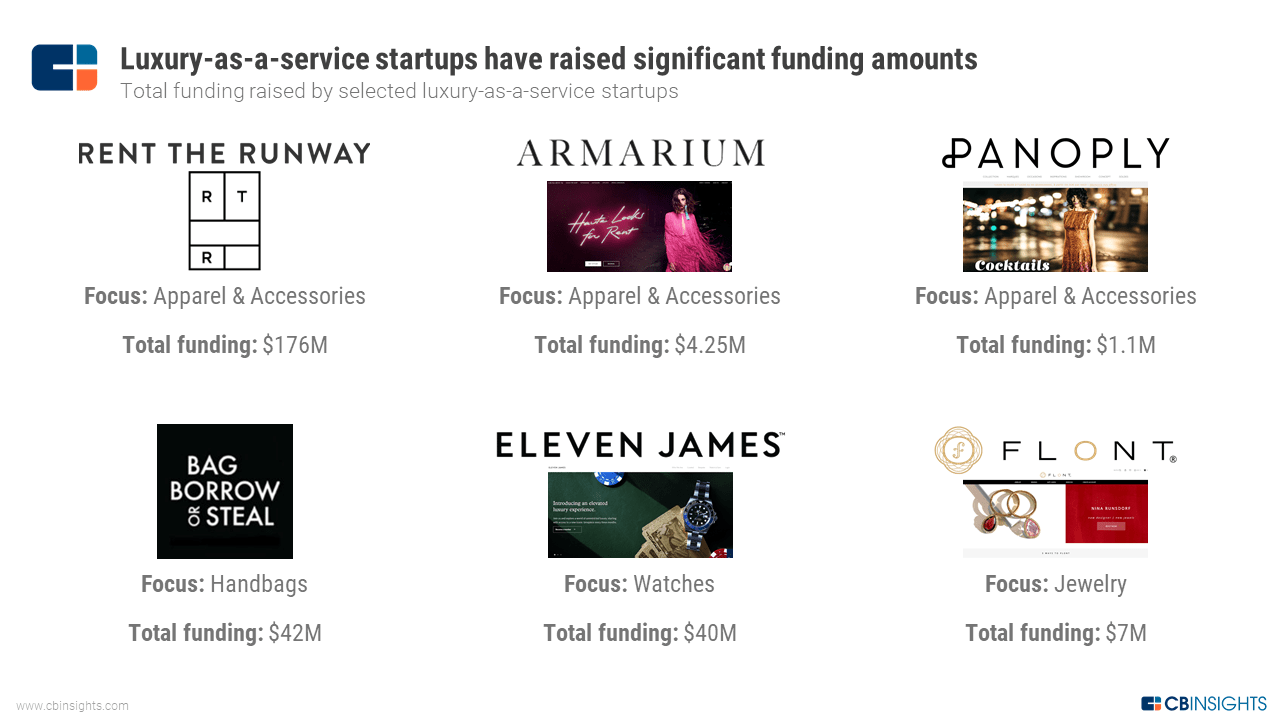 By promoting a business model based on access rather than ownership, these startups are offering luxury products for a fraction of the cost with added flexibility. As we noted in our 15 Trends Shaping Tech In 2018 report, this model is gaining popularity across mutliple industries including car-markers — Porsche launched a luxury car subscription service in Nov'17.
If the luxury-as-a-service model attracts enough customers, luxury companies might consider launching their own subscription services to gather more data on their customers and create customized experiences to improve brand loyalty.
While luxury companies may need time to assess their recent e-commerce initiatives, a move towards a subscription model could be bad news for startups in the space. If luxury conglomerates — operating several brands — manage to preserve their brands while creating top-notch subscription services, including access to select items and exclusive events, they may succeed in getting a significant edge over Rent the Runway and others.
---
3. upgrading the In-store experience
Luxury companies have historically used customer experience, and more particularly in-store experience, to distinguish themselves from mainstream brands.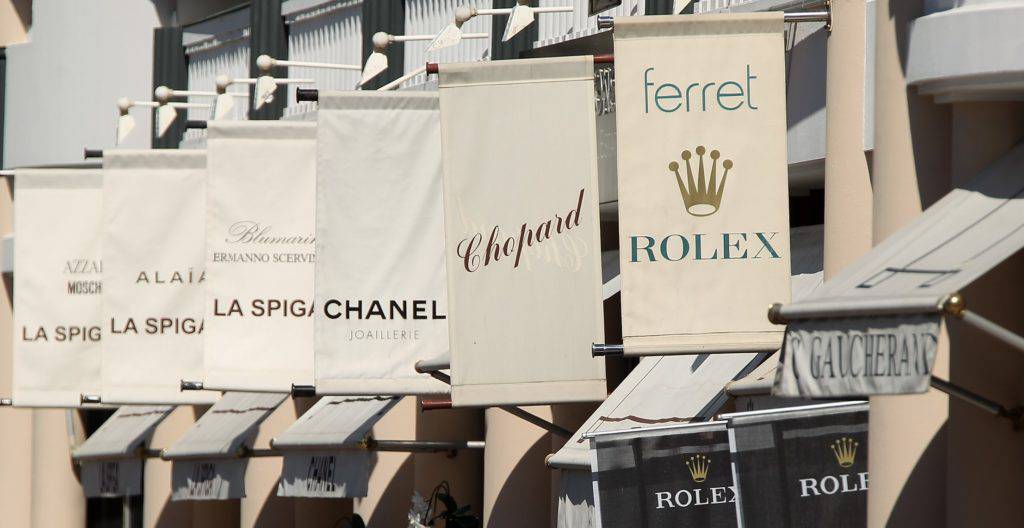 Although global luxury companies have finally moved online, stores are still where customers connect with the brand through private shopping sessions, personalized styling, and top-notch customer service.
Retail and wholesale also remain luxury brands' main distribution channels, generating 10x more revenue than online shopping according to Bain.
Upgrading the in-store experience using newly available technologies is both an opportunity and a challenge for luxury brands which pride themselves on crafts and traditions.
Startups are developing solutions to integrate new technologies such as AR/VR in luxury stores, including smart mirrors like the one developed by MemoMi Labs.
MemoMi Labs has created the Memory Mirror, which uses augmented reality to allow users to virtually try on and change the color of new items as shown in the patent application below.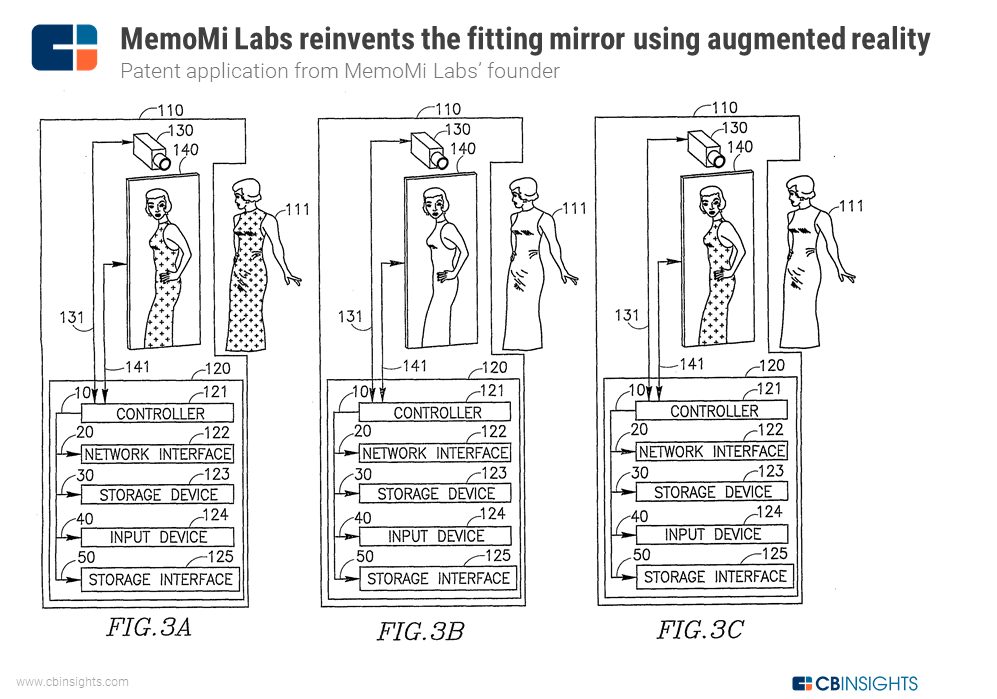 The company recently partnered with beauty tech startup Modiface to offer makeup, skin, and hair product visualization to shoppers in addition to its fashion features. MemoMi Labs has already installed its Memory Mirror in Neiman Marcus stores and counts LVMH and L'Oreal as clients, among others.
On a related note, luxury fashion e-tailer FarFetch unveiled its "Store of the Future" concept in Apr'17.
It has already developed a number of applications, including a universal login used by customers to check-in when they enter the store and allowing sales associates to access information about them, as well as a connected clothing rail which links picked-up items to the customer's mobile phone.
Some startups have also developed solutions to capture in-store data, helping brands gain insights about customers' behavior. For instance, Euclid Analytics tracks smartphone signals across the store to help its clients understand how customers move inside the store. The company is backed by Groupe Arnault, the controlling shareholder of LVMH.
Adding AR/VR, sensors, and connected objects to stores may be part of the solution for luxury companies to attract more customers to their stores and convert them into buyers.
As an early adopter of new technologies such as interactive screens, London-based Burberry appears to be reaping the benefits. The company grew retail sales 4% YoY during the first half of its 2017 fiscal year, excluding new stores opened during the same period, after having seen declining sales in the prior 12 months.
---
4. personalizing luxury goods online
While luxury companies have historically offered bespoke services, emerging luxury brands are now taking them online.
These new companies are offering customers the ability to customize their order on their online shops, which also allows them to capture data about customers' preferences, then deliver these customized products in a minimum of time — generally a few days to a couple of weeks.
Among the startups offering personalization options, New York-based startup Hawthorne Lab raised $2.3M last year to offer tailored fragrances for men based on the customers' diet, body temperature, and work environment, among other parameters. Similarly, 1Atelier ($1.5M total funding) allows customers to customize the color and hardware of their leather handbags.
London-based startup Unmade ($3.1M total funding) has developed a solution to personalize knitwear clothes. Unmade maps garments, allowing customers to choose among a pre-defined number of options as illustrated by the video below. The orders are then sent to the factory and grouped according to the degree of similarity in order to make the production as fast and cheap as possible.
Luxury houses such as Fendi are also turning to online personalization. The Italian luxury house owned by LVMH teamed up with luxury e-commerce platform FarFetch to launch its online customization service "Customize It." This service allows customers to choose among 120 different combinations of a Fendi bag, which they can order either on Fendi's online shop or on FarFetch's e-commerce platform.
While online shopping makes it easier and more affordable for luxury brands to offer personalization features, fully tailored items remain the priority of traditional luxury houses such as Hermès. The French company offers full bespoke services in-store through its Le Sur-Mesure division, allowing customers to request anything from private-jet refitting to tailor-made leather accessories that will be produced by Hermès' team of artisans.
The emergence of new manufacturing technologies such as 3D printing and robotics may help increase the number of customizable parameters, but could be a risky bet for luxury brands promoting craftsmanship as their luxury component.
---
5. new eco-friendly luxury materials
With consumers growing more and more aware of the impact their consumption habits have on the environment, startups focusing on producing sustainable goods, such as lab-grown meat companies, have emerged.
The luxury industry has also grown more conscious of this trend, as evidenced by the rise of ethical fashion brands such as previously mentioned Maiyet. At the same time, startups providing eco-friendly alternatives to traditional raw materials have emerged, offering animal-free leather and lab-grown diamonds, among other materials.

While some early-stage companies are producing plant-based leather such as the pineapple leather developed by ananas anam, Sequoia Capital-backed Modern Meadow has raised $53.4M in total funding to produce animal-free lab-grown leather. The startup grows collagen using living cells and tans the assembled collagen sheets to produce lab-grown leather.
Lab-grown is also the production process chosen by Diamond Foundry, a diamond startup which aims at providing an ethical and eco-friendly alternative to mined diamonds.

The California-based company uses a high-temperature, high-pressure reactor to simulate the way diamonds are formed in the Earth's mantle, thus avoiding common issues faced by the traditional diamond mining process such as pollution.
As new sustainable materials emerge and gain in popularity, luxury houses may be pressed by customers to communicate even more about their supply chain and favor these materials over traditionally animal-based and mined products.
---
6. startups make luxury goods Authentication easier
The OECD estimates that $461B worth of fake goods are imported each year, making it an attractive market for companies providing ways to authenticate products.
Although the luxury industry is not the only sector affected, the development of online shopping platforms and marketplaces dedicated to second-hand luxury goods has changed the way counterfeit goods are being sold.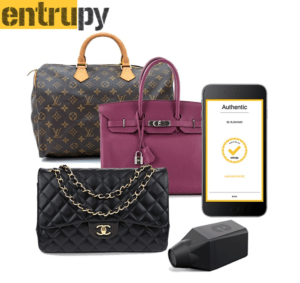 In order to fight fraud and counterfeiting, startups such as Cypheme, Red Points, and Entrupy are using artificial intelligence to help brands identify fake goods.
While Cypheme ($1.3M total funding) uses a microstructured paper tag that can be scanned using a smartphone, Entrupy ($2.6M total funding) has developed a device and dedicated app to take pictures of a product and get real-time results regarding its authenticity.
Spanish startup Red Points has adopted a different approach, as it allows clients to scan marketplaces and detect infringements. Red Points uses artificial intelligence to recognize fake products and to refine searches on marketplaces.The company has recently raised a $12M Series B round to fuel its international expansion and claims 300 customers by the end of 2017, including watch brands MVMT and Paul Hewitt.
Blockchain is another promising technology for authentication. London-based startup Block Verify uses it to label each product with a tag that can be read using mobile devices to verify its origin and authenticity. All the relevant information related to the tagged product are recorded on the blockchain.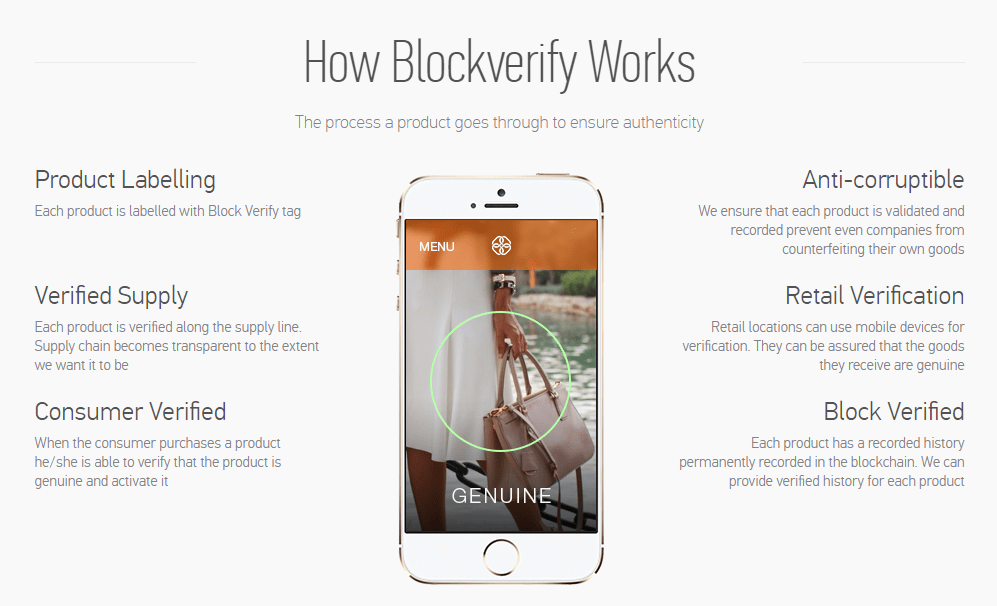 ---
7. blockchain makes investing in luxury assets easier and cheaper
Buying and holding luxury goods has become an attractive alternative to the stock market.
This type of investment is primarily driven by the scarcity of some luxury goods combined with rising demand, resulting in high investment returns. For instance, classic cars prices are up 457% over the past 10 years according to Knight Frank while lucky owners of Birkin bag saw their purchase generating an annual return of 14.2% over the past 35 years, according to Baghunter.
Despite luxury goods offering high returns, wealthy individuals represent the majority of investors due to high entry price and low liquidity resulting in difficulties to match buyers and sellers.
A new generation of startups is using blockchain technology to certify the authenticity of luxury goods, split their ownership into several shares, and provide a marketplace to trade these shares, making luxury investments cheaper, easier, and more secure.
By doing this, they are opening the luxury goods market to less wealthy individuals.
While some of these blockchain startups such as CEDEX and BitCar focus on a single type of asset — diamonds and luxury cars, respectively — Switzerland-based Tend is planning to offer a multitude of assets in which to invest such as vineyards and luxury watches. All three are still very early-stage and planning to raise several millions of dollars through initial coin offerings this year.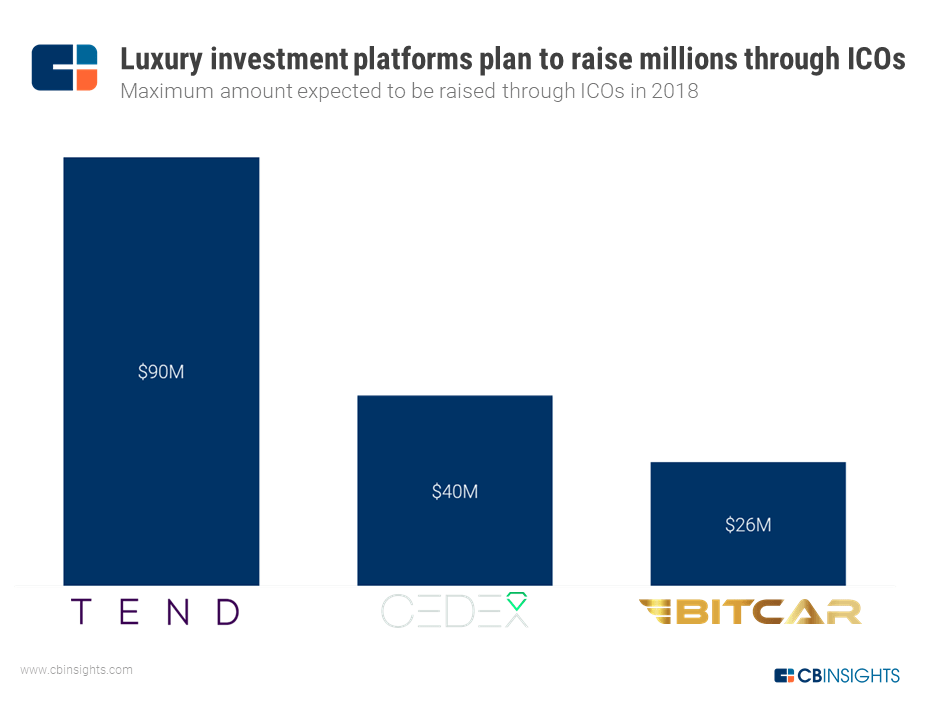 Tend plans to use the blockchain to split individual luxury assets into asset tokens — the equivalent of shares — certifying the authentiticy and ownership of the asset while making it tradable on the Tend platform.
In addition to making co-investment and co-ownership easier, the startup would also take care of maintenance, insurance, and storage on behalf of the investors.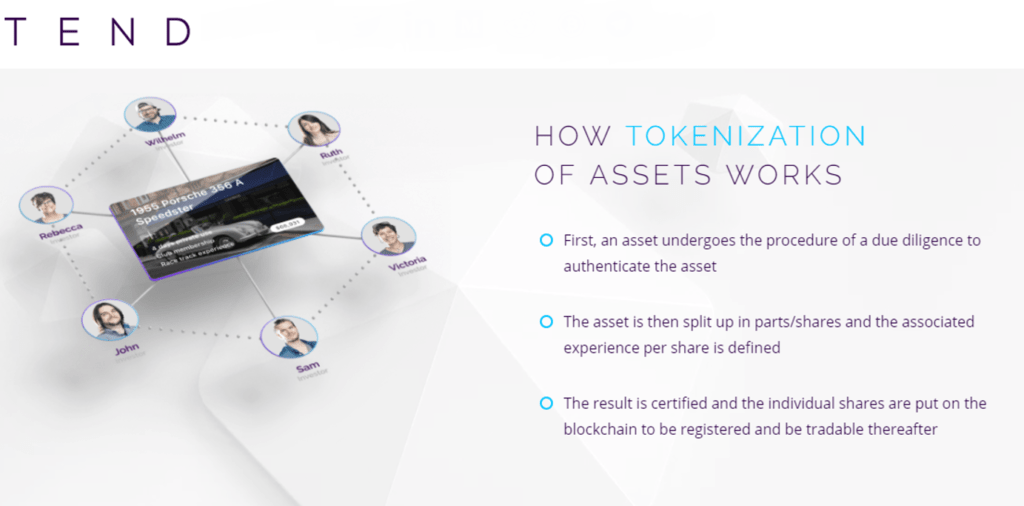 While trades happening on the Tend platform will initially be settled in government-backed currencies such as US dollar or Swiss franc, CEDEX is planning to use its own cryptocurrency, the CEDEX Coin. CEDEX is an Israel-based startup that aims to create an exchange for diamonds, allowing participants to buy and sell individual diamonds, shares of a diamond, or a basket of diamonds.
If these startups succeed in making luxury investments more accessible and secure, we could see a significant number of investors entering the market and potentially driving prices of luxury assets further up.
If you aren't already a client, sign up for a free trial to learn more about our platform.