Automated local fulfillment hubs placed in residential neighborhoods could help reduce the cost and increase the speed of last-mile delivery.
Last-mile logistics startup Boxbot has recently come out of stealth mode, announcing its plans to launch an end-to-end automated last-mile delivery system.
What's included in the system? Automated local fulfillment "hubs" and autonomous last-mile delivery vehicles.
Specifically, Boxbot wants to place automated fulfillment centers in residential neighborhoods near consumers.
The fulfillment hubs would automatically sort packages and load Boxbot's vehicles, which would include driverless delivery vehicles, with the goal of increasing efficiency in last-mile delivery.

If some of this sounds familiar, it should.
We've discussed the concept of micro-fulfillment (tiny urban robotic warehouses) as a way to reduce the cost of last-mile delivery across our research.
We've also published research on autonomous last-mile delivery — TL;DR, supermarkets are piloting with driverless robots to deliver groceries and food.
While micro-fulfillment and autonomous last-mile delivery have developed as independent trends, they both have the same end goals: to reduce the cost and increase the speed of last-mile delivery.
It's important to recognize that Boxbot's system essentially combines both of these concepts into one seamless operation.
This matters because it provides a concrete example of how disparate trends across logistics, e-commerce, warehousing, and retail may coalesce in the future.
Coincidentally (and conveniently), CB Insights just published The Store Of The Future report — in it, we visualize and explore what physical retail may look like 2030.
… and if you were wondering, we do indeed include a micro-fulfillment center and autonomous last-mile delivery hub in-store (see below).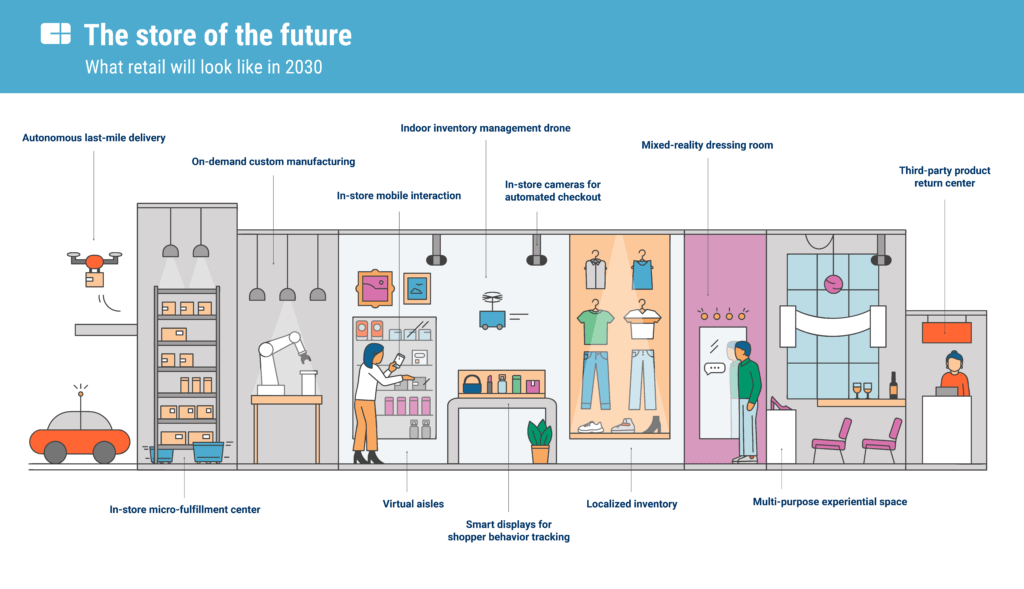 If you're a client, and you'd like to read more of this client-only report, please click here.
Unfortunately if you're not a client, no more for you!
Just kidding, we're not that mean, we've published a small preview the report's most interesting insights here 🙂
If you aren't already a client, sign up for a free trial to learn more about our platform.