From direct-to-consumer sofas to furniture rental platforms to smart tables, these startups are disrupting the traditional furniture space.
Competition is heating up in the furniture space, and retailers are already feeling the pressure.
Furniture retailer Heritage Home filed for bankruptcy last month, while Mattress Firm — the largest US mattress retailer — could be considering a similar path, according to recent reports.
Both have missed out on the e-commerce trend, but a handful of others have seized the opportunity.
Amazon, for example, sold $4B worth of furniture in 2017, up 51% from the previous year according to eMarketer. The e-commerce behemoth also launched two new private label furniture brands in Nov'17.
Additionally, online home-goods retailer Wayfair generated revenues of $1.6B in Q2'18 alone, up 49% year-over-year.
Furniture Tech startups
New furniture and interior design startups are emerging, from direct-to-consumer sofas and mattresses, to 3D furniture visualization tools, search & discovery platforms, and more. Look for furniture tech companies in the Collections tab.
Track furniture tech startups
Startups have also entered the space, offering direct-to-consumer dinnerware, customized 3D interior design planning, and connected tables, among others.
We used the CB Insights database to identify 65 startups disrupting the furniture space, from direct-to-consumer brands to peer-to-peer marketplaces.
Please click to enlarge.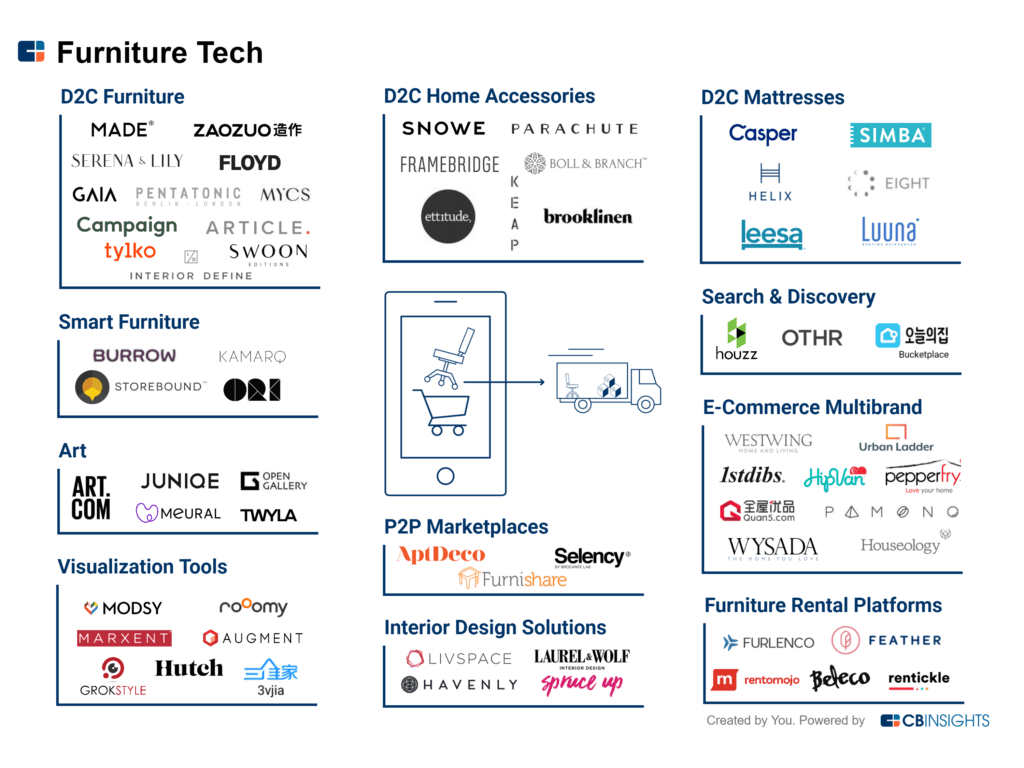 This market map includes private companies only and is not meant to be exhaustive of companies in the space. Categories are not mutually exclusive. 
Clients with access to expert collections can download and edit this Market Map using our Collections tool here.
CATEGORY BREAKDOWN
D2C Furniture: These startups are selling their own brands of furniture online. Companies include MADE.COM, which sells high-end design products, and Floyd, producer of flat-pack tables and bed frames.
D2C Home Accessories: Companies in this category use the direct-to-consumer model to offer custom frames (Framebridge), bed sheets & towels (Parachute Home and Brooklinen), and dinnerware (Snowe), among other home accessories. Scented candle maker Keap Co. also offers monthly subscription options.
D2C Mattresses: Casper in the US and Simba Sleep in the UK are selling mattresses and other bed accessories online. Casper raised a total of $240M from high profile investors such as New Enterprise Associates and Slow Ventures, as well as celebrities including Leonardo DiCaprio.
Search & Discovery: This category is home to the most well-funded furniture tech startup, Houzz. The company raised a total of $614M and makes it easier for users to search and discover interior design ideas. Users can also buy furniture they like directly on the startup's website.
E-Commerce Multibrand: These companies sell multiple brands on their e-commerce platforms, hence directly competing with brick-and-mortar furniture retailers.
Furniture Rental Platforms: Startups like Feather and Furlenco offer furniture rental services. Users pay a monthly fee to use furniture instead of having to buy it.
P2P Marketplaces: Platforms such as Furnishare and Selency make it easier for users to buy and sell used furniture. These startups offer payment solutions as well as pick-up and delivery services.
Interior Design Solutions: These online platforms connect users with interior designers, as well as tools to collaborate and shop. US-based Havenly raised a $12.5M Series B in Jan'18 while Indian startup LivSpace received $40M from TPG Capital in Jul'18.
Visualization Tools: This category includes companies that offer 3D and AR/VR rendering tools for furniture and interior design. Department store Macy's announced a partnership with startup Marxent Labs in Mar'18 to allow customers to virtually place Macy's furniture products in their actual living spaces.
Art: These startups makes it easier to buy (Juniqe) or rent (OPEN GALLERY) art online. This includes paintings, photographs, and digital canvases (Meural).
Smart Furniture: Following the rise of connected objects, these startups are designing furniture with USB ports (Burrow), or connected internal speakers (KAMARQ), and more. Khosla Ventures-backed Ori is going even further by developing a robotic piece of furniture for small apartments that can be controlled by a mobile app or a voice assistant.
If you aren't already a client, sign up for a free trial to learn more about our platform.