Deals to mental health-focused startups have been smaller but more frequent this year, with 19 VC-backed deals already taking place in 2017.
From online therapy platforms to meditation apps, mental health startups have attracted an increasing amount of VC attention in recent years. In 2016, startups in the space saw highs of $168M in VC-backed equity funding across 25 deals. This year, despite a projected dip in funding, deals are on track to reach a new record, as new treatment methodologies such as digital therapeutics and mental health-focused VR make their way into the consumer market.
Using CB Insights data, we examined trends in investments to mental health and wellness startups. We define the mental health and wellness category to include companies applying technology to problems related to emotional, psychological, and social well-being. Examples include companies focusing on treatments options for areas such as substance abuse, eating disorders, stress, depression, PTSD, and anxiety. Companies developing pharmaceutical therapies were not included.
vc annual global financing history
Global VC-backed equity funding to mental health startups has reached $55M over 19 deals in 2017 YTD (8/7/17). At the current run rate, 2017 is on track to reach $92M in funding across 32 deals. While this would mark the first down-year in financing to the sector, dealflow is on track to reach record highs. This highlights the trend of early-stage startups in the space raising relatively small rounds, in the range of $1 – 10M.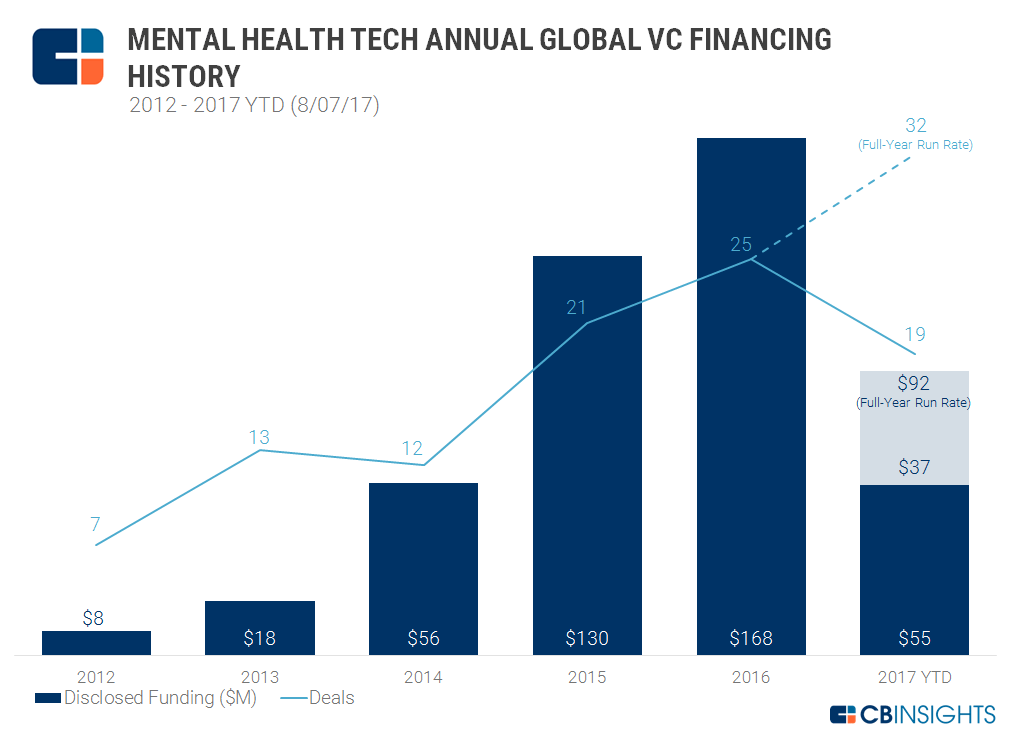 In the past 2 years, the mental health sector has seen huge upswings in deal activity. The largest uptick in activity came in 2015, with deal volume up 75% year-over-year. While this trend is on track to continue upward through 2017, it does seem to be slowing down, with 2016 up 19%, and 2017 on track to grow by 28%.
The largest VC-backed deal of the year so far went to Cognoa, a child development app, which raised $11.6M from Morningside Ventures in Q1'17. Other largest deals of 2017 include SilverCloud Health's $8.1M Series A from investors including ACT Venture Capital and Investec Ventures, Somatix's $6M Series A from Digitalis Ventures, and Regroup Therapy's $6M Series A from Hyde Park Angel, OSF Ventures, and Impact Engine, among others.
If you aren't already a client, sign up for a free trial to learn more about our platform.