US-based investors have been 4X more active in India's tech ecosystem than Singaporean investors since 2012.
Startups in India are attracting increasing investor attention, with deal activity in the country hitting a record 965 deals in 2016. Activity was spearheaded by Mumbai-based seed-stage venture fund Blume Ventures, which has been the most active investor (by unique companies invested in) in Indian startups since 2012.
Of the other investors on the top ten most active investors list, two were firms based outside of India: New York-based Tiger Global Management and Hong Kong's SAIF Partners.
Using CB Insights data, we looked into foreign investor activity into Indian startups, from neighbors in Asia to investors across the ocean in the United Kingdom and the United States.
We include Mauritius, an island nation off the coast of Madagascar, in our definition of India-based investors. Mauritius is home to highly active investors like Helion Venture Partners, and until 2016, investments from Mauritian investors into Indian companies were tax-exempt.
At 61%, India-based investors have participated in the highest number of rounds to startups in the country. Some of the biggest deals backed by Indian investors went to ecommerce unicorns, including Flipkart's $1B Series G round in Q3'14 (which saw participation from Accel Partners India) as well as Snapdeal's $500M corporate minority round in Q3'15 (backed by Premjilnvest, among others).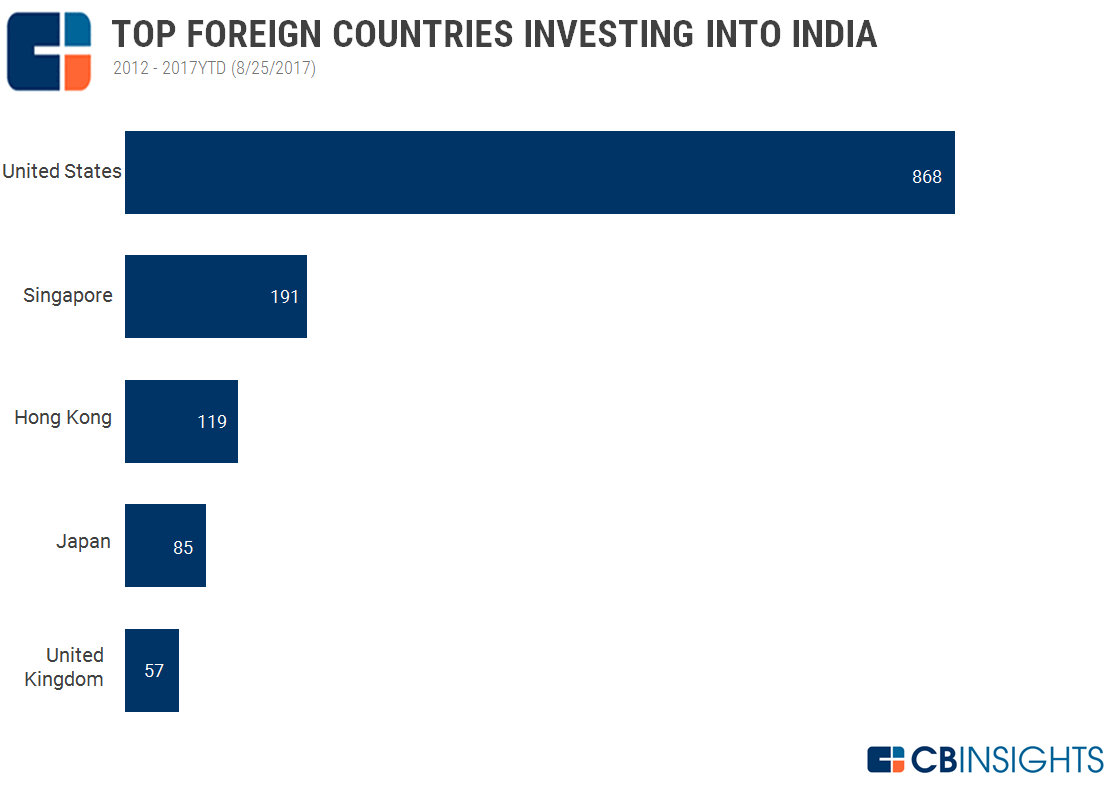 Note: The above chart shows the total number of deals investors from each country participated in, which means rounds with multiple investors are counted more than once.
Excluding India and Mauritius, deal participation is heavily tilted toward investors from the United States, which has seen 800 disclosed equity deals to Indian startups since 2012 — more than 4X the number of deals by investors from Singapore, the second most active foreign investor into the Indian ecosystem.
Flipkart's last four rounds — a $1.4B Series J in March, a $71M tranche of secondary market funding in June, and a total of $2.6B in two more rounds from SoftBank Group in August — have only seen participation from non-Indian investors.
This includes investors based in Russia (DST Global), South Africa (Naspers), Japan (SoftBank Group), and China (Tencent Holdings), along with high-profile investors in the US (eBay, Microsoft, Accel Partners). Unlike many of Accel's other investments in India, its most recent Flipkart investment came from its main corpus — not the fund it has specifically raised for the country.
After the United States, the next three spots went to countries in Asia, with Singapore leading the way. GIC, a Singaporean investor, also backed Flipkart in its $1B Series G in Q3'14 (when it co-invested with Accel Partners India, among others).
Another active Singaporean investor in the Indian startup scene is Temasek Holdings, which participated in Snapdeal's $500M corporate minority round in Q3'15 — a round that upped the e-commerce company's valuation to $5B.
Active investors from Hong Kong include SAIF Partners and Steadview Capital (which participated in Olacabs' $400M Series E round in Q2'15), while SoftBank closed most of the large deals from Japan. In addition to its Flipkart fundings, SoftBank also participated in Paytm-operator One97 Communications' $1.4B corporate minority round in Q2'17.
The United Kingdom is the fifth most active country, and is home to Flipkart and Olacabs investor Baillie Gifford.
If you aren't already a client, sign up for a free trial to learn more about our platform.