Executives across industries are discussing food waste on earnings calls. Here's what they're saying.
As the Covid-19 pandemic has exposed supply chain vulnerabilities and made consumers more price-conscious, reducing food spoilage and waste is top of mind for industry executives.
Since 2018, "food waste" has been mentioned 195 times in earnings transcripts. "Spoilage" was also mentioned a record-setting 29 times in Q3'20.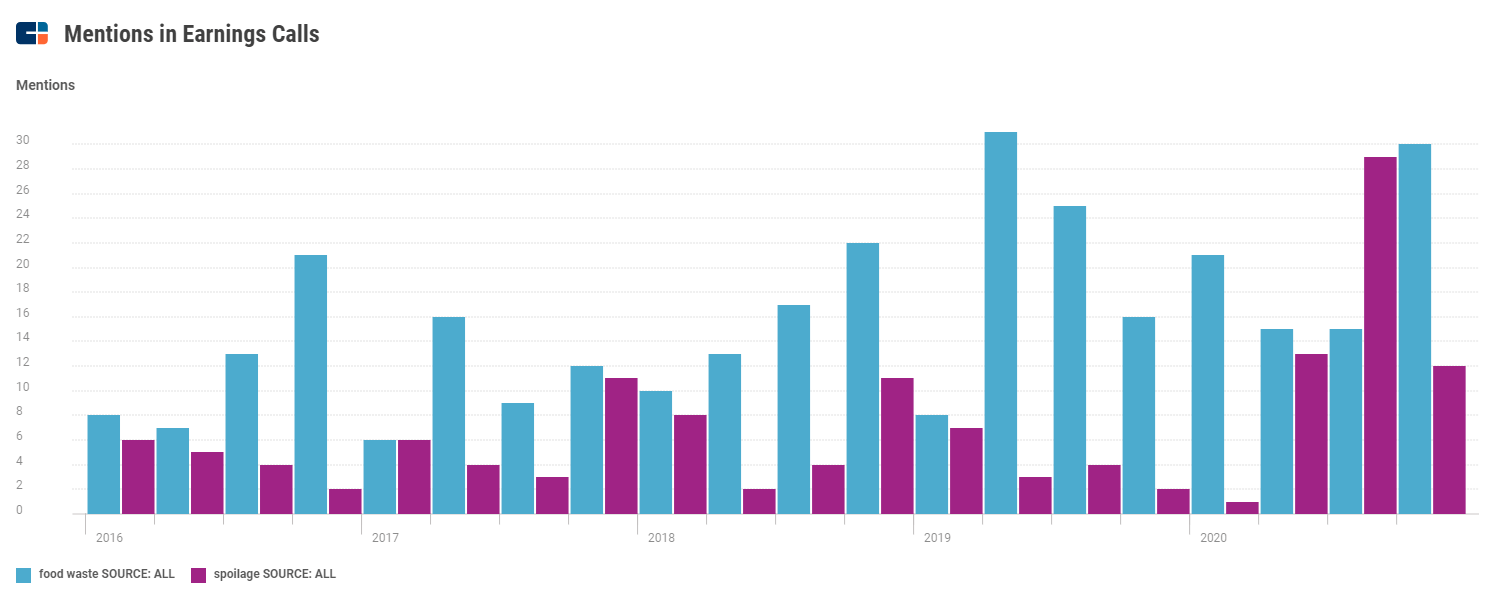 It's all hands on deck when it comes to correcting the inefficiencies that lead to large scale waste. Executives discussing the topic come from a range of industries including waste management, food services, and grocery retailers.
Their solutions span across the supply chain. While waste management companies are discussing the issue in terms of landfill diversion, grocery retailers are exploring new ways to market unwanted produce. Some startups are tackling food waste through upcycling groceries and meals or prolonging the shelf life of perishable produce.
We take a closer look at what executives are saying below.
Why are companies publicly addressing food waste?
Food waste has drawn the attention of corporations for some of the following reasons: 
Over 30% of the US food supply is wasted, and

31% of that waste

comes from stores and consumers' homes.

Consumers are more aware of the environmental impact from food waste. Companies need to adapt to align with consumer expectations. 

The pandemic exposed a lack of agility in the supply chain.

Regional lockdowns hindered regular business operations, creating waste through shortened operating hours and fewer customers.

Reducing shrink can directly impact profits and help companies stay competitive with lower prices.

New technology solutions (e.g.,

Apeel Sciences

) and business models (e.g.,

Imperfect Foods

) have been rising in the market.
Today's food waste complications stem from overproduction on farms, goods being rejected by wholesale buyers, and retail waste. In December 2020, Steven Spinner, the CEO of United Natural Foods, Inc. (UNFI), addressed the environmental and societal strains caused by massive food waste: 
"With this important milestone UNFI is the first grocery wholesaler to join a global movement of companies acting to mitigate the worst impacts of climate change and transition to a low-carbon economy. With millions of Americans struggling every day to access nutritious food, it is simply unacceptable, but so much food gets wasted."
In 2015, the USDA and FDA set goals to cut the US's food waste in half by 2030 with a food recovery hierarchy. Companies that mentioned food waste in earnings calls over the past few years are tackling the issue in a variety of ways, including source reduction or diverting waste from landfills:
Quest Resource Holding, for example, is a waste management company that creates comprehensive programs to help businesses send less food to landfills through recycling, composting, and turning scraps into animal feed. Some of its clients include Pizza Hut, Kraft Heinz, Kroger, and Aramark. 

BioHiTech manufactures on-site food waste disposal digesters that turn food waste into waste water. The digesters collect data that help businesses analyze their food waste and make steps toward reducing it.