Market Map
From upcycling ingredients to extending the shelf life of produce, these startups are helping the food industry reduce the cost of food waste while promoting more sustainable practices.
Food waste is a massive global issue, with about one-third of food produced globally wasted. This represents a nearly $1T loss each year, according to the Food and Agriculture Organization of the United Nations.  
From farm to consumer, waste happens along the food value chain for a variety of reasons, including cosmetic defects that make the food unsellable, spoilage during transportation, or mismanaged production or inventory. Different players along the food value chain bear the cost of this waste.
free report: state of food tech
Funding to food tech companies dipped in Q2'21 after a record-breaking Q1'21, while deals were up. Download the free report to get all the funding and deal trends.
With the Covid-19 pandemic exposing food value chain vulnerabilities and making consumers more price-conscious, reducing food spoilage and waste is top of mind for industry executives — earnings transcripts mentions of food waste were up over 200% in Q2'21 compared to Q2'20. 
Tackling the food waste issue could also help brands and retailers keep and attract consumers who are increasingly factoring in sustainability claims when shopping. A recent survey from Ireland-based food giant Kerry found that 49% of consumers consider sustainability when buying food and beverages.
Food waste management solutions are now emerging across the food value chain to help reduce the environmental impact and cost of food waste. Companies are using food scraps to create new edible and non-edible products, repurposing food that would otherwise be wasted, developing tech that can help extend the shelf life of food products, and more.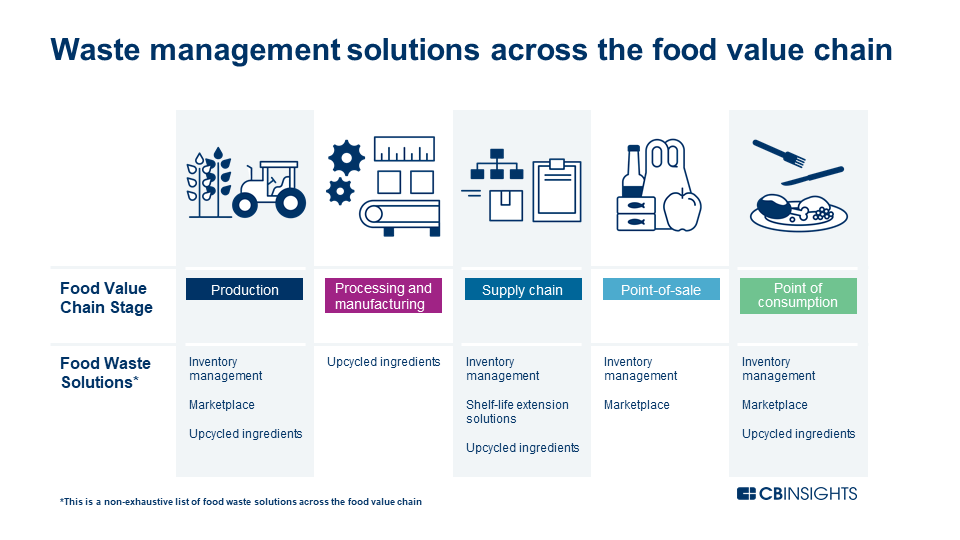 Using CB Insights data, we identified 75+ startups helping reduce food waste across the food value chain and meet consumer demand for sustainability. 
This market map consists of private, active companies only and is not intended to be exhaustive of the space. Categories are not mutually exclusive and companies are mapped according to primary use case. Companies in the map received funding between January 2019 and July 2021. 
Please click to enlarge.