The meal and grocery delivery space has had an eventful past quarter, from the IPOs of Blue Apron and Delivery Hero to Amazon's acquisition of Whole Foods.
Globally, it looks like people are ordering in, with meal delivery startups seeing an 18% uptick in deals last quarter. Meanwhile deals to grocery delivery startups remained stagnant in Q2'17, though at 27, they clocked in at one deal more than meal delivery startups saw.
In addition to increased deals, meal delivery companies also saw a dramatic increase in disclosed equity funding from Q1'17 to Q2'17, largely due to $500M+ mega-rounds to Ele.me and Delivery Hero. These huge financings have driven up the annual run rate for 2017 meal delivery funding, which is now projected to hit $3.3B.
Beyond funding, the food delivery sector had an eventful last quarter in terms of exits, including the Q2'17 IPOs of Blue Apron and Delivery Hero. Moreover, Amazon's acquisition of Whole Foods could have big consequences for the food delivery space, and will specifically test players like Blue Apron, which has struggled since its June 2017 IPO.
Using the CB Insights database, we examined funding and exit trends in the meal delivery and grocery delivery space from 2013 to 2017 YTD. We define meal delivery startups as companies providing prepared meal and restaurant delivery (Delivery Hero, GrubHub Seamless, Munchery) and define grocery delivery startups as companies delivering uncooked groceries from stores or in the form of meal kits (Instacart, Door to Door Organics, Blue Apron).
Track all the meal delivery startups in this brief and many more on our platform
Startups are facilitating the delivery of meals to users' doors. Look for Meal Delivery Startups in the Collections tab.
Track Meal Delivery Startups
Annual deals and dollars
After a period of growth in 2013 – 2015, deal activity to meal delivery startups has continued in a downward trajectory, totaling only 55 deals in 2017 YTD. At the current run rate, full year investment into the space is projected to total $3.3B over 93 deals — though, as mentioned above, the funding run rate has been inflated by a number of large mega-rounds.
Approximately 72% of invested dollars this year went to the top 2 deals in the space: China-based Ele.me's $1B corporate minority round from Alibaba Group, and Germany-based Delivery Hero's $423M corporate minority round from Naspers and the London Stock Exchange Group, which the company raised just one month before making its initial IPO at a valuation of $5.1B.
While large deals are a sign of investor interest in the space, they also represent a concentration of interest around large companies at the top of the market, as opposed to smaller, earlier-stage startups.
The food delivery space at large has recently seen increasing levels of consolidation and company deaths, including the acquisition of Yelp's Eat24 by GrubhHub earlier this quarter, as well as the demise of startups Maple and Sprig.
While success in the meal delivery space is still possible, it tends to be conditional on substantial funding and market dominance (such as the relatively successful IPO of Delivery Hero), and even then it is not guaranteed (as with the rocky IPO of Blue Apron).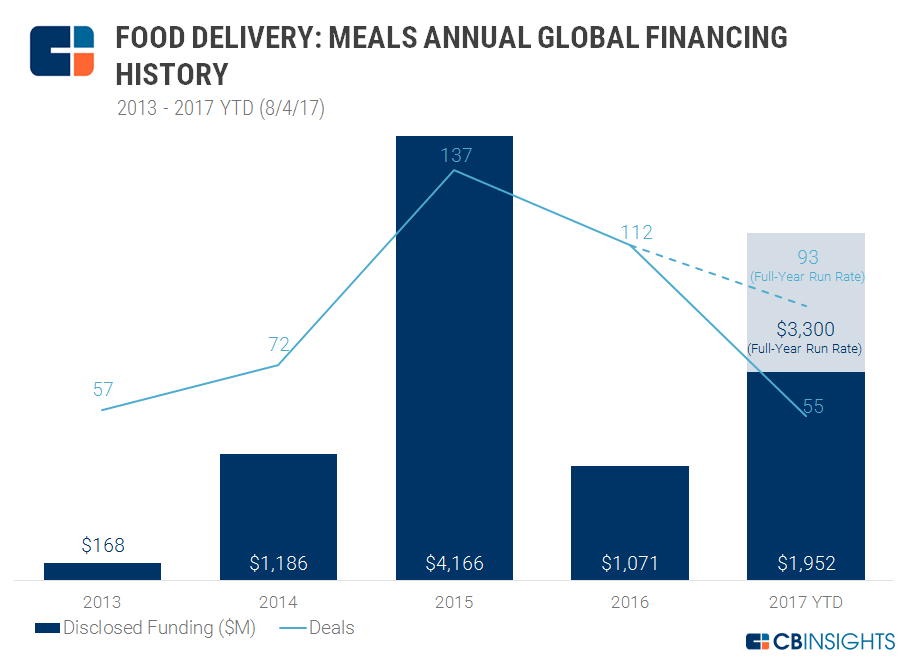 The number of deals to the grocery delivery space has behaved in a similar fashion to meal delivery deals, peaking in 2015 and declining since then. However, grocery delivery startups have steadily attracted an increasing amount of investor dollars since 2013, reaching a high of $1.4B in 2016.
While the run rate projects a record funding high in 2017, as with meal delivery startups, grocery delivery funding has been bolsted by a few large mega-rounds. US-based Instacart's $400M Series D in Q1'17 and China-based Yiguo's $300M Series D in Q3'17 account for more than half of dollar investment to the space so far this year.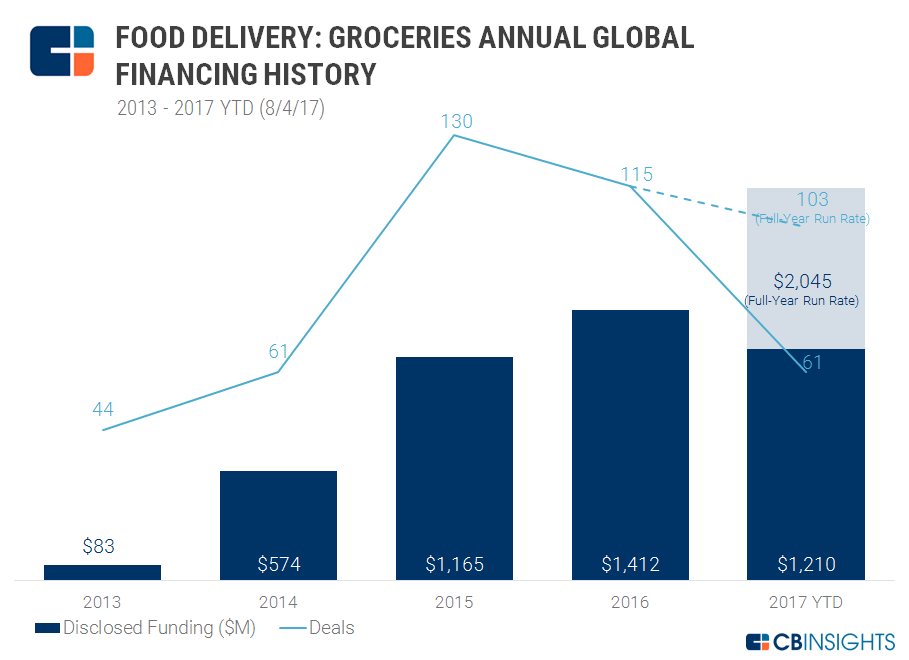 Despite variance in funding trends, meal and grocery delivery companies face many of the same challenges. An intense focus on unit economics in the on-demand market combined with fierce competition in the space have created a challenging environment for food delivery startups.
The aforementioned acquisition of Whole Foods by Amazon will likely intensify competition in the space. As grocery delivery has struggled to reach mainstream adoption, largely due to prohibitively high costs, the combined resources of Whole Foods and Amazon — as well as Amazon's legendary focus on wringing out supply chain inefficiencies — may put further cost pressures on the industry.
Track all the grocery delivery startups in this brief and many more on our platform
Startups are facilitating the delivery of groceries to users' doors. Look for Grocery Delivery Startups in the Collections tab.
Track Grocery Delivery Startups
Quarterly Trends
The quarterly view offers more granular insight into food delivery funding trends. Meal delivery startups have seen a sharp dropoff in funding since Q1'16, when funding fell a dramatic 80% from the previous quarter. However, due to recent massive financing rounds this year, funding in Q2'17 abruptly rebounded to hit a new quarterly record.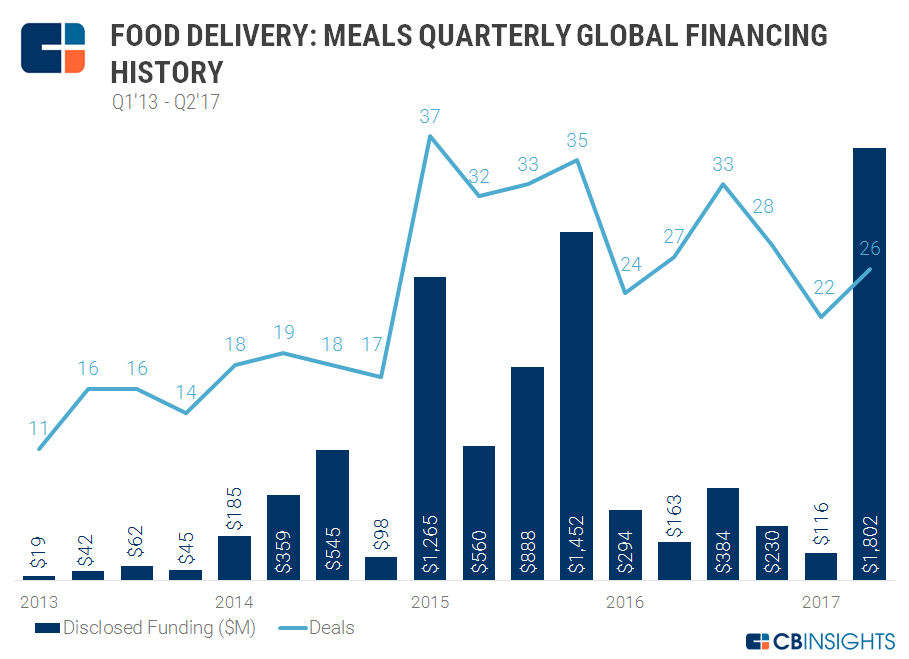 In the grocery delivery space, after a brief drop in Q2'16, funding roughly returned to 2015 levels. The industry saw a new quarterly dollar funding record of $685M in Q1'17 (largely due to the $400M deal to Instacart, mentioned above). With no similarly massive deals in Q2'17, funding dripped again. However, this quarter is already on track for a higher funding total than Q2'17, as a result of a $300M Series D round to grocery delivery startup Yiguo in August.
If you aren't already a client, sign up for a free trial to learn more about our platform.