GrubHub's acquisition of Eat24 is another significant move in the further consolidation of the food delivery space.
M&A activity among food delivery startups has seen a massive increase in recent years as venture capital funding has declined, and as smaller players in the space seek to be acquired, or risk shutting down. Among all food delivery startups, only 28 mergers or acquisitions took place between 2012 and 2014. This rose to 41 M&As in 2015, 31 in 2016, and 15 so far this year as of 8/7/17.
Prominent food delivery players such as UK-based Just Eat and Germany-based foodpanda (recently acquired itself) picked up their pace of acquisitions in the last few years. Of Just Eat's 13 acquisitions between 2012 and 2016, 10 acquisitions took place in either 2015 or 2016, including that of Spanish online food ordering platform La Nevera Roja. Similarly, 7 of foodpanda's 10 acquisitions between 2012 and 2016, took place in either 2015 or 2016.
Most recently, GrubHub's acquisition of Eat24 for $288M (more than twice the price Yelp paid in 2015) represents a big step towards the delivery giant's further dominance within the US food delivery space.
We used CB Insights data to create a timeline of food delivery startup M&A activity between 2012 and 2017 YTD. For our graphic, we looked primarily at food delivery startups that had raised disclosed funding and did not limit to first exits only. We also chose to include Eat24's M&A history, despite its lack of disclosed funding, due to the recency and importance of its latest acquistion by GrubHub. Among this cohort, only 10 mergers or acquisitions (M&As) took place between 2012 and 2014. This jumped to 9 M&As in 2015, 12 in 2016, and 6 so far in 2017.
We define food delivery as companies facilitating the delivery of food to users' doors, including restaurant delivery, grocery delivery startups like Instacart, farm-to-table services like Door-to-Door Organics, meal delivery startups like Delivery Hero, and meal kit services like HelloFresh.
Click the image to enlarge.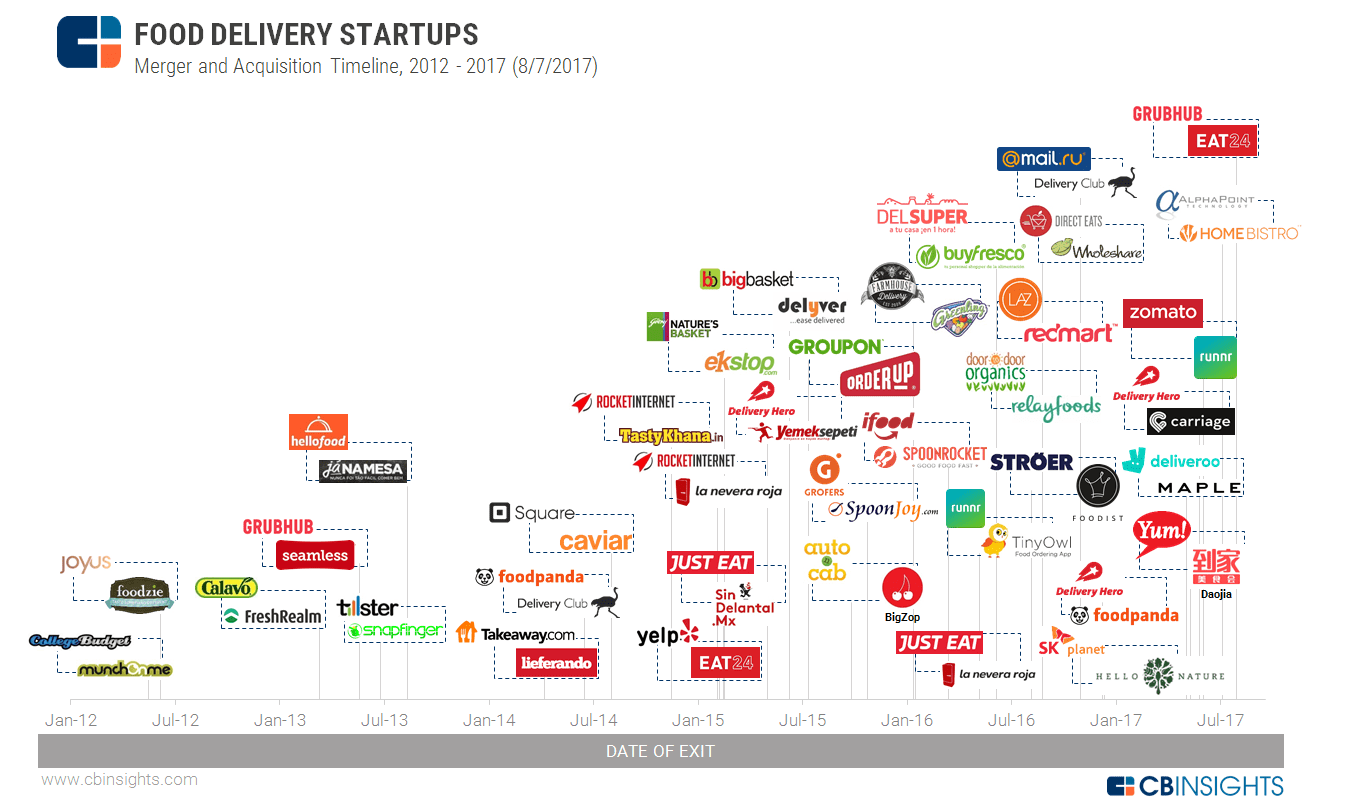 Key insights from the infographic above:
See the full company list below:
---
This report was created with data from CB Insights' emerging technology insights platform, which offers clarity into emerging tech and new business strategies through tools like:
If you aren't already a client, sign up for a free trial to learn more about our platform.