What's next for food and beverage tech? Our analysts examined signals from across the industry to find the top 20 Food & Beverage trends to watch in 2019.
Software is eating the world, and what you eat and drink is no exception. Between the rise of F&B startups, changing consumer preferences, and moves by incumbent brands to adapt, the food and beverage industry is undergoing tremendous change. We identified 20 top F&B trends to watch this year.
1. Plant Protein
Corporates are beginning to embrace plant protein, and 2019 will see the first plant protein company go public. Expect expansion of the trend to new products including vitamins, coffee, and milk.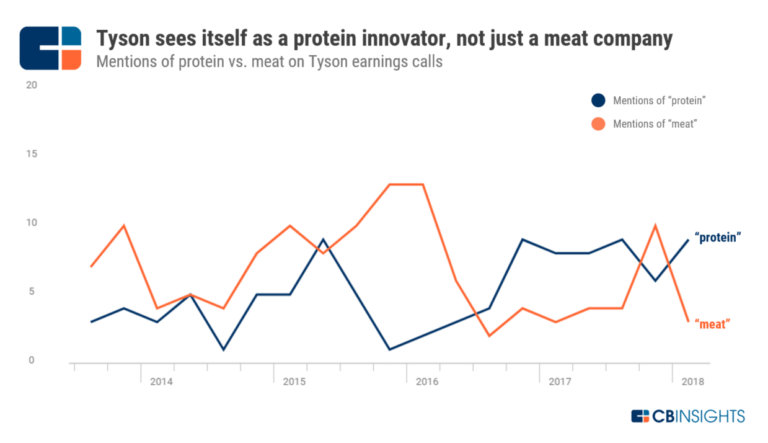 2. Private Labels
Amid the "retail apocalypse," retailers are investing more in their private labels, aiming to increase margins and strengthen shopper loyalty. Private labels represent one of the more dominant food & beverage trends, and are a growing threat to traditional CPG brands.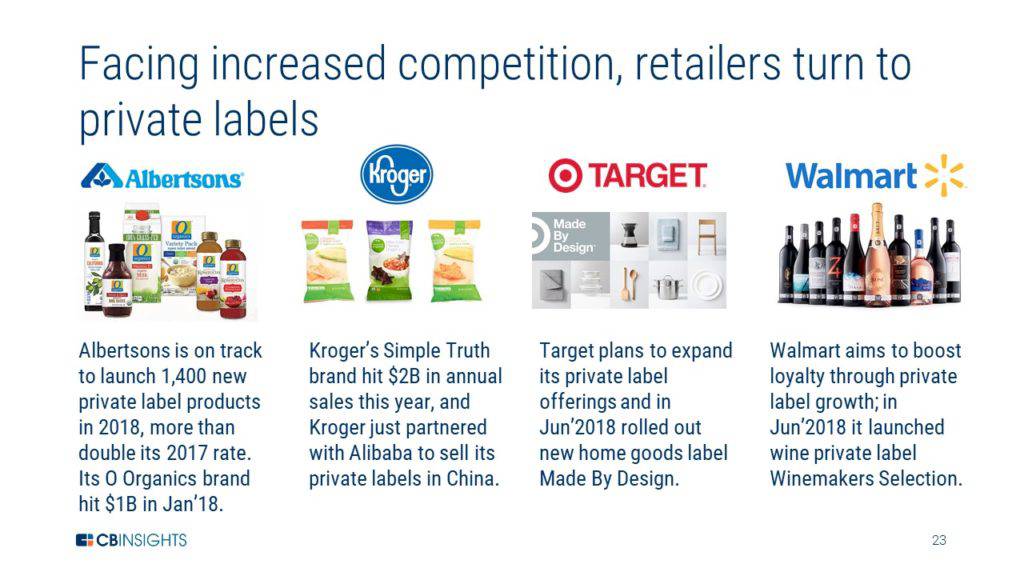 3. Direct-to-consumer distribution
Food leaders have been slow to adopt to direct-to-consumer distribution, but that's beginning to change. One of the top F&B trends will be incumbents acquiring D2C startups and applying their logistical infrastructure to existing product lines.
4. Sugar reduction technologies
F&B companies are using new technologies to reduce sugar in their products, meeting consumer demand for healthier foods. Beyond changing their product lineups, major food corporations are taking advantage of advances in biotechnology and new sweeteners.
5. Alternative offline points of sale
With consumers less likely to visit centralized shopping locations, brands need to open points of sale in new places. They're going to shoppers, instead of asking shoppers to go to them. In 2019, expect to see more partnerships between food producers and alternative offline distribution channels. In-office distribution is becoming increasingly widespread, and we expect this trend to continue this year.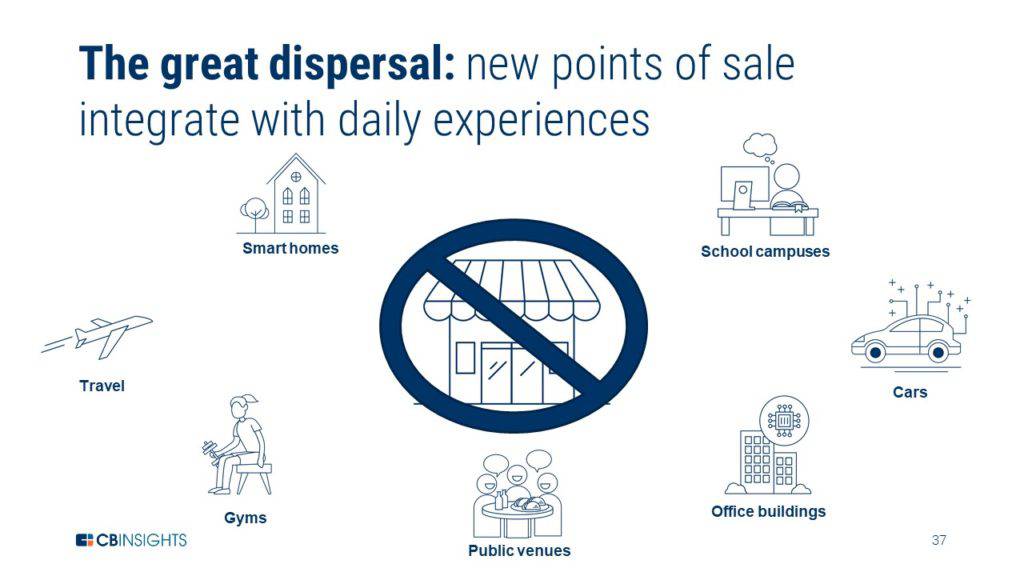 6. Pop-up retail
Pop-up retail continues to gain steam as a marketing tactic, customer engagement driver, and data collection strategy for brands. While they don't necessarily emphasize immediate product sales, pop-up stores tend to promote experiences. As companies face growing pressure to sell directly to consumers, we'll likely see more experimentation with pop-ups in 2019.
7. Voice commerce
Amazon is heavily promoting voice commerce, but shoppers have yet to bite. Nearly a quarter of Americans own smart speakers, but only 2% of Alexa users have used the speaker for shopping. However, expect companies to still promote voice commerce, even by having speakers suggest products to consumers.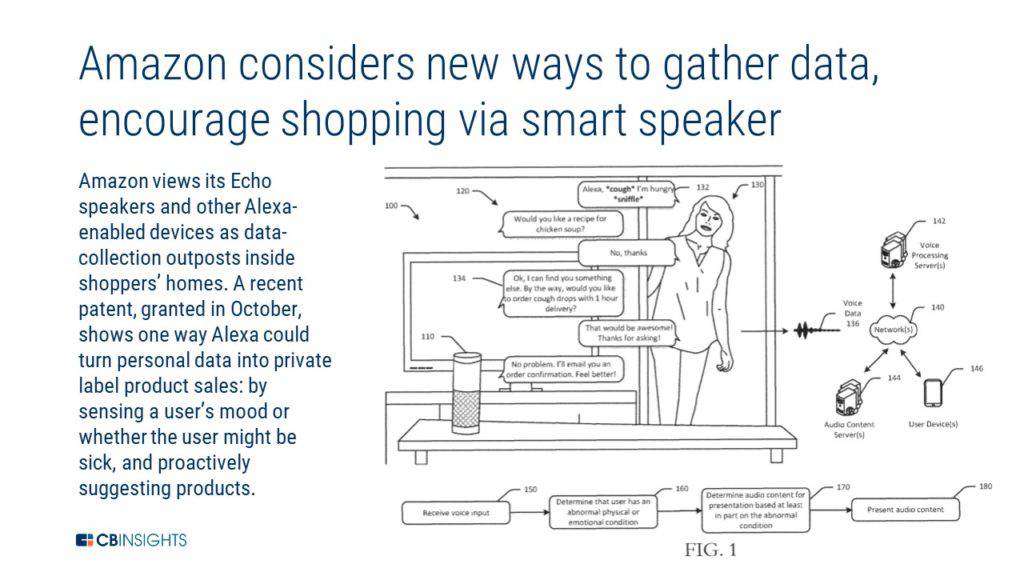 8. Cannabis
As legalized cannabis spreads in North America, beer companies are leading the way in investing in the growing trend. As cannabis consumption grows, several beer and liquor producers are hedging against slipping alcohol sales by investing in cannabis. One of the top F&B trends will be major brands entering the space despite federal laws against cannabis.
9. Blockchain-based supply chains
Each new food safety scare pushes food companies toward blockchain-based supply chains, which promise greater transparency. Recently, Walmart announced that it's requiring its suppliers of leafy greens to use blockchain-based tracking by September 2019. Backed by industry leaders, we expect blockchain pilot programs to expand in the food industry in 2019.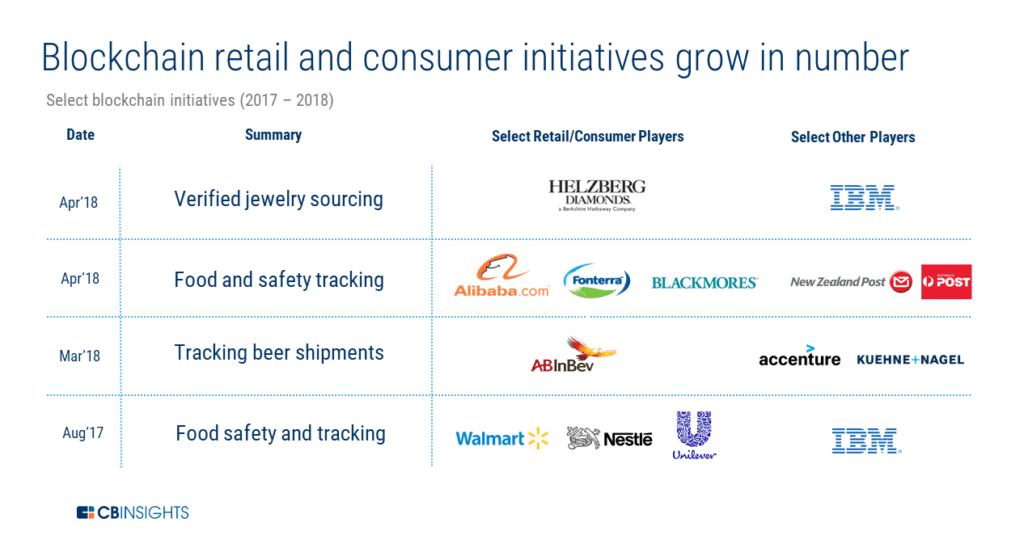 10. Beauty-boosting foods
Foods and supplements that promise beauty benefits are on the rise. But unlike other F&B trends based on emerging technology, this one may be mostly based on marketing. As consumer demand spikes, expect more food companies and retailers to enter the ingestible beauty space.
Food & Beverage Startups
Startups working on new foods and beverages have the potential to change how and what we eat. Look for Food & Beverage Startups in the Collections tab.
Track food & beverage startups
11. In-store robots
Have robots progressed to the point where retailers can trust them to roam store floors alongside shoppers? Not quite. In 2019, expect retailers to ramp up their investment in inventory management robots, rather than robots that interact with customers.
12. IoT-connected packaging
Although in its early stages, IoT packaging can help brands gather consumer data and facilitate refills when products run out. Because of the high costs of producing IoT packaging at scale, the frontrunners in the space will likely be incumbents. Even in its nascent stage, IoT packaging is one of the top F&B trends to watch this year.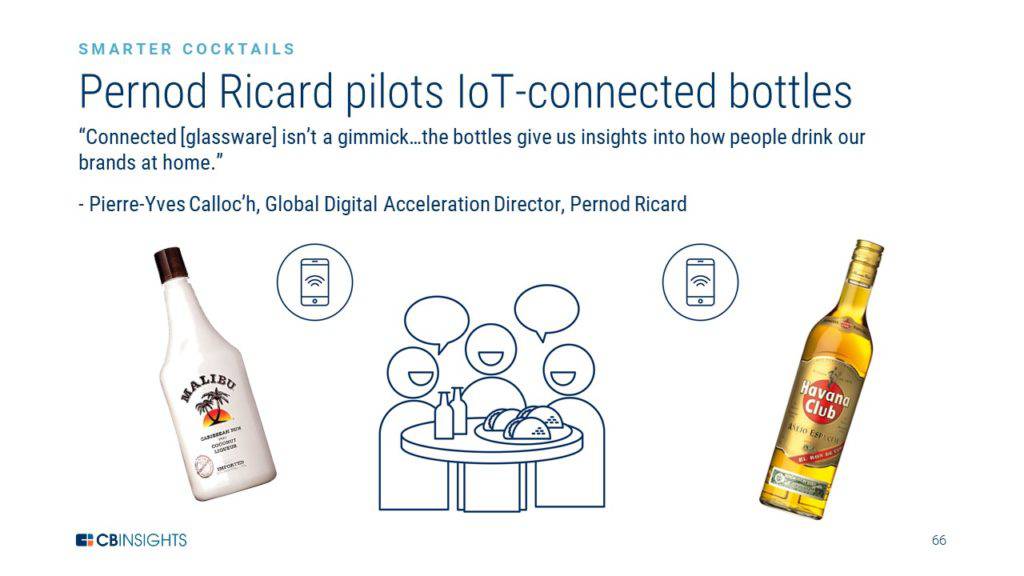 13. Lab-grown protein
Thanks to ramped-up investment by meat incumbents in lab-grown proteins, expect the field to grow in 2019. Additionally, the first lab-grown dairy could hit shelves soon. While lab-grown meat may not be one of the F&B trends to take off this year, commercial launches could come to fruition over the next 1-3 years.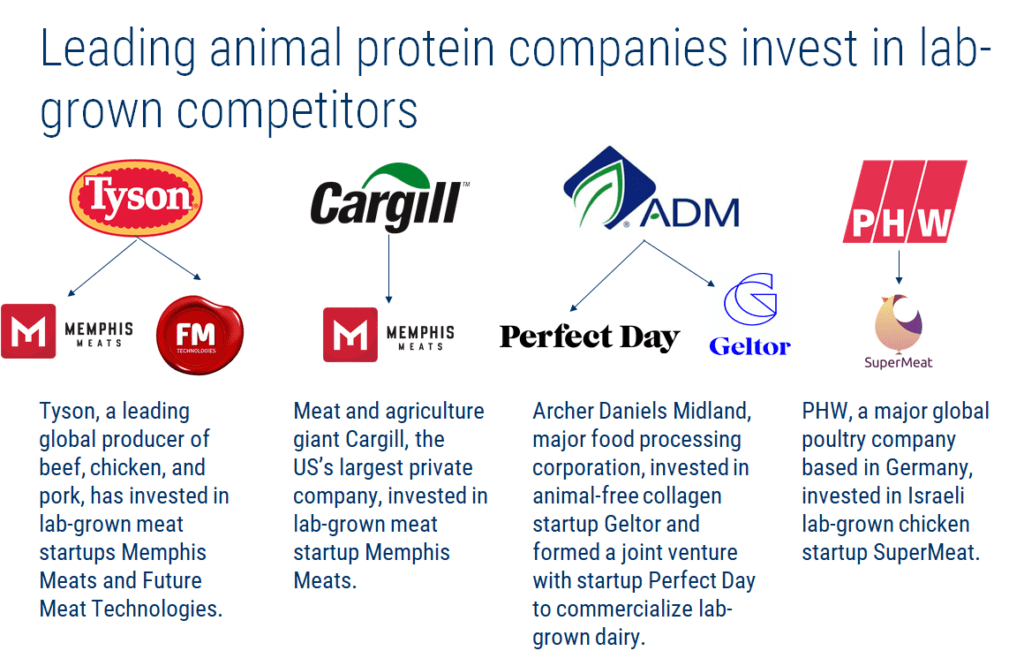 14. Automated micro-fulfillment centers
Grocery chains announced their first partnerships with automated micro-fulfillment startups in 2018, setting the stage for further development in 2019. Micro-fulfillment centers are situated closer to local consumers, hold area-optimized inventory, and tend to rely heavily on robots, compared to conventional centralized warehouses with large footprints and workforces. In 2019, watch for more partnerships and investments by major grocery chains and other vendors.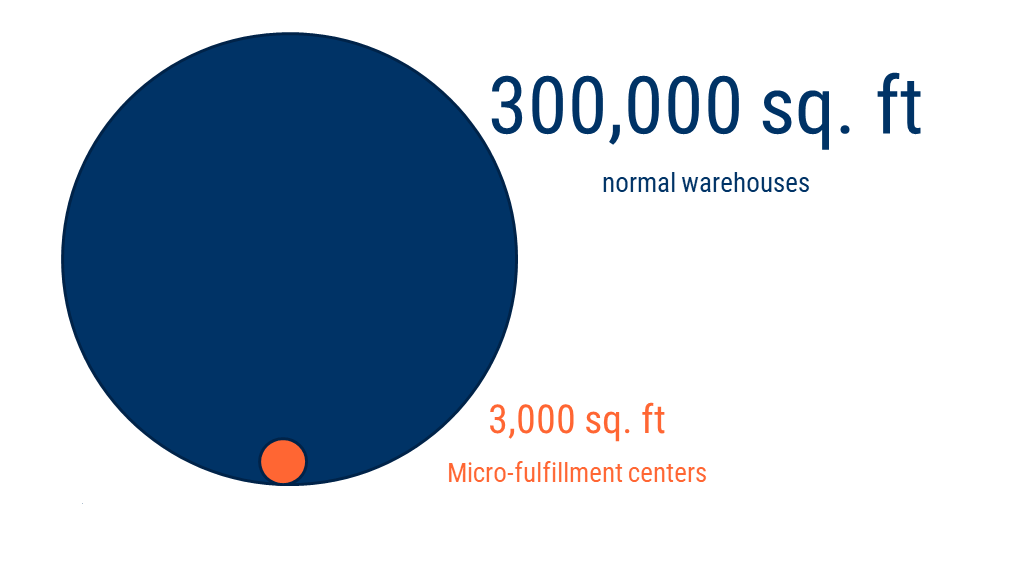 15. E-commerce optimized packaging
As sales continue to move online, companies have begun to invest in new packaging designs that make shipping more efficient. Additionally, the rise of e-commerce has changed how brands display and promote their products online. One of the top F&B trends of 2019 will be brands investing in new kinds of packaging and presentation.
16. Personalized food products
Personalization has been one of the most talked-about F&B trends, but now emerging technology is making it more practical to implement. Tools like online surveys, big data, at-home DNA testing, and machine vision can help companies better understand consumer needs. Machine learning can help select the products best-suited to each shopper, while 3D printing and automated factories can support production.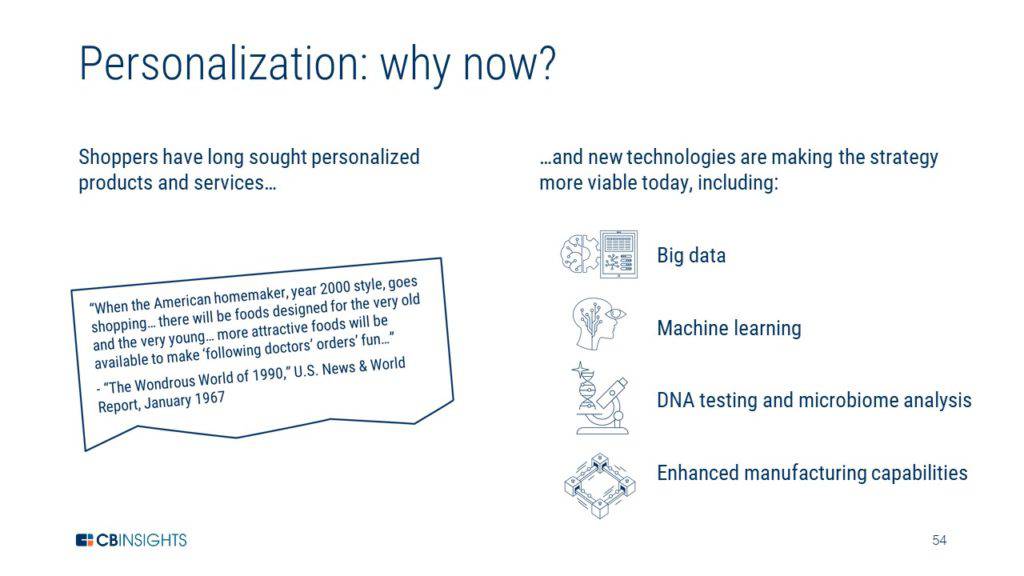 17. Environmental sustainability
F&B trends to support environmental sustainability are catching on, but industry leaders are still figuring out how these initiatives can support their bottom lines. In 2019, look for more eco-friendly initiatives like upcycling, food waste reduction, and supply chain enhancements.
18. Wellness-focused branding
Food brands can take advantage of wellness trends by emphasizing transparency, natural ingredients, and the health benefits of products. Some companies are moving into healthier product lines through acquisitions, and we expect this trend to grow in 2019.
19. Gluten-free
Gluten-free foods are increasingly popular, but the trend is no longer a needle-mover for big companies. Mentions of "gluten-free" on earnings calls have dropped precipitously since 2015, potentially because consumers are viewing gluten-free food as a more typical offering. In 2019, expect discussions of gluten-free products to continue to taper off.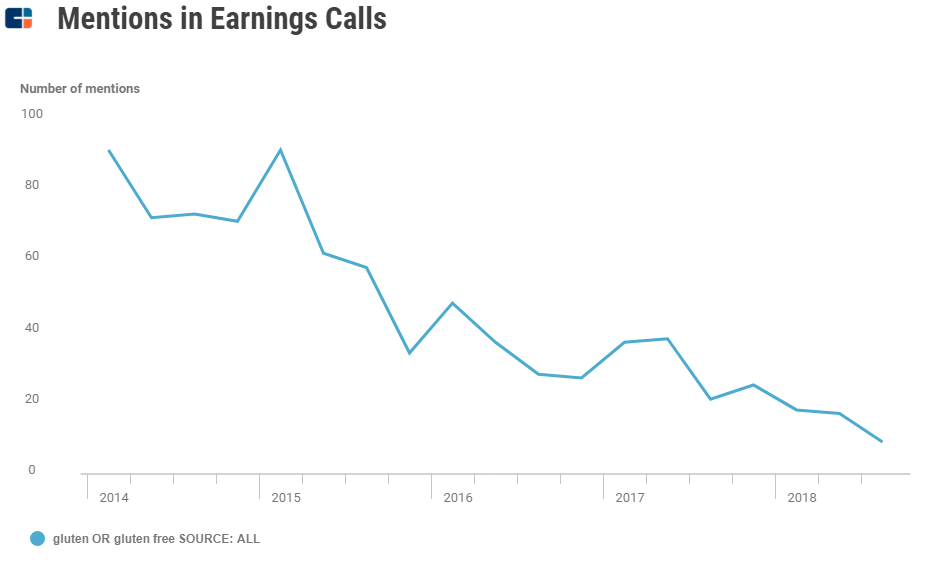 20. Meal Kits
Many meal kit startups have struggled or gone out of business, but meal kits are finding new life as marketing tools for grocery chains. Several grocers have acquired meal kit startups, and we'll likely see them integrated more deeply into grocery stores and websites. In this guise meal kits will live on as a feature, not as a standalone business.
If you aren't already a client, sign up for a free trial to learn more about our platform.