Attracted by big exits, corporate activity, and new brands, the number of investors backing food & beverage startups has tripled in four years.
The number of investors participating in the food and beverage sector has more than tripled since 2013, jumping to over 450 investors making bets in the space last year.
This includes a wide range of investors, including venture capital funds, private equity firms, corporations, and angel investors.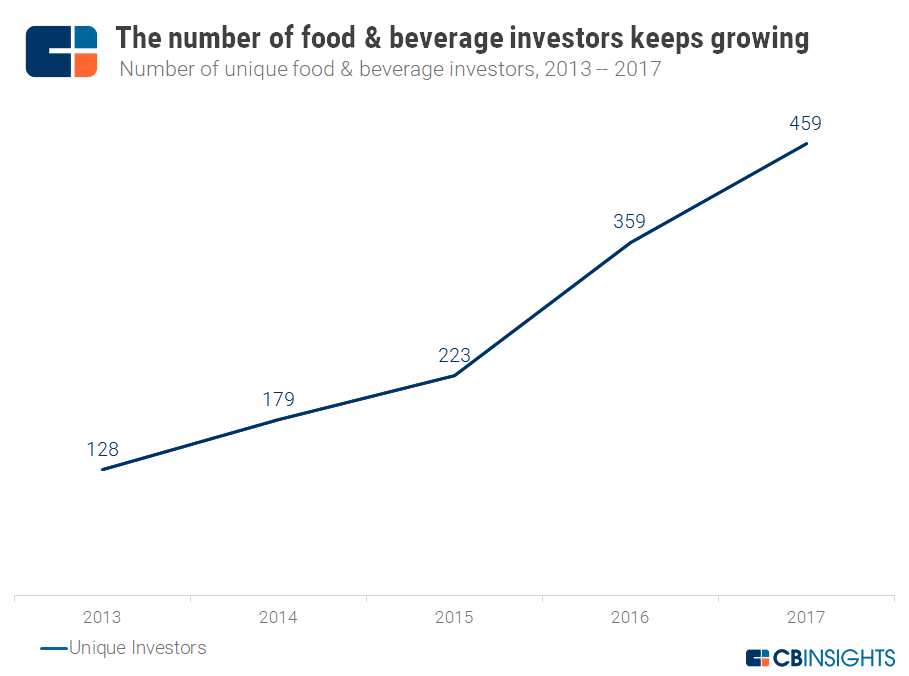 INVESTor BREAKDOWN
Several new investors in the space focus specifically on food and beverage.
New York-based AccelFoods, which made its first round of disclosed investment in early 2014 (a series of $50K seed investments to startups including insect protein brand Exo) and has since then made over 40 more. It recently, for example, led a $1M seed round into MA-based jerky startup Kalahari Brands.
Major international food incubator program Food-X also launched in 2014, and has since backed over 600 startups. Recent bets include investment into high-protein frozen yogurt startup Pow-Cow.
CA-based VC firm Blueberry Ventures has backed startups such as Ripple Foods and Biena since its 2015 launch.
We've also seen a domino effect of major food corporations launching their own incubator programs and VC arms since 2015, as shown in the timeline below (and covered in more detail here).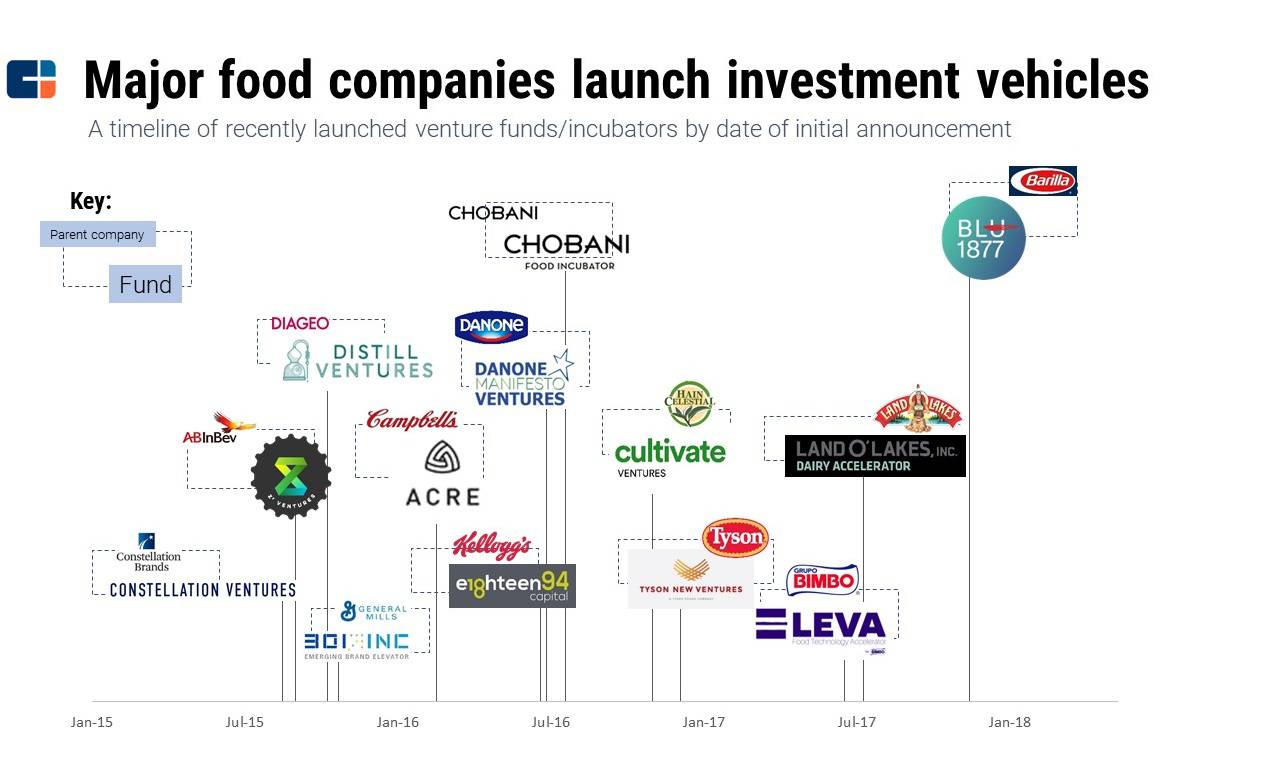 Funding from corporates represents a relatively small portion of all food deals, though corporates contribute to the growing pool of investors. Corporate interest in acquiring startups also strengthens the overall ecosystem, opening up exit opportunities that attract more startups and investors.
As the sector grows, established tech-focused investors have begun to make their first investments in the food and beverage sector.
For example, VC fund Draper Fisher Jurvetson made its first food investment in Q3'17, backing synthetic meat startup Memphis Meats, while smart money VC New Enterprise Associates backed baby food startup Yumi in Q2'17.
First Round Capital invested in powdered tea startup Pique Tea in Q1'17, and CRV participated in the seed round for subscription instant coffee startup Sudden Coffee as early as Q4'16.
Alongside tech investors, many food companies themselves have made their first equity investments over the past several years.
As highlighted above, companies ranging from General Mills to Campbell's to Kellogg's have begun to invest through VC funds; other companies, such as Cargill, have made their first equity investments directly. (Cargill made its first food startup investment in Q3'17, backing synthetic meat startup Memphis Meats in the same Draper Fisher Jurvetson-backed deal mentioned above).
Track all the food startups and investors in this brief and many more on our platform
Startups working on new products and ingredients are transforming the industry. Sign up for a free trial and look for Food & Beverage in the Collections tab.
Food & Beverage Startups
1,200+ items
factors driving growth
What's driving this rapid increase? We see a few factors at work.
Large acquisition price tags could attract investors, especially for early-stage deals. Since 2015, there has been a rash of major acquisitions of food startups. Dr Pepper Snapple paid $1.7B to acquire Bai Brands in late 2016, likely bringing investors a healthy payday, as Bai had raised just $38M prior to the acquisition.
Meanwhile PepsiCo acquired kombucha startup KeVita for $200M in Q4'16, and more recently, Nestle acquired Blue Bottle for $500M in Q3'17.
The growing size of food acquisitions is also pushing food corporations to make smaller investments in early-stage startups, in order to build connections without paying high acquisition prices.
Crowdfunding popularity is growing. Crowdfunding has had a growing impact on food and beverage, helping early-stage brands get off the ground and attract other investors later on. The popularity surrounding reality shows like Shark Tank has also helped boost dozens of featured food startups, as consumer goods make for relatable TV.
Platforms like CircleUp and CrowdCube have helped launch dozens of food startups, while some startups, including insect protein bar Exo, have raised their first funding through Kickstarter.
E-commerce and social media support startup growth. With many options to distribute their products online rather than through grocery stores, new food startups can reach their customers more efficiently and gain traction across larger geographies. Moreover, the visual appeal of food and beverage products makes the sector a good fit for effective social media-based marketing.
A number of food startups have recently launched as direct-to-consumer. These include Revere, a vegan protein powder startup with $3M in funding, and Brandless, a D2C brand of food products and home goods selling for $3 each. Brandless launched in summer 2017 and has raised $52.5M.
Meanwhile Daily Harvest, which just raised a $43M Series B in December, grew by focusing on online distribution and promoting on Facebook and Instagram.
If you aren't already a client, sign up for a free trial to learn more about our platform.